Working with knit fabrics can be intimidating for adults, but that didn't scare Jessika off from introducing a knit pattern to some of her youngest students. She is here to explain why a pattern intended for knits is the perfect starter project for the beginning garment sewist.
Name: Jessika Zontini, owner of Pindrop Shop
Where can we find you on the Internet? Instagram, Facebook
Pattern used:  Girl on the Go Dress + Top
Fabric used: Dabs Knit by Dear Stella and Chalkboard Knit by Rae Ritchie for Dear Stella
Kiki and Catie are two sisters who had an interest in sewing.  They were especially interested in making clothes for themselves.  They had a bit of a challenge finding clothing that suited their unique styles, and also fit the dress code at school.  We decided to start with some easier projects and work up to making dresses.
Our first project was a drawstring bag.  The girls learned the basics of the machine, cutting fabric, and using iron-on interfacing. They did fantastically and were so proud of their creations.
Next, we decided to tackle a simple garment, the gathered skirt with elastic waistband.  Catie made hers from a tie-dyed knit fabric, and Kiki chose a shimmery mermaid pattern.  The girls did great again. They were gaining skills and confidence.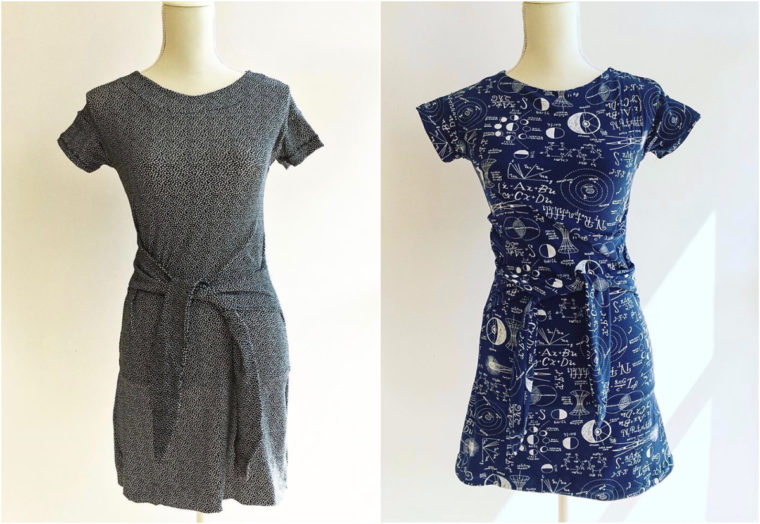 I was ordering patterns for the shop when I came across the Girl on the Go Dress + Top. I had seen this pattern before and when I saw it again I knew it would be perfect for the girls. I really wanted them to do something with knit fabrics. A lot of people shy away from knits, but I think they are a great place to start.  If you've made some cuts that are not exactly straight, or sewn some crooked lines, the knit fabric just stretches over your body and the garment fits fine.  They are so forgiving, not to mention comfortable!
We dove right in and tackled the Girl on the Go. I started by explaining to them the way patterns are written, the symbols, and how sizing works. I showed them how to take their measurements and select their size. Then we started tracing out their pattern pieces onto some Pellon Easy-Pattern. The girls really enjoyed this part. We copied the markings over and then used the pieces to cut into our cloth. This process took the span of several class meetings, but this dress was simple enough that the girls could see the big picture the whole time and stay motivated, not getting lost in the details.
Once the cutting was done and the sewing began, the dresses basically flew together. As the girls could really see the garments coming together, they got more excited to get to the end.  They were starting to try on the dresses after each step at this point. It was very exciting for me to see their excitement growing. My whole goal in this is to spread the love of sewing, and it was happening.  In each class I was watching their skills and their focus improve.
Some of the more wild cuts from the beginning were sewn down, and we had to fudge our lines a little bit, but you can't tell in the finished dress.  After seeing the effects of those small mistakes, the girls became more careful on the next steps.  They were truly learning, and I could see the gears turning in their heads, just as they had in mine so many years ago, when my aunt Kelley taught me to sew an apron using a pattern.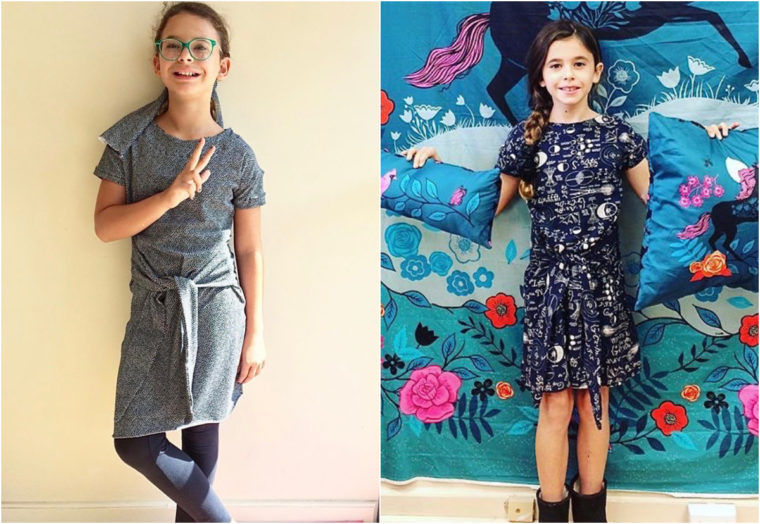 I think the best part is seeing them wear those finished dresses.  They are so proud of what they made, and they know they can do anything they set their minds to.  They are 8 and 11, and their friends and teachers were in disbelief when they showed up to school wearing their handmade dresses and toting their handmade bags.  This is just the beginning of what they'll create, and I know how magical the feeling is. I'm so grateful to have been able to give that experience to them. I hope it will excite other young people to learn these skills, and I hope their desire to keep learning and creating never ends.
The Girl on the Go dress was the perfect project to start with, and I would recommend it to anyone who is teaching a young person to sew.  We loved that there were only a few pieces, so the girls knew what everything was, and could see the outcome as they were working on it.  It was also great to make something with knit fabric because all the mistakes just became invisible.  They love the everyday comfort of the dress, and they feel good wearing it. It's cute and stylish, and the waist tie gives it just enough detail to be interesting.  It was well-written and easy to follow, and exactly what we were looking for in a learning-to-sew dress pattern.
Do you know a child who has sewn one of our patterns? Would you (or they) like to write about it? Drop us a line at contributors@oliverands.com and let's talk!