Nicole's husband is a lucky guy. She has made not one, not two, but eight All Day Shirts for him. Here she is to tell us all about it.
Name: Nicole
Where can we find you on the internet? Blog, Instagram
Project Details
Link to your project: This has been my staple pattern for men's shirts! They are all catalogued here.
Pattern used:  The Liesl + Co All Day Shirt (View A).
Fabric used: These are all cotton men's shirting sourced from Mood Fabrics in New York and the short sleeve shirt is from Fishman's Fabrics in Chicago.
Did the fabrics work well? So far, I have not met a men's shirting fabric I didn't love and wasn't able to be turned into one of these shirts.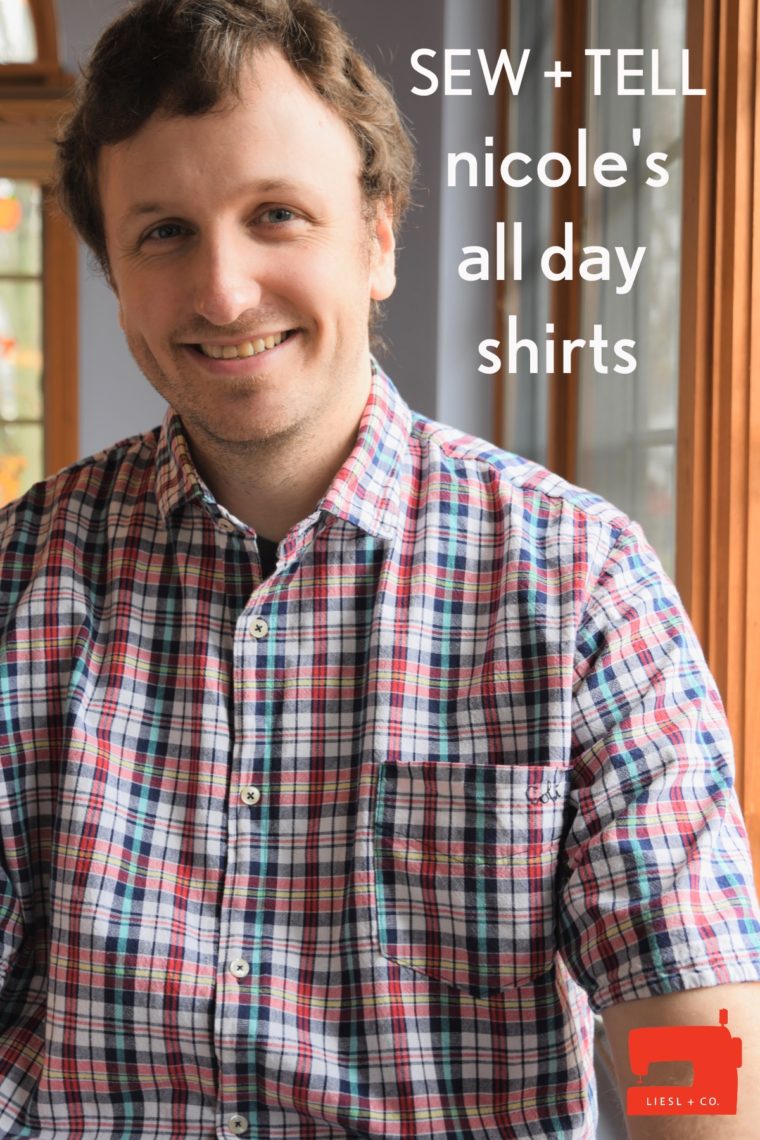 How did the sewing go?
This pattern holds a special place in my heart because it was the first pattern I ever bought and used.  Before this point, I had been winging sewing dresses for myself and I wanted to make a shirt for my husband. I knew I needed instructions and proper sizing guidelines, so I bought this pattern at Drygoods Design while I was on a work trip to Seattle. In the store, I saw that the difficulty rating was three out of four scissors, and so since it wasn't four scissors, I figured I could give it a try!
When I first pulled it out of the package, I had a bit of a shock at the initial appearance of complexity, but I read the instructions two times through and then it was pretty clear what I had to do.
Even though I was new to following patterns, I found all the steps very helpful and easy to match up with my actual project. One skill that I've developed over time is paying attention to the notches when you initially cut out the pieces. If you take the time to line them up with the same parts of the pattern when you're cutting it out, the final shirt will have nicely lined up stripes/squares etc.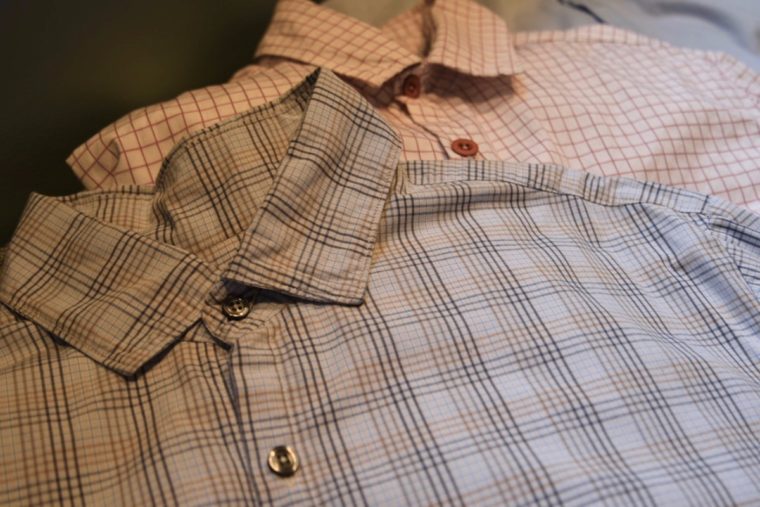 I've made a total of eight shirts: six long sleeve, one short sleeve modification, and one beautiful long sleeve that was destroyed by a red pen sent through the laundry (RIP).
I really like to make View A because it creates a very nice dress shirt.
Below I've highlighted the major features of this pattern that I think about in phases as I work through creating a shirt.
First up, we have the front pocket. The View A look includes a very simple pocket and I like to put my own little embroidered insignia on the corner.
The back of this shirt is also nice and clean with two small pleats. I try to focus on matching the pattern at the seam between the yoke and the back panel.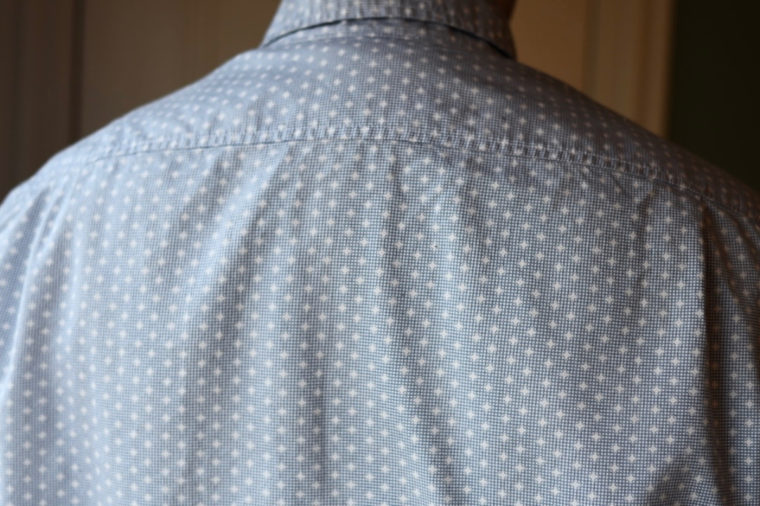 The plackets were definitely a new sewing experience, and I would encourage anyone new to this pattern to take the time to iron each piece before sewing and don't hesitate to pin! The instructions again were incredibly clear, so I was able to work through this as a relative sewing novice.  You can also see my insignia on the pocket in this photo.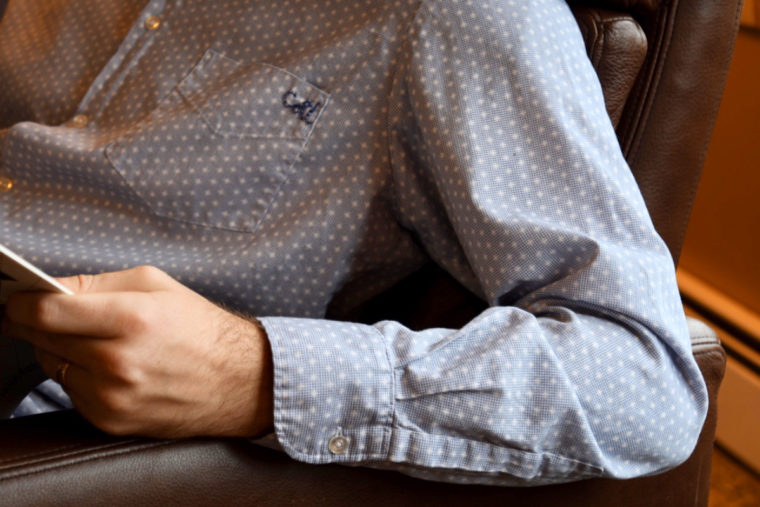 I also make one modification I learned while seated on the New York City subway looking at other peoples' clothes. Instead of doing a turned hem, I have started to finish the edge with homemade bias tape. This lets me use up some of my scraps, and I find the hem lies a bit flatter.
Once you get through these details, it's time to make more! Also, make sure you put the button holes on the correct side! There may be a shirt in here that has holes on both sides. I'm not telling which one!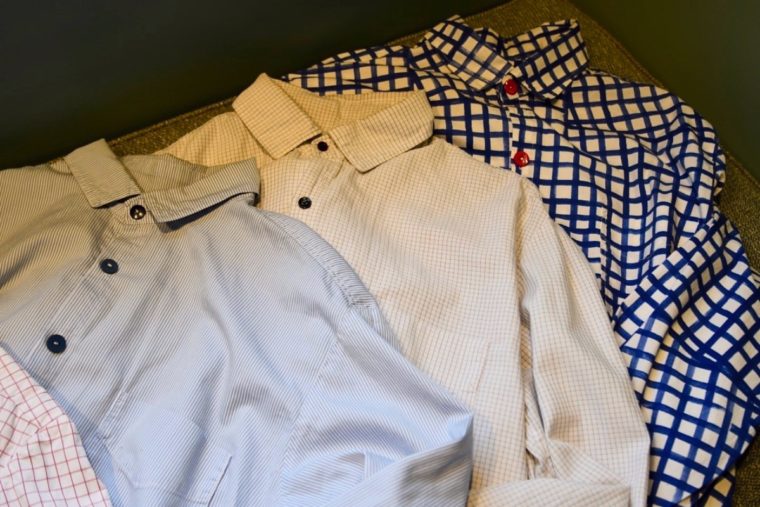 I really like all of the details in these shirts. The collar is very modern and it looks good in so many prints. There is also a really interesting collar stay feature.
I've also made a short sleeve modification. To shorten the sleeve, I measured by husband's arm from the shoulder point to the desired length above the elbow and added 1/2 inch for seam allowance. I then just folded the pattern piece shorter before cutting and double checked that the distance on either side of the underarm sleeve was the same on both sides.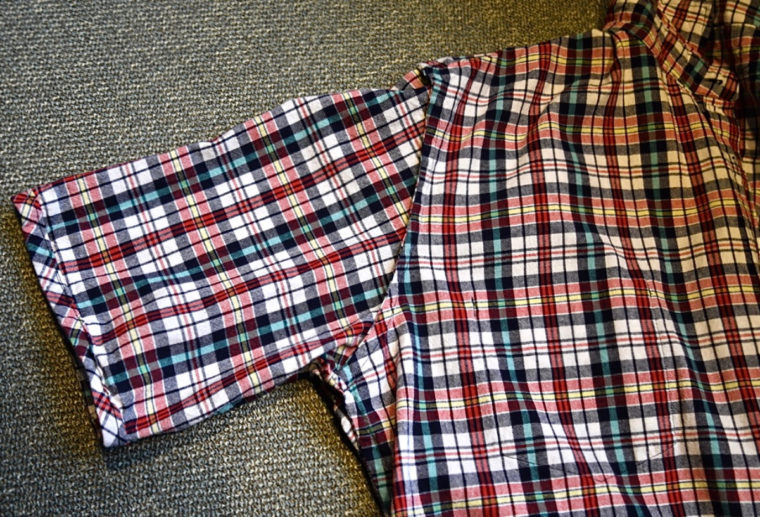 When the shirt is inside out, you can see that I finished it with French seams and bias trim at the sleeve hem. Making a short sleeve shirt that skips the plackets and cuffs probably cuts the total sewing time by 30 percent. If your fabric is thin enough to permit it (like a cotton shirting) I would highly encourage you to finish these with French seams. I think they're just so comfortable for the  wearer.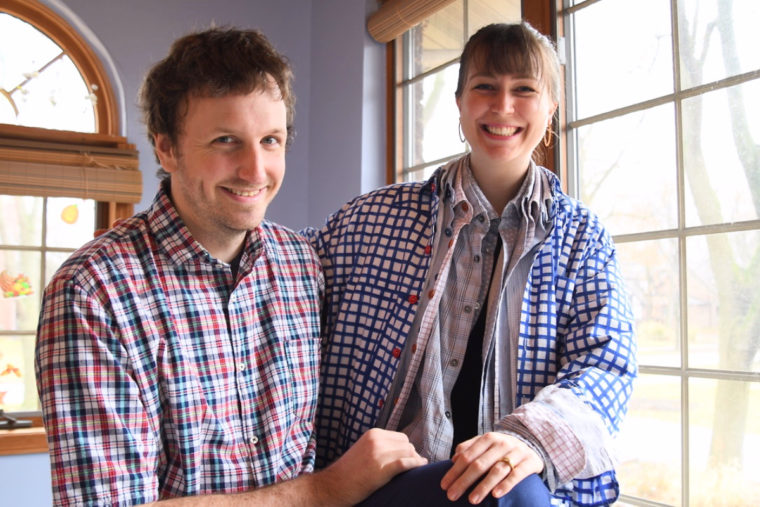 Overall, it's so fun to make these and you can just keep sewing and sewing!
What was the best part?  So far, being asked to write this piece is the highlight of my sewing experience for men's wear. Thanks to all my family and friends for encouraging me along the way. All photos were taken by @sfenfoto.