Ever wondered how to make a shirt with a lace overlay? James made this stunner and is here to explain how he did it.

Name: James
Where can we find you on the internet? Instagram
Project Details
Link to your project: https://www.instagram.com/p/B4VwojsgW8E/
Pattern used: All Day Shirt
Fabrics used: A total of three fabrics went into making this shirt: white mercerized cotton shirting, Rag and Bone black mercerized cotton poplin, and abstract geometric black lace. All three came from Mood Fabrics.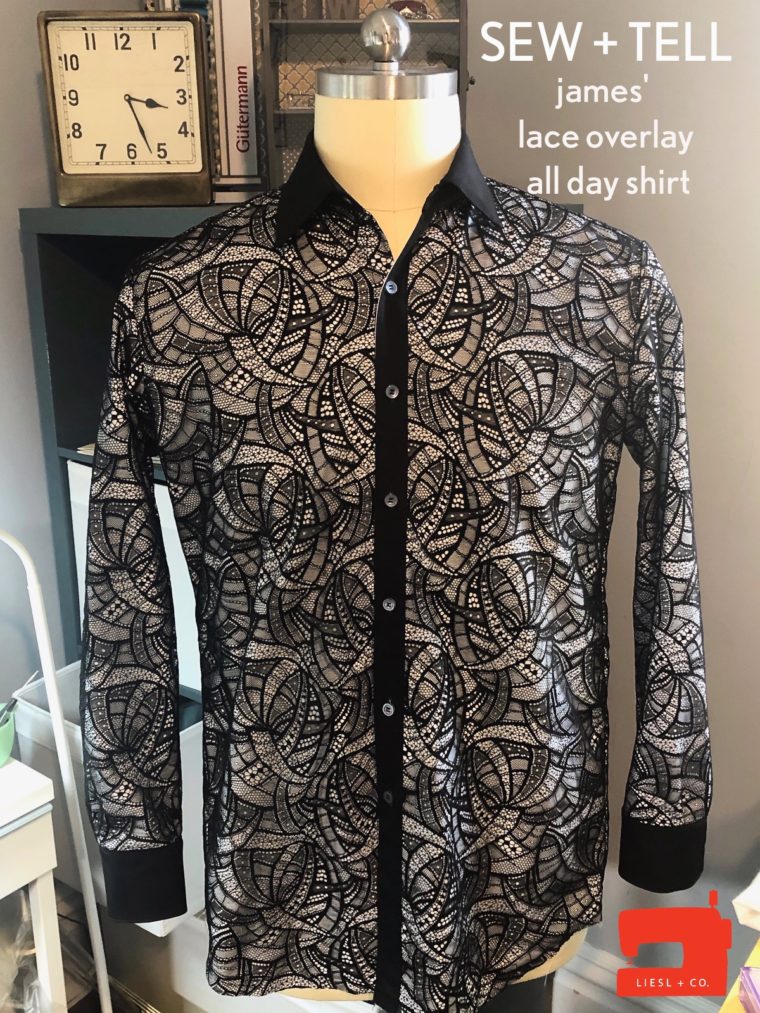 Did the fabrics work well?
All worked beautifully. The two cottons were everything one would hope for in good quality shirting. The lace was surprisingly easy to work with, and accomplished exactly what I hoped it would do.
How did the sewing go?
I am someone who is always up for a challenge. Frankly, sometimes, I don't think about how many challenges I've given myself when setting out on a new project. I gave myself only one week to make a shirt to wear for a special occasion (a gala for the 200th anniversary of the church I attend). A week may sound reasonable, but I'm a teacher who teaches all day at a high school and a couple of nights a week at a university, so most of my sewing occurs on weekends and a couple of very well planned week nights. This, of course, was not enough of a challenge.
I wanted to try a technique I had never done before–a shirt with a lace overlay on the yoke, fronts, back, and sleeves. Still not enough of a challenge you say? How about if I make it from a pattern I've never used before? If you haven't made many men's shirts, you might think all shirt patterns are created equal. That's really not the case. I've used about eight different shirt patterns, most of which will not be made a second time. Even the one that I have used most frequently required a great deal of grading in the body, and I had to completely re-draft the neckband and collar. I felt confident from reading the instructions, however, that the All Day Shirt was going to be a great pattern to make.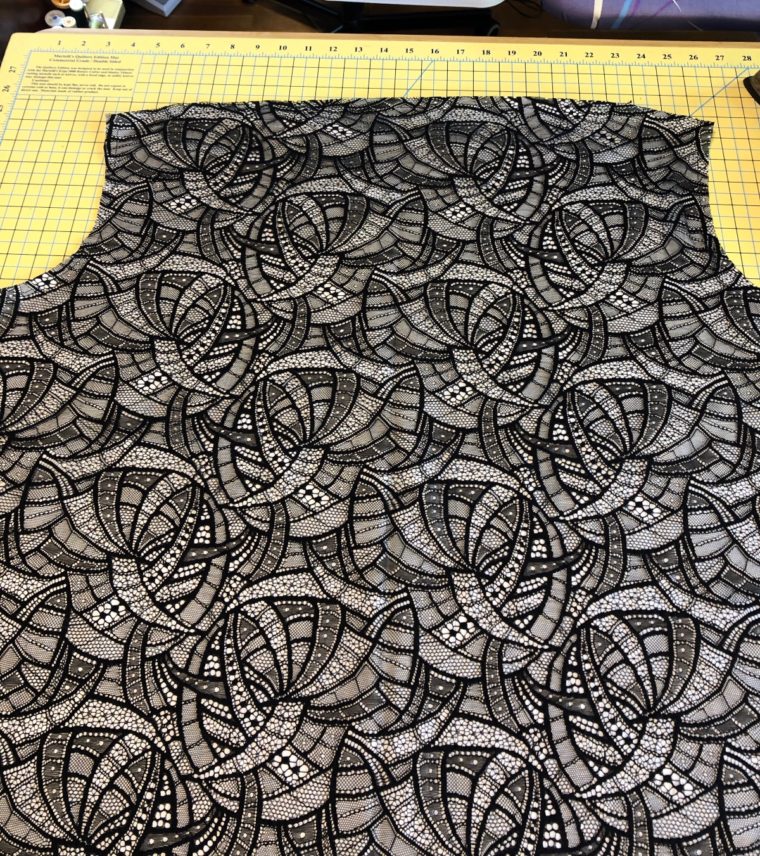 I made a quick muslin for fit and was thrilled to find that, aside from being a bit long for my short torso, I really didn't need to make any other adjustments. I carefully cut out all the pieces I would be using (knowing I was not adding pockets) from the appropriate fabric: yoke, fronts, back and sleeves from both the white cotton and lace; and collar, neckband, cuffs and buttonhole band, and sleeve plackets from the black fabric. I basted each lace piece to the corresponding white cotton piece. I chose to do this with a walking foot, which might have been unnecessary, but I thought it was better to be safe than sorry. Once all the pieces were basted I switched back to a regular foot, knowing the lace would be sandwiched between two layers of cotton from this point onward.
Once this was accomplished, the sewing was terrific. This is a very carefully drafted pattern and everything fit together beautifully. I chose not to do any topstitching on the parts that had lace, so I only topstitched on the collar, the buttonhole band, the sleeve plackets, and the cuffs.
I really liked the way the sleeves came out; I prefer there being some gather in the cap like this. Many shirt patterns just don't allow for that. I opted to hand baste my gathering stitches, as I always feel like I have more control with hand basting. The sleeves went in smoothly, and have a nice, natural feel at the shoulder.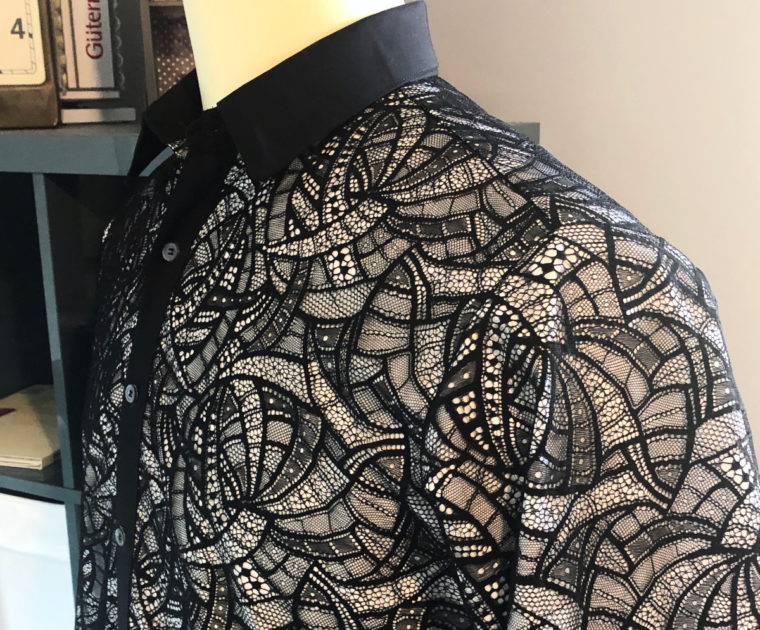 My time constraints prevented me from accomplishing two things I had hoped to do. First, I wanted to make French cuffs, but when I hadn't started the cuffs until the day of the gala, I decided I should just stick to the cuff included in the pattern. Secondly, I had purchased some lovely black silk organza to cut into bias strips and use for a Hong Kong finish on the armscye and side seams. Of course, that is quite time consuming and just was not meant to be. I ended up simply serging the seam allowances together.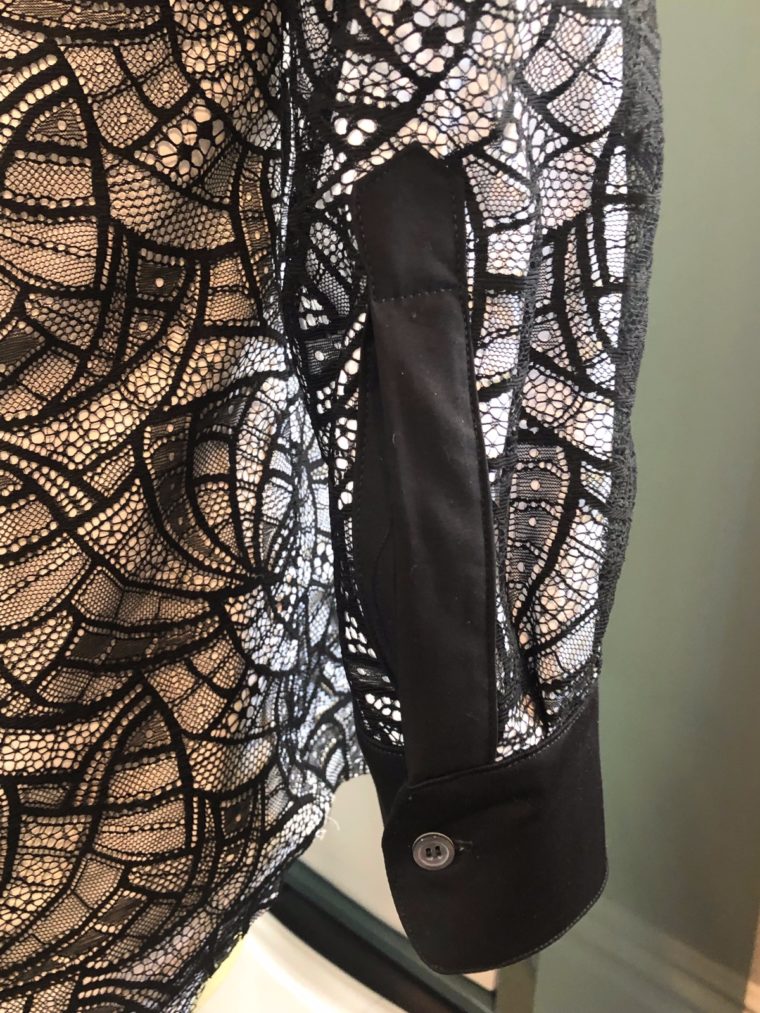 What was the best part?
Well, there are two best parts, really. First, I have a new go-to shirt pattern. I currently have the pieces for two more All Day Shirts sitting on my cutting table. These are both in flannel. The other best part was all the compliments I received at the gala. I really couldn't have been more pleased with the way it turned out.