It's been a while since I last attended a wedding, and S hasn't been to one since she was a baby, so we had some preparation ahead of us when we received two wedding invitations for September.
While my closet is a good mix of dressy (after 25 years in Manhattan my business and cocktail game is pretty strong) and casual, the really dressy dress part was seriously lacking anything outside of black and white or a full-length strapless gown, none of which were quite right for weddings. So it seemed I'd better get busy making something more appropriate for the occasion.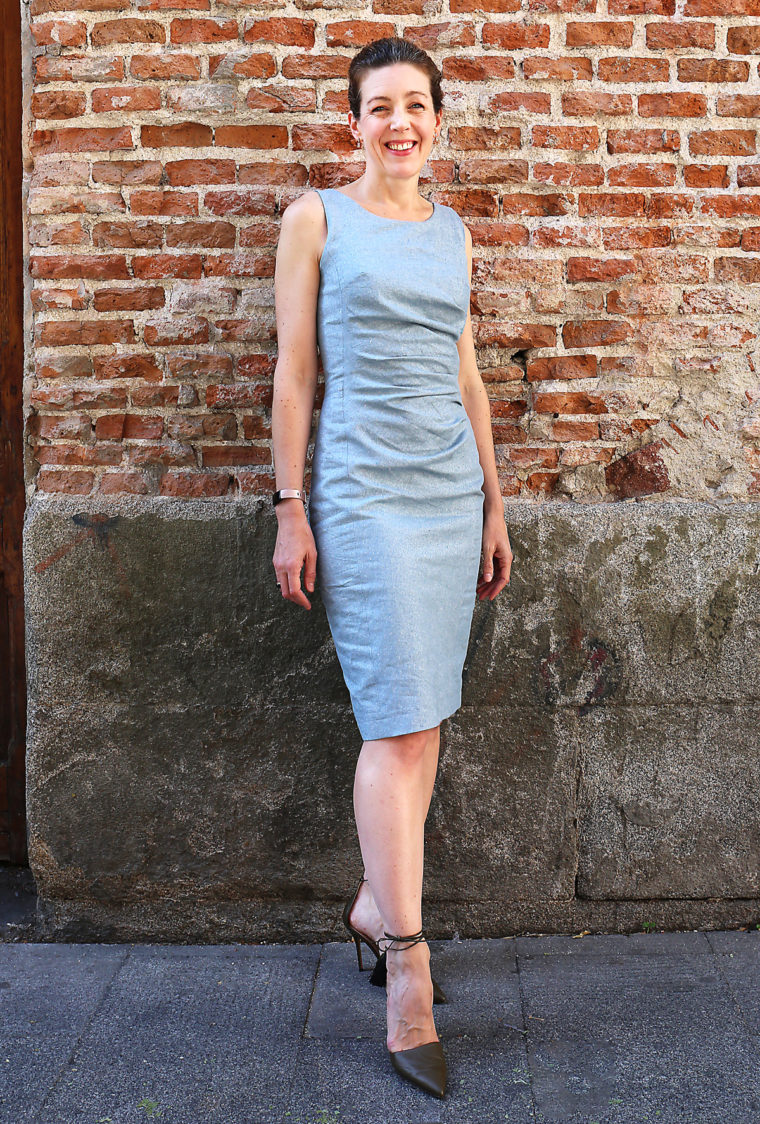 And which of our patterns would be more appropriate for a wedding than our new Rush Hour Dress? The pattern itself is a simple sheath, very practical and easy to fit because of the seams. But what could I do to make it more festive?
First off, I could choose fun fabric! I hit up my stash for this one and chose Robert Kaufman's Essex Yarn Dye Metallic in the color Water for the dress itself. For the lining, super silky, soft cotton/silk Radiance, also from Robert Kaufman, which is so nice to wear against your skin and saved me from the scratchiness of the metallic threads.
Then, the style itself. Since the Rush Hour lines are so simple and clean, it just needed a little drama.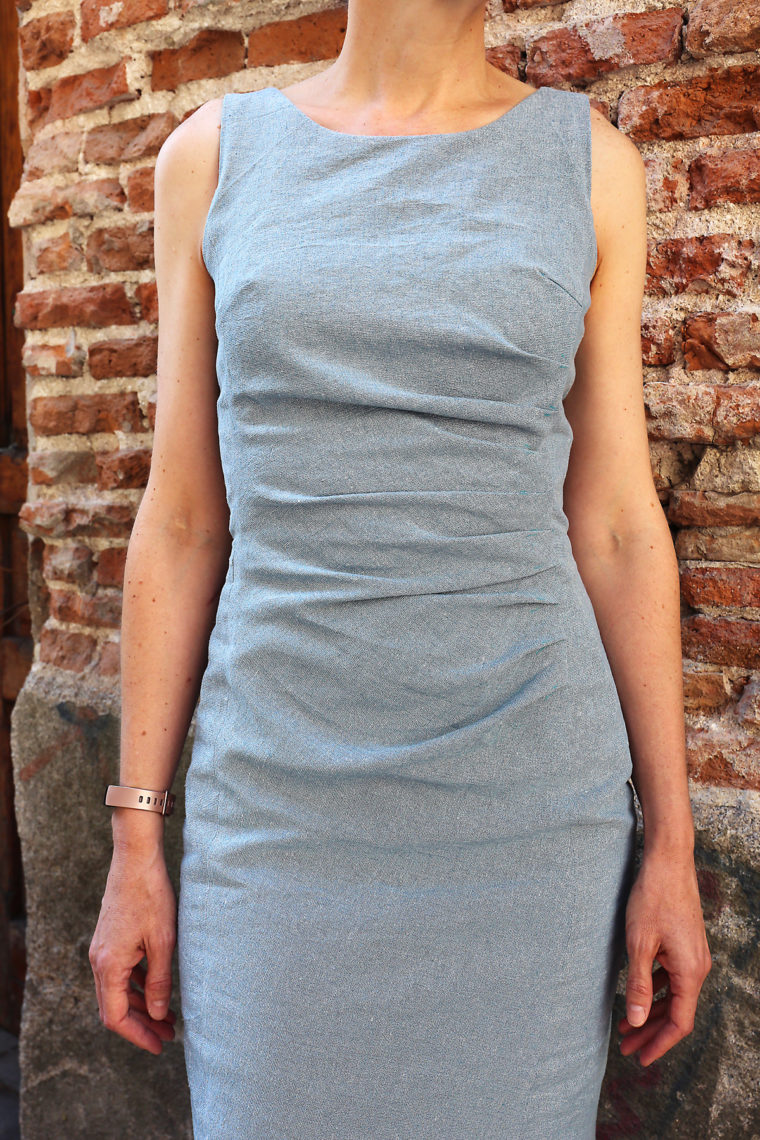 My inspiration was this Max Mara dress, which includes a pleated detail that I thought would lend itself nicely to the Rush Hour pattern. The original dress looks like it's a high quality wool suiting that's very fluid, and although my dress fabric is more structured and more prone to creasing due to the cotton and metallic threads, I thought it was very appropriate for less drapey pleats. Pleats or ruching across the front can be both a style choice and a way to mask a little extra weight–which I knew I'd need since the reception dinner included six courses and a coordinating wine for each course!
To make the style less corporate and more festive, I also altered the neckline and armholes to be a little more revealing. Here is the back.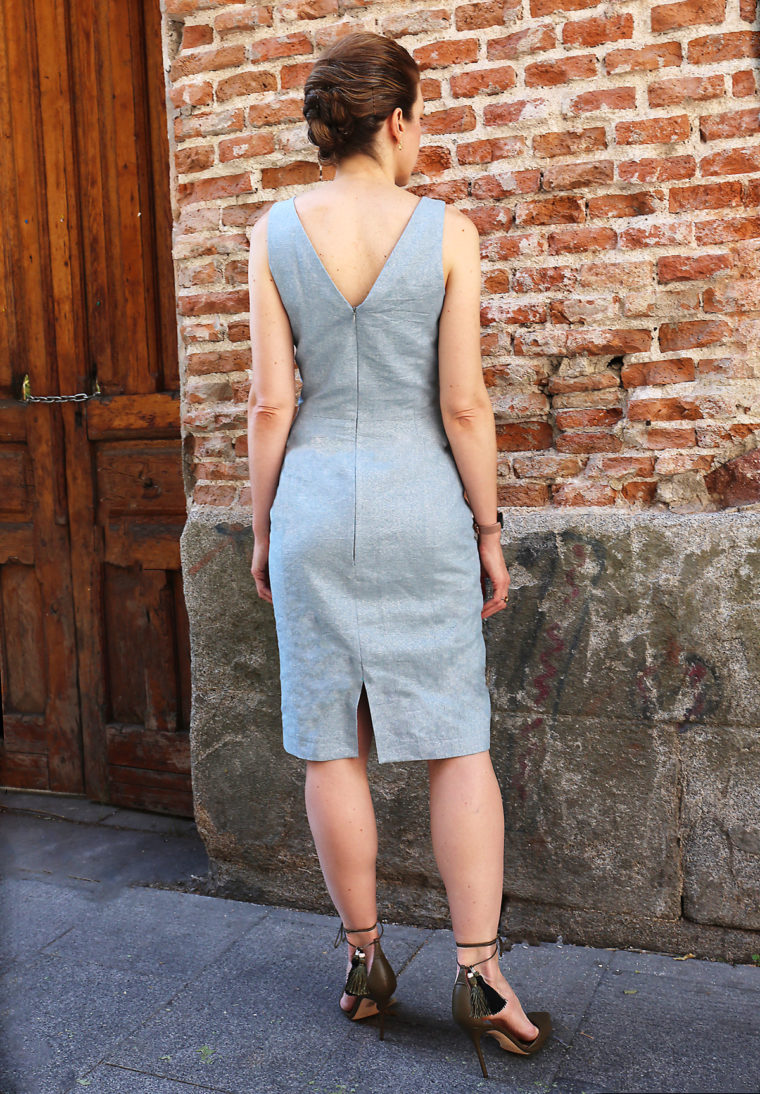 By the way, have you ever had a bad zipper? I sewed the first one into this dress three different times, and each time it stuck for no apparent reason. In the end I had to replace it, and the new zipper was just fine. So strange. I was quite relieved to dispose of the offending item once I had ripped it out for the final time. If I had had a little more time on this dress, I would have spent it steaming the pleats into place a bit, but at this point I was just happy I had a dress to wear. The fall patterns are getting the best of my time these days!
Anyway, in a few days I'll show you how to do the pleated panel for yourself, and sometime very soon after that I'll show you a few V-neckline tricks that can be applied to any pattern.
By the way, we had a great time at the wedding, and S wore her very first high heels! (I didn't make her dress; she wasn't home long enough this summer for me to do that.)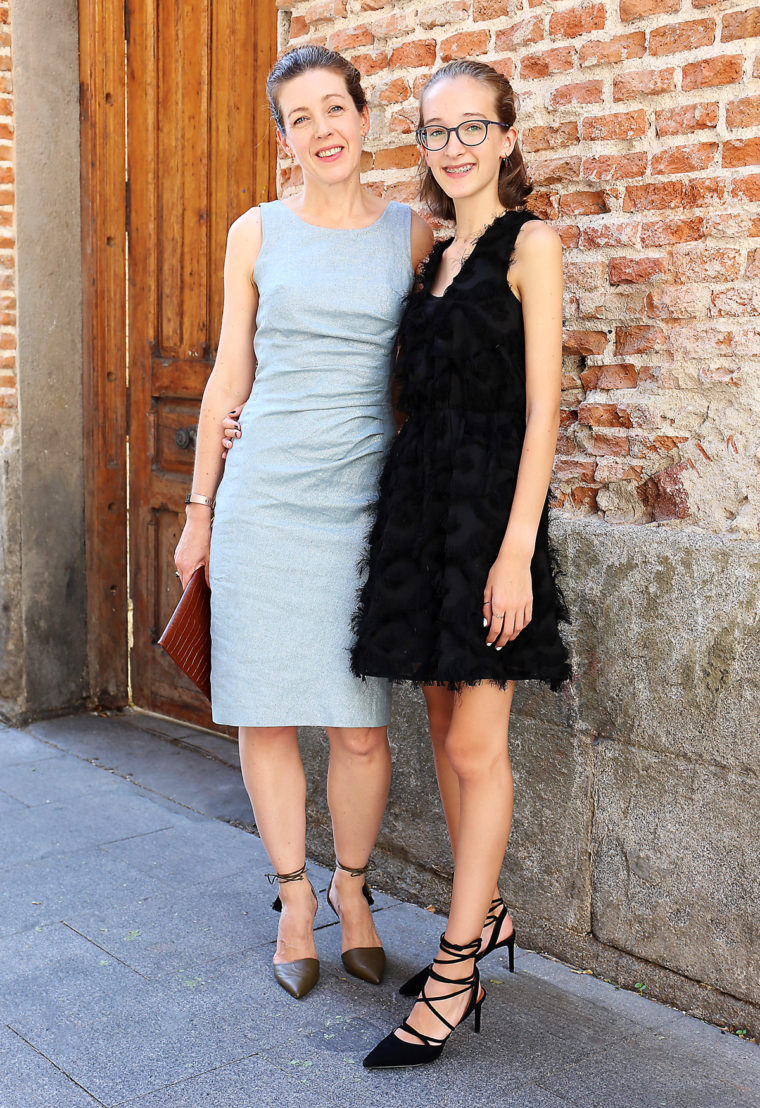 Oh, and S did my hair. Pretty good, right? I teased her that when I took it out I removed 21 hair pins, but it stayed put through some really wild dancing, so I'd call it a success.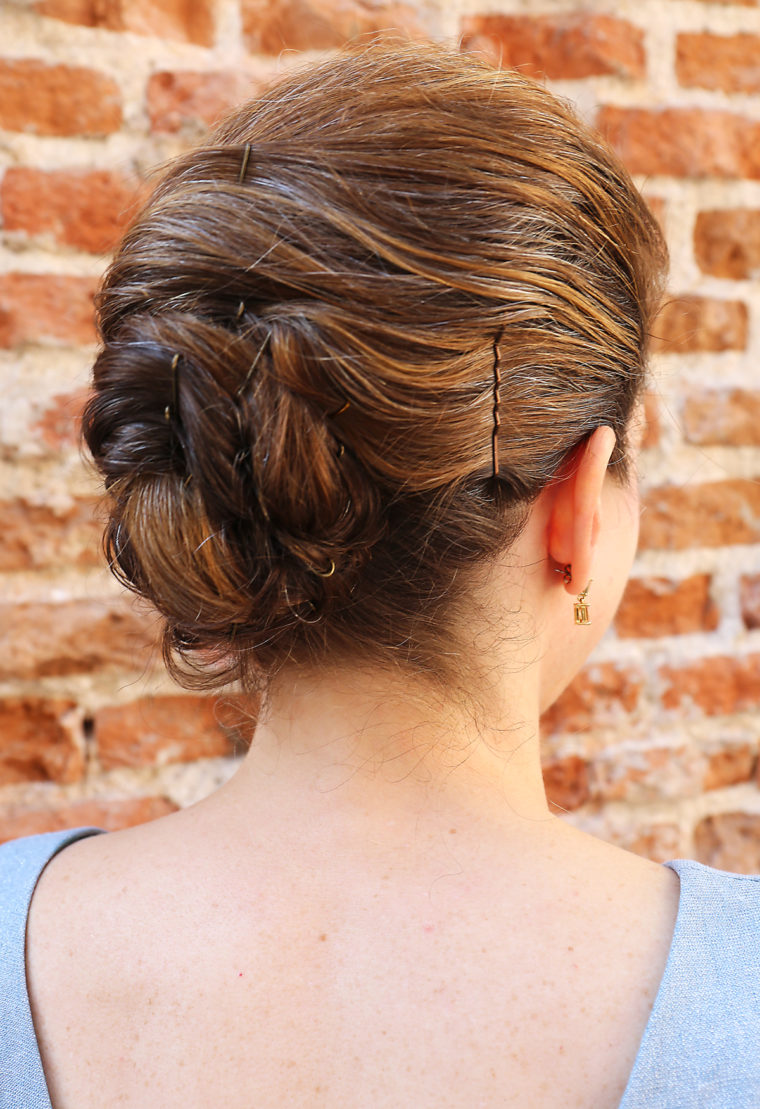 Next wedding in just one week! (No, I'm not sewing another dress….)