Please join me in welcoming Robin to the blog today. She's here to share a couple of Rush Hour Dresses that she made for herself. Thanks so much for being here Robin!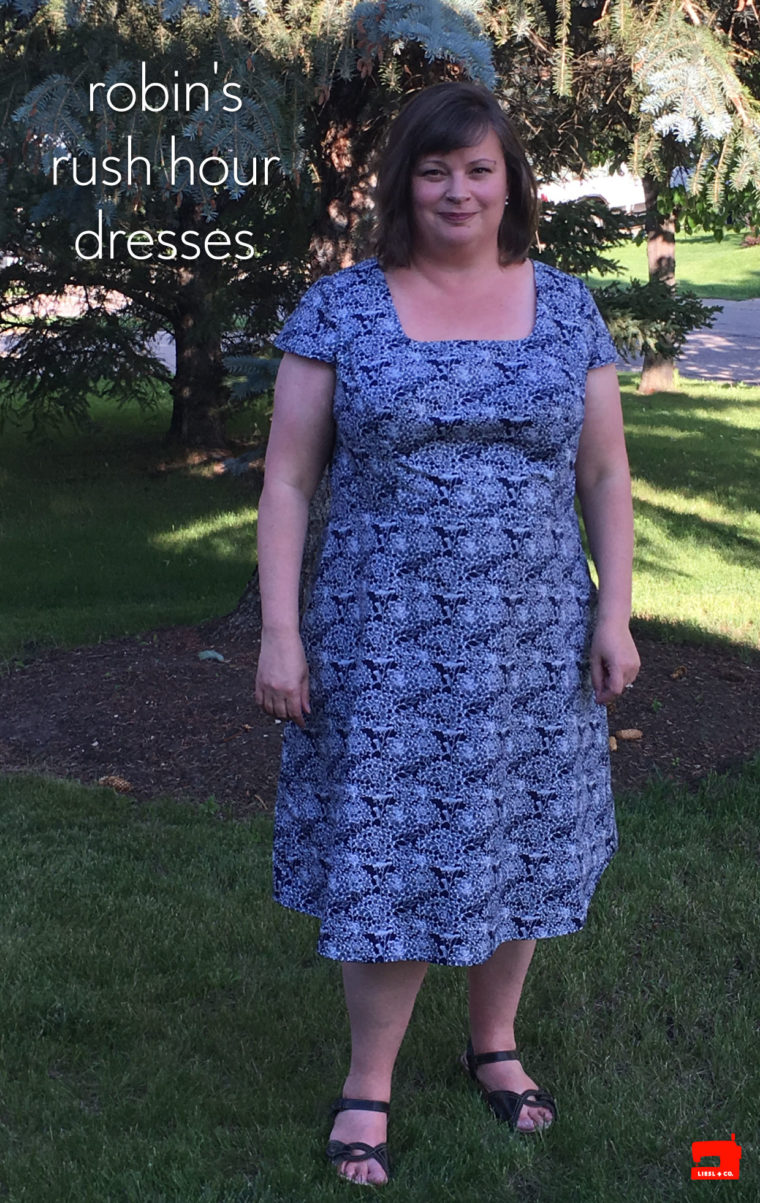 If there is one dress pattern to rule them all, it's the Rush Hour Dress. The range of sizes and the princess seams are a good starting point for getting a great fitting dress. The style variations are endless. If you have a copy of the Building Block Dress Book, you're set. I likely won't be adding duck shaped, lined patch pockets; but I am interested in changing the shape of the skirt and neckline.
Liesl asked me to think about how I would like to wear this dress. In my dreams, it's made from the most luscious blackberry colored wool crepe, lined with raspberry Bemberg rayon. The sleeves and dress are hemmed by hand. I'd wear it with a brooch, statement earrings, killer heels and a moto jacket. Perfect for making presentations to city council, and asking corporations for money.
This fabulous dress does not match my current life style. I need something to wear to the grocery store, parent council and my embroidery group. It's a bonus if I can wear the dress to a job interview. I live in the middle of Canada, jeans are often considered fancy enough for most occasions. Fabric, that isn't quilting cotton, is also hard to come by. I'd like something I can throw in the wash and doesn't need ironing.
There is one chain fabric store in town (Shady Lane Tea Shop is off Highway 1, turn when you see the statue of the white steer.) that seems to specialize in synthetics. I aimlessly wandered through the aisles and found a light weight cotton on sale that didn't offend me. Light weight cotton is not on the suggested fabric list, so I spent some time thinking about how to make this work. The fabric is perfect for a sundress. Suitable for wearing out for tea with my 13 year old daughter.
My plan for the sundress:
Raise the bottom of the armscye and add a partial cap sleeve,
Create a flared A-line skirt,
Add in-seam pockets,
Make a shaped neckline, and
Draft a facing, rather than line the dress.
Creating the a-line skirt is pretty easy. I drew in the seam allowances. Taped the skirt center front and skirt side front pieces together at the waistline. I overlapped the seam allowances at the waist and this caused the bottom of the skirt to flare out. Kind of like manipulating a dart. My fabric is only 40 inches wide, so I had to be careful about adding too much to the sides of the pieces. Repeat the process for the back skirt pieces. I patted myself on the back. Such a simple thing to do, but just so impressive in my mind.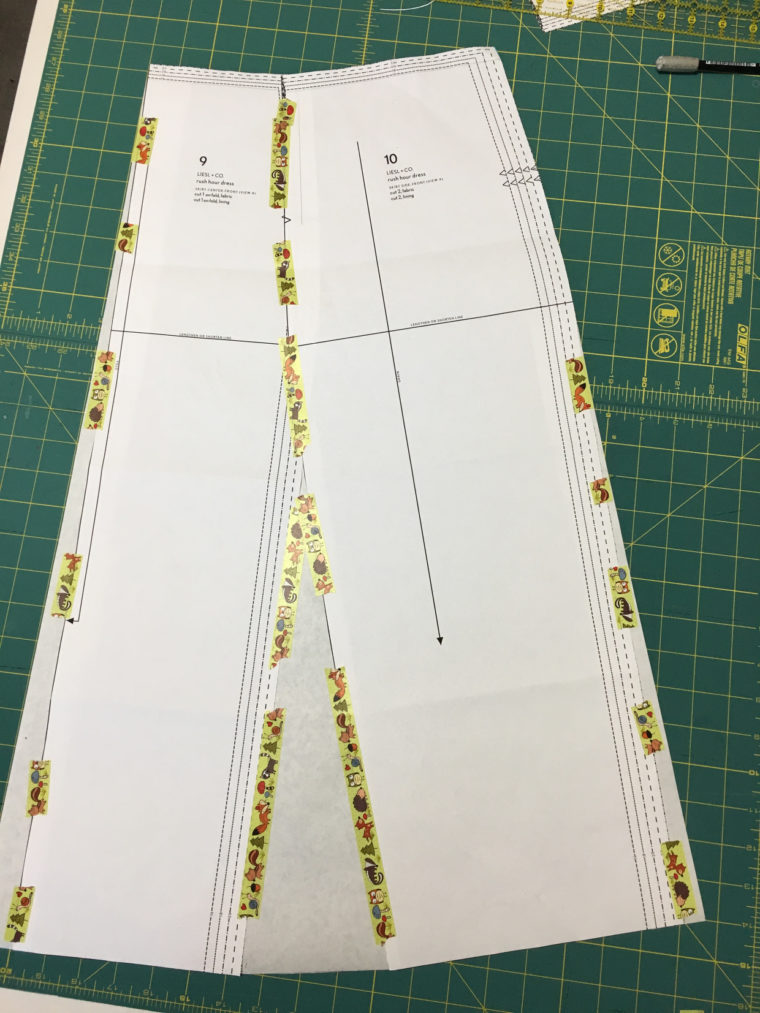 And then the rain started. I feel like I live on the edge of a dustbowl, so this precipitation is most welcome. But it's pretty darn cold right now. And not inspiring weather to sew anything easy and breezy. I put the cotton away. Pawing through my stash, I found a piece of black, double knit fabric. It's medium weight, stable and a bit firm. Ideal for wearing with sandals, boots, sneakers, a jean jacket, tights, parka, etc.
My plan for a knit dress:
Use the short sleeve pattern piece,
Keep the skirt as originally drafted,
Create a facing for the neckline, no lining or seam finishing,
Add front pockets with waist seam (I haven't done this yet, but really want to),
Sew up the back seam without a zipper (daring, right?),
Use a larger seam allowance to make up for the stretch in the knit,
Do a single fold, rather than double fold hem on the sleeves and dress, and
Use a twin needle for hems and to secure the facing.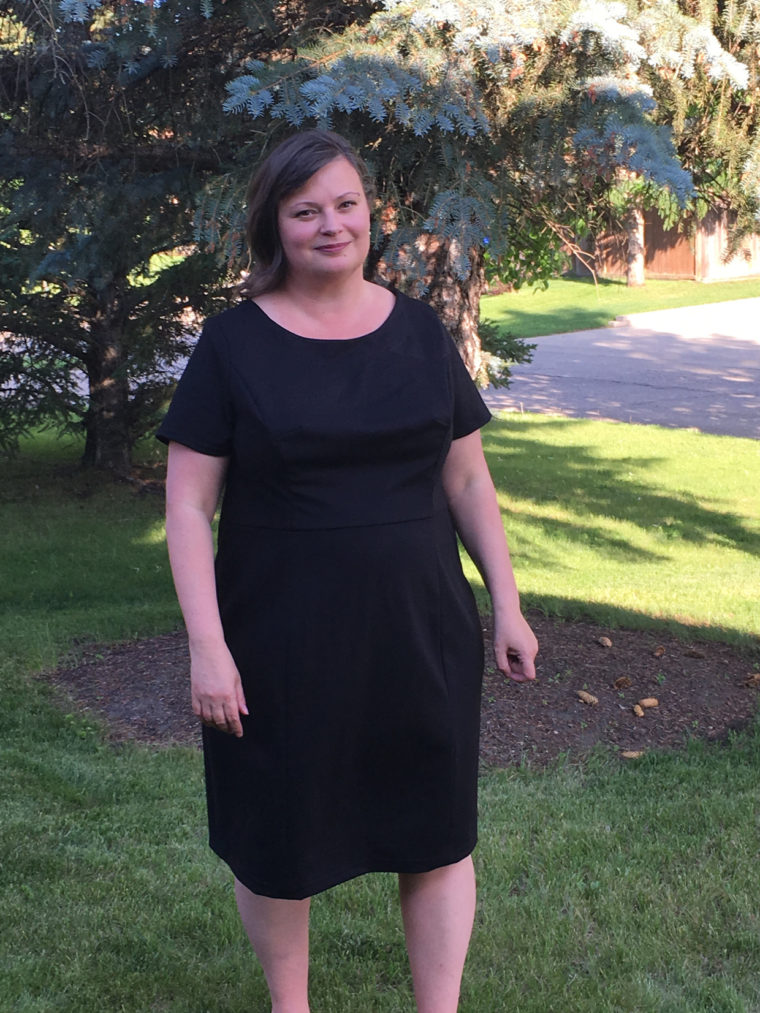 The knit fabric is more forgiving to fit. The dress is incredibly comfortable to wear. The stretch allows me to sit without worrying about seams popping. When I make this again, I'll cut the center back bodice and skirt on the fold. Two less seams to sew! And I will add pockets. The black does make it look a little more formal than planned, but I can see wearing this dress once a week for most of the year. Perfect opportunity to play with accessories.
After sewing the knit dress I went back and read Liesl's email. I totally ignored the part where Liesl asked me to create a tutorial on adding a flared or gathered skirt. Out came the blue fabric. I had the Building Block Dress book beside me. I enjoyed making the changes to the neckline and the sleeve. And I really like this dress too. Ready to wear will not have a princess seam, cap sleeved, A-line dress that fits me this well.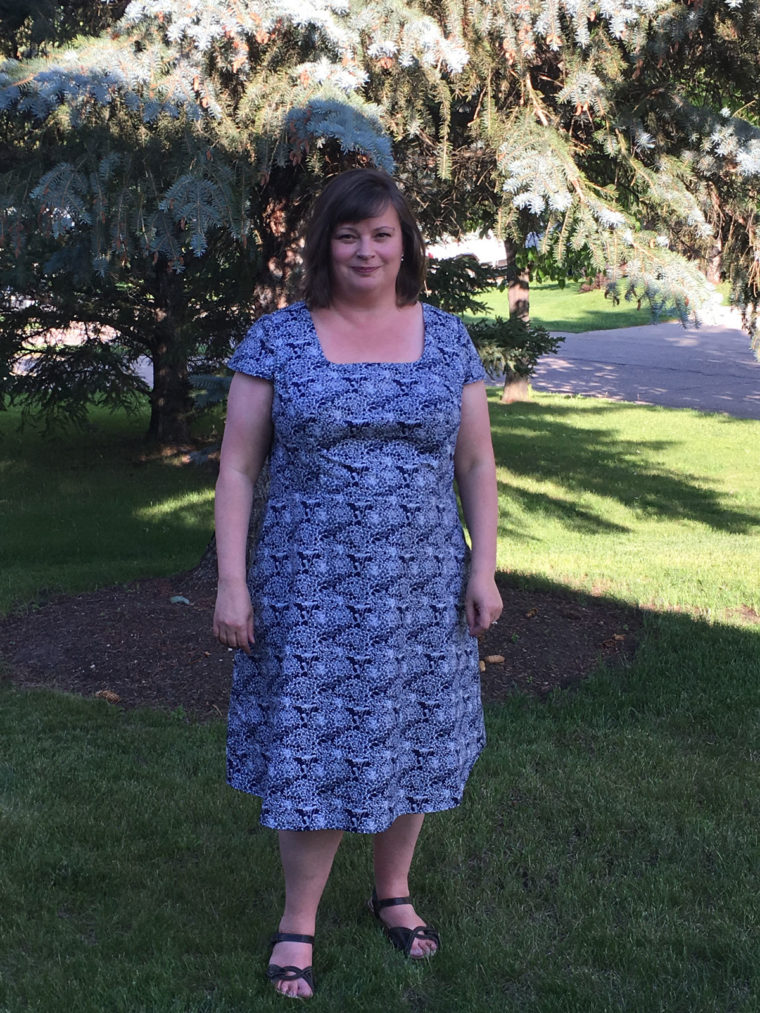 Next time I make this dress I'll look for fabric that is wider to allow for a little more flare in the skirt. A stretch woven wouldn't be a bad idea either.
How would you wear this dress? Anyone making this out of duchess satin, with a boat neckline and box pleats for a formal event? Long sleeves and wool flannel for winter? Sleeveless, with a circle skirt and made out of a loud, floral scuba knit? So much potential from one sewing pattern.