Over the years we've heard from some of you who have expressed an interest in a wider range of sizes for our women's patterns. Initially there were just a handful of you requesting them, mostly in my fit workshops, but that call for more sizes has grown over time.
If you have kept up with the industry on blogs and social media over the past few years, you will have seen a greater call for more inclusivity in the range of pattern sizes available from all of us indie patternmakers. I've been following these discussions with a lot of interest, and taking it all to heart. We certainly heard you and wanted to offer more sizing options.
It took longer than I wanted for several reasons, but at long last we're ready to go!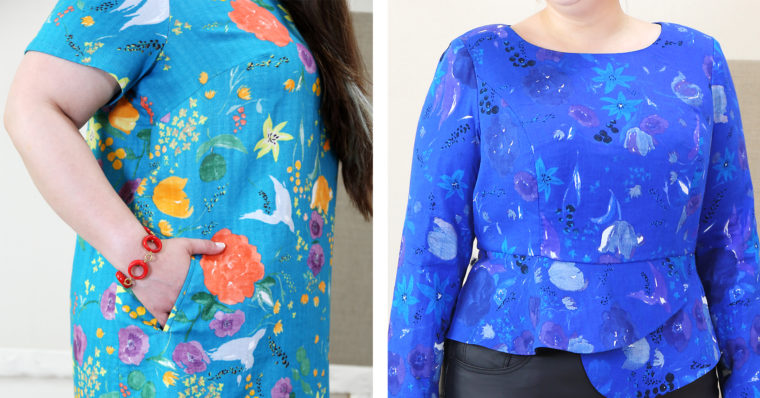 Increasing our range of sizes has taken some doing, starting with a lot of research and learning. I've never worked specifically with this size range before, aside from fitting you in workshops, so I needed to educate myself and find someone who could help me. Up until now I've done all the patternmaking for our patterns by myself, but I didn't feel comfortable doing that with a second base size and with a range of sizes that are completely new to me–especially because it was really important that we do it correctly from the start.
So once I found someone who could help me, we started by making samples, doing lots of fittings, adjusting, making new samples, etc. It was slow going, very labor intensive, and costly. And, frankly, there were times when it just felt like we wouldn't be able to get it right. (Word of warning: the fall pattern collection is going to be late this year!) But I've learned a lot in the process, and I'm very proud of what we've developed.
Since this is new to us and we're not sure what to expect from the market, we've decided to start with two of our newest patterns. These two expanded size range patterns are available in PDF format for now. However, if they sell well enough we'll be happy to entertain the idea of paper patterns. Future patterns in the expanded size range and paper releases all depend on how these are received. If sales demonstrate that there is a market for our expanded size range, we'll develop and release more. So if you fall into this size range, please make a purchase to cast your vote for more. And if you don't fall into this size range, help us get the word out about the availability of these patterns, will you?
Before I introduce the new patterns and show you all the photos, which I'll do next Monday, let's talk about the sizing, shall we?
Our usual Liesl + Co. size range includes sizes 0-20. The new expanded sizes range includes sizes 16-30. So you can see that there is some sizing overlap between the two. Both size ranges include 16, 18, and 20 in case you need more than one size. (We heard you on this; you told us it was important to you.)
Since we developed a new base pattern for the expanded size range, we were able to adjust the fit specifically for this size range. For example, if you compare the two sets of pattern pieces you'll notice that in the original size range the size 18 is drafted a little differently than the new expanded size range size 18. The difference is mostly in how we've re-proportioned the shoulders and neckline to be a little bit narrower in the expanded sizes.
When patterns are graded, the shoulders and neckline grow along with the width of the chest, waist, hips, etc. (at a different ratio, but they still grow), so if you're built narrow through the shoulder you may often find that the shoulder of a graded pattern is too wide by the time it reaches your bust measurement. We've addressed that common complaint with our new size range.
We've also increased the waist and hips in the expanded sizes to better suit those of you who are more pear- or apple-shaped. (Why, why, why don't we have a better way of referencing our body shapes? I don't think of myself as a pear….) And, finally, you'll also notice that we've given you more room through the bust with a larger bust dart for our expanded sizes, since that's a frequent frustration as well. So even though the bust measurement for both size 18s are the same, the proportions are different, with more room through the bust and a narrower shoulder and neckline.
Does all that make sense so far? And can you get a sense now for why developing this new size range was much more complicated than simply grading up our existing patterns? Lots of math. Lots of fittings. Lots of trial and error until we felt like we had it right.
Here is a measurement chart so you can compare the two size ranges. I know you're curious.
Initial Size Range

Size
16
18
20
Bust, A/B Cup
42″
44″
46″
Bust, C Cup
43″
45″
47″
Bust, D Cup
44″
46″
48″
Waist
34 1/2″
36 1/2″
38 1/2″
Hips
44 1/2″
46 1/2″
48 1/2″
Expanded Size Range
Size
16
18
20
22
24
26
28
30
Bust, A/B Cup
42″
44″
46″
48″
50″
52″
54″
56″
Bust, C Cup
44″
46″
48″
50″
52″
54″
56″
58″
Bust, D Cup
46″
48″
50″
52″
54″
56″
58″
60″
Waist
37″
39″
41″
43″
45″
47″
49″
51″
Hips
45 1/2″
47 1/2″
49 1/2″
51 1/2″
53 1/2″
55 1/2″
57 1/2″
59 1/2″
And here's a little sample of two front bodice patterns laid on top of each other to give you a better sense of the difference between the two.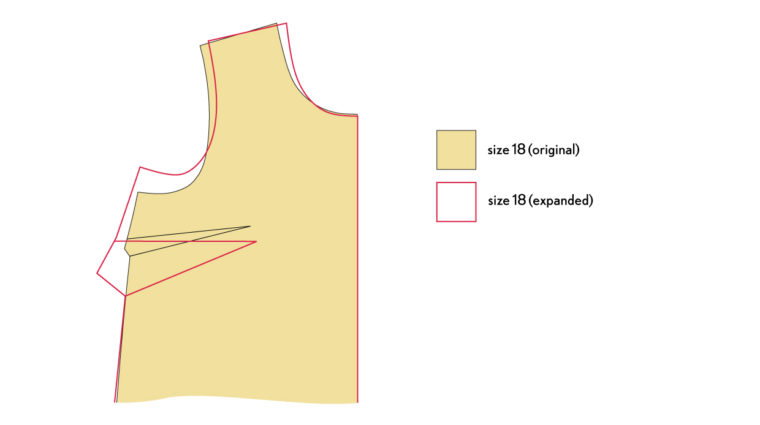 What else can I tell you here? Mostly, I guess, that I'm really hopeful you'll like these patterns. We've worked hard on them and really, really, really hope you'll be pleased with the results. I'm, frankly, very nervous to put them out there. (It's always nerve-wracking to release something you've spent a lot of time developing, but you know that, right?) I'd like to do more of them, especially since now I feel like I understand the process and the challenges better after all this time spent developing them. And because you've been asking for them. Obviously we'll be looking forward to your feedback and to seeing how they work for you. Ultimately you get to decide whether we'll offer more in this size range.
OK, having said all that I'll be back on Monday and Tuesday to show you what we've got for you! Have a great weekend.