Here's another one of those patterns that I've designed to be easily fitted to your body. The new Liesl + Co. Breezy Blouse is a quick and easy pattern designed to be very simple: a sleeveless, somewhat boxy top that can feature a small amount of a fabulous fabric. It's quick to make and easy to wear.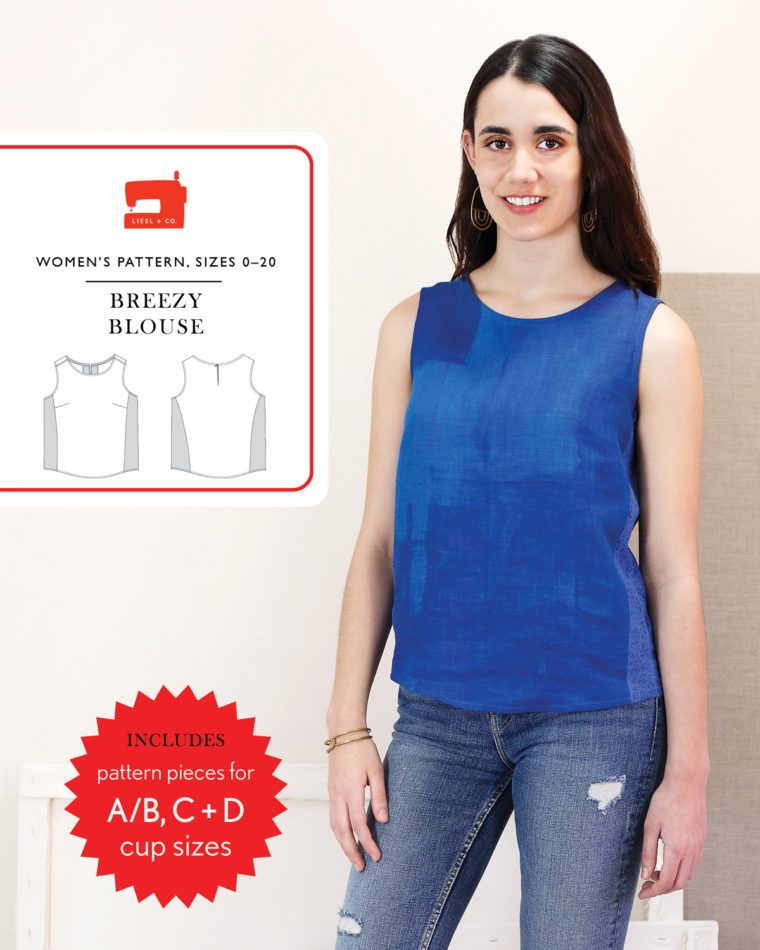 Everyone needs a stash-buster, right? This pattern uses just a small amount of fabric, and the contrast-fabric side panel allows you to adjust the shape to your body and preferences while also minimizing the amount of main fabric you need. This top has a very gentle shirt-tail hem for a subtle detail, and it's a pull-on style with just a keyhole opening at the back, so you're not fiddling with buttonholes or fancy closures.
I started working on this style quite a while ago, and it's become a summer wardrobe staple for me. The seam lines allow you to let it out a bit or take it in as you like, and the little Dior darts give you some shape without being very fitted. I did the full bust adjustment for you so you can work with the A/B, C, or D cup pattern pieces to help with fit even more.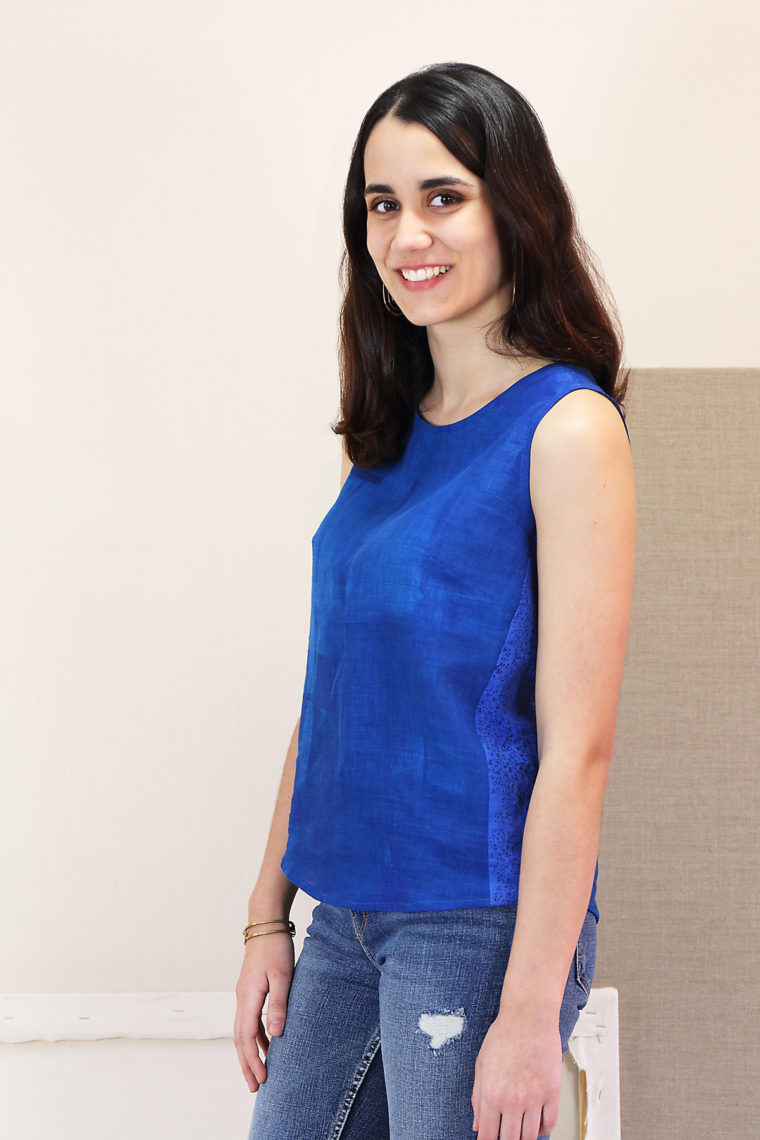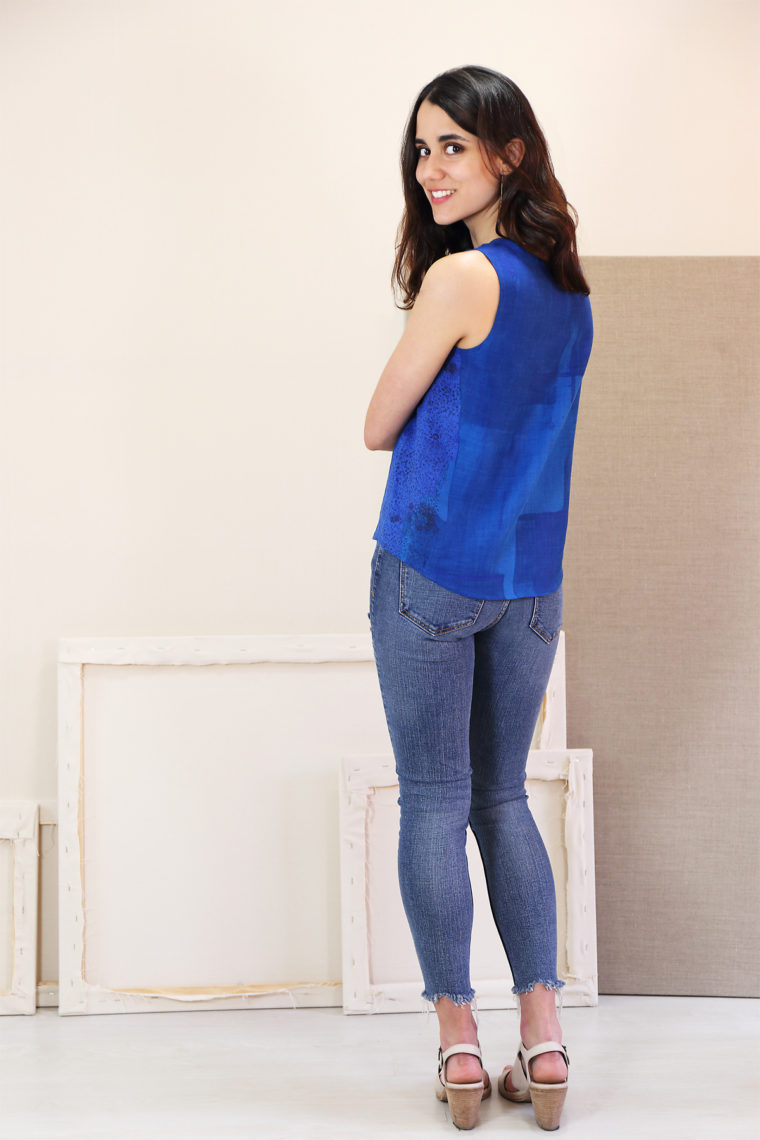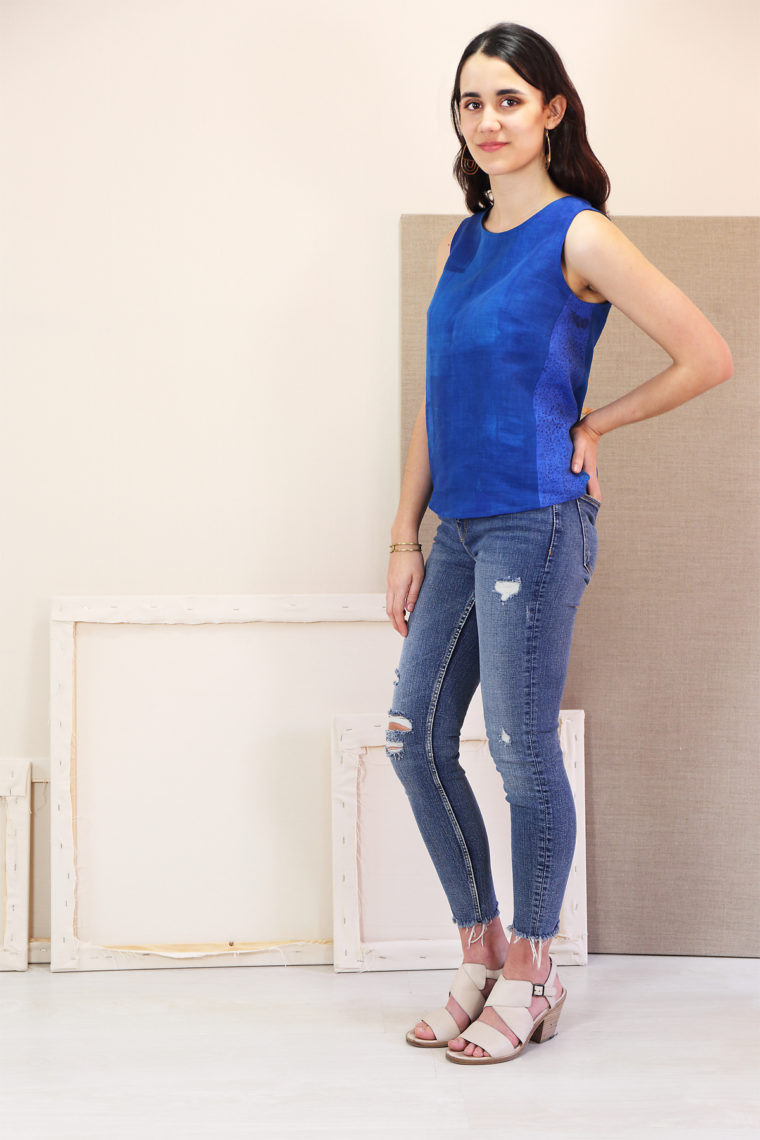 Here are a few examples of how I've sewn it up. Both of these used leftover bits of fabric from other sewing projects. Did I mention already that this is a great stash-buster project? (Yes, I did.)
Wear this easy top with skirts, trousers, jeans, shorts. It could easily be dressed up for work as well, worn under a jacket or blazer.
Regarding fabrics, have fun with this one! This pattern works best with drapey woven fabrics such as silk, loosely woven cottons, double gauze, linen, rayon, and crepe. Pair two different fabrics for the front/back and side panels or use the same fabric for the entire blouse if you like. You can also use less drapey fabrics for a boxier look if you like. I've done both and like them equally well. In fact, right now I'm sewing a Breezy Blouse using a heavy linen that I'll show you soon.
Styling ideas, you ask? Of course! Like I said, fancy fabrics are fantastic for this pattern! I've got my eye out for eyelets and jacquards right now. Definitely try embroidered fabrics or try embroidering your own. Here are a few ideas to get you started. I also think it would be fun to highlight the seams with piping or ribbon detailing. And it's that ribbon/yarn side panel, below left, amazing?
So that ought to get you daydreaming a bit, I hope. The Breezy Blouse will be available for sale next week in both paper and digital formats. You can sign up on the pattern pages to be notified by email when the pattern is released if you want to be among the first to get a crack at it.