Hello friends!
I'm a little late giving you my Grandma's pumpkin pie recipe, but at our house this is an all-year-long favorite so don't wait until next Thanksgiving to make it, OK? S adores pumpkin pie, and I think it might be because this version uses milk instead of super-sweet condensed milk. But who knows? The recipe is at the end of this post, so read on.
But first, I was thinking about recipes and cooking blogs the other day and feeling thankful I'm not a food blogger. I mean, have you ever read the comments on food blogs? They are often both amusing and incredibly irritating. My favorites are the ones where a reader complains that the recipe didn't turn out correctly, but then they also admit that they either didn't follow the steps or use the correct ingredients. But my second favorite are the comments where someone wants to completely alter a recipe and asks how to do it. For example, a (fictional) comment on a recipe for, I don't know, Kiwi Fruit Ice Cream. (There isn't such a recipe as far as I know, but I have a kiwi fruit allergy so I'll use it as an example.) "I'm allergic to kiwi fruit. Is there a way to make this ice cream without kiwi?" I mean, if you have a kiwi fruit allergy don't make the recipe! (Besides, salted caramel ice cream is so much better….)
But you've read these comments too, right? So I thought that this week we should have a "contest" to see who can write the worst/funniest review for a (fictional) sewing pattern or sewing tutorial. Who can be the worst commenter? Let off a little pre-holiday steam and show us what you've got in the comments, OK? I know you can do it.
And in the meantime I'll pretend to be a food blogger and leave you with Grandma's recipe. Although, unlike real food bloggers you only get an old photo of my wine bottle rolling pin back from when we first moved to Madrid and I didn't have a real rolling pin. You're only getting this photo because I'm cooking lunch for about 15 people tomorrow, so I don't have time to go looking for a real pumpkin pie photo!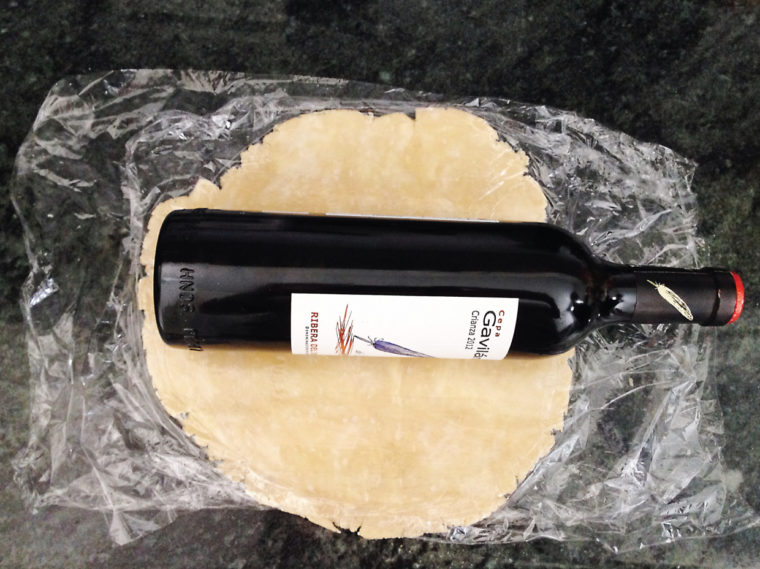 Grandma B's Pumpkin Pie
Whisk together:
1/2 cup sugar
1/3 cup brown sugar
1 t sugar
1/4 t ground ginger
1/4 t ground cloves
1/4 t ground nutmeg
1 t salt
Then whisk in:
1 1/2 cups of canned pumpkin (or cooked, mashed butternut squash)
3 beaten eggs
a little less than 1 cup of milk
Pour the mixture into a prepared crust and bake at 375 degrees F for 45 minutes or until a knife inserted into the center comes out clean.
So easy! The hardest part is making the crust, but I'll leave that part up to you.
And, now, I turn it over to you. Do you best–or worst. Let's hear your worst/funniest review for a (fictional) sewing pattern or sewing tutorial.