Hello friends!
Do you know about all the cool features on our website that can make your life easier? We've designed the site specially to help you out, so I try to pop in every once in a while and give you a little tour to show you where to find things. After all, with more than ten years of blog posts in our archives, it can be difficult to find the specific tutorial, feature, sew-along or technique that you're looking for!
Let's start at the shopping page for each pattern, shall we? I'm using the Liesl + Co. Extra-Sharp Pencil Skirt as an example. Notice that if you scroll down past the initial pattern description you'll find a series of tabs. I've highlighted them in red below so you can see them easily: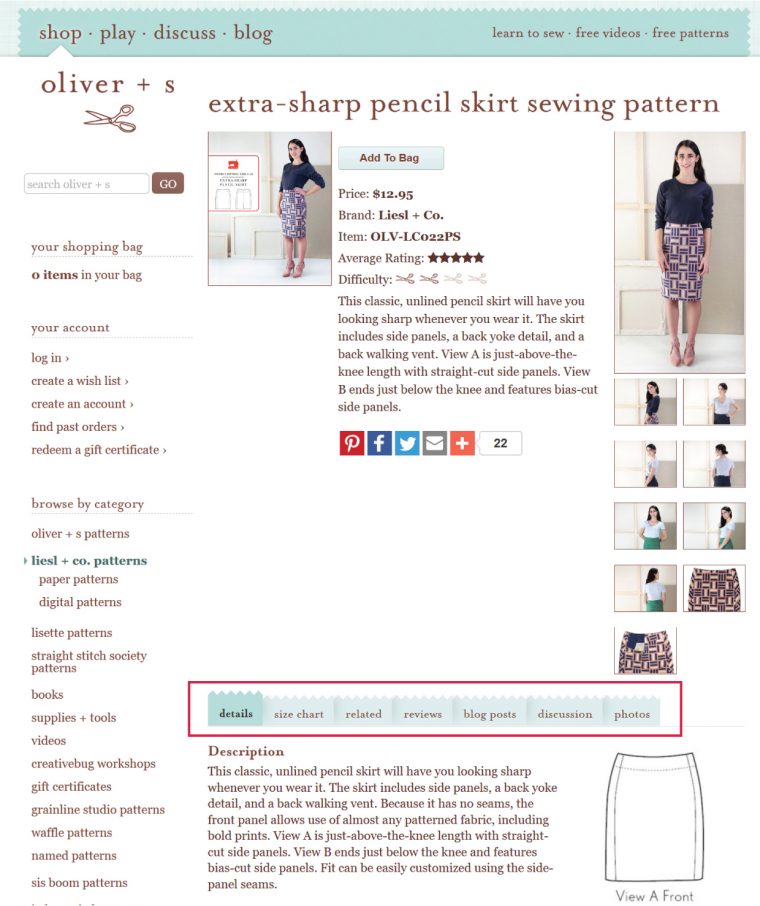 Each tab in this row will show you things specifically related to this particular pattern. Here they are again:

The first tab in this group is the Details tab, which includes all the back envelope information like the full style description as well as fabric requirements, notions, and finished measurements for that style. This is useful for examining the details of each style and for determining what sort of fabric will be best for the so you can really learn all about the pattern before it even arrives in your mailbox (or in-box if you're purchasing a digital pattern).

Moving across the list of tabs, the Size Chart tab gives body measurements in both empirical and metric. And the Related tab will show you other styles that might be interesting to you if, for example, you're shopping for a skirt pattern and want to see what other styles we have to offer.
Next, the Reviews tab lets you hear from others who have already sewn the pattern. It's always helpful to see what others think, right?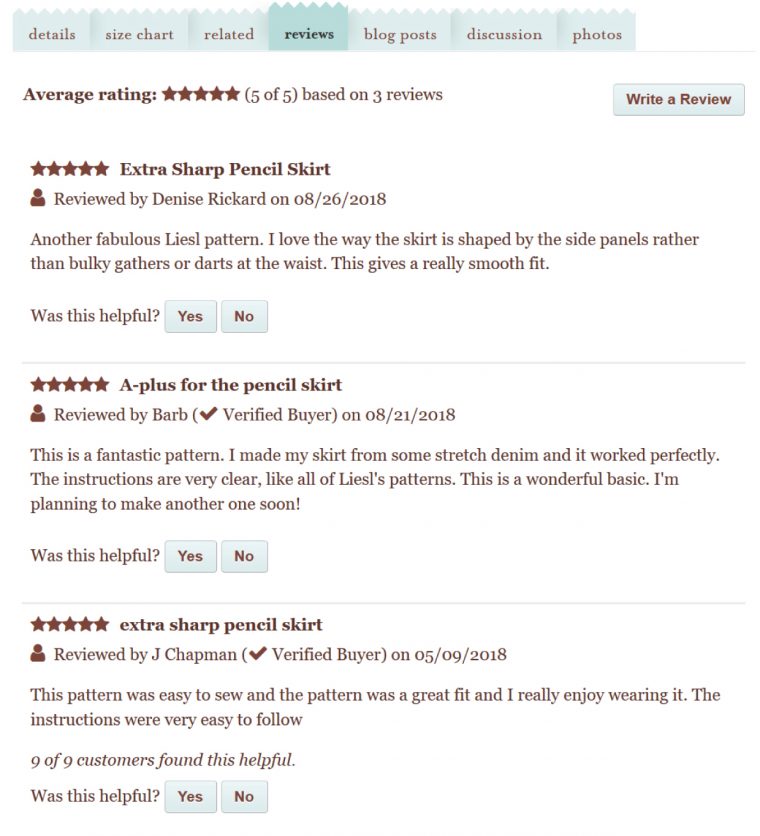 Then we move on to the Blog Posts tab, and here's where the site can be especially useful. Any time we've referred to a pattern in a tutorial or as a feature, that blog post will show up here. This makes it easy to find sew-alongs, customizing tutorials, inspirational ideas, and anything else we've written about the pattern–all in one location!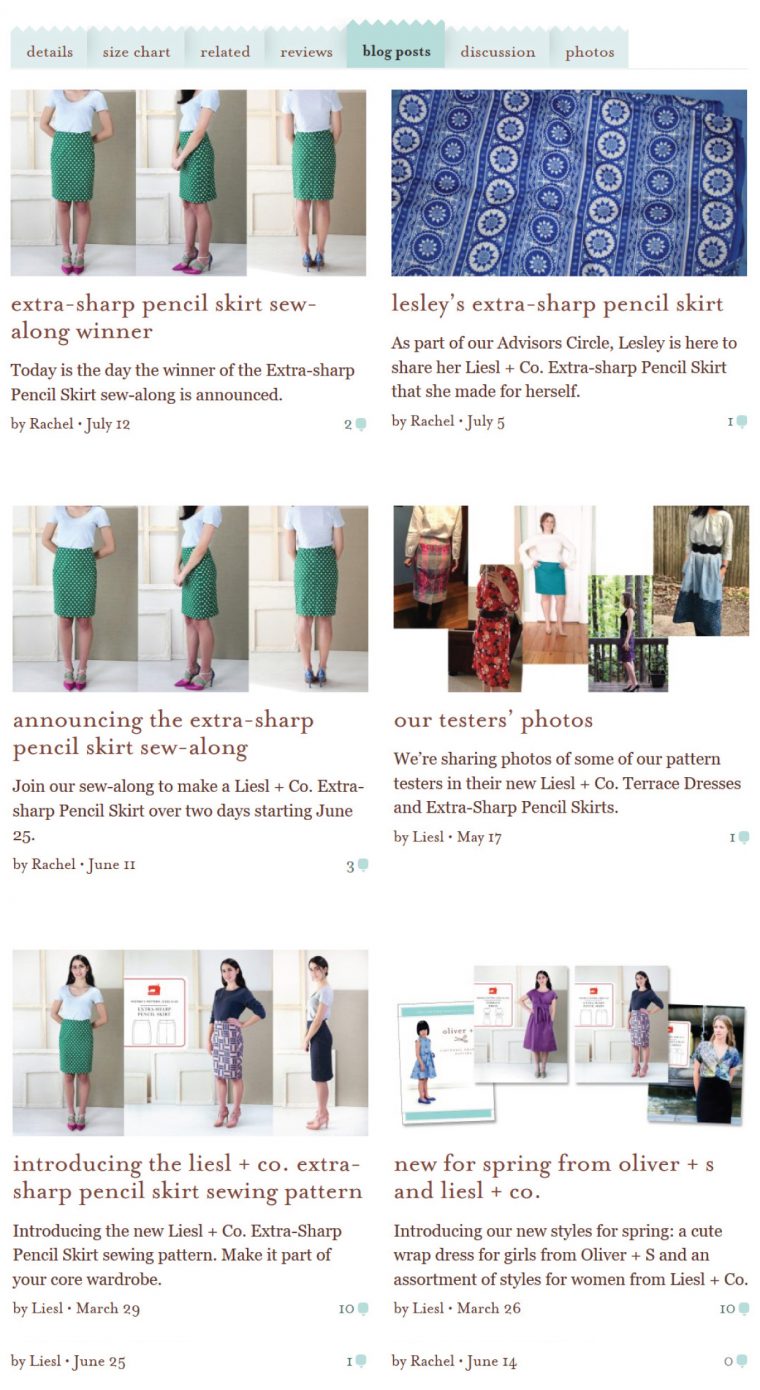 We've also included a Discussion tab so you can easily reference any discussion forum chit chat about the pattern. If someone has asked a question about that pattern you'll find it here, so we hope this features saves you time as well. In this case the pencil skirt is still quite new and there hasn't been any discussion yet, but if there was you would find links here to each related discussion on the forums.

And, finally, the all-important Photos tab where you can see examples from other people who have sewn the pattern. This is great for gathering inspiration, seeing how the pattern looks on different body shapes and sizes, and viewing how the pattern looks in a variety of different fabrics.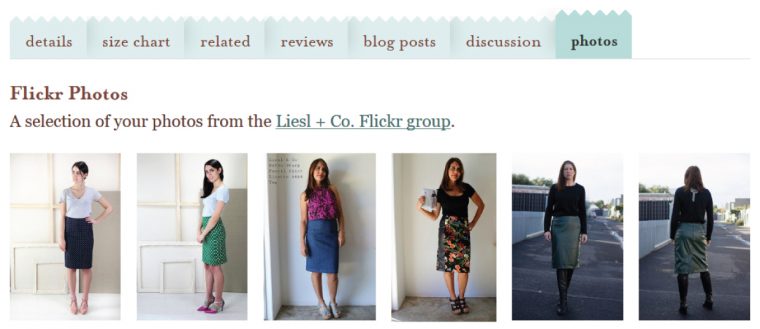 So there's lots of useful information all gathered and organized into once place for your convenience!
Next let's take a quick look at the blog itself. The main page of the blog shows our most recent blog posts, but once again take a look at the row of tabs part-way down the page. I've highlighted it in red again so you can see it easily.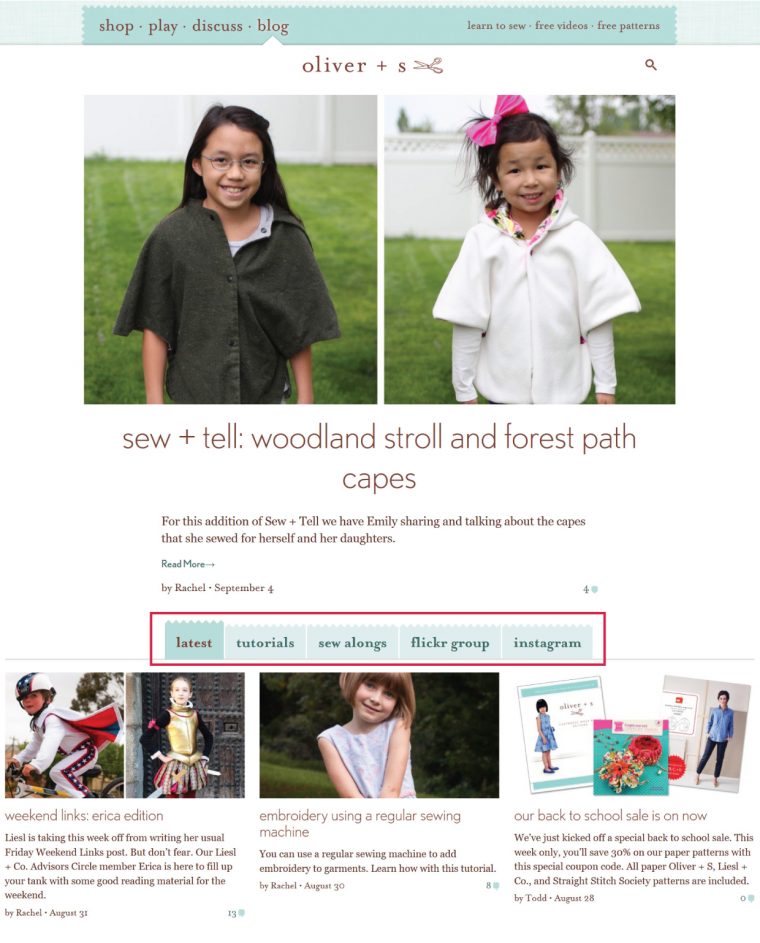 On the blog landing page you're already viewing the Latest tab, which shows all our most recently blog posts. But if you're mostly interested in our tutorials, click on the various Tutorials tab and you'll see all the posts we've written to help you customize our patterns. You could spend hours (maybe days or weeks?) in this category alone, but let's move along.
After that you'll find the Sew Alongs tab, which is just that: every sew along we've done for our patterns. The sew alongs can be used whenever you like, so if you didn't join us the first time we sewed through a pattern together feel free to use this resource at your convenience.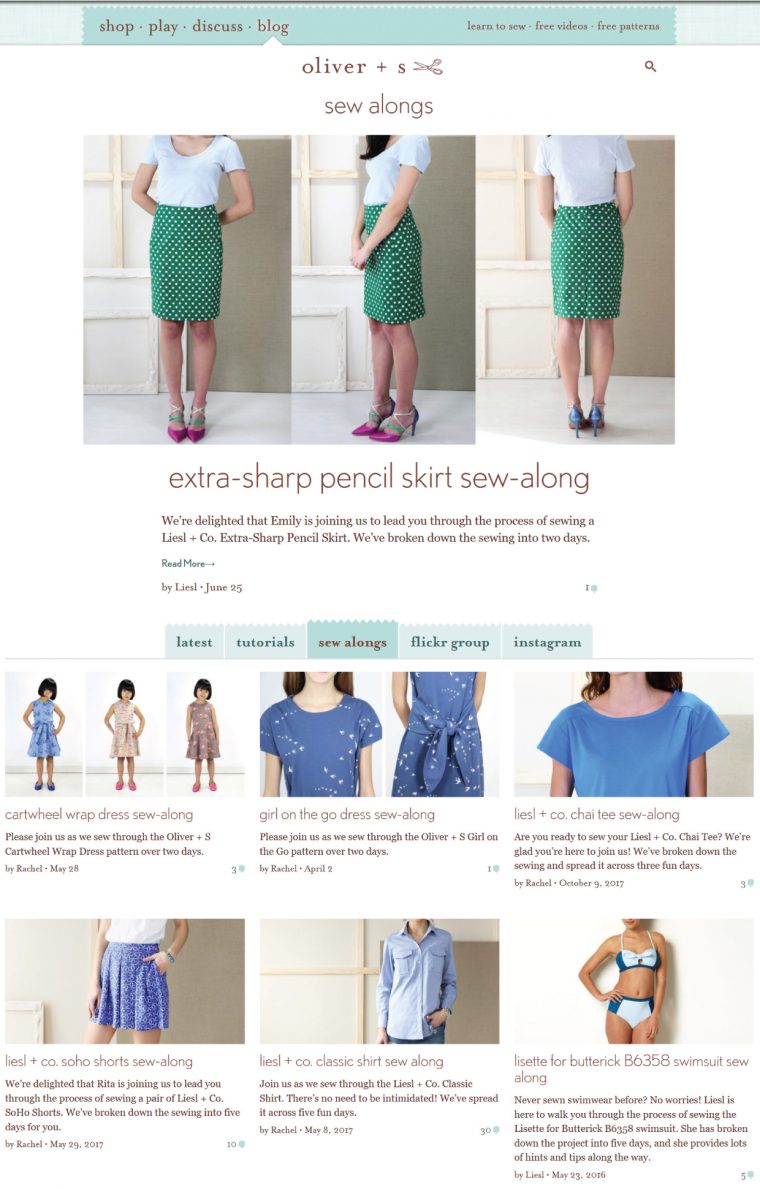 After that you'll find tabs that draw from our Flickr group if you want to browse all the sewing you and your friends have done and posted and from our Instagram page so you can see what we've been posting lately.
So that's a lot of information packed into our site, but we hope that you'll be able to make good use of it once you know your way around!