We are back with another contribution to our fabric shopping series from cities around the world. Join me in welcoming Charlotte to the blog. She's giving us a fabric shopping tour of the Washington, D.C. area. Glad to have you here Charlotte!
When you try to shop for fabric in a country that isn't your own, you'll find that sewing terms aren't easily translated. To help you out, we created the Sewing Translator, which many of you have contributed to and use. We hope it will be useful to you as well in your travels. Sewing Translator is now available in 14 different languages, and if you have an iPhone or iPad you can download it to use the native iOS app off-line as well. We hope you'll make good use of it! You can find Sewing Translator in the Apple app store, and it's free.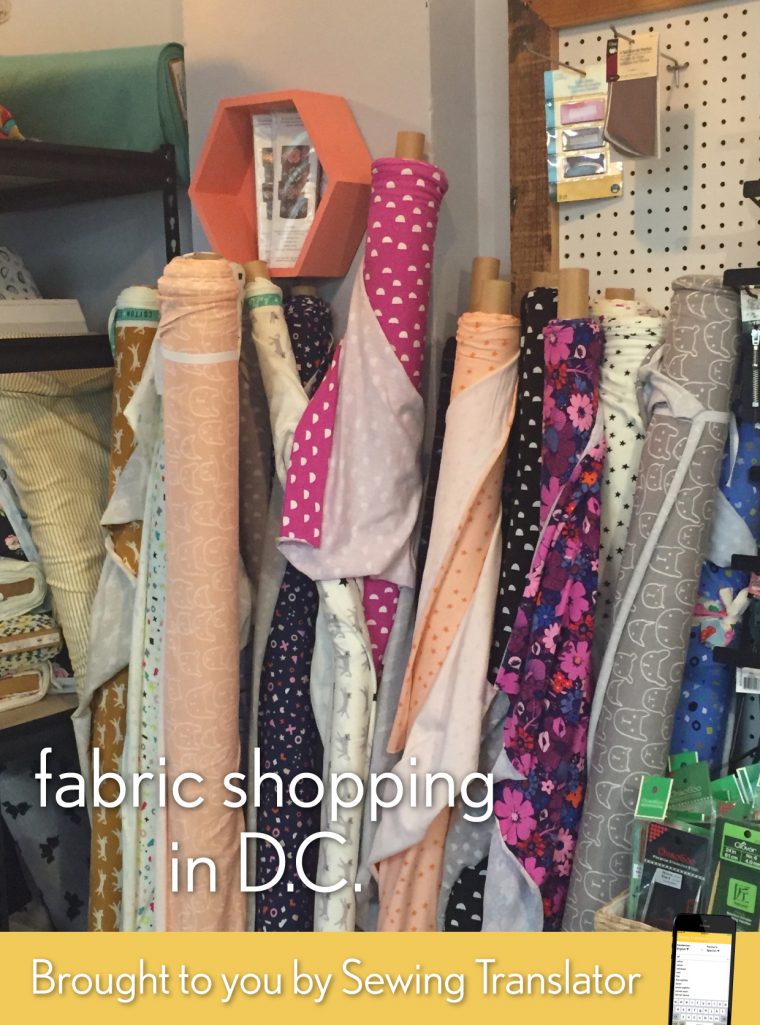 Washington, D.C. is known for many things – politics, monuments, museums. Fabric shopping may not be the first thing that comes to mind when planning a visit. But there is a thriving creative community found in the D.C. metropolitan area known by locals as the "DMV"(District of Columbia, Maryland, Virginia) and a growing network of sewing enthusiasts and resources for quilters, knitters, and stitchers of all kinds. I'm excited to share some of my favorite places to go for inspiration!
Sadly, there are no fabric shops in the District itself, probably due to skyrocketing rents that have pushed many business owners out of the city. So I go to the nearby Maryland and Virginia suburbs to find fabric, take classes and meet others in the sewing community. In D.C. proper, there is plenty of inspiration to be found in the many museums located throughout the city, including the Smithsonian. One of my favorites is the Textile Museum, which houses a collection of textiles from all over the world and an ongoing program of special exhibits. The Smithsonian American Art Museum also has many textiles and includes a beautiful selection of quilts in the permanent collection.
Starting in Gaithersburg, Maryland, Capital Quilts is a great resources for quilters and sewing in general. With over 5,000 bolts of fabric, an endless supply of notions, a full schedule of classes, friendly staff and beautiful quilts, tote bags, garments and other items throughout the store, Capital Quilts is a great "one stop" shop for all of your sewing needs. It will satisfy everyone from beginners to experts with many years' experience. The inventory includes a large collection of batiks, quilting cottons, and in recent years, they have added more fabric suitable for garment sewing, including some great knits. During my recent visit, owner Alison Zacharkiw noted that they will soon carry Cosplay supplies and are in the process of setting up that display. The shop is an authorized dealer for Janome, Accu Quilter and Handi Quilter machines. One of my favorite programs at this shop is Capital Quilts Cares, where sewists can participate in the shop's community outreach activities to bring blankets, pillowcases, scarves, baby quilts and other items for local hospitals, homeless shelters, pet shelters, cancer support groups and others who benefit from items handmade with love.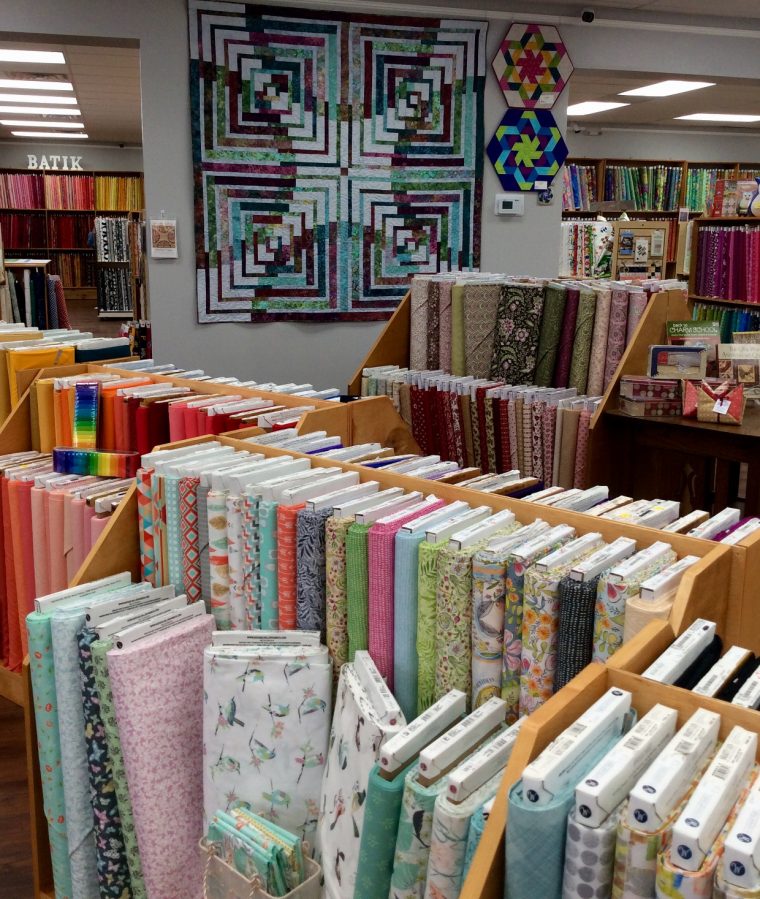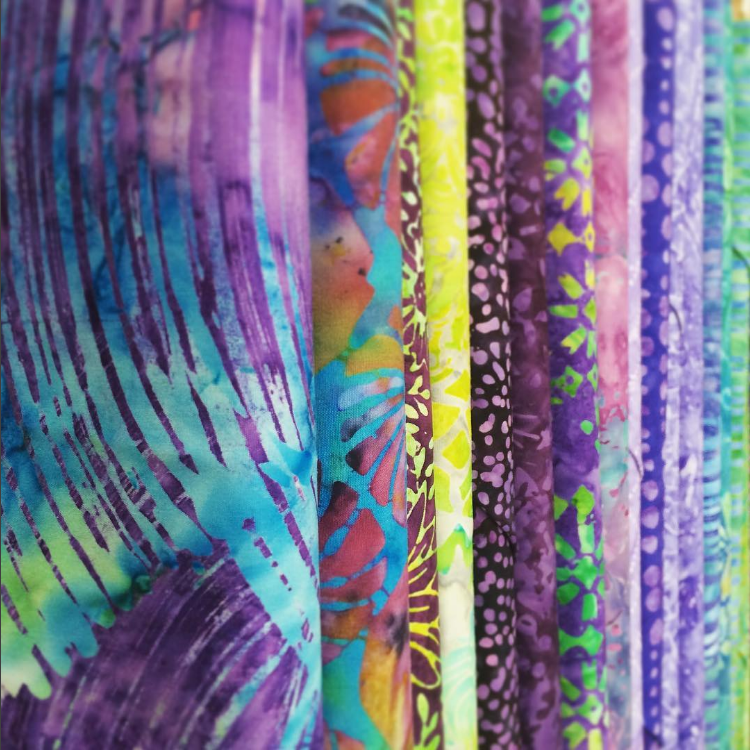 Heading farther south and east in the Maryland suburbs, Three Little Birds Sewing Co in Hyattsville is a gem in the Gateway Arts District. Filled with modern prints, patterns from independent designers, embroidery kits, books and an eclectic mix of notions and supplies, Three Little Birds is a wonderful creative space. Classes include a great series for children, who can often be found dressing mannequins with fabric scraps while parents shop. Owner Kate Blattner offers several summer camps for kids and often partners with independent designers for weekend long workshops, including a weekend making jeans and a bra making workshop. Three Little Birds is an authorized dealer for Ever Sewn machines and has machines available to rent. The shop has a really nice neighborhood vibe, and customers often discover they are neighbors and enjoy a cup of coffee around the corner at Vigilante Coffee Company.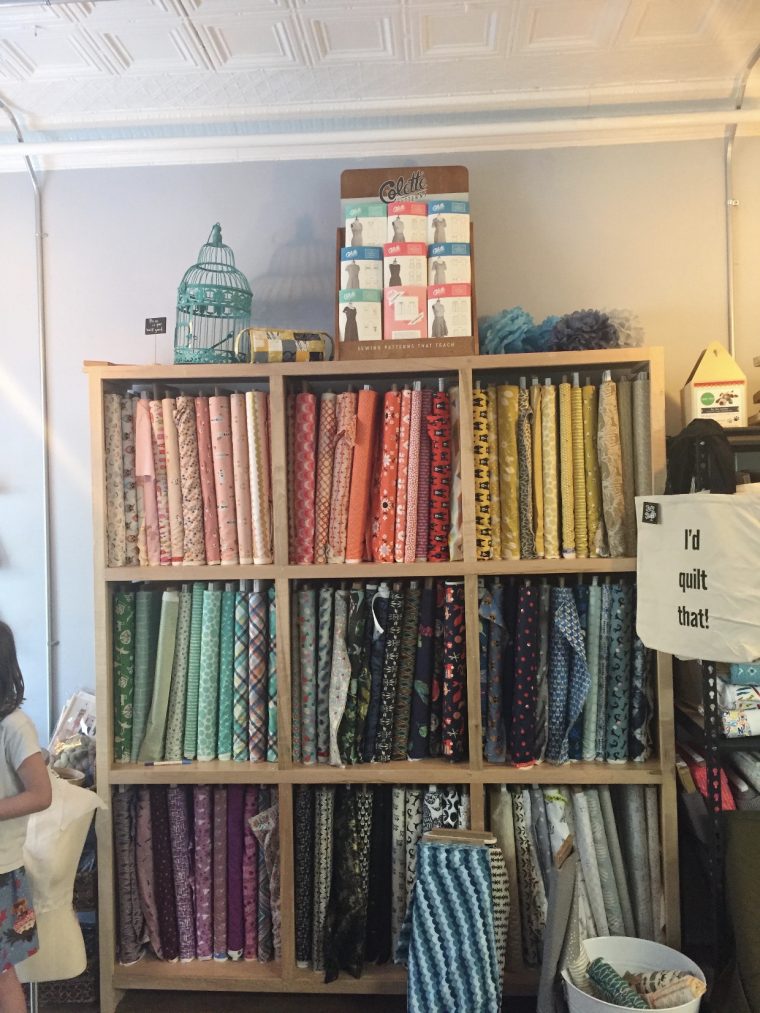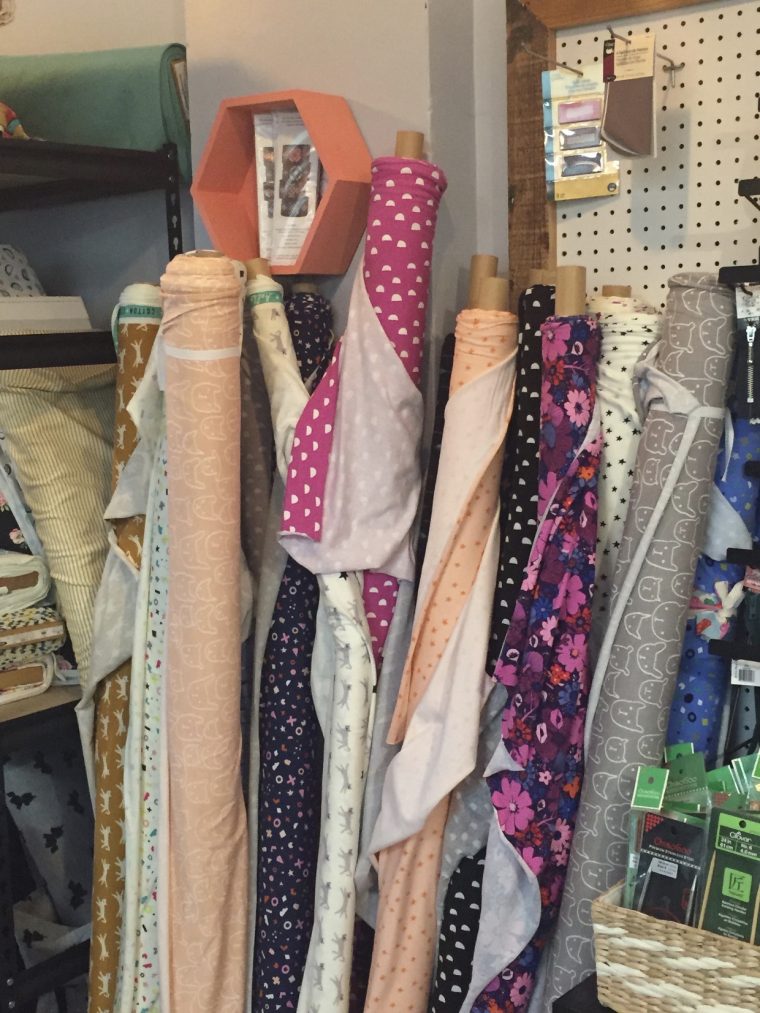 Continuing further east in Maryland towards the Chesapeake Bay, Annapolis is home to Cottonseed Glory, a quilter's mecca located not far from the beautiful downtown area and the U.S. Naval Academy. Home to the Crabby Quilter, this shop has a huge inventory of quilting cottons (more than 6000 bolts of 100% cotton!) and supplies. Cottonseed Glory offers a number of classes to teach specific quilt patterns and offers generous discounts on materials needed for each class. This shop is an authorized Bernina and Handi Quilter dealer.
Next stop, Old Town Alexandria, where sewing enthusiasts can find inspiration in the heart of the charming historical district at Stitch. Stitch offers a wide selection of fabrics for sewing garments and a beautifully curated inventory of linen, Liberty cotton, and unique fabrics such as block prints and ikat. The shop hosts a wide variety of classes, including a series of primers on sewing techniques and embroidery, as well as more advanced sessions on sewing with knits and specific patterns. Speaking of patterns, Stitch maintains a comprehensive inventory of items from independent designers and hosts workshops with indie designers. The shop maintains an inspiring collection of books for purchase or to borrow from the lending library.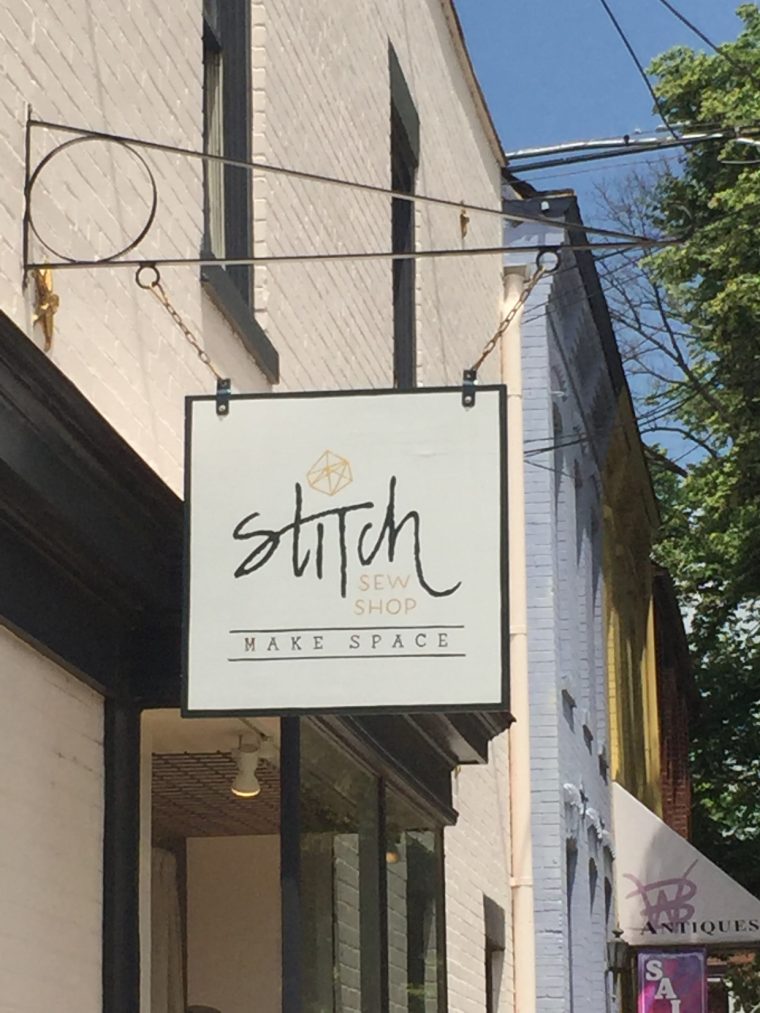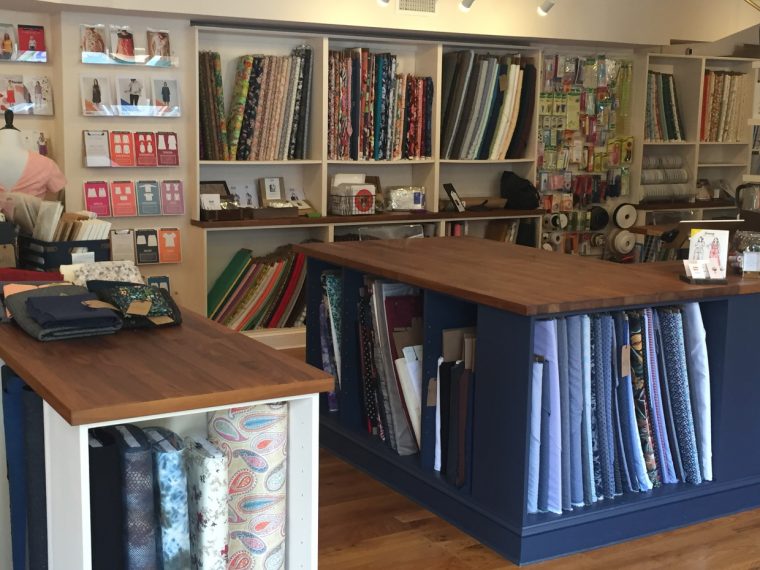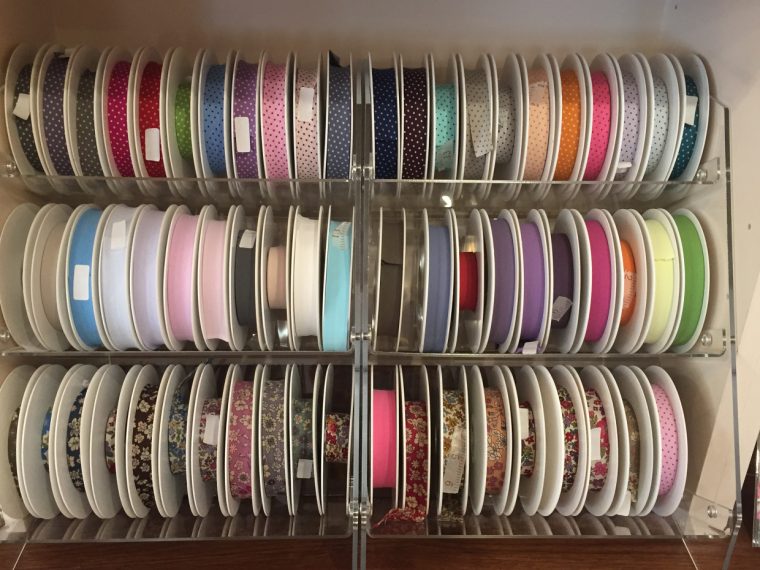 Further out of town, Finch Sewing & Knitting Studio is another great shop found in the quaint town of Leesburg, VA. It is worth the drive out to this historic town if you are in the area. An authorized Bernina dealer, Finch offers classes on the use of sewing and embroidery machines and sergers. The studio also offers a wide range of sewing, knitting and quilting classes, something for everyone – rope bowls, jelly roll rugs, retreats, and a kids' series. The shop is full of beautiful samples that will inspire shoppers. They also have a great selection of Nani Iro linens, which are not easy to find in the DMV. One unique offering is Finch Box, a subscription service that brings creative projects to your home and supports an extended sewing and knitting community beyond the brick and mortar shop. Each Finch Box is tailored to subscribers' interests and sneak peaks can be found on their Instagram handle.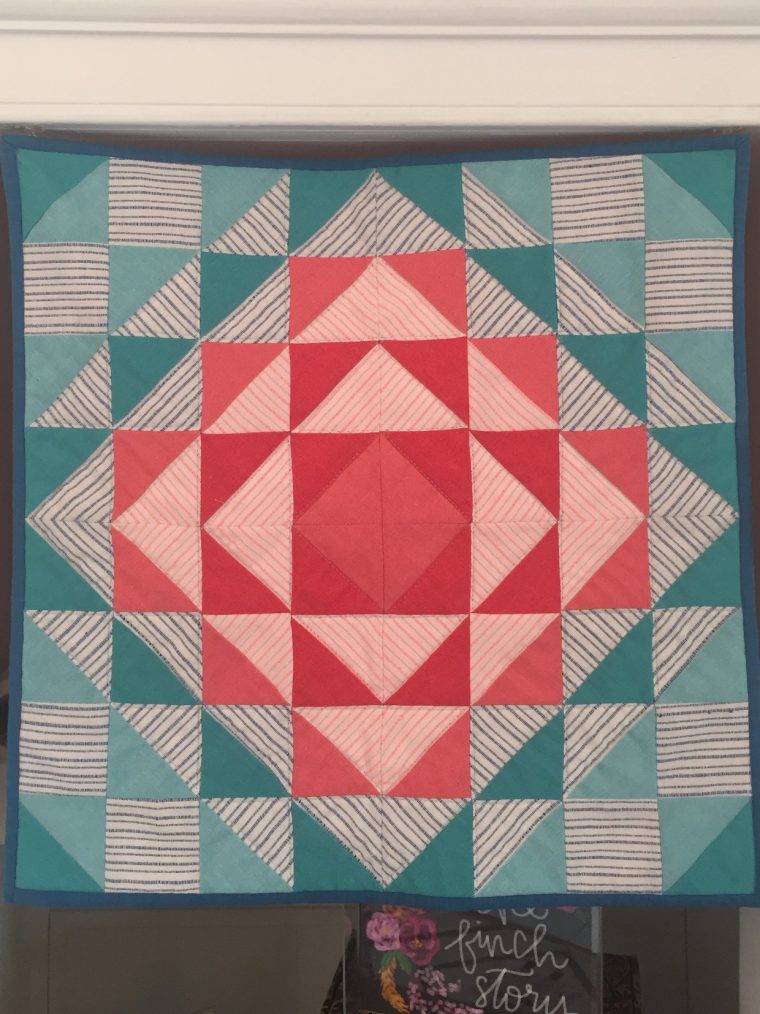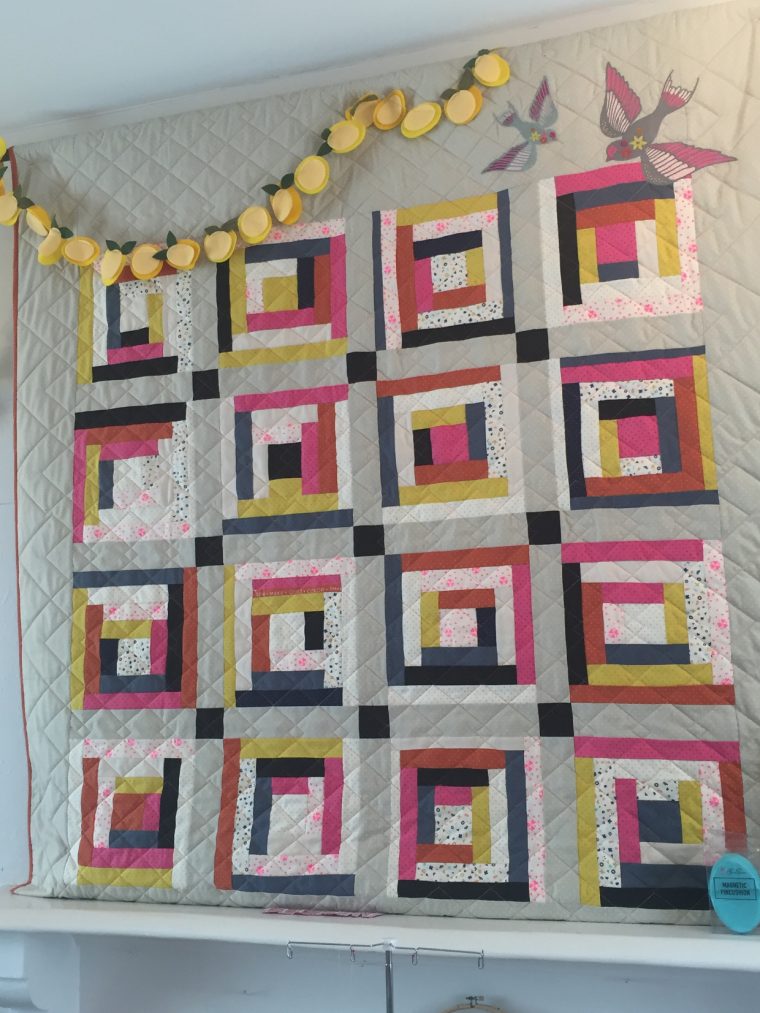 Plan a visit to Washington, D.C. and make sure to visit these great stores! You'll discover a whole creative side of the city beyond what you see on C-SPAN and in the news.