A great big thanks for all of you who have already made your purchase during our special anniversary promotion! But if you haven't yet, here's a little reminder for you. Through this Saturday, March 24, you can get 10 Oliver + S paper patterns for only $50.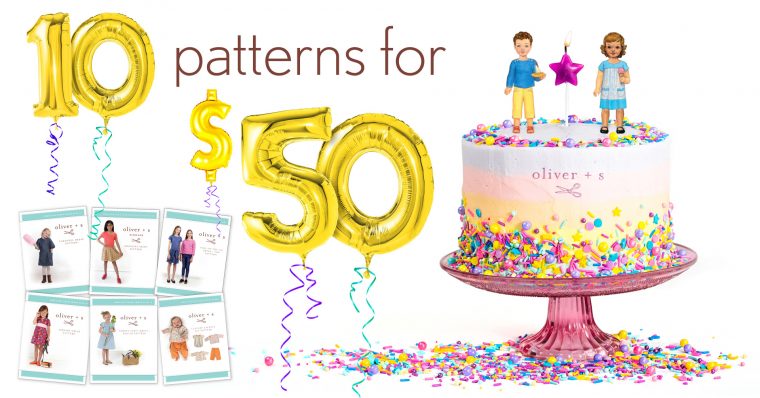 Visit the Oliver + S paper patterns section of the shop and start adding items to your shopping bag. They will appear in your bag at their regular price. But as soon as the number of Oliver + S paper patterns in your bag hits 10, the pricing will automatically update and you'll have the 10 patterns for $50. And if you want to purchase more than 10? Feel free. The special pricing will extend to any patterns beyond the initial 10 required for the discount to kick in.
We've received feedback during the sale in a couple areas I thought I would address.
First, some people have said that they appreciate the special pricing, but they can't find 10 paper patterns they need. They can only find six or eight. What to do? Go ahead and purchase ten to receive the special pricing and give the extras as a gift to friends who sew or would like to learn to sew! Even if you are only keeping six or eight patterns for yourself, the cost per pattern still works out to a significant discount to regular prices for you.
Second, we've heard from people living outside the United States that they wished the sale was on digital patterns because shipping is so expensive. Again, we suggest taking a look at your final cost per pattern. Even including the international shipping and handling charge in your order, your cost per pattern will be a significant discount from regular pricing on our digital patterns. And did you know you can see what your shipping and handling charge will be as you fill up your shopping bag? On the shopping bag page, at the bottom of the list of items in your bag, there's a link you can use to estimate shipping. Click that, and the website will calculate what the shipping cost will be based on your location and the weight of the order.
So go shopping, and pick up those Oliver + S paper patterns you've wanted to add to your collection but haven't yet. It's our special anniversary treat to you!