Today we're continuing our anniversary week celebration with a special gift for one reader from our friends at Birch Fabrics! Read all the way to the bottom of this post to find out how you can enter.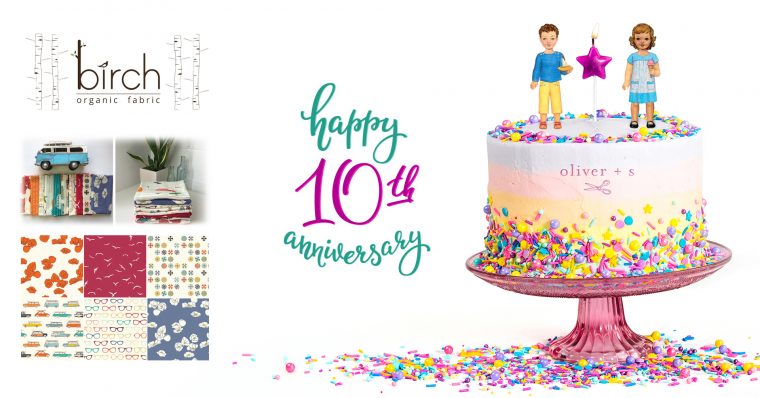 I've known Cynthia Mann from Birch Fabrics for quite a few years now. We met at Quilt Market, and I remember walking by her booth, seeing the adorable clothes she had sewn for her display using our patterns, and stopping in my tracks because they were so cute. We've stayed in touch ever since, and it's been a lot of fun to see her business grow. Did you know that she also owns Fabricworm, which will be celebrating its 10th anniversary later this year? That means Birch is almost 10 years old, too. Time has gone so quickly.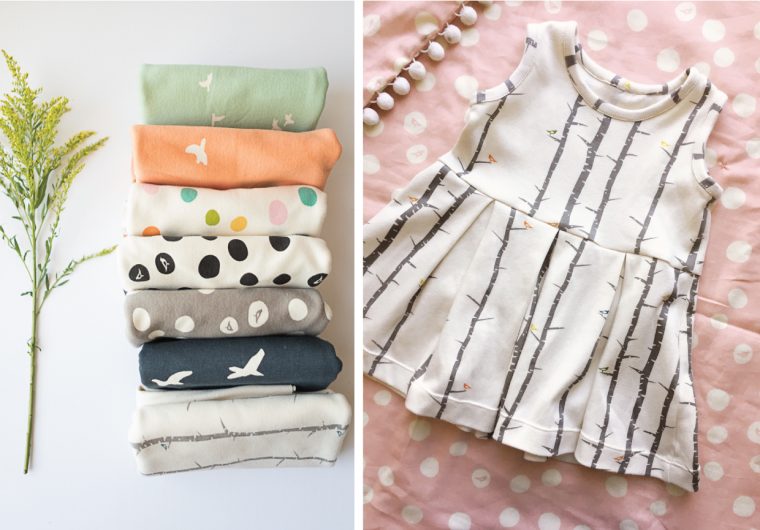 Cynthia (and Birch) have developed lots of great fabric collections, including those adorable Charlie Harper collections! I chose one of her Birch Basics for the green Girl on the Go Dress and the quality of the fabric is just wonderful–in addition to being organic. It's an interlock that's 95% cotton/5% elastene, and Cynthia told me it's a little bit heavier than some knits, about 220 gsm. It's substantial enough to be perfect for the Girl on the Go Dress + Top. It's super combed and incredibly soft to the hand. A pleasure to sew and a pleasure to wear!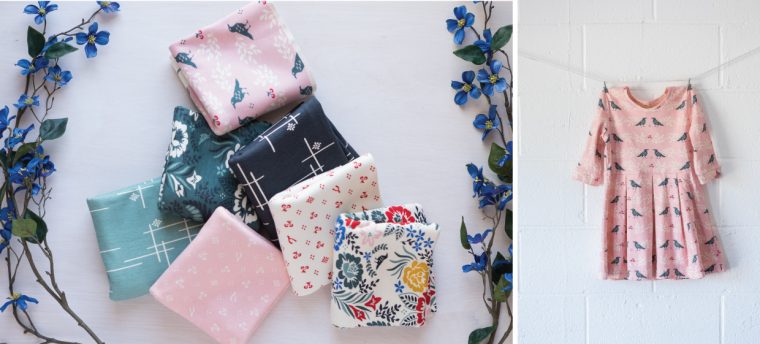 To celebrate our 10-year anniversary, Birch is offering one winner two 3-yard cuttings from your choice of their new Summer of '62 knit collection or from their Birch Basics Knits collection.
The Summer of '62 knit collection from Jay-Cyn Designs for Birch Fabrics is inspired by California surf culture of the sixties. This collection takes us back to the beach in classic retro style.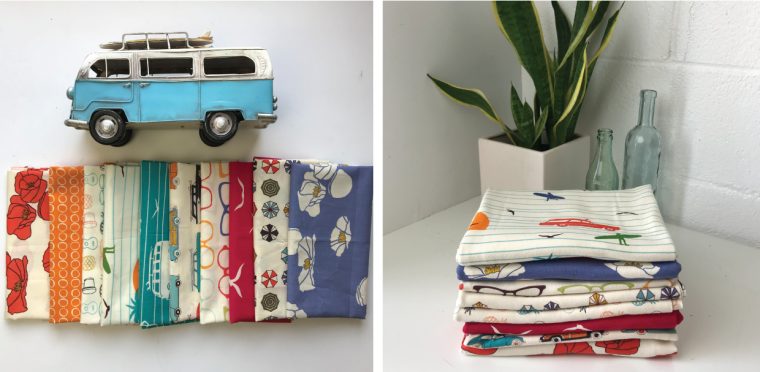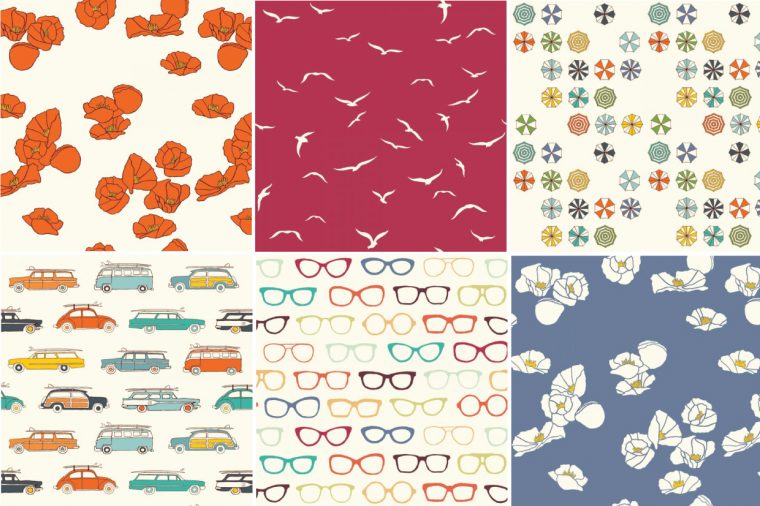 The Birch Basics Knit collection features dots, more dots, and a sparkling "wink" print. You'll love what you can do with the luscious knits.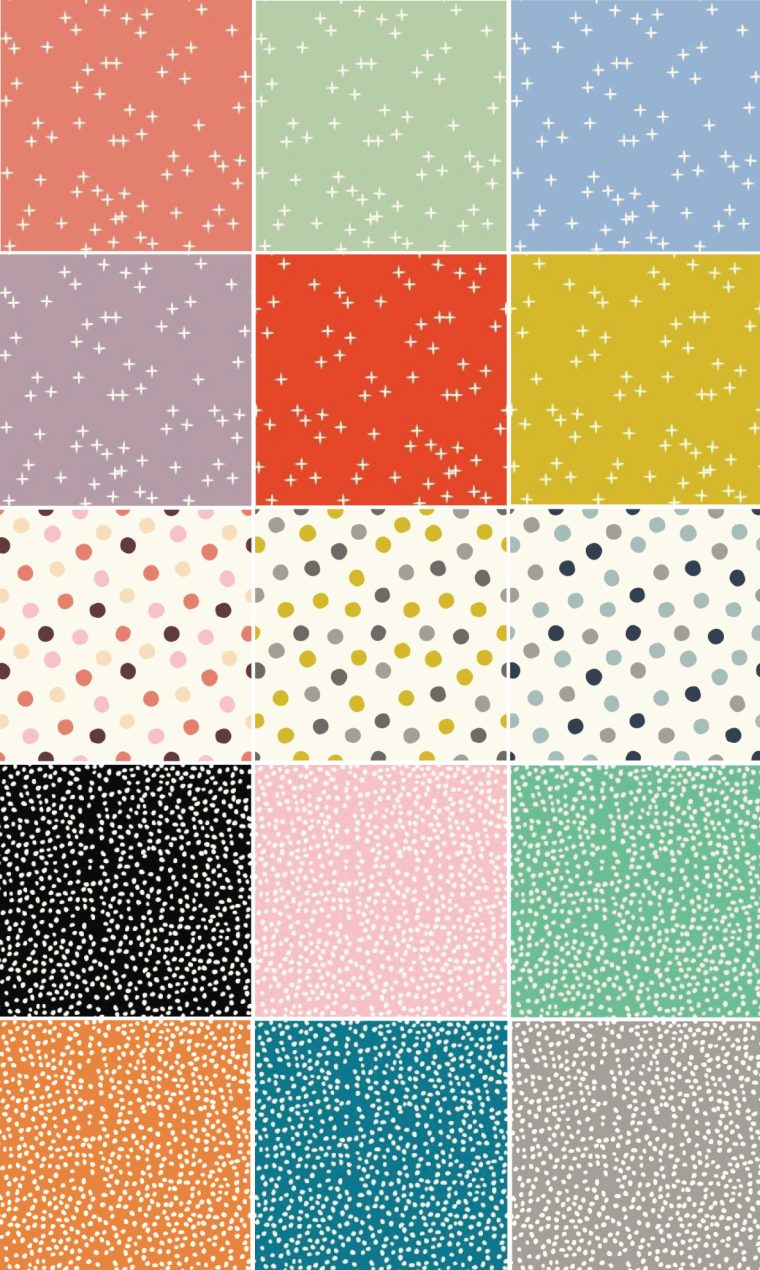 To enter to win two three-yard cuts of the fabric of your choice from either of these collections, leave a comment telling us whether you're a more retro summer of '62 girl or a more classic, basics gal. (And if you're a guy? Just tell us that. We don't see many of your type around here, but we're glad you're here and you're more than welcome to enter too!) One entry per person, please. We will close comments on this post and choose the winner (with the assistance of random.org) on Wednesday, March 21 at 9:00 AM ET. The winner will be notified by email.
IMPORTANT: do not check the box to subscribe to comments on this post unless you're wanting to test if there's an upper limit to the amount of email your inbox can receive in one day!