Today we have the third installment in our series of posts about fabric shopping around the world. Liesl kicked off the series with her Fabric Shopping in Madrid post, and last time I brought you a fabric shopping guide for Minneapolis. Today Shelley is bringing you a fabric shopping guide for Melbourne.
Our fabric shopping posts are a great time to remind you of Sewing Translator, which many of you have contributed to and use. We hope it will be useful to you as well in your travels. Sewing Translator is now available in 14 different languages, and if you have an iPhone or iPad you can download it to use the native iOS app off-line as well. You can find Sewing Translator in the Apple app store, and it's free.
Now, here's Shelley.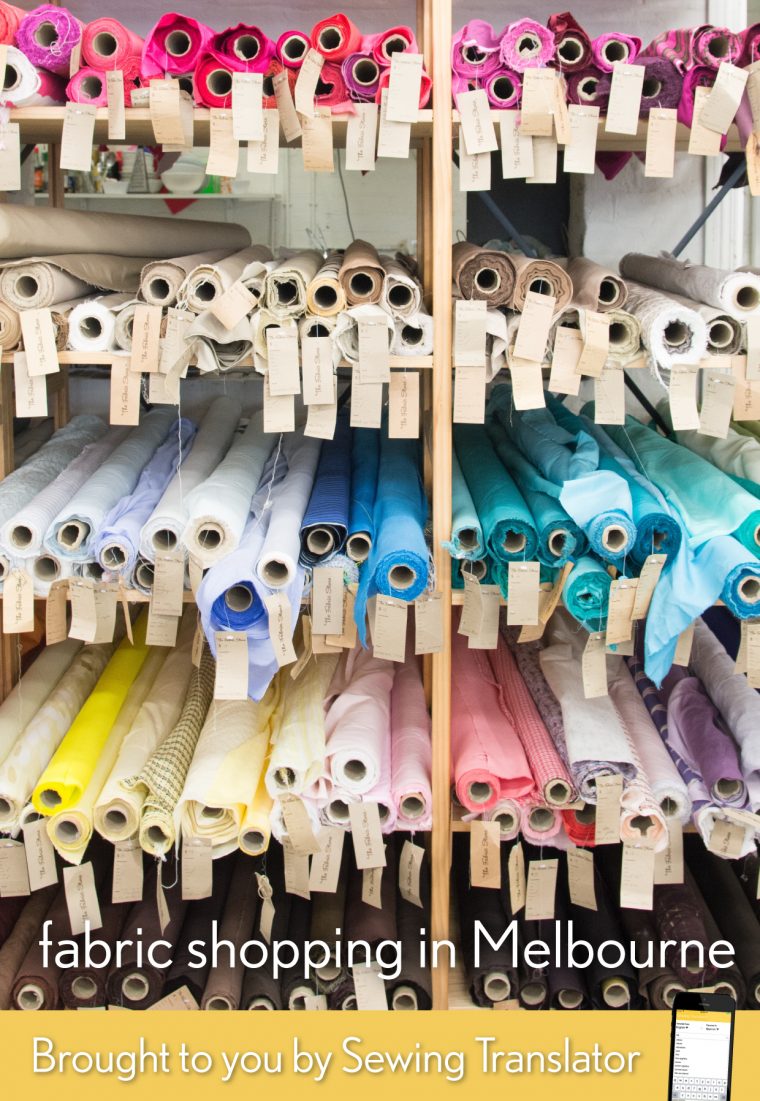 Hello and welcome to my city, Melbourne, Australia. You'll want to get up early as we have a big day ahead of us!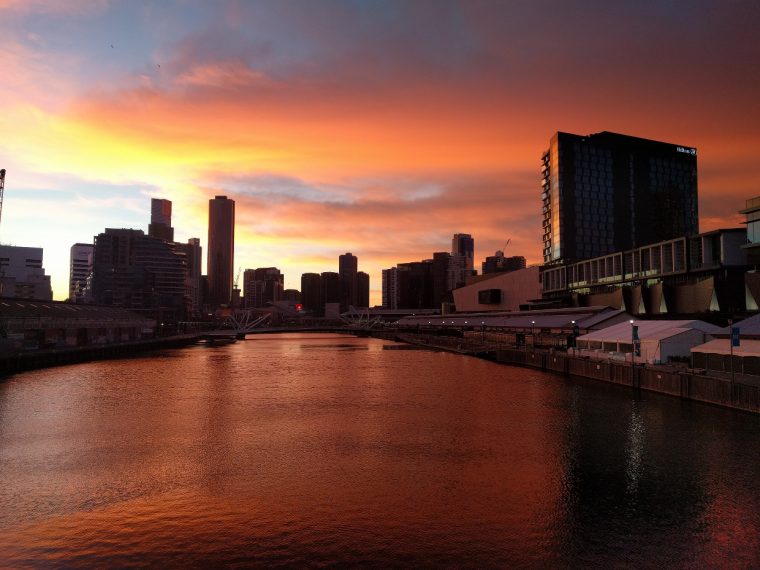 Melbourne is a city of just under four million people which covers an area of almost 10,000 square kilometres. We care deeply about certain things, such as football teams and favourite coffee shops, and are quite tribal in how attached we are to our own little patches of this big city. Ask a Melburnian where to shop for fabric and I bet they'll name a shop within a few kilometres of their home.
I couldn't possibly go to every fabric shop in Melbourne but I visited a good number of my regular haunts and I'm sure you could find whatever fabric or notions you wanted amongst all of these.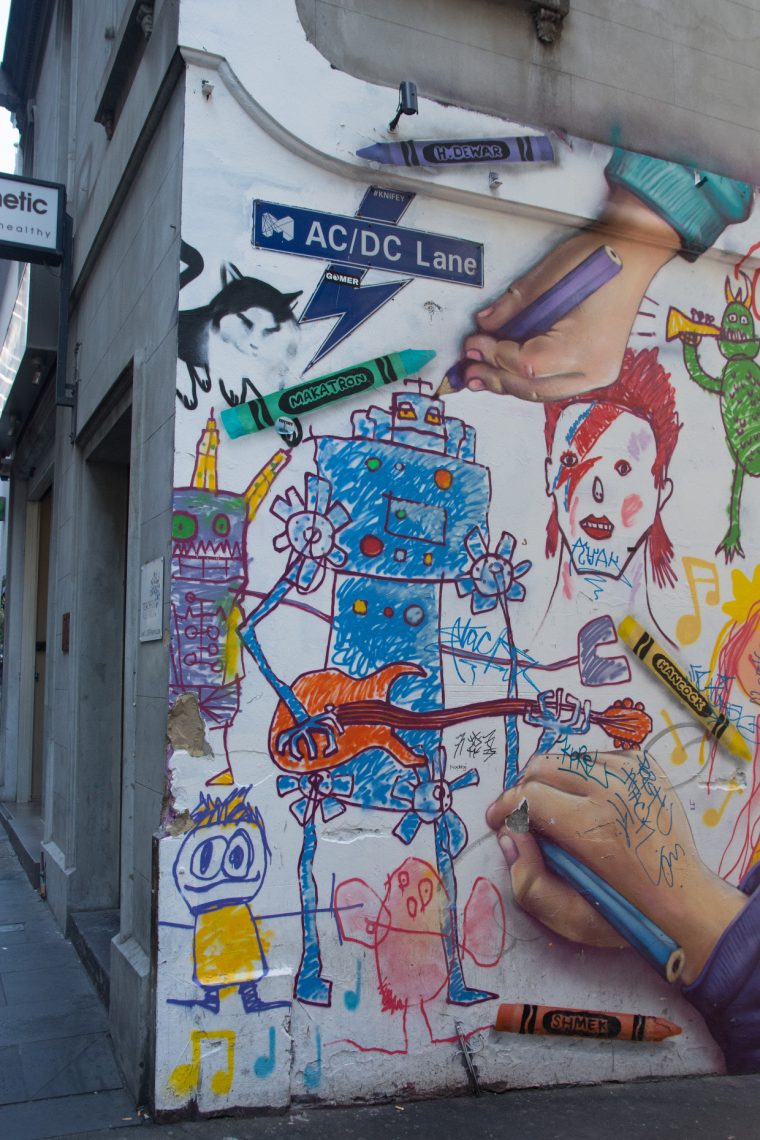 Let's start with a trip into the Central Business District, or CBD. The inner city of Melbourne is known for its small laneways, street art, coffee, restaurants and architecture. Sadly, not so much anymore for its fabric stores but there are some exceptions that make a trip into town worthwhile.
First up is the Nicholas Building.
The Nicholas Building is a beautiful building which houses a very eclectic mix of small artisan craft stores and makers. Up until just a few years ago the elevators were operated by hand and the building itself is worth a visit.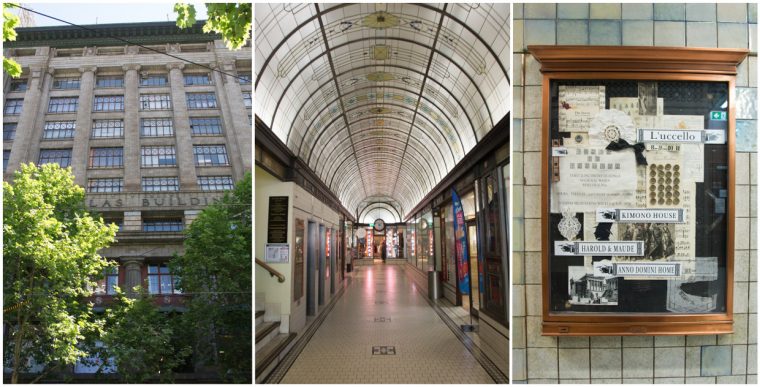 On the first floor is Maria's Beads and Trims, not a fabric shop I know, but a great place to buy all sorts of tiny sparkly things to sew onto little girl's dresses.
On the second floor is L'Uccello, a delightful shop full of beautiful cotton fabrics, embroidery threads, ribbons, wool felt, vintage buttons and all sorts of gorgeous things. This is a shop that never fails to inspire me to add embellishments to everything!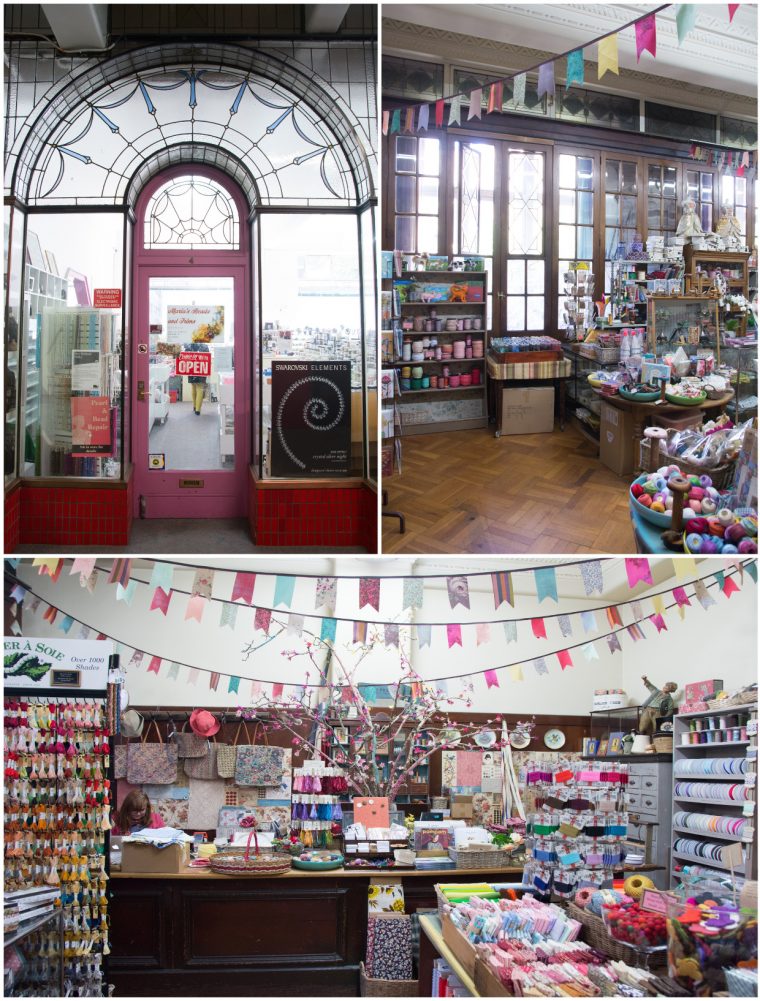 The second floor also houses Kimono House: a shop selling Japanese fabrics, kimono fabrics and everything you need for sashiko embroidery.
Previously, the second floor of the Nicholas Building was also home to Buttonmania. This store has now moved out of the city but is still worth a visit as buying buttons by consultation is something that everyone should get to experience. No matter how impossible I thought it would be, they've never failed to find me the perfect buttons for my projects.
Walking up Flinders Lane in the city, we come to Tessuti fabrics.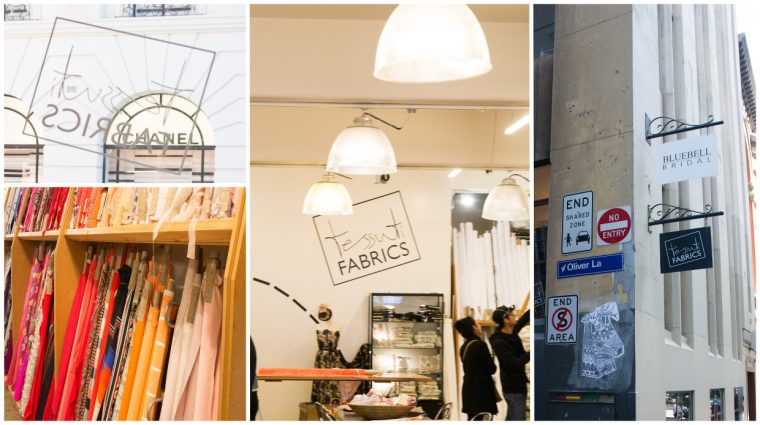 Tessuti is right in the middle of the old rag trade strip of Melbourne and is now surrounded by high end couture retail shops. They sell divine fabrics at the upper end of the price range. But if you feel like you're overspending on fancy wool boucle for a jacket, you can always pop across the road and see that a Chanel version would cost ten times as much. Tessuti also have their own patterns and in store you can usually try on various samples.
An old stalwart of the city was the Job Warehouse. After decades of seeing the same dusty bolts of fabric and dead flies in the window, I had never gone in, and then it closed down. I was excited to learn that the vintage fabrics are being sold off via the Crossley Job Lots warehouse. Worth a look one day I think….
Heading north out of the city, let's go to Sydney Rd Brunswick for some serious bargain fabric shopping.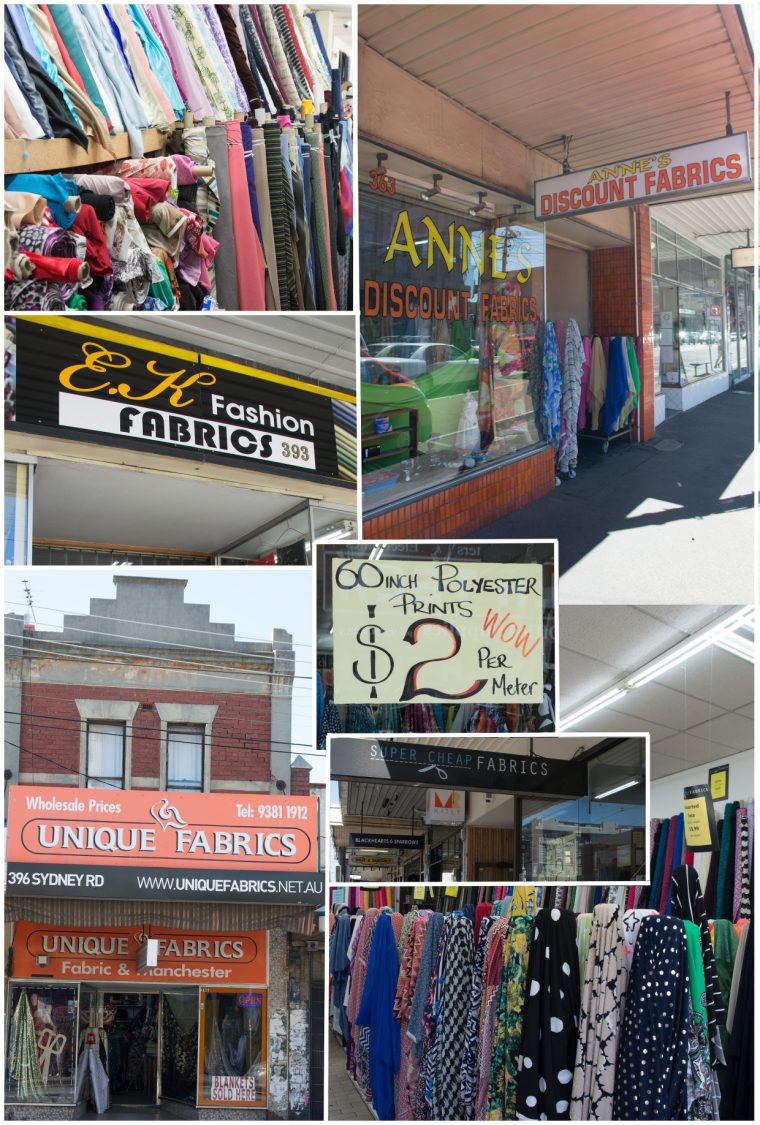 A cluster of four fabric shops in one block of Sydney rd can have you sorted with everything from wool suitings, ITY knits, laces and shiny "ethnic" fabrics of unknown fibre type. These shops can yield some absolute treasures and I have sometimes found fabrics for two or three dollars a metre which have looked, and felt, much fancier than their price tag would suggest.
An area with a strong cultural connection to the Mediterranean, you'll be sure to get great coffee and baklava to go with your cheap fabric purchases.
Let's take a little diversion to a similar type of shop with a huge range and visit Eliza's Fabrics in the western suburb of Sunshine. I've no idea what is meant by the sign that says they sell "almost summer" fabrics, but they do seem to sell almost everything.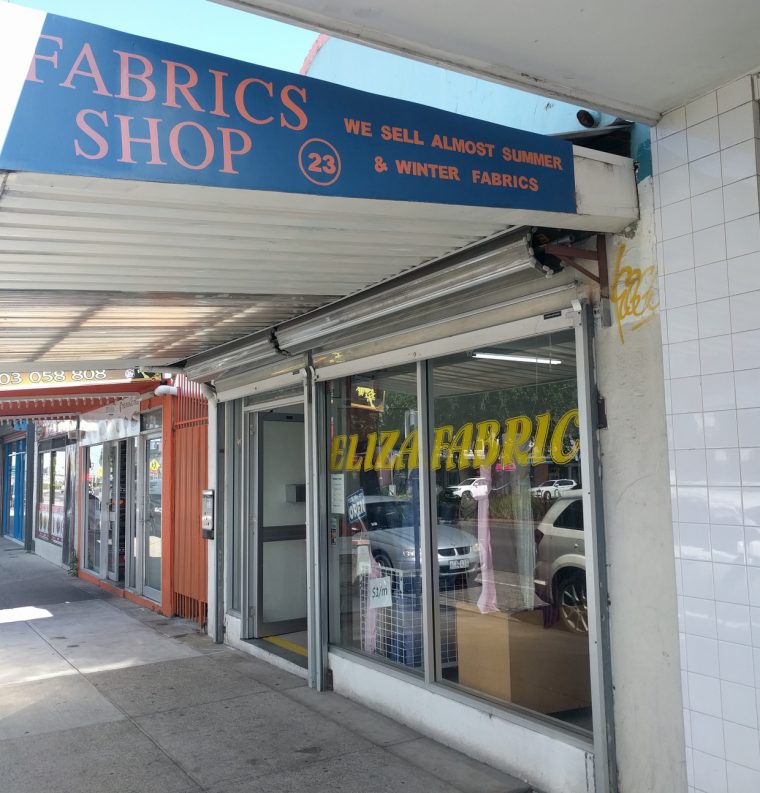 Don't be put off by the shiny, nasty stuff at the front of the shop. Once you get further in you'll find linens, denims and wools at very cheap prices as well as a huge range of lingerie elastics, trims and ribbons. The only thing I've never been able to get from Eliza's is a smile from the lady who runs the shop.
From here we'll head back East and visit Rathdowne fabrics.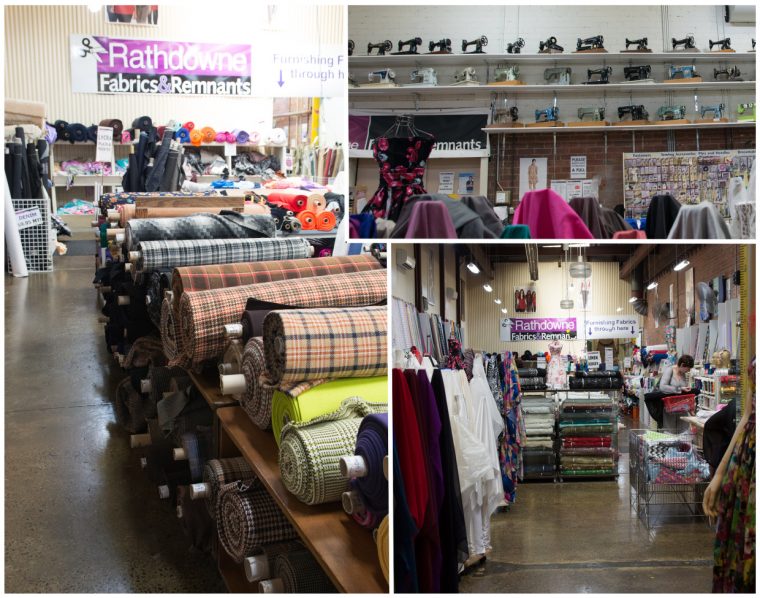 Rathdowne fabrics is my go to place for knit fabrics. They have a huge range of plain and printed knits and when you need a certain colour and certain weight of knit you're sure to find it here. But they also have a great range of cottons, denims, wools, formal fabrics and even furnishing fabrics in the back room.
Further across to the East we come to GJ's Discount Fabrics in Fairfield. GJ's is Melbourne's mecca for quilting cottons. They have an enormous, spacious store with all those perfect card bolts of cottons and lots of delightful sample quilts and toys. They sell some apparel fabrics but their other main drawcard is the huge range of spandex knits. I recently learned that saying you're sewing a costume earns you a 10% discount. The way my kids dress themselves I could argue that every outfit is a costume!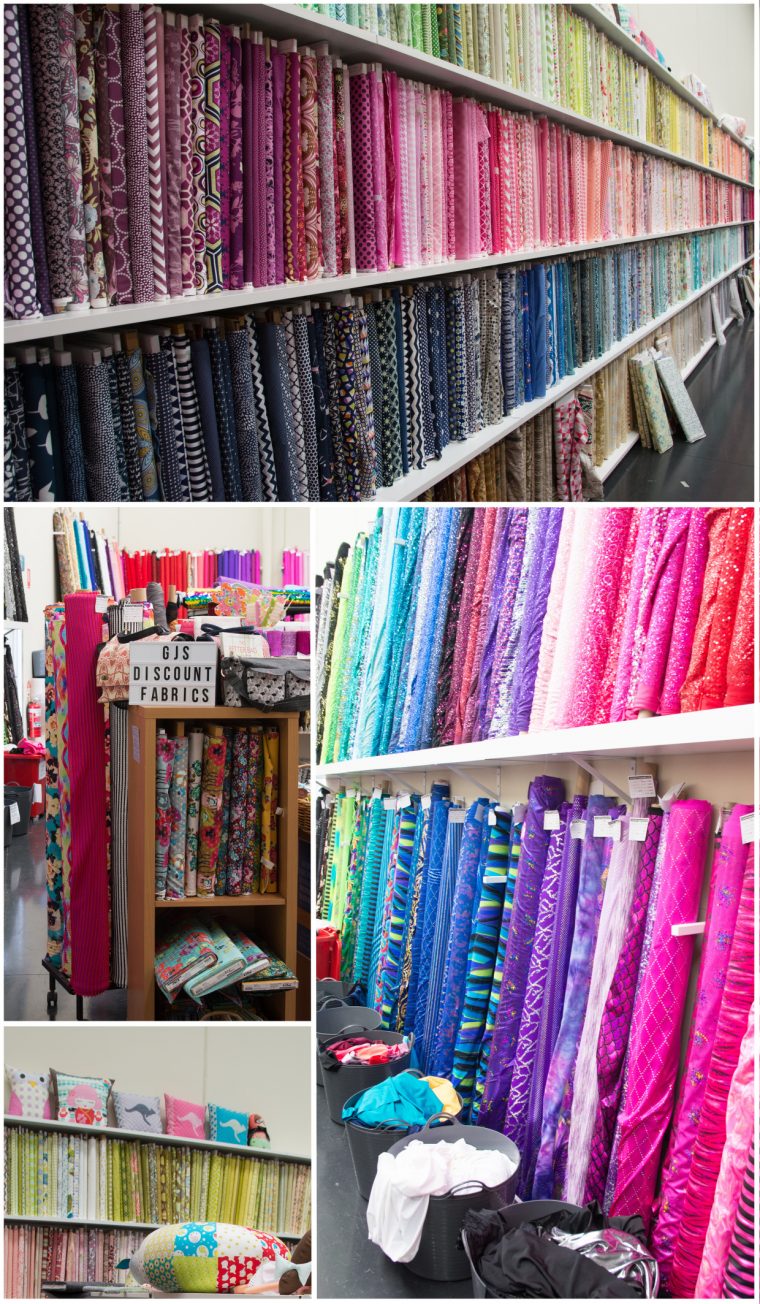 Heading a bit further east into the "leafy suburbs" we come to The Cloth Shop in Ivanhoe. This lovely shop is one of Melbourne's favourites and always has a beautiful selection of fresh, modern fabrics. The prices are sensible and the shop staff are excellent at helping with pattern and fabric selections. They often have samples of various popular patterns made up in store so you can get a feel for the fabrics or style of garment.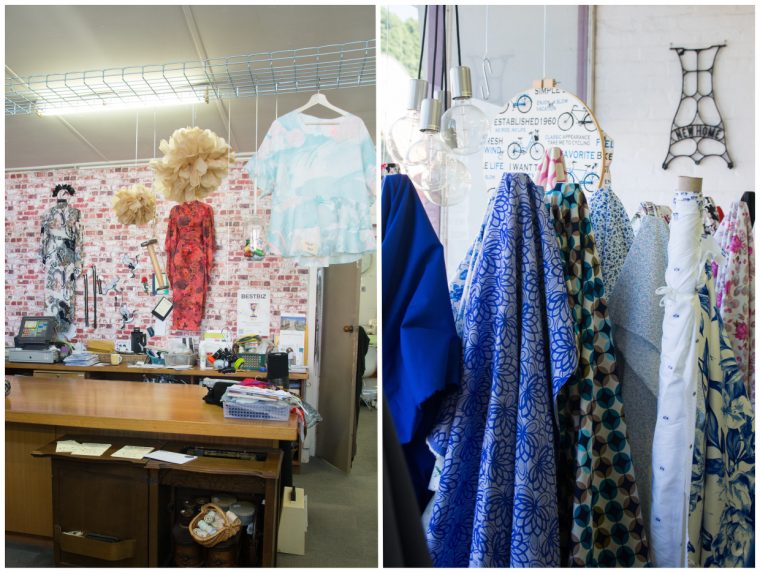 From here it's only a short trip to one of Darn Cheap Fabric's three stores. Darn Cheap have a big range of apparel fabrics and lots of trims. The stock can vary between the stores but amusingly their fabrics sometimes reach peak popularity and suddenly everyone is sewing with "that fabric" from Darn Cheap.
Going back in towards the city we head to the inner north east and the quintessential suburbs of Collingwood and Fitzroy. We're in hipster central territory here and your coffee will never taste better, nor will it ever be made by a younger man with a more impressive beard.
One of my all-time favourite haunts is the Aladdin's cave of buttons and notions that is Jimmy's Buttons.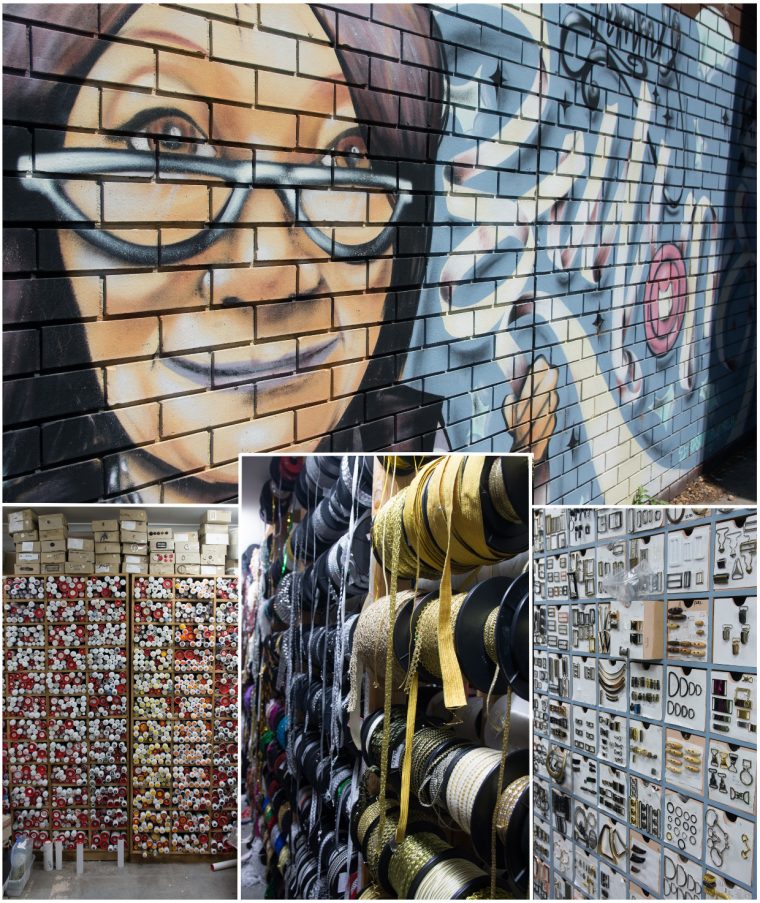 A tiny button-studded doorway set back from a quiet street, a narrow tunnel entrance of collapsing bolts of fabric and then, all that treasure…. Ribbons, elastic, trims, buttons, bag hardware, zippers. It's all here and if you can't find exactly what you're after, Jimmy will always offer to dye something to your specifications. Neatness freaks may find this shop too distressing to enter, but trust me, it is a magic cave of sewing notions.
In stark contrast we now visit the perfect, orderly and light filled space of The Fabric Store.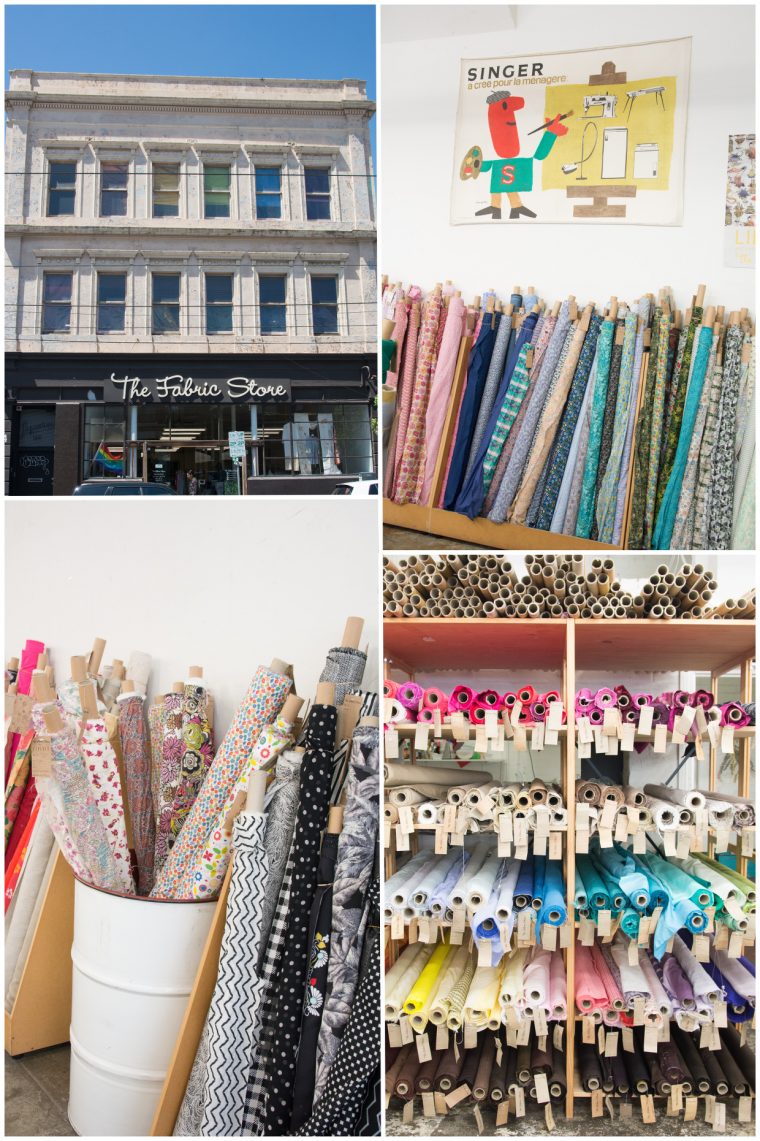 A business with its origins in New Zealand, The Fabric Store has multiple shops in Australia and also now in Los Angeles. They're possibly best known for their merino wools, from thin jerseys through to fleece knits and coatings. However, this is also the place to go for linen, Liberty apparel fabrics and lots of luxurious dressmaking fabrics. They also have a good range of leathers for bag making. Put your name on the mailing list and come back when they have their big sales.
Next door to The Fabric Store is a place you'd never think to enter for fabric shopping: ClearIt. This is an outlet store for samples and seconds for a couple of fast fashion labels. Head upstairs and there is a good-sized area of fabrics. These are mostly designer bolt ends or surplus stock and it's an excellent source of coat and dress lining fabrics. The selection of apparel fabrics is varied and changes fairly regularly so it's always worth a visit.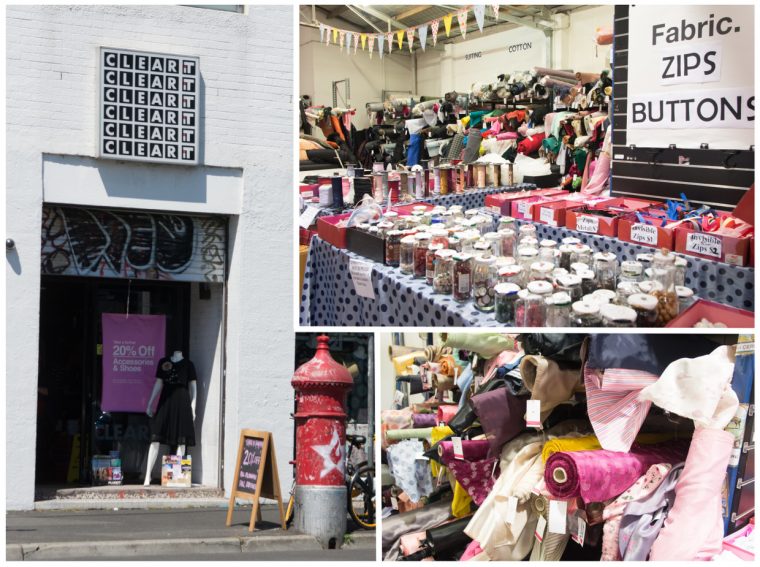 Anyone living South of the Yarra river is probably now screaming about all the places I've neglected to mention. Let's head that way with the intention of visiting the Phillips Shirts factory in Malvern.
Phillips Shirts used to be in the heart of the CBD with a huge backroom of fabrics that was opened to the public on special occasions. Since moving out of the city the fabric stash has reduced somewhat but the bonus is that now, a knock on the door on any weekday, can get you access to all that shirting fabric.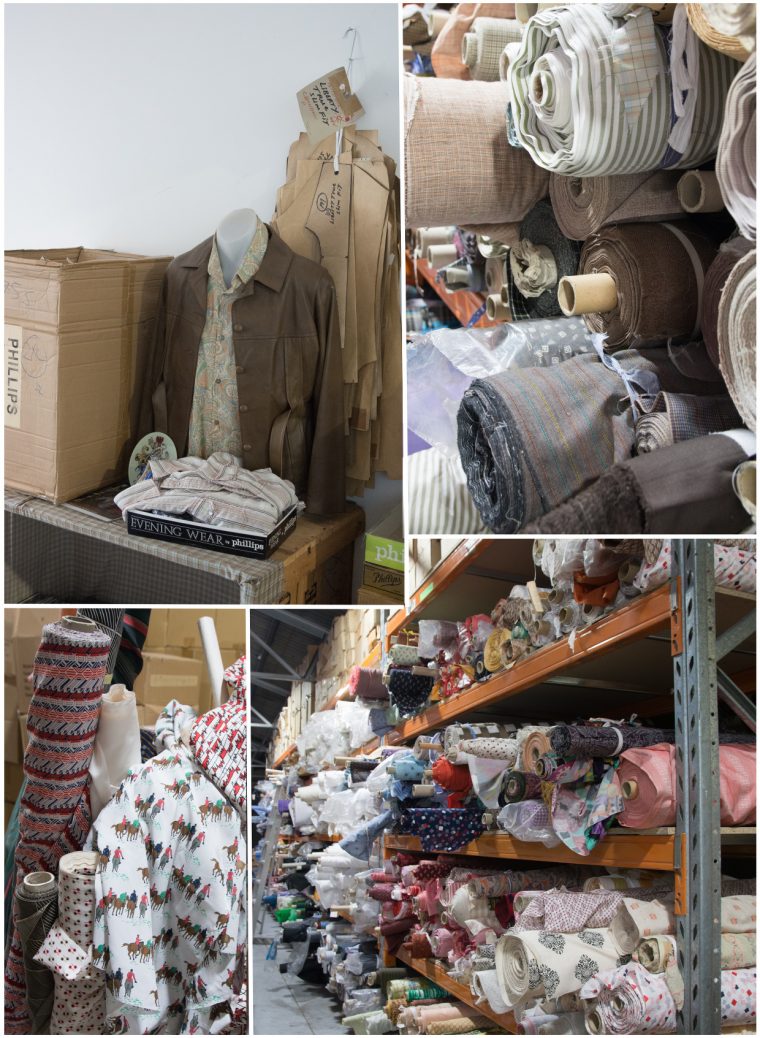 Cotton shirtings dominate but there are also plenty of linens, some Liberty fabrics and a small selection of knits.
Once you've picked your shirt fabric there is another nearby button shop in The Button Shop and then just up the street from there is d'Italia, a shop stocked with beautiful imported dressmaking fabrics.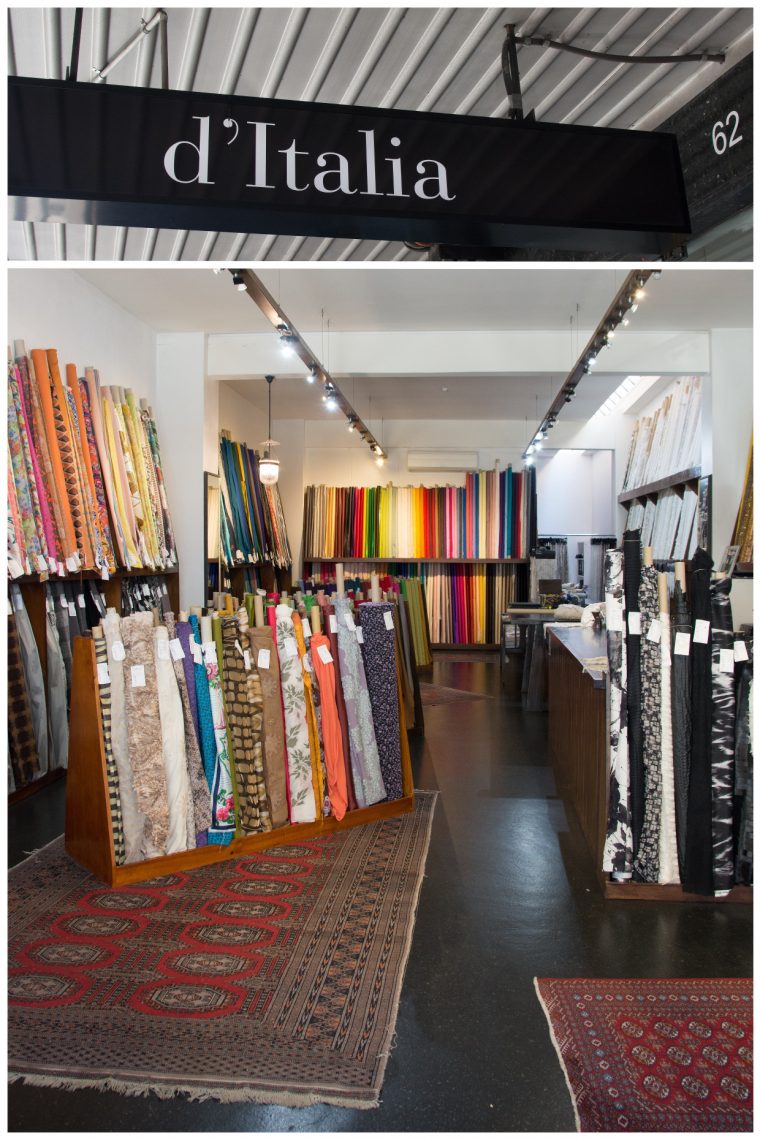 Are you exhausted yet? I am. The list of places to visit continues and I haven't touched on the specialty stores (bridal fabrics, dancewear, leather etc) at all. What I love about Melbourne is that every part of Melbourne has its own flavour and that influences the fabric stores as well.
My own suburb has seen waves of migration from Italy post WWII, from Vietnam in the 1980s and from South Sudan more recently. That means I can buy Vlisco African Wax prints in one shop, have a great coffee and cannoli next door, and then head down the street to my favourite shop that sells overlocker threads and ping pong tables.
That's my Melbourne!