Let's talk about laundry! I know it's not the most exciting of topics, but when you sew you inevitably start to learn more about textiles, and the more you know the more you'll want to care for those textiles appropriately. When you're spending time and money on clothing and sewing you'll probably want to take care of your investment to help it last so you can enjoy it longer.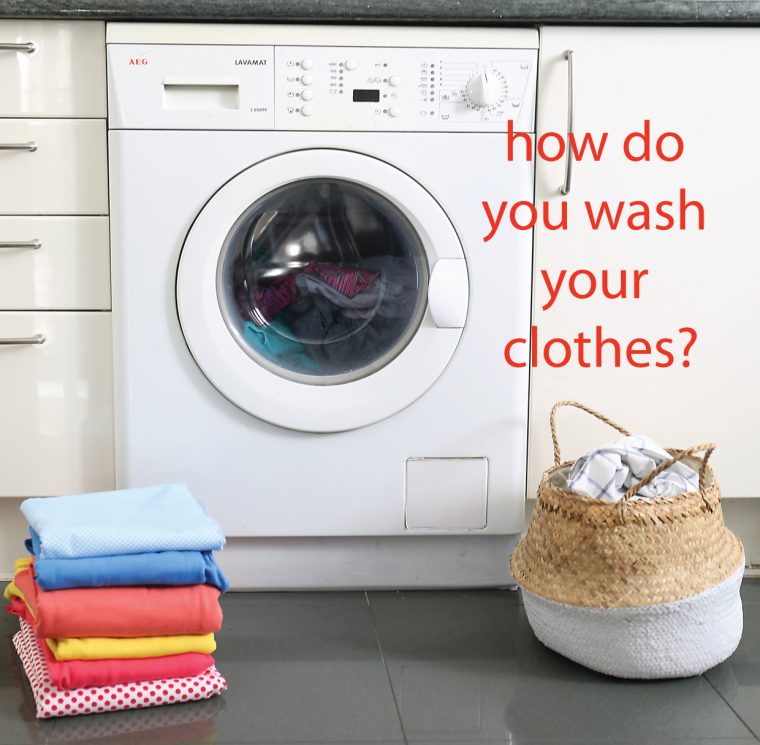 So first, how often do you wash your clothes? Chances are, you're washing more frequently than you need to, and washing is hard on textiles. Machine drying is even worse. Most laundry needs to be washed primarily to eliminate smelliness and stains, so if your clothing doesn't have either of those issues you may not need to wash it. For example, jackets, skirts, and trousers generally need to be washed very infrequently. T-shirts and underwear need the most frequent washing. Be sure your clothes really need to be washed before you clean them.
Since stains can be a real concern, it's helpful to know how to treat different types of stains. Here's a great stain treatment guide that can help! Save this someplace where you can find it when you need it. It's a great guide to treating almost any possible stain.
Other washing tips:
When possible, turn clothing inside-out to prevent additional wear to the outside of the garment. This will keep textiles looking new for longer, especially printed cotton and denim.
Dry cleaning chemicals can be quite harsh on clothing. If possible, hand wash delicate clothing instead of dry cleaning. (Sweaters are so much nicer to wear if you hand wash them in Soak or Eucalan. Just be sure to use cool or lukewarm water, and roll them in a towel to extract water before laying them flat to dry.) You might also want to use soap specifically designed for delicates. Sometimes you can also toss delicates into the washing machine on a gentle cycle, especially if you use a mesh bag to help protect them.
Air out clothing after wearing it. This will allow any moisture in the fabric to evaporate and will help any smells to disappear.
Cool water is often gentler on textiles and better for the environment. Most environmentally-friendly washing machines have an eco setting that uses cooler water and still gets your clothing clean.
Line dry whenever possible. If you give your clothing a good shake-out before hanging you may not need to iron it when dry, or at least you'll need to iron less than if you used the dryer.
Store away any clothing that won't be worn for a while. This will protect it from dust, light, and insects. I've been storing my out-of-season clothing with a bar of lavender soap wrapped in a little tissue paper. The lavender in the soap repel insects and gives the clothing a nice scent, too!
Use a lint brush to refresh clothing that gets a bit dusty or covered with pet hair. A pill comb can be used to remove pills from sweaters and keep them looking new longer.
If you wear microfiber workout clothing, wash it with other clothes to help reduce the number of microscopic plastic bits that find their way into the water stream.
Microfiber usually contains a lot of polyester, which tends to capture sweaty smells and makes it harder to get rid of them in the laundry. To eliminate smells in microfiber clothes, add a little baking soda to the pre-wash cycle. (Here are a few more tips for washing your workout clothes.)
Instead of bleach, try OxiClean or similar products to brighten whites. (It can also be added to the cycle for other colors if needed.)
There's been quite a controversy over washing bluejeans. I wash mine infrequently (only when truly necessary) and here's why.
What's the best way to care for specific types of fibers? And what about prewashing your fabric? We'll cover those topics in a separate post soon.
But until then, do you have any other laundry or textile care tips to share?