Last fall I made a promise to S and her best friend that I would sew them each a chulapa for the San Isidro festival this year. San Isidro is the patron saint of Madrid, and every year Madrid has a big multi-day festival to celebrate. (All the other towns and villages of Spain celebrate their local saint's day as well). And the chulapa, of course, is the traditional dress of Madrid which is worn for the festival.
I don't know how the dress came to be, but it reminds me of a very conservative flamenco dress, where I usually think of a flamenco dress as being rather sexy. There are a few variations on the style, but it stays pretty close to the traditional costume, which almost always includes a polka-dotted print, entredeux or eyelet trim with ribbon woven through it, and a very fitted princess-seam shape with a flared, flounced skirt. Oh, and puffed sleeves or mutton-leg sleeves.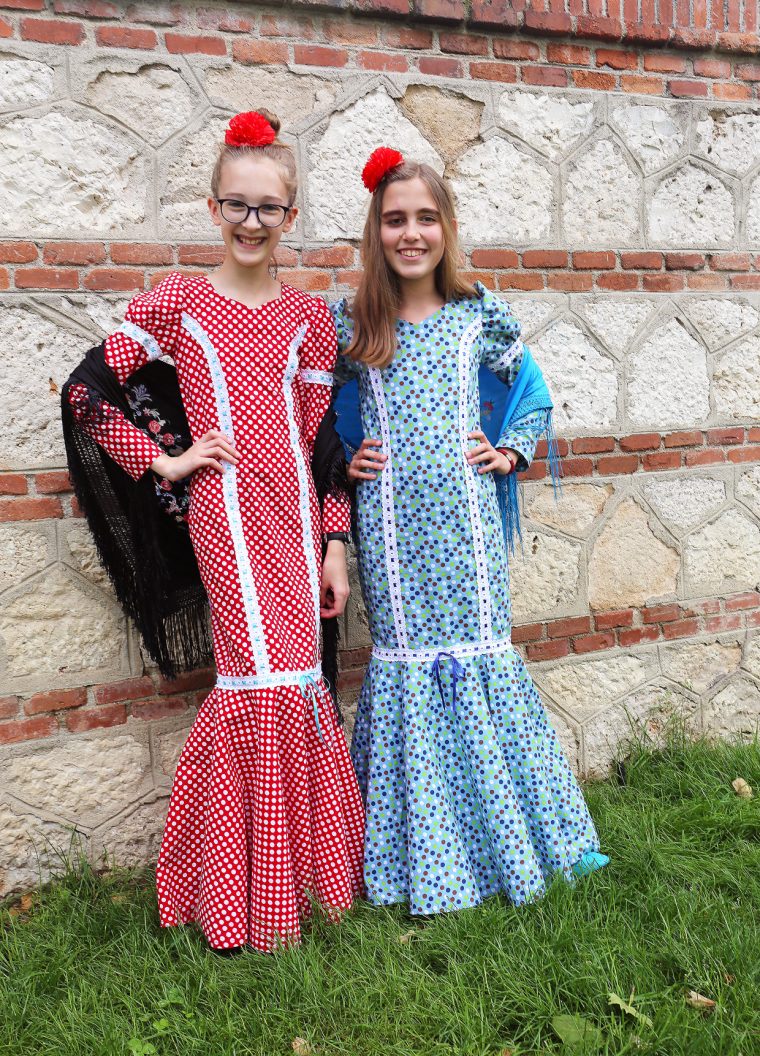 To make the dresses I started with a muslin for each girl based on the princess seam variation of the Building Block Dress book (page 87) . I lengthened the bodice quite a bit (to the knees) and then we got busy fitting. S measures a size 8, so she required more adjustments than her friend who fits a size 12 perfectly. Nonetheless, on both dresses we pinned the seams to contour to the girls' bodies and to give the dresses some shape. Once I had a shape we liked, I basted the new seams to check the muslin on both girls again before transferring my changes to the pattern pieces.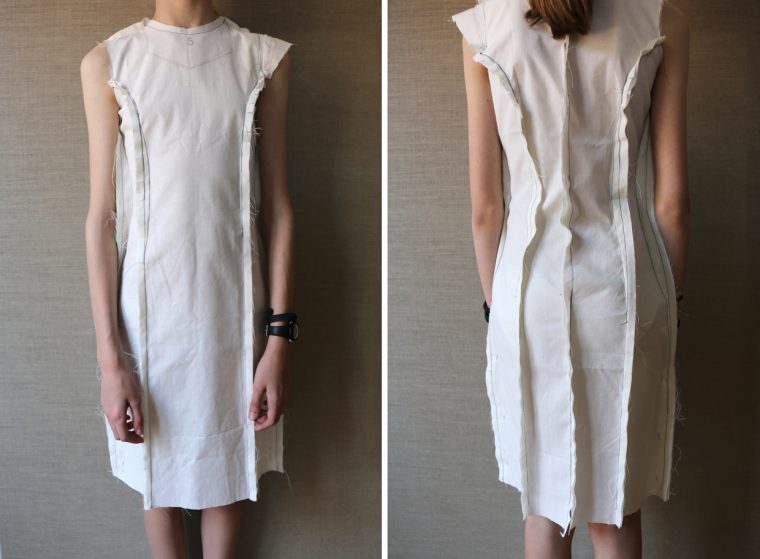 And then we were off to the races! Despite the relative simplicity of the dresses, they still took quite a bit of time. I chose fabrics from Robert Kaufman's Spot On collection, because chulapas traditional are polka-dotted. The skirts themselves are giant circles, and to give the skirts and the puffed sleeves some body I used two different weights of "can-can," which reminds me of very, very stiff organza and is traditionally used for this purpose. (My friends at Ribes y Casals knew exactly what I wanted when I asked about it.) Then there was all the eyelet to be applied, and those giant skirts to be hemmed. At one point the zipper to one dress broke a tooth. (I've never had that happen with a YKK zipper before.) So I had to replace the zipper half-way through. But in the end they all came together with plenty of time to spare. And the girls were delighted!
If I were to list all the techniques from the Building Block Dress book I used to make the dresses they would be: puffed sleeve (page 52), flared A-line skirt (page 72 with modifications), dropped-waist dress (page 80), princess seams (page 87), shaped neckline (page 117), internal neck facing (page 118), and invisible zipper (page 135).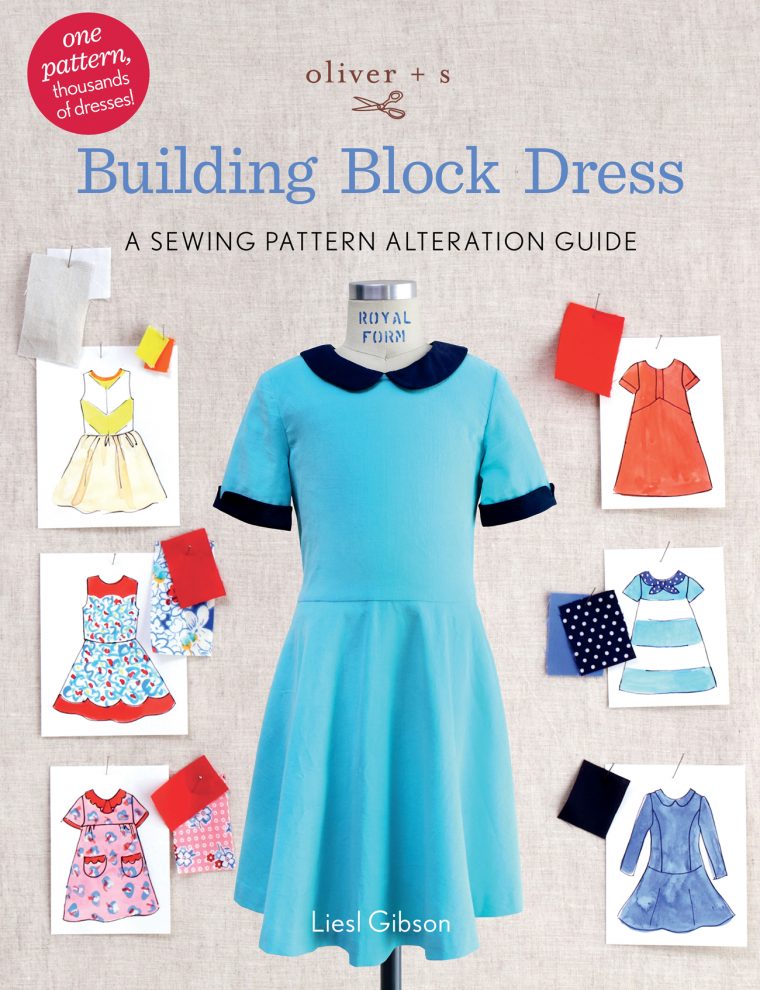 Which just goes to show that you can make a lot of different styles with the book!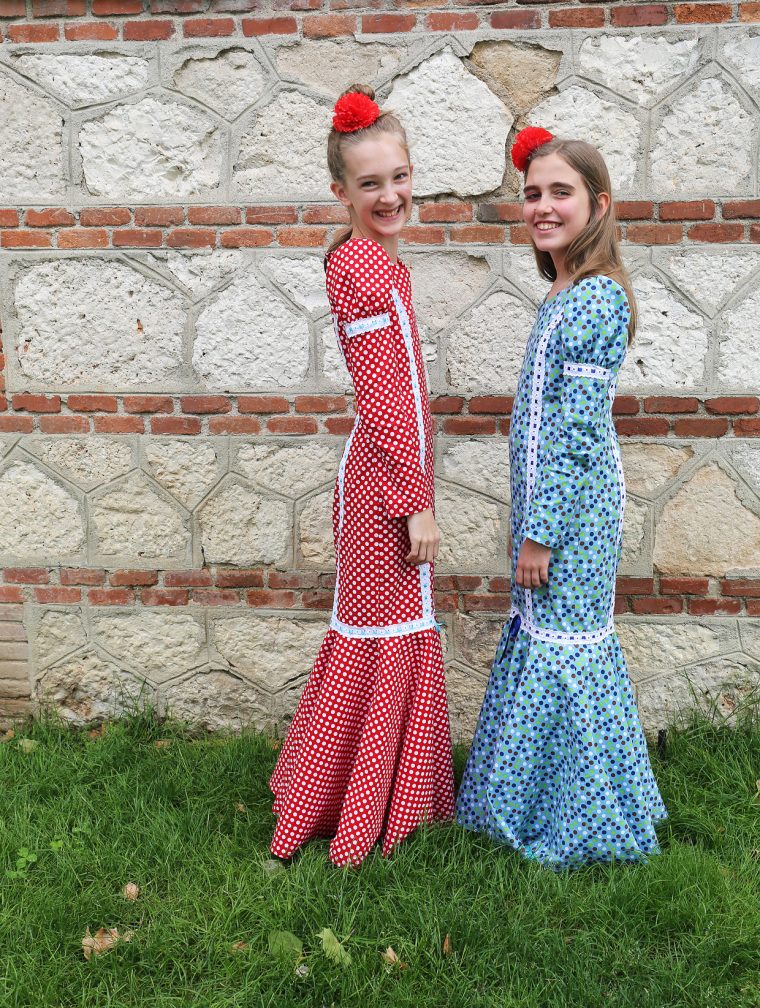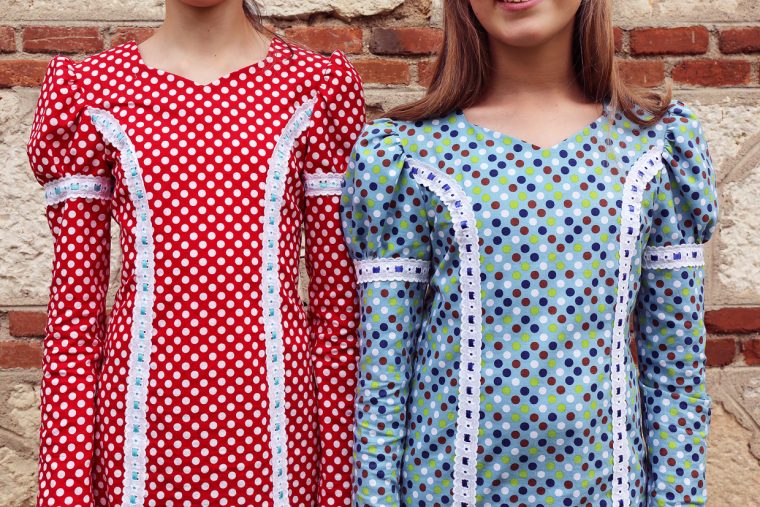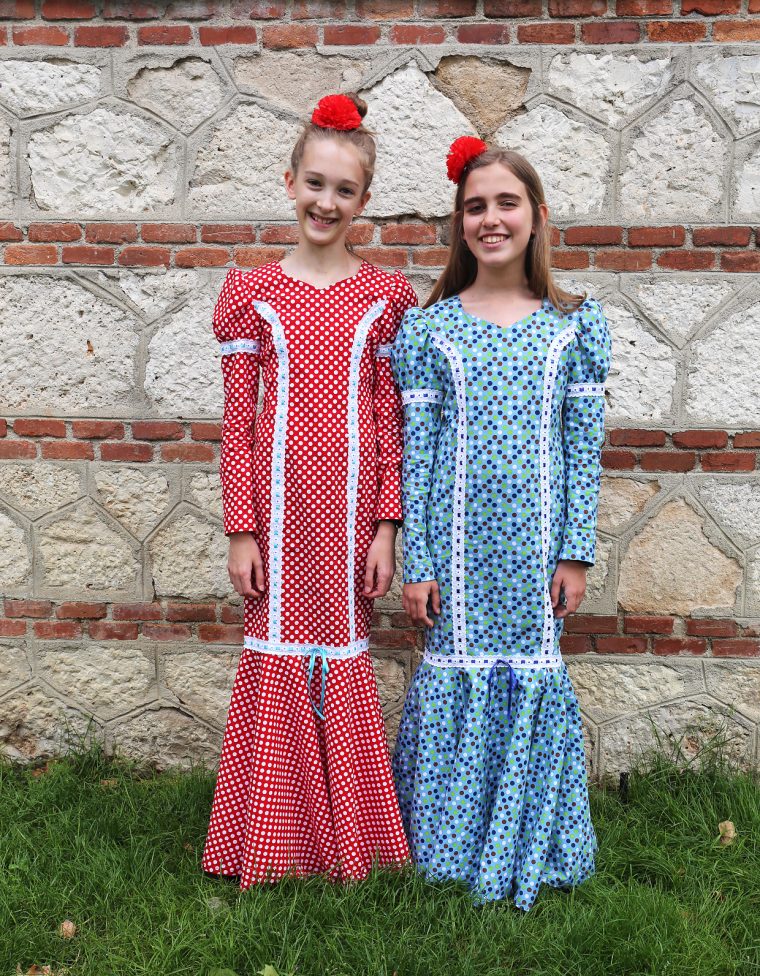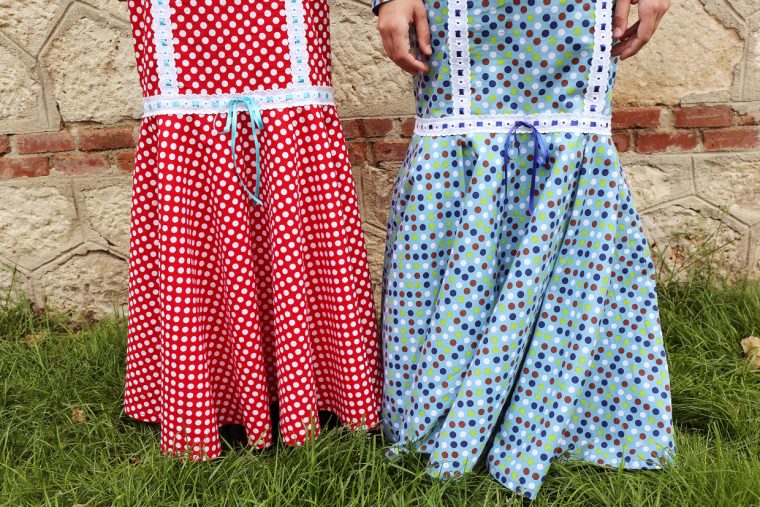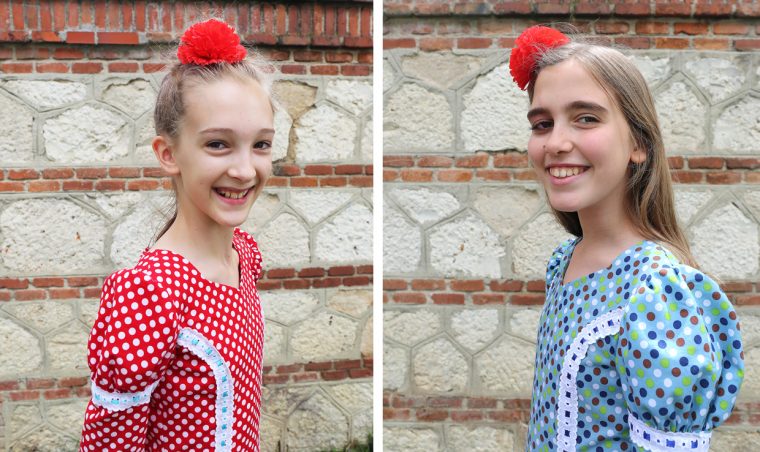 Both girls loved their dresses and had so much fun wearing them to the party at school. Many of the kids wear their traditional clothing to school on the day of the fiesta–chulapos for the boys and chulapas for the girls–to promenade through the schoolyard in couples before they do the traditional dance and then scare themselves silly in the tunnel of terror that gets set up for the day in the gym. The girls also wore their chulapas around the city for many of the celebrations during the long weekend. I think part of the fun is wearing the flamenco-style heels that are part of the traditional costume and part is just the joy of wearing a fancy dress, especially when you're 12 and starting to grow up and recognize your femininity. I wanted them to have that joy and to feel good about their changing bodies, so it was just as much fun for me as it was for them.
I got a couple of shots of S during the weekend as well. She loved this dress so much she wore it every chance she got!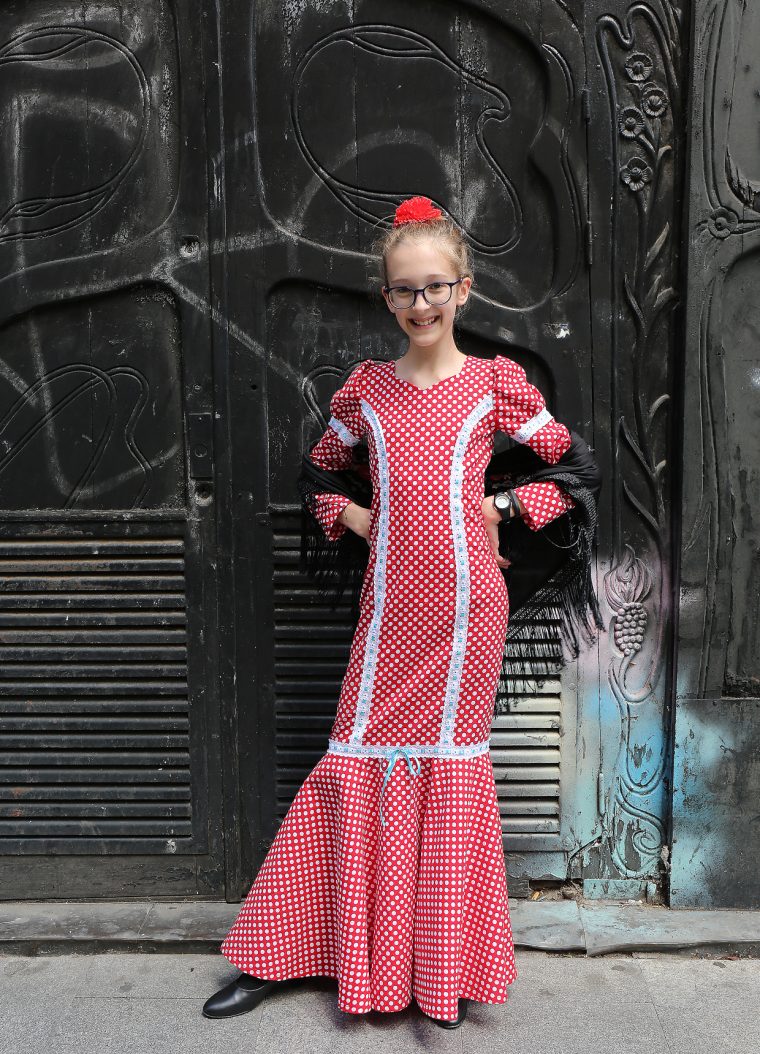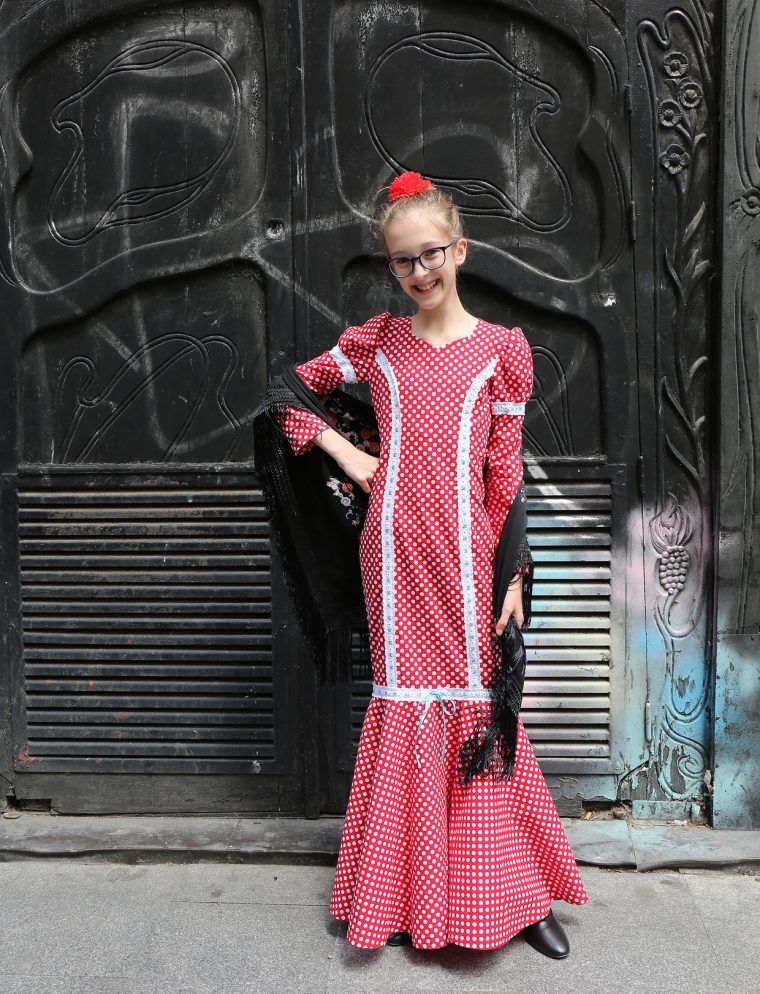 Most Madrileñas don't wear the chulapa anymore. On special holidays, like San Isidro, you'll see groups of elderly folks in their chulapos and chulapas gathering for the traditional dance in some of the plazas. And, of course, lots of little kids wear their chulapos too, because it's cute. But the older kids and younger/medium-aged adults (like me?) aren't wearing them, which makes me wonder–and maybe worry a bit–whether the tradition is being lost.
I was so pleased that the girls were excited to wear theirs even though most of their classmates didn't. Traditions are a good thing, and I hope we're doing our part to help keep them in place. Even if we're not technically Spanish.