Here is the next installment of the "My Favorite Oliver + S Pattern" series. Today we have Lynn who is stopping by to share a bit about her favorite Oliver + S pattern. Here she is.
Hi, I'm Lynn Cosgrove and I'm really pleased to be here to share with you my favourite Oliver + S patterns.
I came across Oliver + S patterns once our beautiful granddaughter, Addison was born 3 ½ years ago. Whilst we were waiting her arrival I was busy making quilts, bunting, nursery tidies, alphabet and number blocks–in fact anything I could make got made for the nursery and that trend continued too when Arthur was born 2 years ago.
I made Addison's first dress when she was about 12 weeks old. I saw the Oliver + S patterns but considered them expensive so I purchased another brand instead. The dress turned out well despite it being fiddly because Addison was so tiny but the dress just didn't have that oomph – you know that "something special" feeling. So the next time I was in the fabric store I took a look at the Oliver + S patterns and purchased the Family Reunion pattern. I've not looked back since and now have nine in my collection.
From the first pattern sewn, I have been hooked and none have disappointed. The Family Reunion dress was followed by the Hide-and-Seek Dress and the Roller Skate Dress. I made the Art Museum Vest which was made in Liberty Tana Lawn (my favorite fabric) for Arthur to wear to a wedding last year. The Lunch Box Culottes have been made a few times but one pair have to be worn back to front as I embroidered a clown on the front but Addison insists should be at the back!
Oliver + S patterns are amazing – printed on super quality paper, clear instructions with some brilliant techniques that just add to the quality of the overall finish of the garment. At first I'd say to myself "You want me to do what?" but I went with the flow and have learned so much, all down to Liesl and her fabulous work. How much time I've saved myself by putting in a basting line ½" from an edge as a guide I'll never know but I use this all the time now and it's so much more accurate than measuring manually and a lot less fiddly.
Oliver + S patterns are now the only patterns I consider buying when making garments for the grandchildren, although I can now draft my own patterns thanks to Liesl's fabulous Building Block Dress Book which I purchased as soon as it was released. But more on that later.
I love all the patterns I own for different reasons but my overall favorite just has to be the School Days Coat. It is the only pattern that I purchased as a digital download and I wasn't sure how that would work out. Despite having pages and pages of pattern pieces to join together, it went together easier than imagined albeit it a little time consuming. Well it is if you're anything like me and just want to get the fabric cut and sew, sew, sew!
The first coat made was for Arthur when he was 18 months old. I made it in size 2 so it has some growing room. It was made in a dark navy pure wool coating fabric with a paisley jacquard lining in blue and gold. Working with pure wool can be daunting because it's quite thick but it went together perfectly and Liesl does include some guidelines for working with such fabrics, which are useful reminders even if you already know how to work with different fabrics. The beauty is that the fabric does not fray and is easily manipulated.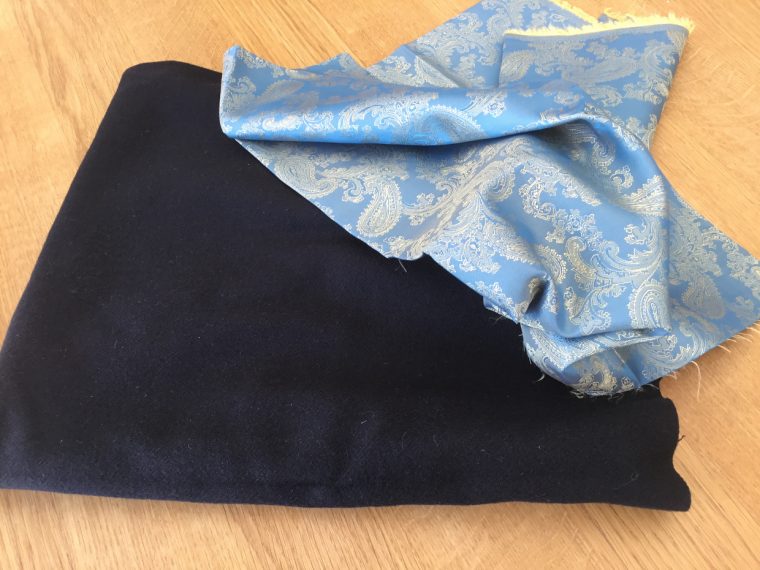 I couldn't find the right color and quality cord to make the toggles so I opted for some Prym Toggle Fastenings although I couldn't use the placement guides on the pattern for these so it took time to make sure they were positioned correctly and would close once the coat was finished.
Arthur is known as "Arthur Bear" so the coat was finished off with some personalized labels. The end result was a stunning, classic duffle coat that made Arthur look a right "Bobby Dazzler."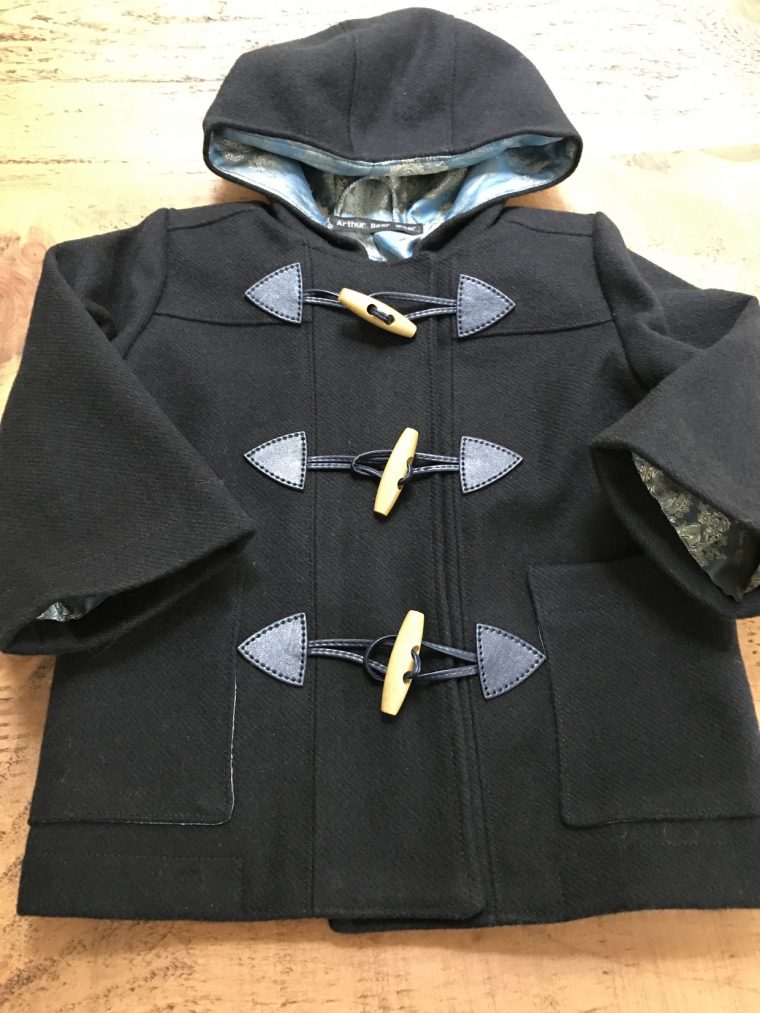 I was so thrilled with Arthur's coat that I decided to make another one for Addison. I made it in a fuchsia Boiled Wool and lined it with an acetate lining. I had to print a different size pattern but again had no issues with fitting the pieces together or with the finished size. The fabric was a little more challenging as it was fairly thick. I again substituted the toggles because I couldn't find a great match in cord so opted for some felt duffle fasteners with a wooden toggle.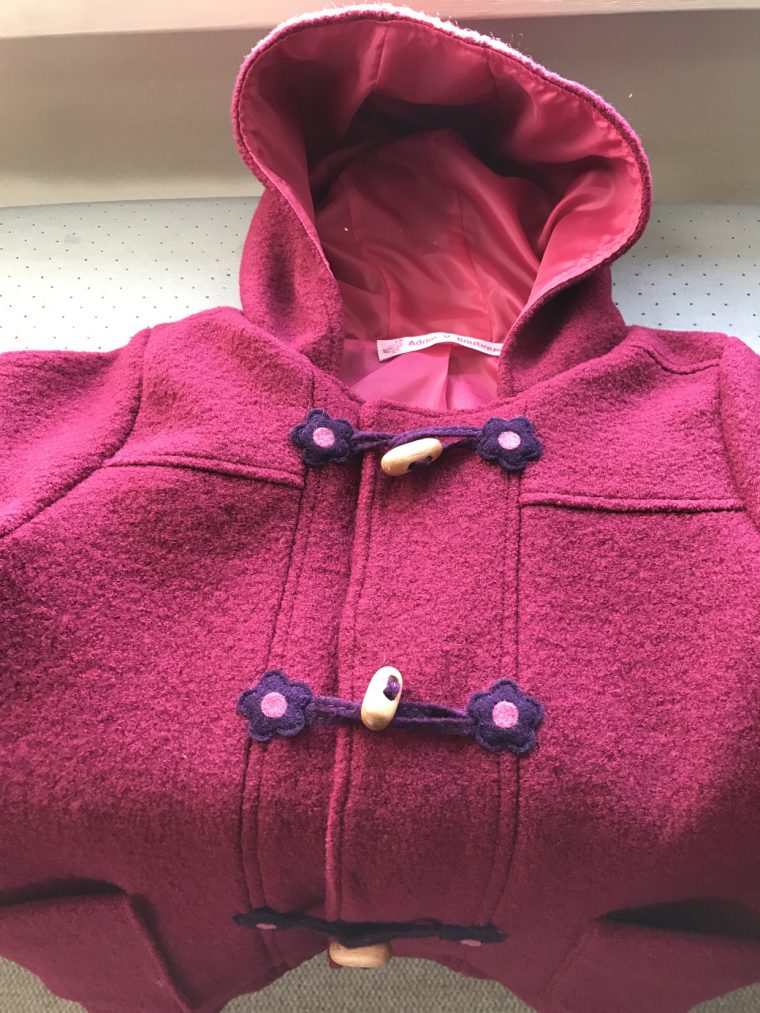 Both coats have been widely admired with requests received for coats to be made for their friends, but this is one coat that is being made only for family.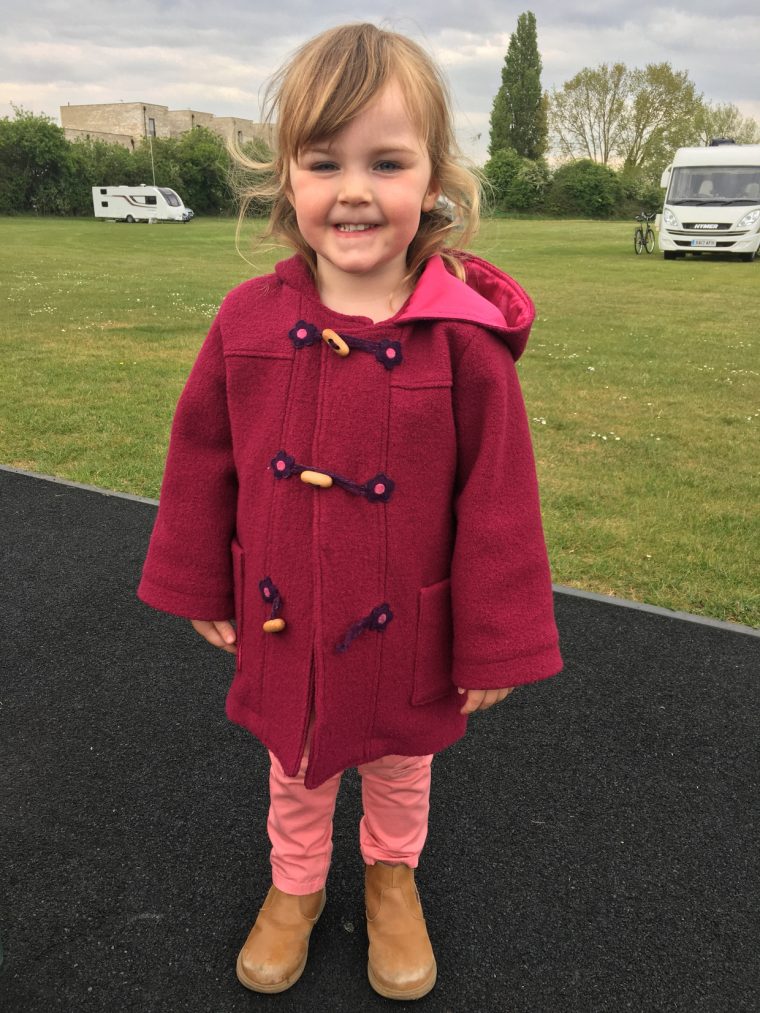 While I learned to sew while at school I only returned to sewing garments in the last three years after our grandchildren were born. My love of making garments for our gorgeous grandchildren has now led me to launch my own business which is something that I couldn't have even contemplated doing without Liesl. At the time I was considering launching my business, "Little Scallywags", I was researching courses on pattern drafting as this was a skill that I would need to take my business forward. I saw a few courses but didn't enroll in any as they didn't quite give me what I was looking for. I then learned that Liesl was launching the Building Block Dress book and luckily for me my mother treated me to one of the very first copies. The book is amazing and my copy is well worn. While my business is in very early set up stages and at present I am trialing different dress styles for Addison to enable me to create my own unique patterns for my business I could not have done this with such ease without Liesl.
Liesl, thank you for your vision and creativity; for sharing your skill and knowledge; and for empowering all us sewers to take our skills to the next level.