There are two women who make up Bombazine, Klarissa and Kate. They are childhood friends blogging their sewing capers in Melbourne. Today they're here to share and talk about the Lunch Box Tees that they sewed for their daughters.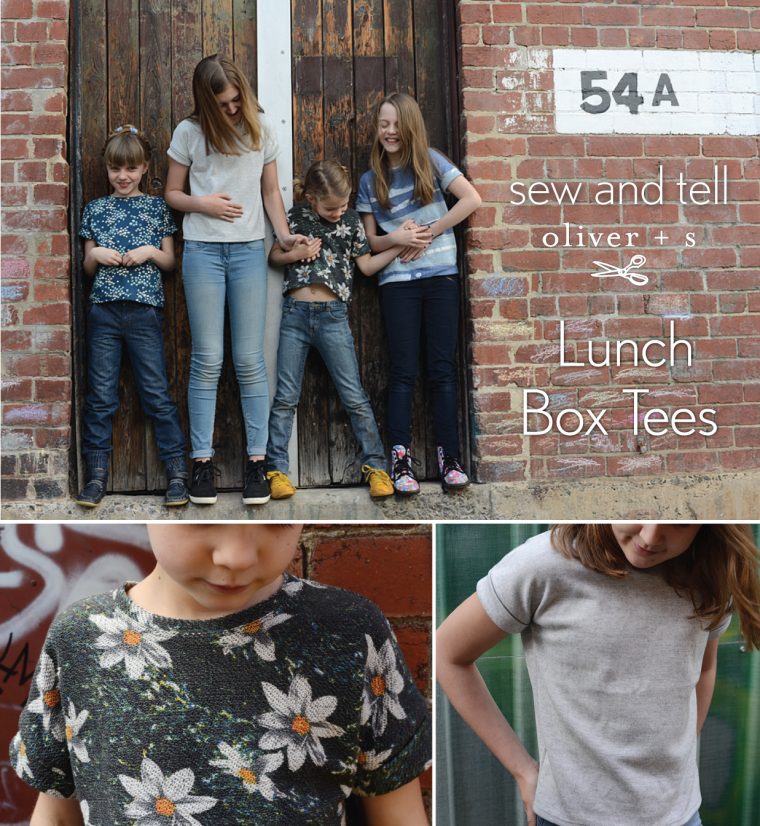 Your names: Klarissa and Kate
Where can we find you on the internet? Blog, Instagram, Facebook, Pinterest
Project details
Link to your project: Lunch Box Tee X 4
Pattern used: Oliver + S Lunch Box Tee
Fabric used: This was a great scrap-busting project; three of these four t-shirts were made from pieces left over from other projects. From smallest girl to tallest girl, the fabrics used were: a loopy floral knit bought on from South Korean Etsy shop Bonita Fabric; a printed Art Gallery Fabrics knit; a Nani Iro double knit; and a grey double knit from deep within the stash.
Did the fabric work well?
All four fabrics were of varying texture, weight and stretch but they all worked well. It's interesting to see how one pattern sews up differently depending on the fabric used. The more structured knits definitely work well with this pattern as the cuffed sleeves sit up nicely and the boxy shape is more emphasized.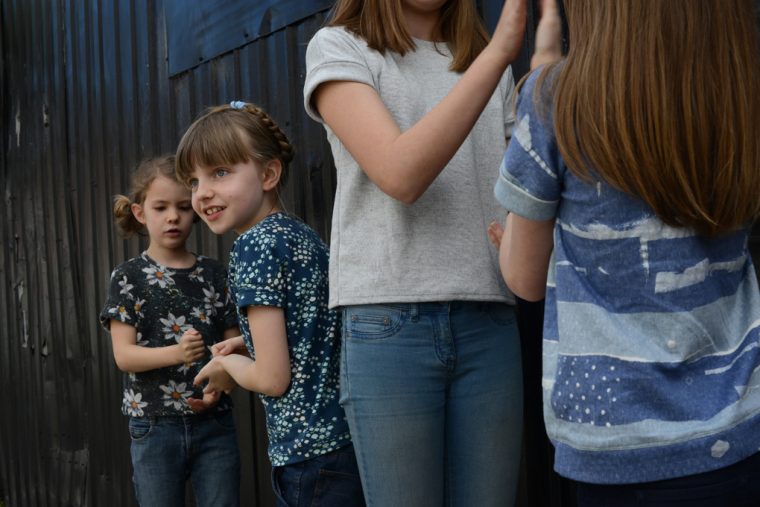 How did the sewing go?
Like a dream! There's nothing more fun after a few complicated sewing projects than tackling a kid tee. They're so quick to make and this pattern comes together really nicely. We both avoid overlockers on knit necklines and use a walking foot and twin needle finish instead, and spend a lot of time pinning those neckbands before sewing. The two middle kids' tees have added waistbands for some extra length, the oldest girl would have preferred an even more cropped length, but otherwise all four are straight off the pattern with no changes.
What was the best part?
The best part was finding a pattern that four girls of four different ages all wanted to wear! A minor miracle really. We've always sewed for our kids but as the older girls are approaching their teens, we're finding pattern options are more limited, and the clients are definitely getting fussier! All four girls wanted to wear these tees straight off the machine, and have worn them as often as possible since – that's always the best part.
Be sure to take a peek at another Lunch Box Tee they made here.