It's always fun to introduce you to new Lisette patterns.
As part of my goal to produce a collection of versatile basics sewing patterns for you to choose from, Lisette for Butterick B6386 is an sequel to our first athletic wear pattern, Lisette B6295. I thought it would be useful to have a simple windbreaker and basic athletic trouser. Both styles are practical and versatile, the way I'm always aiming to design these patterns.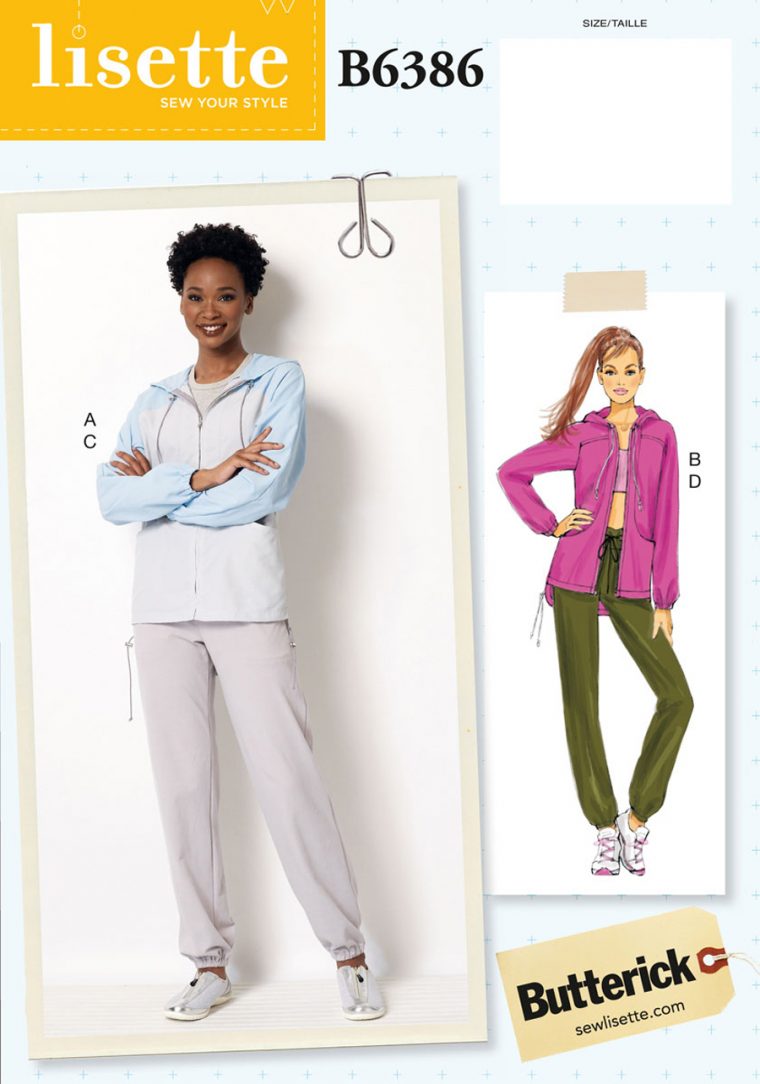 Let's talk about the jacket first. It's a simple unlined windbreaker style with a shaped yoke (sort of a modified raglan sleeve that's easy to sew and adds a sporty detail), shaped in-seam front pockets, elasticized sleeve openings, and drawstrings with stoppers at the hood and the shaped hemline (which is longer in back for a little extra coverage). It closes with a separating zipper. You can sew this style in one color for a sleek look or try color-blocking it for the fun of it. This is the sort of light jacket I like to wear when I run, and I pack it when I travel as well. It will keep you covered in a light rain and keeps you warm on a breezy day.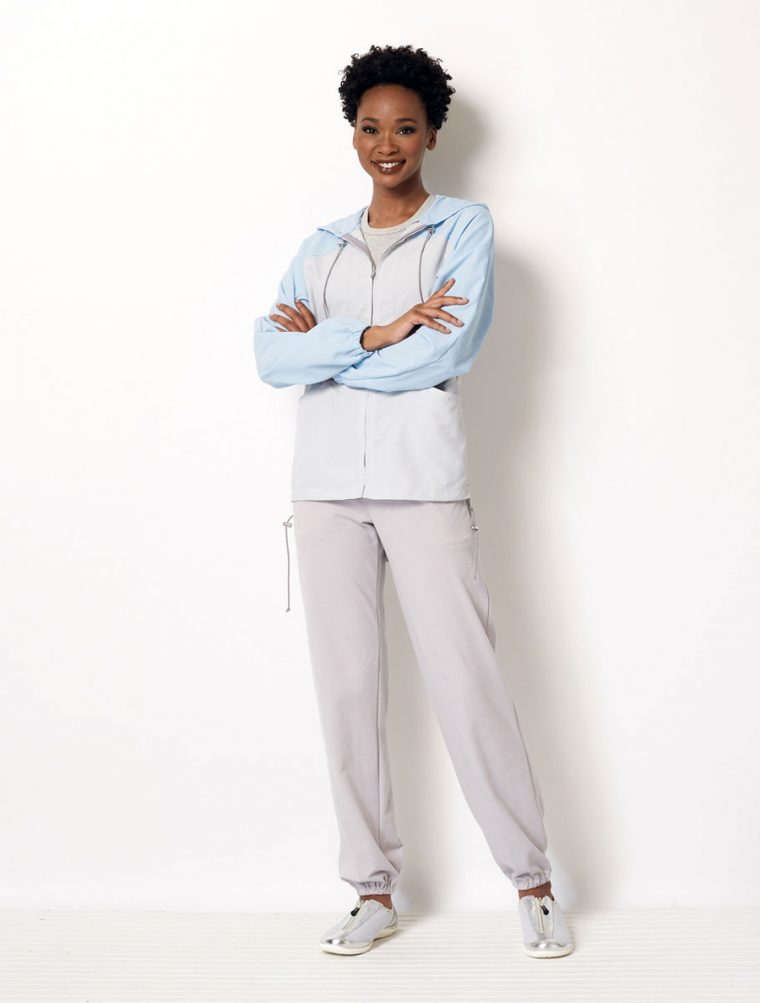 The trousers, which are comfy basics, are designed to sit below the waist and include a front and back yoke with a cute drawstring detail, front pockets, plus elastic at the ankles. For this style, too, you can choose between sewing them in a single fabric or color blocking them. I like the yoke, since it also give the illusion of a little lift in the back–sort of like well-positioned back pockets. It's nice to be confident that your back side looks good, even if you're dressed down or working out.
These are designed to be more classic-style sweatpants rather than more contemporary "joggers." The difference between the two? The width of the leg: joggers taper toward the ankle. I'll show you how to make the change if you prefer the tapered silhouette. They can be cute, but they're not for everyone.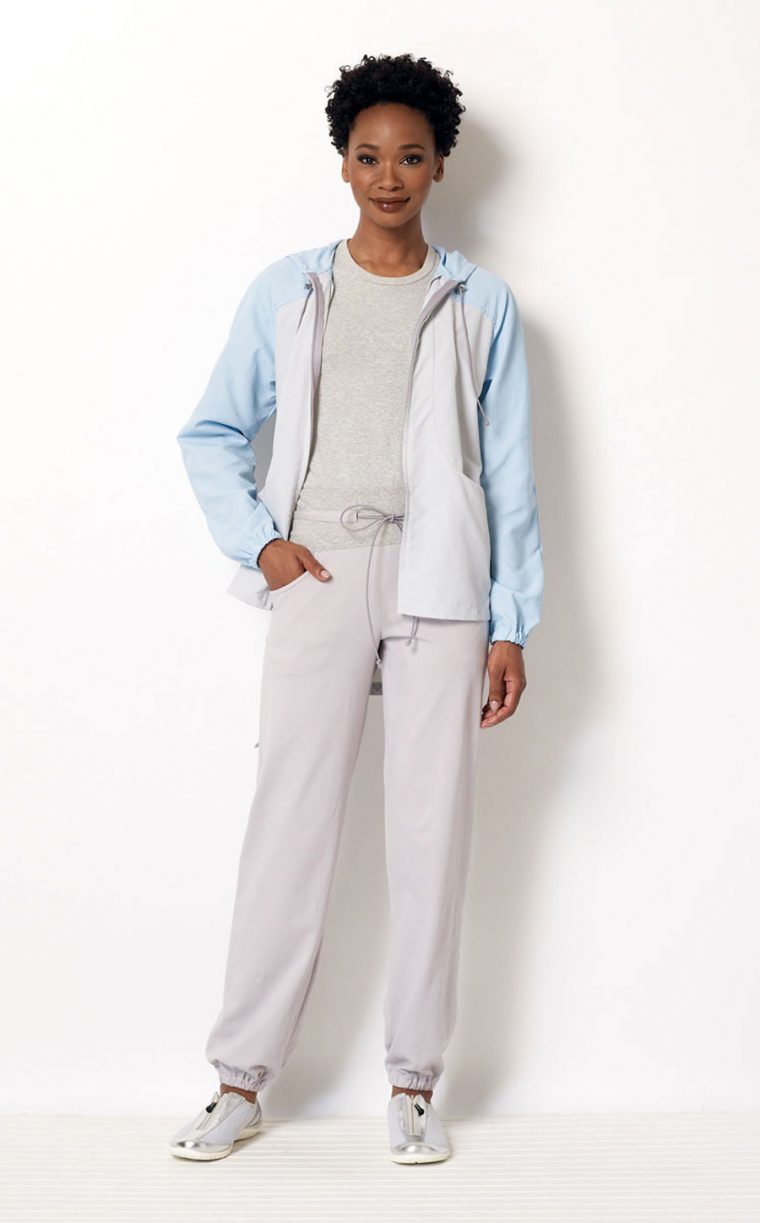 The trouser pattern calls for French terry, but I'm going to try a lightweight woven wool, just for the fun of it, when I sew mine. The jacket, meanwhile, works really well in classic nylon or ripstop nylon. Fortunately, there are lots of color and pattern options to choose from in fabric stores, so have fun with it!
Here's my Lisette for Butterick B6386 pattern Pinterest folder, if you want some ideas for this pattern.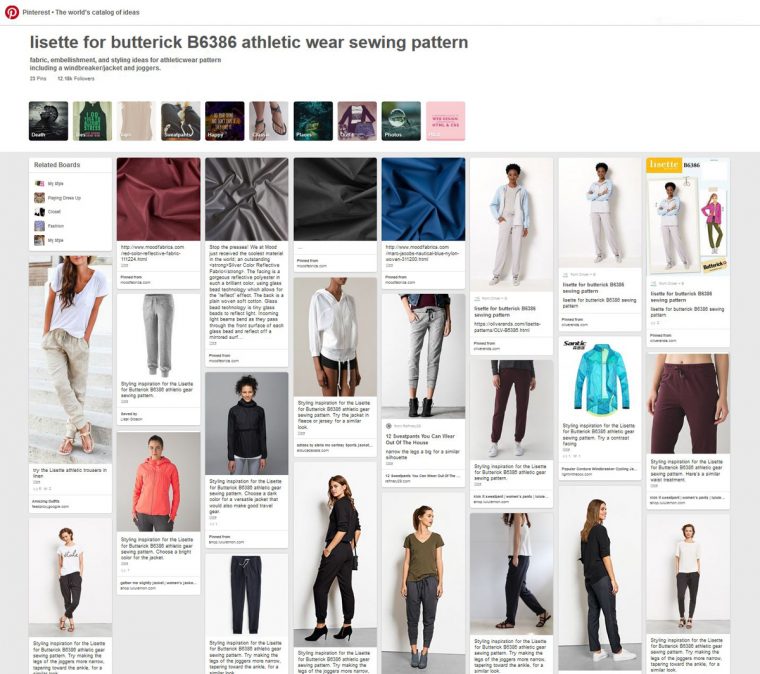 As always, I can't wait to see what you make with it! The pattern is available now in the shop and everywhere Butterick patterns are sold.