Hello, friends!
What a week it's been! We have a house full of guests coming and going for ten days. Now that it's early summer, everyone is starting to travel, and it's great to see them! Of course, right in the middle of it we're finalizing the file for my book so it can finally go to the printer. It's going to feel great to send it off now that it's been proofread and corrected for the very last time. But in between edits and corrections I'm doing lots of cooking and showing people around Madrid. And somewhere in the middle of it I finally managed to finish drafting the fall patterns, so now I can start writing and illustrating those patterns. I've also managed to finish some sewing projects, like this lace Bento Tee. I'll do a tutorial for it soon.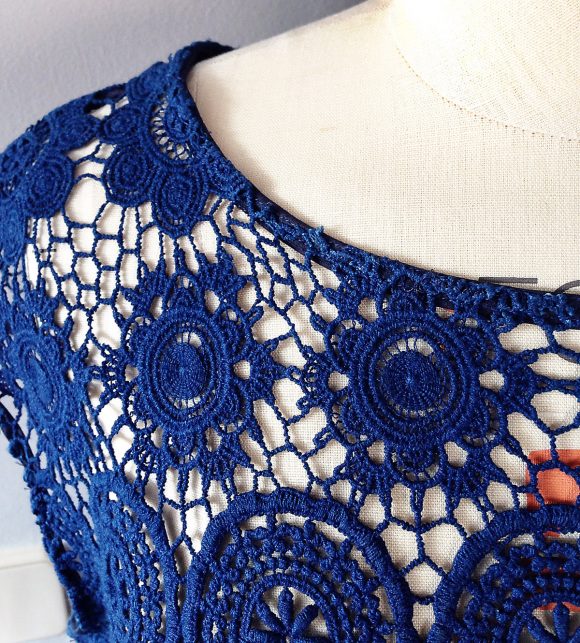 What are you up to these days? I think lots of schools have finished for the year, so maybe you're off on a vacation of your own? It's a good time of year to travel. Not too hot yet and many schools haven't finished for the year, so it's less busy. I'm noticing a dramatic change in the number of tourists here in Madrid. We stood in line for quite a while to buy alpargatas (espadrilles) this morning.
Anyway, we're taking a road trip to Segovia with our current guests tomorrow, which should be fun. And I can't wait to see my parents who arrive on Sunday!  I hope you have a wonderful weekend as well.
Pinterest Picks
How cute is this Playtime Dress sewn by A Little Paper Boat! She embroidered one of her daughter's drawings onto the front of the skirt. I just love it.
And for the boys, two adorable outfits to inspire you. This first one is a really clever customization by Lily Pad Montana in which she combined the Art Museum Trousers and the Field Trip Cargo Pants.
I also love this Sketchbook Shirt and Shorts sewn by Emily G. Darling pirate fabric!
Since now it's officially summer in the norther hemisphere, I have an excuse to obsess over ice cream! Here's one we're going to try this summer: Creamy Coconut Popsicles. We just bought a popsicle mold since we left the ice cream maker at home.
This would be such a comfortable summer outfit. You could use our Liesl + Co Gallery Tunic + Dress for this look.
Weekend Reading
I'll see you here next week!