Before Liesl's second book is released in September, I thought it would be nice to highlight a couple of patterns from her first book Little Things to Sew. Did you know that the book is available in French as well? Here it is: Petites choses à coudre: 20 accessoires et jouets classiques pour enfants.
Let's talk about the Drawstring Bag pattern. We plan to run a little drawstring bag series through the end of August. So be sure to come back often to be inspired.
The drawstring bag is a fabulous pattern and has so many uses. You can make one as a lunch bag, ballerina bag, or knitting bag, for example.
Try adding a pocket on the outside, like an exposed welt pocket, some hexagon pockets, or an exterior pocket from an Oliver + S pattern.
As for the drawstrings, here is a post with tips on inserting drawstrings and here you find some drawstring ideas.
This is a beginner level sewing project that does not require a lot of fabric. You could easily find all of your supplies from your stash. If you are interested in sewing some for charity here is an organization that accepts drawstring bag donations.
During this series we will be sharing different ways in which the drawstring bag can be customized as well as the many different ways it could be used. Off we go!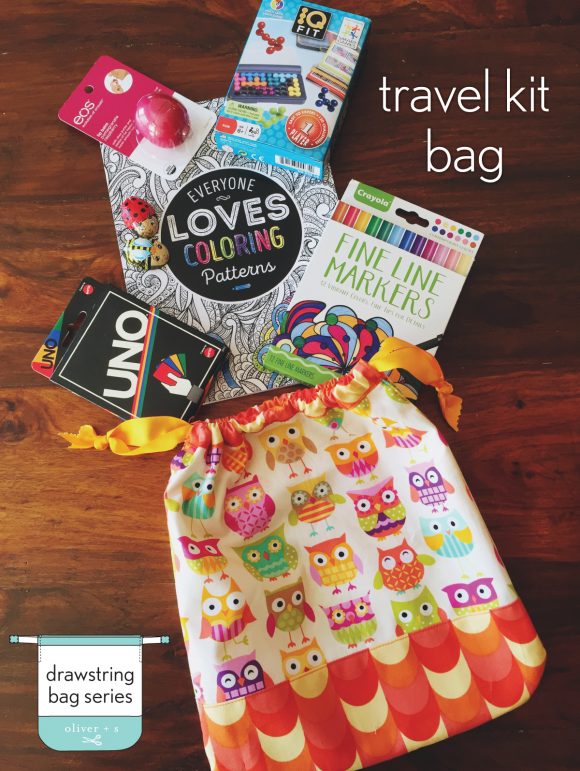 Summer is here and it's time to go on a vacation. So today we're going to focus on a travel idea – enter the travel kit bag. Also known as a road trip busy bag, these are filled with things for a long car trip, plane trip, etc. The drawstring bag is the perfect size for an activity book as well as several other items which can be customized to any age group.
The one shown here was sewn by Peta. Have a peek at another example.
Bon voyage!