Here's another entry in our Style File series. Have you tried wide-leg trousers yet?
After many years of skinny jeans, silhouettes are (finally) changing to include new shapes. You may think that you can't wear trousers with more volume, but I have a feeling you'll be surprised! Here are a few tips to help you with this style.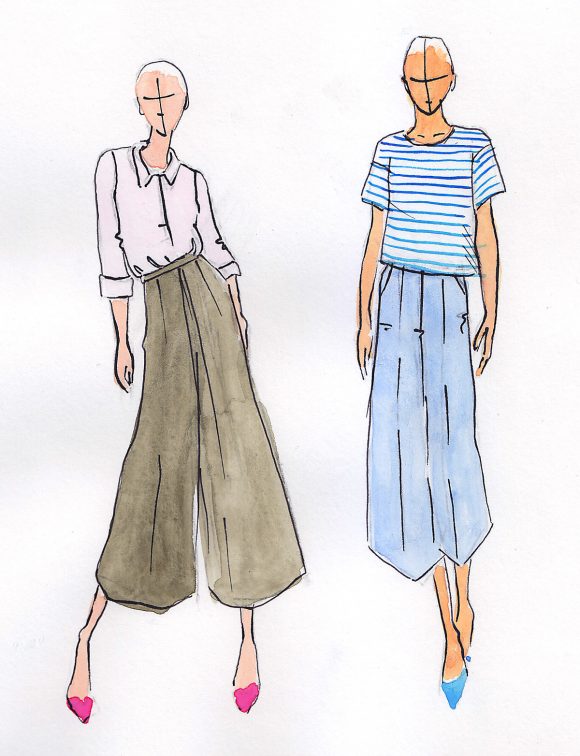 First of all, proportion is important. Crop the trousers above your ankle so you're showing a little bit of leg and your ankle is visible. Each person's ideal length will differ, but in general four to six inches above the ankle will probably be your best length. I have really muscular calves and prefer my trousers to be on the longer side, but if your legs are slim you might want to crop this style, especially the wider culotte version, to just below the knee.
Ideally, wide-leg trousers will sit high on your waist, to give you a slim middle that balances out the volume of the wide leg. This higher waist will also give the illusion of a longer leg, which helps to give you a long, flattering line. I use this technique all the time because I'm long-waisted, so a high waist and a long cropped trouser length makes my legs look longer.
What you wear with the wide-leg trouser is important, too. You can choose to either tuck in your top or wear a cropped boxy top. Both will show off your waist and balance the volume of the trousers. As a pear shape, I find that this trick works incredibly well because a boxy top gives me more volume on top, but if you're not pear shaped try a slim-fitting blouse or shirt and keep it tucked in for a nice shape.
In terms of fabric, you can go either casual or dressy for this style. I love all the wide-leg denim options, and you could use denim or chambray for this look. But don't forget to try this as a dressy style as well! Fabrics like crepe, silk, and linen will give the pattern a completely different look that can be dressed up or down.
Keep in mind that the wide-leg trouser can also replace a dressy skirt, especially if you sew the trousers in a drapey black or creme fabric. Pair them with a silky blouse, heels, and one or two pretty accessories. Or take a more modern approach and wear them with a boxy cropped top and chunky heels. Either way, the effect is similar to that of a feminine skirt.
My first choice for wide-leg trousers is our Liesl + C0 Girl Friday Culottes, which really look more like a midi skirt. But if you prefer a little less volume you might want to try our Lisette for Butterick B6183 sewing pattern. Both styles have a high waist, cropped hem, and pleats to add volume at the legs. Check out my Lisette for Butterick B6183 and my Liesl + Co Girl Friday Culottes Pinterest boards for more images and inspiration.