We all love the Hide-and-Seek pattern for the fact that it does such a lovely job of showcasing a special fabric. Meagan has stopped by in the past to share a sew and slash technique to create a faux chenille yoke. Wait until you see what Meagan did with the yoke this time! Be sure to click through to learn this new fabric technique from Meagan's tutorial. Here she is to give you the details about her cute baby-sized tunic.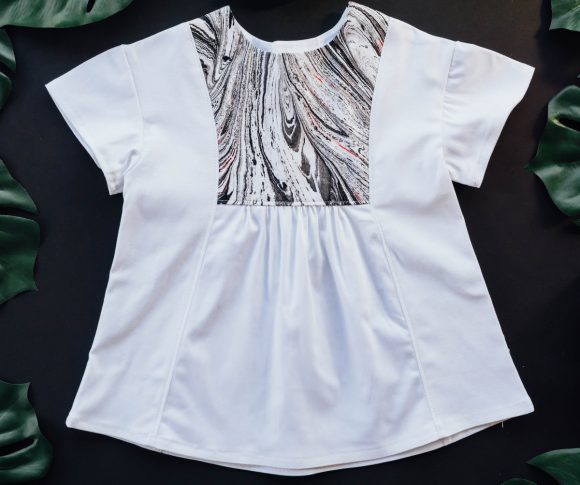 Name: Meagan Mora
Where can we find you on the internet? Blog, Instagram, Pinterest, Flickr, Twitter
Project details
Link to your project: An Epic Marbled Fabric Tutorial
Pattern used: Hide-and-Seek Tunic (size 6-12 months)
Fabric used: Kona Quilting Cotton
Did the fabric work well?
Yes, it was perfect for this pattern. I used the marbled fabric on the yoke and it was the perfect accent. A little bit goes a long way!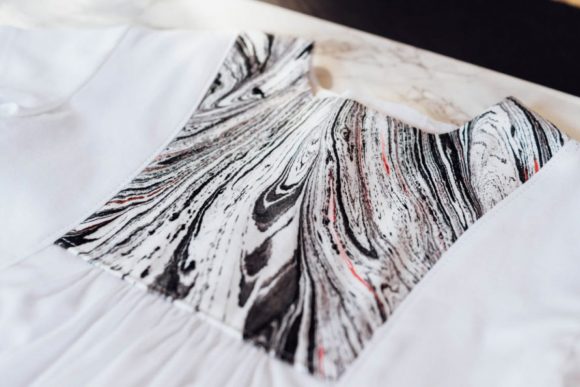 How did the sewing go?
The sewing went great. The directions are very straight forward! I recommend this pattern to everyone. The results are just so awesome and professional looking. I didn't run into one issue while constructing.

How did the fabric technique go?
The technique I used is called marbling. It was so much fun! There is a bit of planning and preparation that goes into it but I think the results are well worth it. Once you get the hang of swirling the paint, it's so addicting.

What was the best part?
For me the best part was that the patterns you create when marbling fabric are 100% unique. You can't really ever make the exact same pattern twice. I love that you can create traditional marble patterns or wing it and create your own. The options are truly endless! It was such a fun project.