Hello friends!
I had so much fun in London last weekend! While there I found some wonderful fabrics, including the black fabric for my Lisette trench coat I told you I would be looking for. And I found lots of fabrics for our upcoming Liesl + Co. fall patterns as well, which was my big shopping goal. But mostly the weekend was about meeting new friends, and we did that quite successfully, I think.
On the personal sewing front, I'm hoping for a little time to cut out a Cinema Dress this weekend with this Japanese ikat I found at Cloth House (my new favorite fabric store!) as the yoke. I think this dress will be in heavy wardrobe rotation for me this summer. The ikat was expensive, but I don't need much for just the yoke.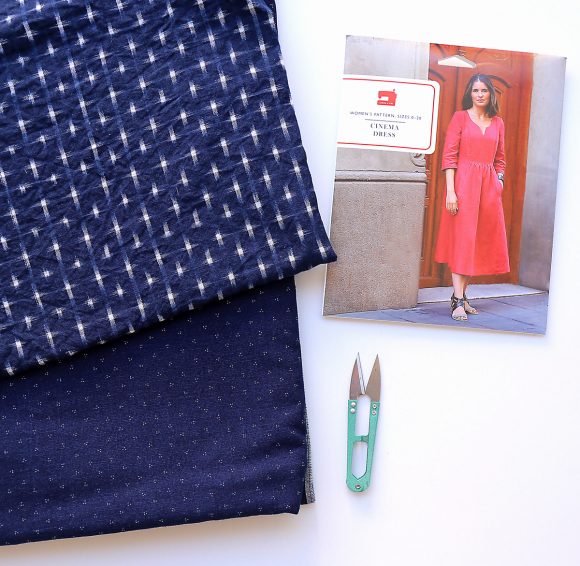 In other sewing news, I finished both suits for the Lisette swimsuit sew-along and can't wait to show you! Lots of tips and tricks to share, too. I hope you're planning to join us. Have you found your fabric yet? If not, don't miss my post about swimsuit fabric and trim, which included some sources that might help.
Pinterest Picks
There were several dresses at the Met gala that had sort of a corset-vest feeling. It's quite an interesting look, I think, especially when worn over a feminine dress. This could be translated into a really pretty day look. Would you wear something like this?
And speaking of underpinnings (but not corsets), isn't this beautiful? I wonder where one finds lace like this.
Oh, let's just make this week's photos all about texture, shall we? Like these feathers.
And this lace skirt.
And this stunning ocean scene, which reminds me of some of the black volcanic sand in Iceland.
Weekend Reading
Have a wonderful weekend! We'll be back next week with a fun project announcement, another quick sewing tip video, and all sorts of fun.