Hello there, sew-along friends! As promised, today I'll talk you through swimwear fabrics and everything else you'll need to participate in the swimsuit sew-along, which begins in just a couple of weeks. (For the complete sew-along introductory post, click here.)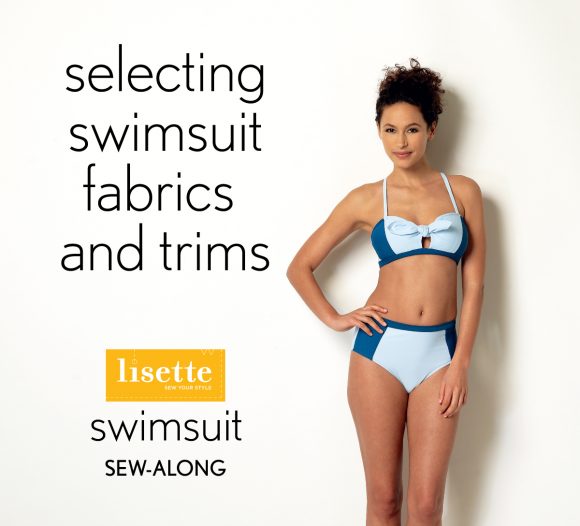 Choosing your Fabrics
As you undoubtedly already know, swimsuit fabric is not like ordinary woven or knit fabric. Although it's a knit, it's fast-drying because it's lightweight and is made of nylon or polyester combined with spandex for lots of stretch. Lycra is the brand name for spandex, which was developed by DuPont. So all Lycra is spandex, but not all spandex is Lycra. Does it makes a difference? It probably depends on who you ask, but I'd say not really. Spandex allows the fabric to stretch, and it also helps the fabric to bounce back, or recover, after it's stretched. It's important to have spandex in your fabric, but the type or brand of spandex/Lycra isn't crucial. A good swimwear fabric will contain approximately 10% spandex, and that's really all you need to know about it.
What is important, however is that swimwear fabrics stretches in width as well as length. Some people call this two-way stretch and some call it four-way stretch. Whatever it's called, you need the fabric to stretch in both directions. When you cut your fabric, you'll be aligning the grain line arrows with the width of the fabric, which is because swimwear fabric stretches more in width than in length. Many knit fabrics, especially those without spandex like basic cotton jerseys, stretch mostly in width and don't have much stretch in length, which is one reason (among many) that basic cotton jersey isn't appropriate for swimwear. Swimwear fabric stretches in length and width, but it stretches a little more in width.
Sources for Swim Fabrics
Can I just say what a shame it is that the song "Itsy Bitsy Teeny Weeny Yellow Polka Dot Bikini" was ever recorded? I mean, polka dotted swimsuits are so fun and cute! And then you get all self-conscious when someone (inevitably) starts singing the song. It's same the reason I'll probably never wear a raspberry beret, or I wouldn't have until a week or two ago. (Now I feel like we should all wear one to mourn the passing of Prince!)
Anyway, I guess you either have to ignore the song or choose a different fabric. Fortunately there are plenty to select from! For fabric sources, several of you helpfully suggested The Fabric Fairy, with which I was not familiar but does indeed carry a wide variety of swimsuit fabrics in both solids and prints. They also, helpfully, carry bra hooks and other things you'll want in order to sew a great swimsuit. (I'll talk more about that shortly.)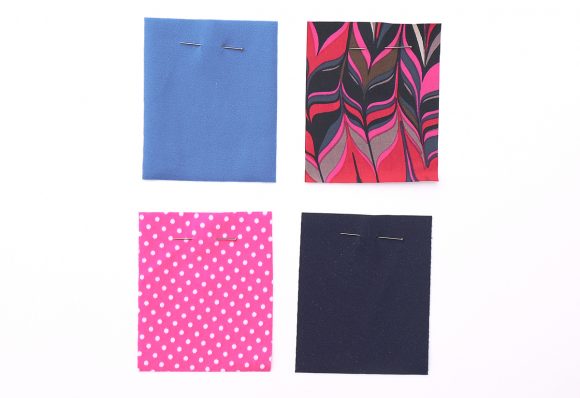 As I mentioned when I introduced the Lisette swimwear patterns, I also like Spandex World and Spandex House, both of which have a staggering array of printed and solid spandex fabrics. Spandex House has an especially interesting selection of prints.
And then, of course, Shelley made the wonderful discovery of Carvico Vita, which we'll now all be scrambling to find. (Holler if you locate some, will you?)
It's tough to choose a swimsuit fabric! Will you select a solid, a print, or a combination of both? Will you color-block the suit the way it's photographed on the envelope cover? You could also make the suit in a single color or in a single print, so keep that in mind.
I chose the two fabrics on the right in the photo above for my suits (I'm making both the one-piece and the two-piece and I'm making them both from the same fabrics). I bought the printed pink and blue fabric at Spandex House a year or two ago, and the navy contrast fabric came from a store here in Madrid. Both suits are coming together nicely, and I can't wait to show you how they turn out!
Lining
The pattern suggests power mesh for the lining. I love power mesh because it doesn't sag when it gets wet and it sort of holds you in a little bit, like support hose. But a regular swimsuit lining will work fine too. Here are examples of both fabrics. The regular swimsuit lining is on the left, and the power mesh is on the right so you know what you're looking at in the store. The important thing here is that you have a lining, since swimsuit fabrics can be a bit sheer and can wear thin over time. If I could, I'd choose a bright solid-colored contrast lining for my suit, but I was only able to find black and beige in my fabric store.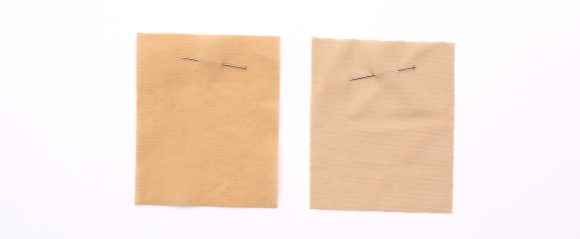 Trims
Elastic: For both the one- and two-piece suits, you'll need 3/8″ and 3/4″ elastic. You can use ordinary elastic, but if you want the suit to last (especially if you're planning to wear it in chlorinated pools) you might want to consider elastic specifically designed for swimwear. This elastic contains rubber and doesn't "burn" when it's exposed to chlorine and sun, so it lasts longer. You can also find clear elastic, but I prefer the cotton/rubber swimsuit elastic. It's just a matter of preference, I think.
Needle: You'll want a ballpoint needle for swimsuits. In a pinch you can also use an all-purpose needle, but it can snag the fabric and, even worse, skip stitches. Ballpoint is much easier and safer for swimsuit fabrics.
Thread: Be sure to use all-purpose thread, which has polyester and stretches a bit. It's also stronger than cotton, which breaks easily.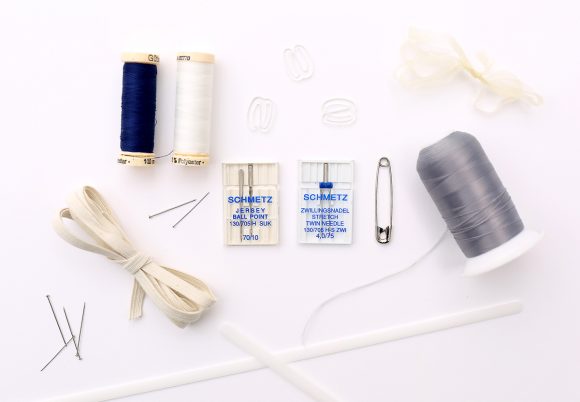 Boning and/or stays: While the pattern doesn't specifically call for it, most really good swimsuit tops include a small piece of boning at the side seams. This boning helps to keep the suit from buckling at the sides, and it looks so much nicer as a result. I'll show you how to include it in your suit during the sew-along. If you want to purchase some, look for plastic boning at the trim store. It's inexpensive and can be cut to size.
Bra hook: These come in a variety of sizes and materials. For this pattern you'll need a 3/4″ hook.  You can get them on Etsy if you can't find them locally. My hook is clear, but you can find them in lots of different colors.
Pins: Some people insist that you need to use ball-point pins or you should pin within the seam allowances of your pattern. Personally I've never had an issue with this–just be careful not to snag the fabric when you pin it. But if you're nervous or just want an excuse to buy fancy ball-point pins, I won't hold you back.
Cutting your fabric: I prefer to use a rotary cutter when I cut swimsuit fabric. It's so much easier than using a scissors and is much more accurate, in my opinion.
Hems and finishes: All of my favorite swimsuits are all finished with a simple zigzag stitch, so I've followed their lead and I don't use double needles and/or Wooly Nylon for finishing my suits. If you're interested in going the twin needle route, however, Shelley wrote a great post on this topic that will be helpful to you.
And that's it! You absolutely don't need a serger to sew swimsuits, but of course if you have one it's very convenient. I'll talk about various sewing techniques when we start the sew-along, but in the meantime, have fun selecting your materials!
OK? Questions? If not, I'll see you back here on May 23. Can't wait!