I have a habit of collecting tear sheets and Pinterest images that inspire me. Sometimes they inspire a particular garment, and sometimes it's more of a styling idea or a way of combining and wearing various items that I own, have made, or want to make. Sometimes I mention those ideas in my weekend links posts, but I thought it might be fun to start talking about some of them in greater depth. Maybe they'll inspire you, or maybe they'll get you thinking about your sewing and clothing in a different way. And maybe, by sharing, I'll get a peek into your thoughts and inspiration as well? Either way, I thought I'd give it a try and see how it goes.
To start out, this is a style file that has been on my summer sewing list for a while. I like this idea because it has the potential to look a little more pulled together than a casual summer skirt and T-shirt outfit, which is my usual uniform. Here it's more of a coordinated outfit: the (semi-) boxy top and gathered skirt.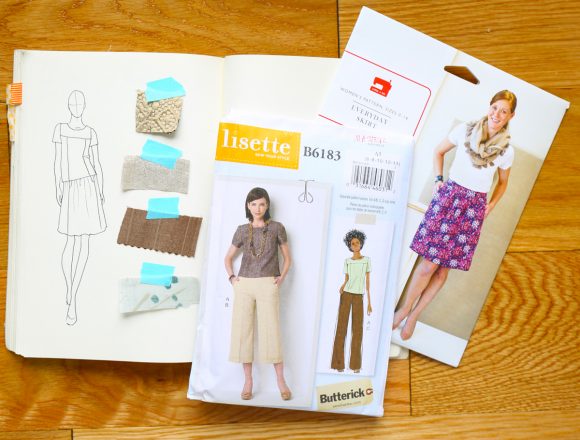 This silhouette is especially suitable for those of us who are pear-shaped side, but if you're at all attracted to more modern shapes and silhouettes I think this is an easy way to pull off the look. As I'll explain, the shaping in the top allows you to pull off this look even if it normally wouldn't work for your body type.
Which patterns? Of course, if you prefer a knit for the top, the Liesl + Co Bento Tee would be a great place to start. But for something a little more unexpected, more dressy and extremely versatile, pair it with the Lisette for Butterick top B6183, which is designed for woven fabrics. This top is a less boxy than the Bento Tee. It's still a moderately boxy cut but it also has some really nice, gentle shaping through the waist. It also has princess seams, which makes it much easier to fit, and it comes in multiple cup sizes so if you're full-busted a lot of the work has already been done for you.
And I'd pair it with the Liesl + Co Everyday Skirt, which is such an easy style to sew and to wear. I think I own and wear about six of these skirts–they're truly my summer everyday wardrobe. The elastic at the back waist makes it the most comfortable skirt ever, and the pockets are really convenient. But I think this skirt works and has become so popular because the side panels give it a smooth, more flattering fit.
How to sew and wear it? Well, pretty much like any of the photos below. I'll talk you through them, but you'll see that the unifying factor is that the skirt and top are either similar fabrics or a similar color. That's what I love about this look.
In this first photo the top is a knit, so this is definitely Bento Tee territory. This works well because it's tonal textures: the top, skirt and shoes are all in a similar (but not identical) color. The top is knit, the skirt is lace, and the shoes have a soft metallic sheen. I really love the lace skirt and brogues, which are super-comfortable for walking but look so much nicer. I'd wear this all over the place. This might actually be this summer's uniform. I'd feel perfectly comfortable wearing this all over Madrid or New York or almost anywhere my travels take me.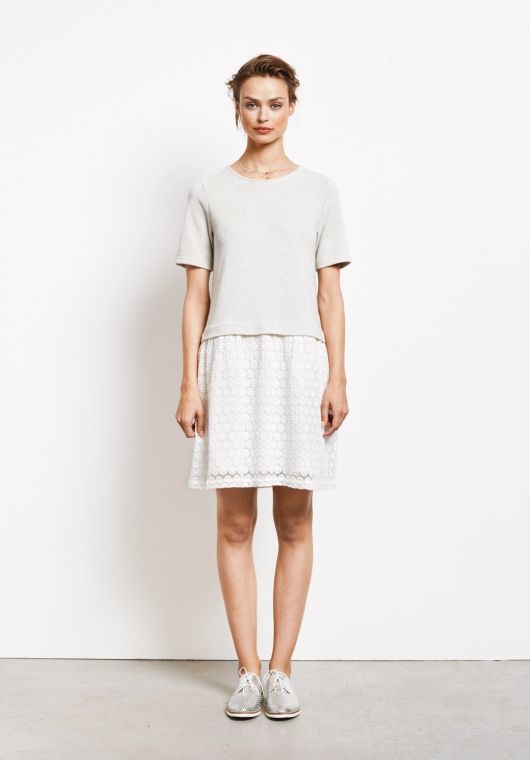 photo: Hush
On this second tear sheet I love the look of the linen. The addition of a blazer really brings this into a dressier realm and would be perfect for an air-conditioned office, so this outfit would be great for work where the blazer says "business" but you can ditch the blazer when it's time to head home and you have to face the brutal heat outdoors, and you'll still look fantastic even when you feel like you're melting.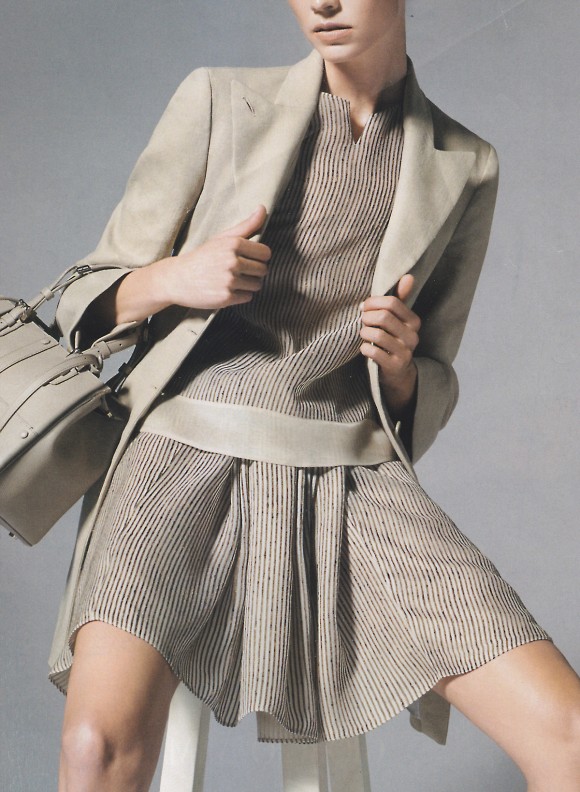 photo: source unknown
Love, love the bright coordinating separates on this fourth tear sheet. With the belt it feels a little more casual (and definitely cooler) than a dress but still looks really pulled together. Again, I'd feel comfortable wearing this almost anywhere.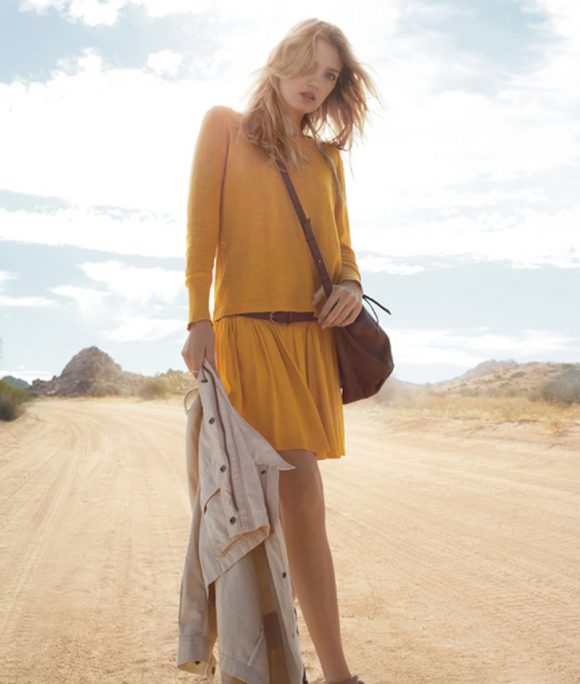 photo: Banana Republic ad
And this last one is just plain fun without being over-the-top crazy with prints. The two patterns here share enough in common that they manage to work together beautifully, don't they?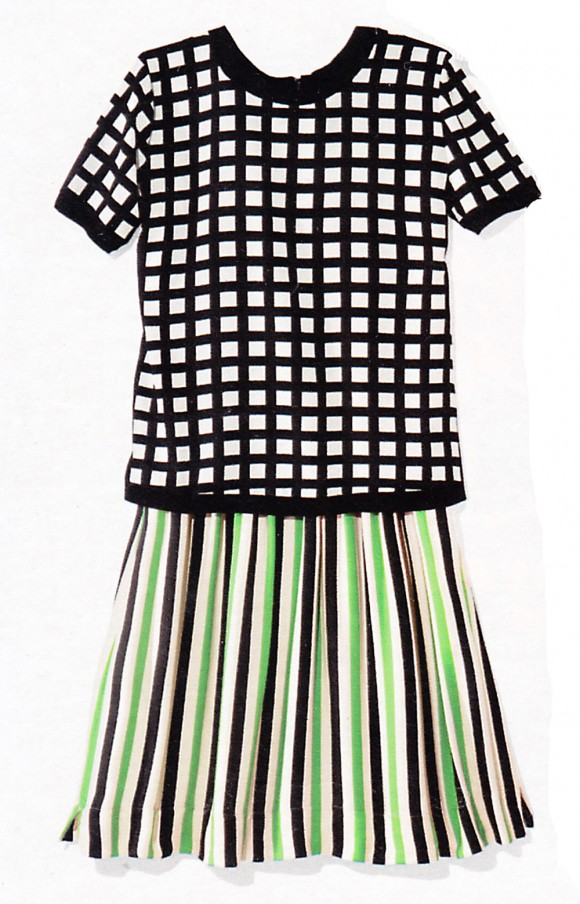 photo: InStyle magazine
In terms of fabrics, here are my top favorites for this look right now.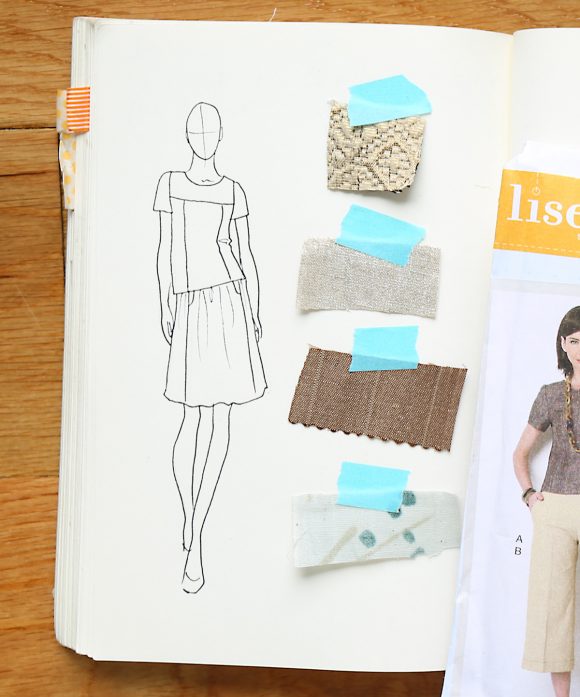 This particular metallic brocade is a bit too heavy and stiff to pull off the silhouette successfully, but I'm on the hunt for something similar that's lighter and drapier. The second swatch, a metallic linen, would be fun and unexpected, and it has the perfect weight and drape for this look, as does the third swatch: a silk/wool chalk stripe suiting that's been in my stash forever (and I mean forever–I picked it up when I was in design school!). But really, my top favorite for this outfit idea is the fourth swatch, a double gauze. So drapey and comfortable and chic! This is on my definitely-to-do list before summer arrives. It's going to be great!
What about you? How would you sew and wear these styles? And if so which fabrics would you pick?