We're delighted to welcome back Shea from Empty Bobbin Sewing Studio. You remember Shea, right? She stopped by at the end of last year with her wonderful Christmas dress tradition post. Today she is sharing a very unique white dress that she sewed for her daughter that will now become a special family heirloom. Now I'll hand it over to Shea.
I've known for a few years now that when the time came for our oldest's First Communion, I would make her dress. I didn't know what style or fabric I'd use, but there was no question about it…. I would make it.
As I neared the dressmaking finish line, I told a friend, "It's a good thing I only have one daughter. Because I think I only have one of these dresses in me!" And my friend very quickly winked and replied, "No, if Eleanor had a sister, they'd each wear it. And you'd call it a family heirloom."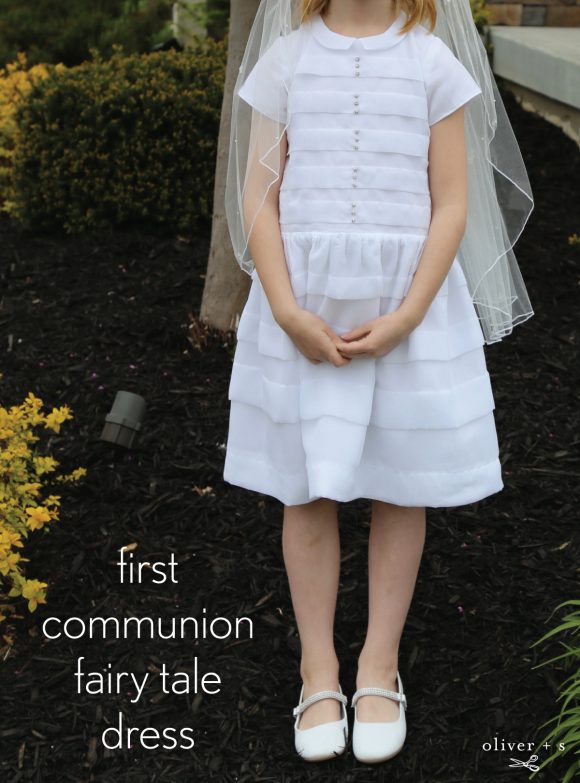 My mother still has the First Communion dress she and my aunt wore in the 1950s, along with my dress from the 80s (complete with drop waist and giant collar) and my sister's from the 90s (hey there, flutter sleeves!). We made my daughter try them on, just for laughs. But I secretly knew that I wanted to recreate my mom's dress. And the Fairy Tale Dress pattern was the perfect starting point.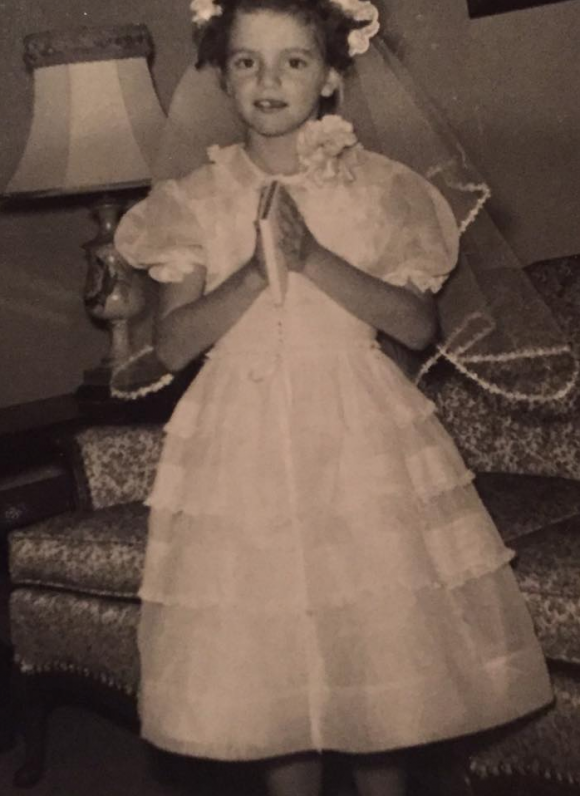 Keeping certain elements as a nod back to the original was important, but so was updating it to be more current in style. The graduated horizontal pleats, collar, sparkles and length were important to carry forward. The lace and sleeves would change.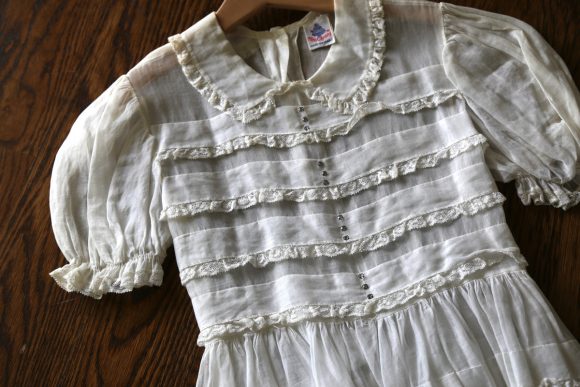 Fabrics were key, and we searched for a long time (over multiple trips) before I felt like I had the right combination. The original dress is sheer and was worn over a full slip. To mimic the sheer fabric, I used chiffon for the top pleated layer and then used a white voile underneath. Lining fabric and three layers of tulle are hidden underneath. In her hair, she wore my veil from our wedding reception (which was a little long and full for her, but we're all about the nostalgia here, so we went with it).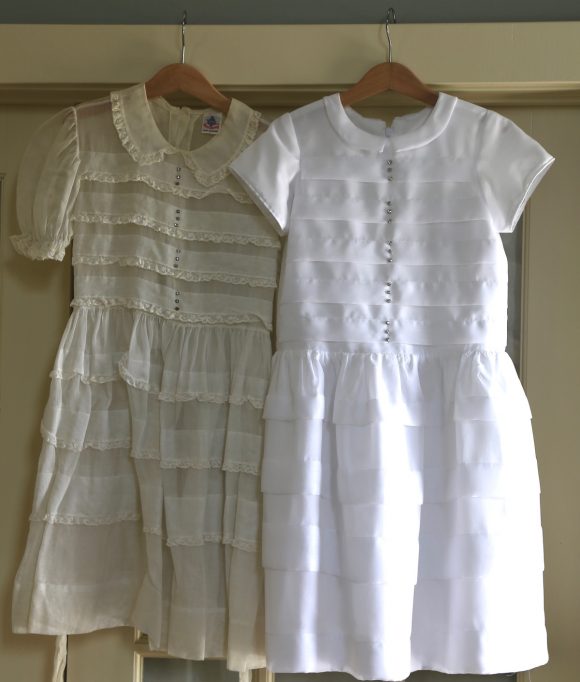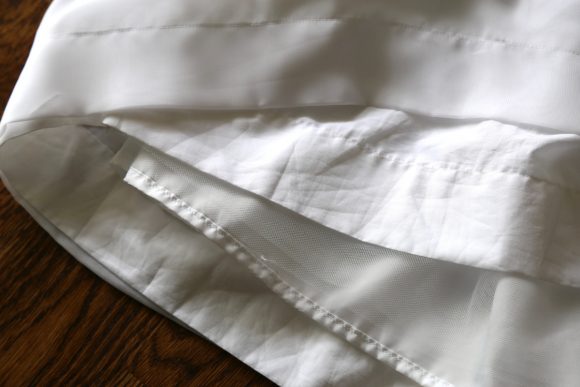 The horizontal pleats were achieved by using a process similar to the one shown here. I made a large rectangle of pleated fabric for the front bodice, then cut the pattern pieces from that and from the voile. The horizontal pleats meant I needed to omit the darts from the pattern, but it was not baggy in fit at all. The pleated chiffon and the voile were then basted together at the very edges of the pieces. I did this for the front and back bodice and for the sleeves (which came from the Library Dress pattern). However, for the back bodice pieces I did not pleat the chiffon. It is slippery enough that I didn't want to risk the pleats not matching after the invisible zipper was added.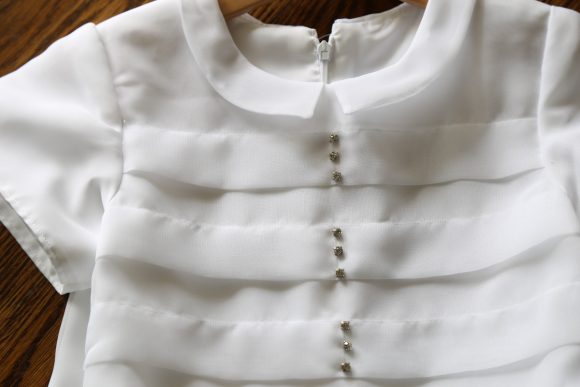 The collar was made by sewing two pieces of chiffon together, while the skirt was cut in one long rectangle. Cutting the skirt this way allowed the pleats to run the entire circumference with only one seam at the back zipper.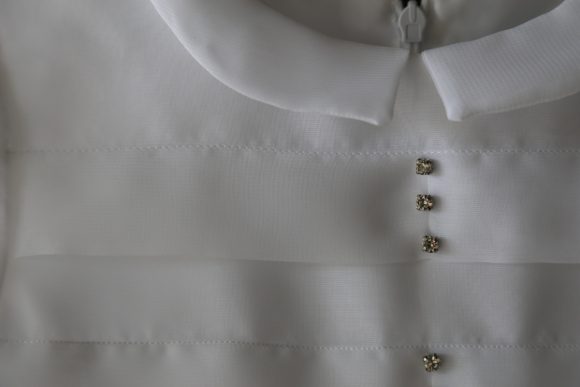 I won't lie. There was a considerable amount of math involved in figuring the graduated pleats and the hem and allowing them to be separate from the voile at the hem. Easy math (and I love math), but still took some time to get it right. I measured each pleat on the original and the space between them to make a duplicate. And chiffon is juuuust slippery enough that until I pulled the skirt off the sewing machine, I was wondering, "Is this actually going to work?" I lived every step in the creative process meme that says, "This is awesome. This is tricky. This is terrible. I am terrible. This might be cool. This is amazing!!" By the time I got to the hand sewing at the zipper and for the "sparkles," I was feeling pretty great. Eleanor would come in and check on the progress from time to time, and would offer up a hug and a "thank you."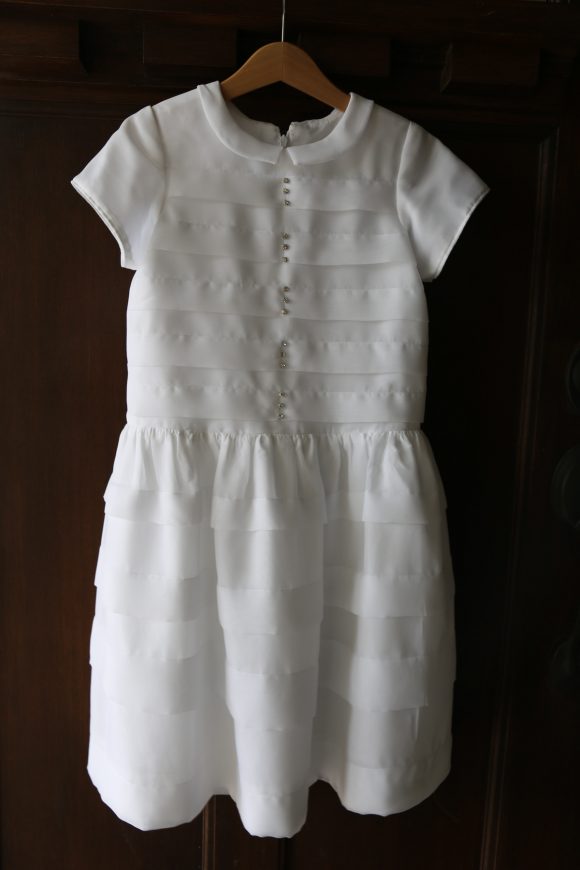 I'm going to remember those hugs, because when we went to church for the group photo, another mom asked her, "Did you have fun shopping for your dress?" Eleanor's reply? "Yep!" I stood there, gaping at her. Then she winked at me and explained where her dress came from.
Our two younger sons? When the time comes, I'll sew them a tie. And this dress will wait to possibly be passed on to a grandchild. It doesn't need a little sister to be a family heirloom.
Thank you, Shea, for sharing your gorgeous dress with us!
And in case that wasn't enough of a fix for you, here's the Girls in White Dresses post we had on the blog last year.