Today and tomorrow I am going to introduce you to my two newest Lisette styles. These are included in Butterick's Spring 2016 collection, and both are available now everywhere that Butterick patterns are sold–as well as on our website. The Butterick style numbers are B6321 and B6331. I hope you enjoy them!
In thinking about how to introduce you to Lisette for Butterick B6331, a story came to mind. Although my mom is a very accomplished sewist who made most of my clothes when I was growing up, it wasn't until I was a sophomore or junior in college that I started sewing for myself. Until then, I just watched. Mom used to do all her fabric cutting out on the living room floor because it was the largest space in our small house, and I would sit and talk with her while she worked. I had time to ask all sorts of questions and learn a lot about sewing before I ever started it on my own. When she sewed for me I went to the fabric store with her and we chose patterns and fabric together, so I had a lot of experience with learning which silhouettes and fabrics worked well together. (By the way, the more you practice these skills, the easier they get.)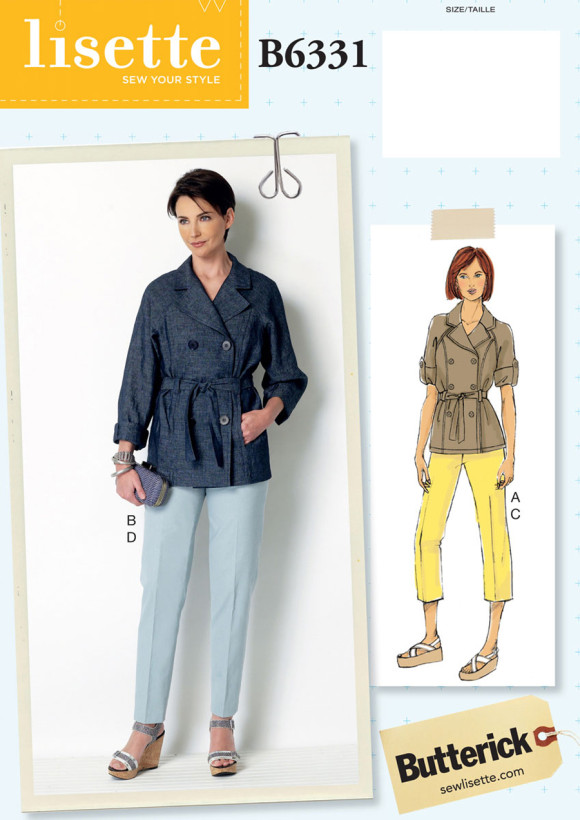 Then one summer when my family was away on vacation and I stayed home for a summer job, I stopped at the fabric store and chose fabric and a pattern for a simple jumper. I went home, cut it out, and sewed it up with almost no trouble at all, aside from a little difficultly learning how to make button holes on the sewing machine. I knew exactly what fabric I wanted for the jumper and how I wanted it to look when it was finished, and it turned out almost exactly as I had envisioned, all because I had been watching and learning from my mom all those years.
But it wasn't until I finished college and was living in New York that I finally had enough time to really commit to sewing. Back then I'd rush from work to B&J Fabrics in order to shop before they closed for the day. I loved the tear sheets they posted on the walls with swatches of similar fabrics you might use to sew the same styles cut from magazines. In many cases the fabrics swatches were identical to the fabrics in the magazine pages because the designers of those styles actually shopped at B&J, so it was a great education in high-end fabrics and how they were used. I felt like I was sneaking into a secret society. It was all so thrilling! I longed to be a legitimate, fully accepted member of that society. (It wasn't until recently that I realized I was a member all along. If you walk into a fabric store you're a member; it's really not all that complicated. You just keep learning more the longer you stick around.)
One of the very first pieces I sewed for myself in New York was a short safari-inspired jacket in a deep forest green cotton twill with lots of topstitching and details like belt loops and pockets. I was so proud of how it turned out. It wasn't a difficult pattern, but it looked impressive, and I felt good about it when it was finished.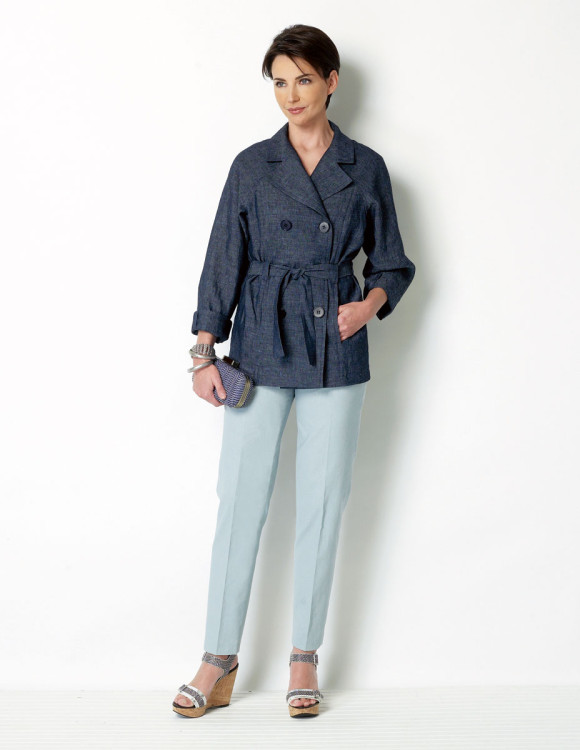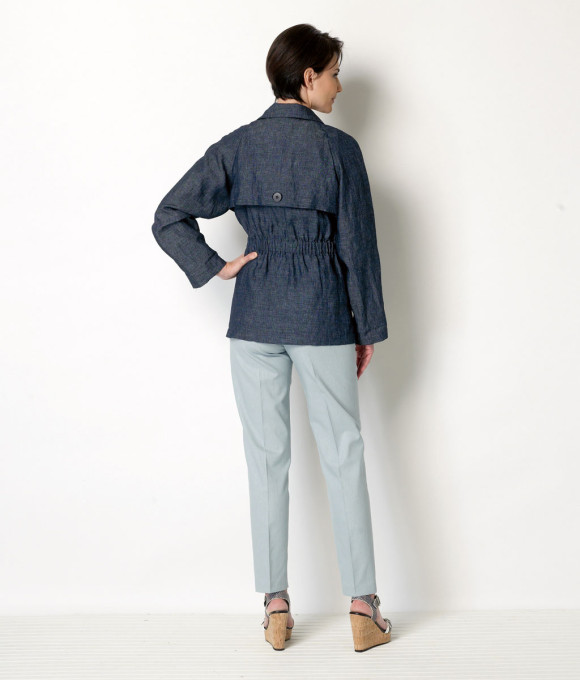 I was thinking about that jacket this morning because the little trench coat included in Butterick B6331 is a similar cut and style to that jacket. It would have been a perfect pattern for me to sew back then. The princess seams make it easy to adjust the fit to your preference (if you need extra room through the bust, princess seams are the way to go!), and the raglan sleeves are so much easier to sew than set-in sleeves. This pattern also includes those details that look impressive but are actually very easy to sew:  collar, front pockets, back shield, elasticized back waist with front ties, and cute little button tabs for rolling your sleeves up.
Trench coats are one of those pieces that show up on everyone's "must have" list of wardrobe basics. To be honest with you, I put no faith in those lists. Everyone is different, and one person's basics will be completely different from another person's. It took a long time for me to find a trench coat that worked for me without feeling like Inspector Gadget. But one thing I did discover was that it's a lot easier to wear a trench coat that's short rather than hemmed just above the knee, which can sometimes come off feeling a bit stiff and costume-y.
For me now, so many years later, the difficult part will be deciding which fabric to use because there are so many good options! On the pattern we've suggested twill, poplin, chambray, and linen. And all of those fabrics would be perfect for the pattern. They're sort of what you would expect when you think about a trench coat, right? I have a beautiful piece of linen chambray from Robert Kaufman I'd love to use for this jacket.
Or why not a coated fabric to make the trench coat really rain-worthy? If I hadn't already made S a Secret Agent Trench Coat in my Woodland Clearing laminate I'd be all over this idea for myself.
I also love this polka dotted trench coat from Max Mara.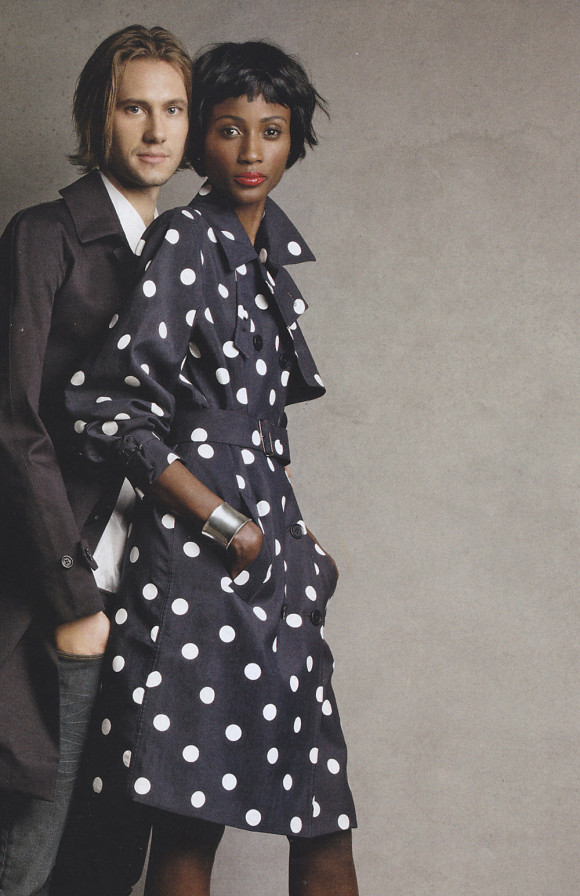 But let's take it further, shall we? Who says you have to sew a trench coat in traditional, expected fabrics? And who says you have to wear it as a rain coat, for that matter?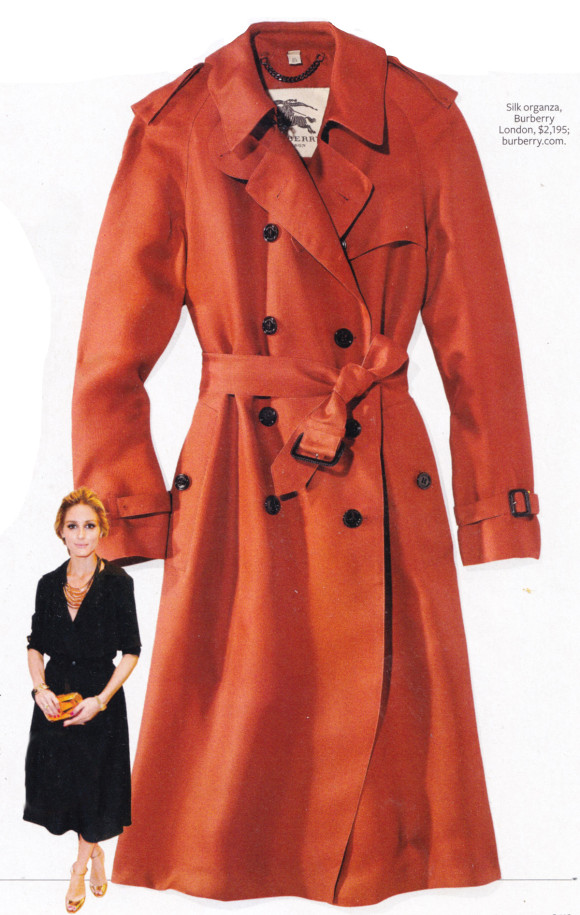 Did you catch the caption in the image above? Silk organza. What a lot of fun to wear! It's completely impractical as a trench coat, but I love the idea of a jacket that's dressy and can be worn as an alternative to a blazer. You could wear it just as easily with ripped jeans as you could over a fancy dress or skirt for a night out. I'm contemplating black silk–maybe dupioni or shantung–or silk twill if I can find it.
Here are a few more images to get you feeling inspired for this style, both in terms of fabric and styling: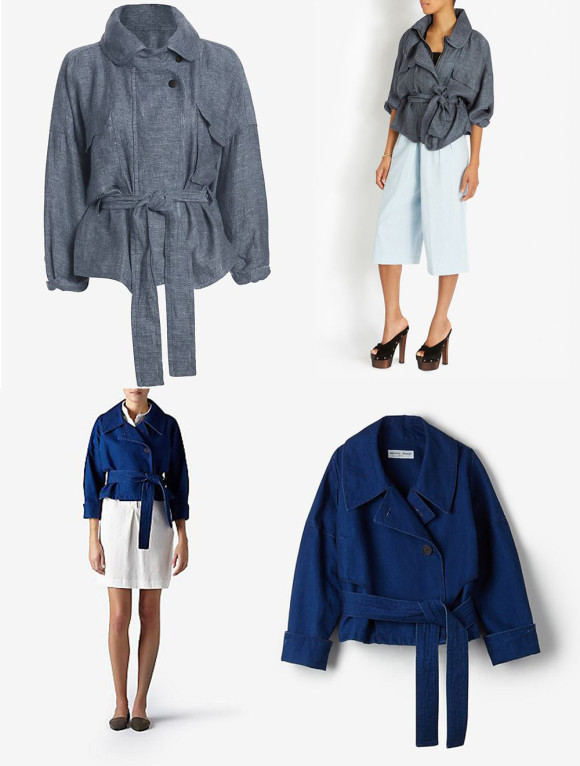 We also included a simple pair of narrow trousers in Butterick B6331 because so many of you have asked for them. This is a very easy style to sew, flattering and classic. Probably a wardrobe basic for many of us.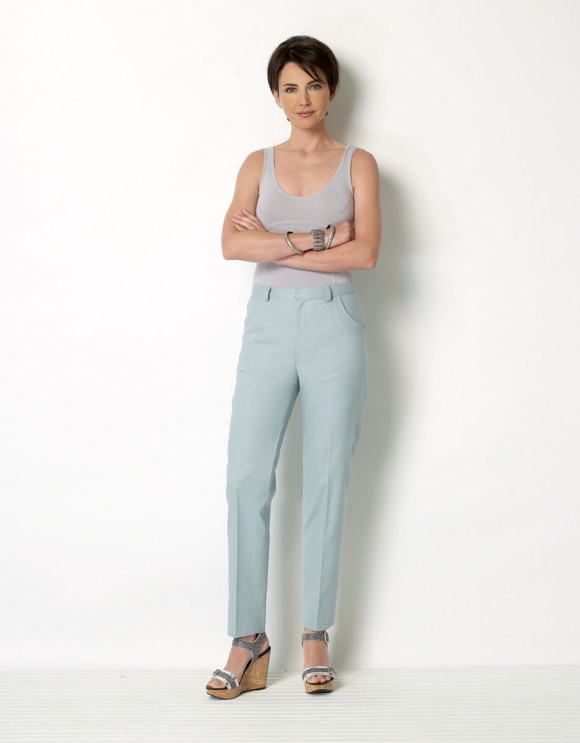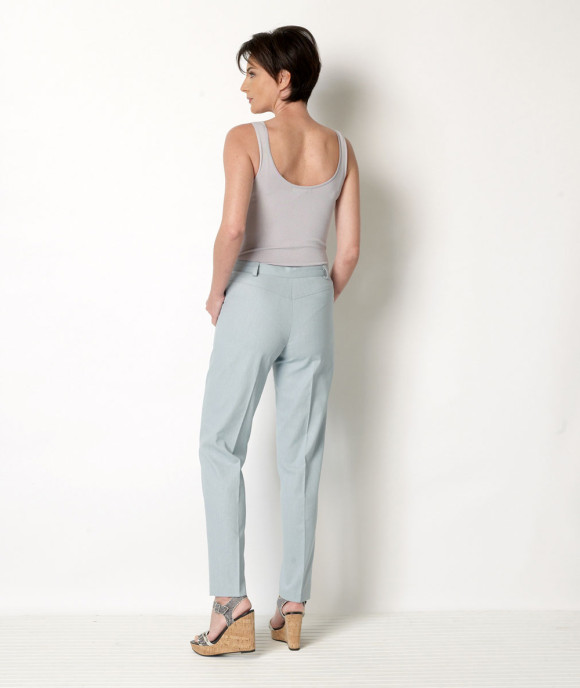 The details on this style are totally denim-inspired, but feel free to sew them in fabrics besides denim and chambray as well. Basic black stretch twill would make a really versatile pair you could wear almost every day. But here, too, think outside the box. What would you love to wear? Here are a few ideas to get you started.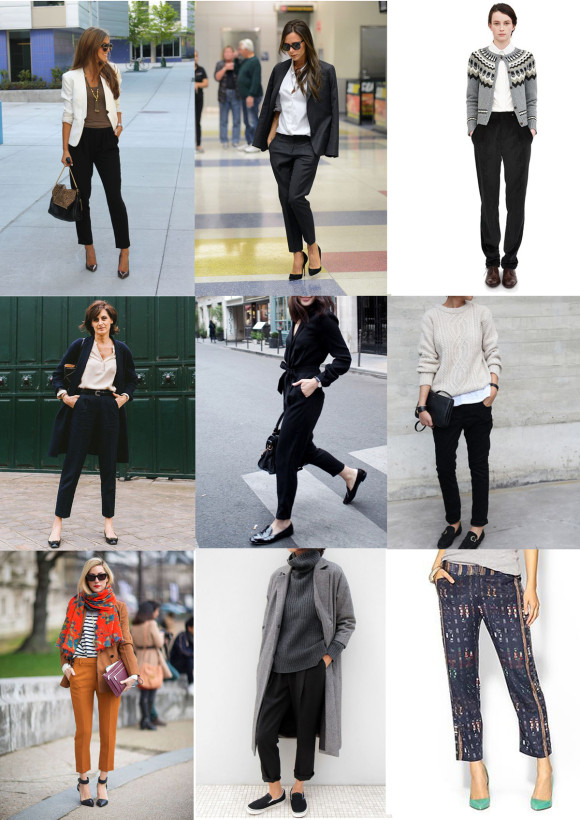 I love the printed trousers with piping in the bottom left corner. So much fun to wear! It will be fun to see how you sew these styles. You can find more inspiration on my Lisette: Sew Your Style Pinterest board, and I hope you'll post your own sewing to Flickr or tag them #sewlisette on Instagram. Full details on the pattern are available on our pattern page for Butterick B6331. Have fun!