It's been a month or two since I finished sewing these pajamas. They've been hanging in the closet just waiting for some photos, so now I can finally wear them and get them broken in a bit to be really comfortable! Do you find that your clothes need a little wearing before they feel like they're "yours"?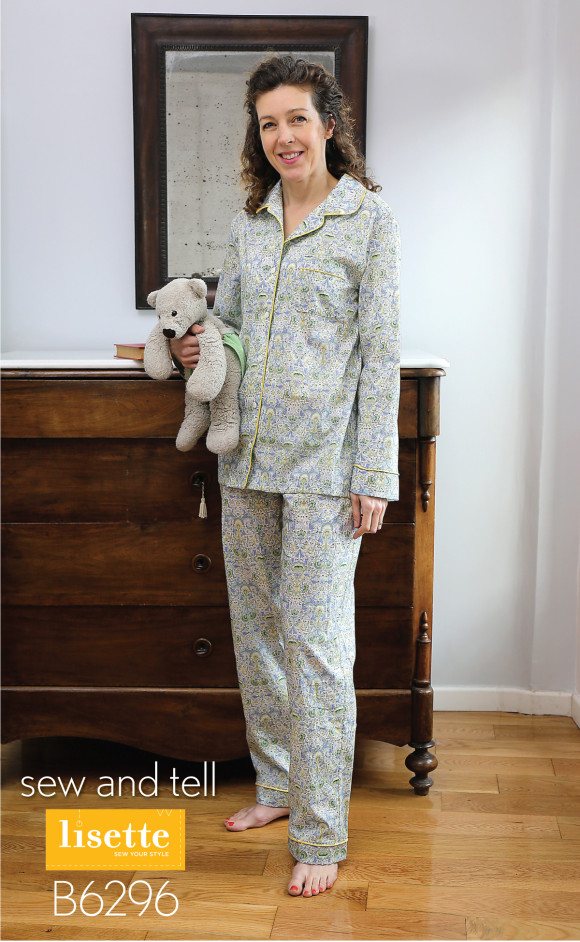 Name: Liesl Gibson
Where can we find you on the internet? Oh, you know. Here.
Project Details
Pattern: Lisette B6296
Fabric: Liberty tana lawn

Did the fabric work well? Yes, very well! I had this pattern in mind when I was in Italy in October, and I specifically went shopping for Liberty for these pajamas. Lawn is such a pleasure to sew and to wear (which is also why I'm excited that my Woodland Clearing collection for Robert Kaufman is cotton lawn!), and I really wanted a light-colored classic print for this pattern. (It didn't hurt that the Liberty fabric was priced really well at the trade show–far below regular prices–so I could buy 3 1/4 meters without going broke.)
How did the sewing go? I cut a 10 for the top and a 12 for the pants since that's where my bust and hip measurements put me on the size chart. And I like the fit! PJs should be loose fitting, and these fit very similar to my favorite pair. So I'm happy with them, although now I wish I hadn't added an inch or two to the length of the top and to the sleeve. It was plenty long without the added length, so I'll keep that in mind when I make another pair.
I purchased piping and had a ball sewing it! If you haven't tried sewing with piping, it's really not difficult at all. After basting it to to the right side of the fabric, you simply pin the fabric layers together as you normally would and then use your zipper foot to stitch very close to the edge. I also used the zipper foot to edgestitch the piping after I pressed the seam allowances to one side. It went much more quickly than I expected, given all the places where I used it: around the center-front edge and collar edge, along the pocket seam, and on the sleeve and pants cuffs.
What was the best part? They feel so good to wear! And as luck would have it, I ripped the elbow of my ancient, well-loved PJs the day after we took this photo, so this pair is already being put to good use. I'm particularly pleased with the pants. They fit very well and look pretty good, if I do say so myself. That curved yoke seam on the back really does its job! (And no, it's embarrassing enough that I'm posing in my PJs in this photo; I'm not showing you my butt.)
I also purchased fabric for the short version of these PJs, so I'll be making those for next summer!
If you are looking for more style and fabric inspiration for the Lisette pajamas, you don't have to go too far, just click here.