We love seeing all the photo collages that you've been posting on Flickr and Instagram. You have all been so productive throughout the entire year! Do you ever sleep? Like last year, I put together a gallery that contains your photo mosaics, go have a peek.
I created some Flickr mosaics of my own and it turns out that I made exactly one hundred Oliver + S sewn garments! Fifty of those items were the Popover Sundresses that I donated to Dress a Girl Around the World. And I recently received an email to let me know that those dresses have been given to little girls in Uganda! So happy to hear that those Popover Sundresses are brightening people's days there.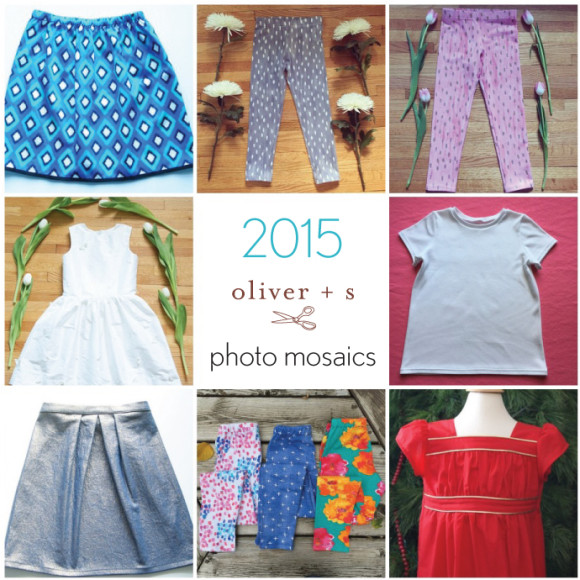 It's always fun to see everything you've made within one year grouped together. Looking back at my makes I was kind of surprised to discover that I sewed twenty-six skirts. Also I started sewing more knits and made eight pairs of Playtime Leggings. They are such a great instant gratification project.
In addition to the one hundred Oliver + S girl garments I made, I also sewed several 18-inch doll skirts, one Liesl + Co. pattern (a Woodland Stroll Cape), and one Straight Stitch Society pattern (an In a Clutch Cosmetic Case).
A new skill for me last year was dyeing fabrics, I fell in love with it! My favorite is Shibori using Indigo. I highly recommend the Modern Natural Dyer book if you are interested in pursuing something like that.
Now let's hear from some other Oliver + S fans. I reached out to three sewists who made and posted photo mosaics to tell us a bit about their work. I asked them to reflect a little on their sewing in 2015. What were their accomplishments, new skills learned, what they were most proud of, and any personal favorites. Thinking ahead to 2016, I also asked them to talk about their sewing goals for 2016. Here's what they had to say.
First up, from GiddyAnts (you can find her on Flickr, her blog, and Instagram).
For 2015 I think I'm most pleased with how the things I made are practical and comfortable enough to be worn everyday but still look so nice. Got to love Oliver + S for that! I still love sewing for my daughter and it's nice that she's at an age now where she's showing an interest in what I'm making her and making some decisions for herself.
This year I feel I've come a long way in improving my confidence and learning new techniques in my sewing. I finally figured out how to sew in an invisible zipper so that was a big plus. I'm not put off as much if a pattern looks a bit more complicated any more and am more willing to try out different styles.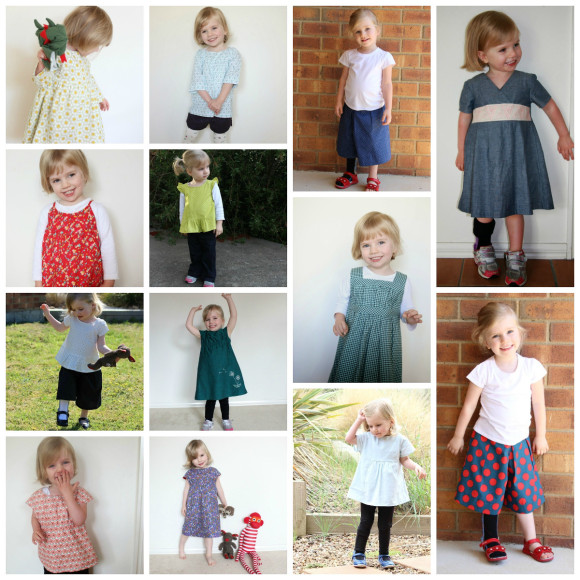 Looking back at these projects it's so hard hard to choose a favourite. I think for me the Library Dress and Garden Party Dress stand out as being that little bit more special for me, but I also love the cute practicality of the Lunch Box Culottes. People in public always comment on those when she's wearing them!
For 2016 I think I'd like to try experimenting with colour blocking and mixing fabrics a bit more. I know I say this every year but I think I should try and overcome my fear of knits….
Thank you GiddyAnts!
Next up, from Elisabeth, you can find her on Flickr.
Sewing in 2015 has been my creative outlet and my chance to relax. I've really loved sewing with Oliver + S patterns because I know they will turn out beautiful, well-finished garments every time. This year marked my first time sewing with piping (on the Family Reunion Blouse), sewing with pom-pom trim (on the Butterfly Skirt), and sewing a placket (on the Parachute Polo).
I'm really proud of the Field Trip Cargo Pants. I spent a long time with that red topstitching thread, but it was worth it! I also did my first three-scissor pattern with the Playdate Dress and I loved it so, so much.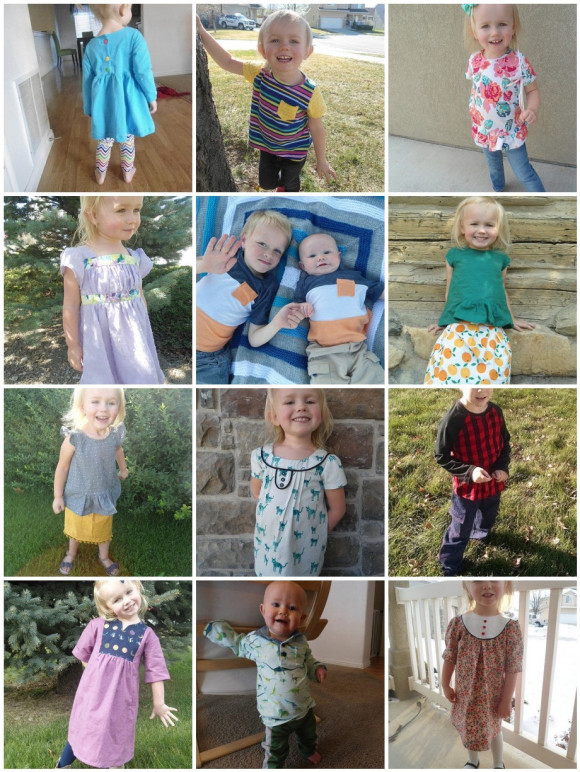 I also had a great time customizing the School Bus T-shirt with a high-low hem, pockets, colorblocking, and a peplum. There are so many great tutorials on the blog for this!
In 2016, I'm excited to try out a few more variations on the School Bus T-shirt. First up, I want to try double sleeves and also a Peter Pan collar. I'm also hoping to try a few more three-scissor patterns like the School Days Coat and the Jump Rope Dress!
Thanks Elisabeth!
And finally we have Stacy. She can be found on Instagram and Flickr.
2015 Accomplishments: sewing with three kids in our home for part of the time as we began caring for foster children.
2015 New Skills Learned: sewing an invisible zipper.
2015 What I'm proud of: finishing the Fairy Tale Dress in a very limited time and finally conquering the Swingset Top!
2015 personal favorites: the Fairy Tale Dress.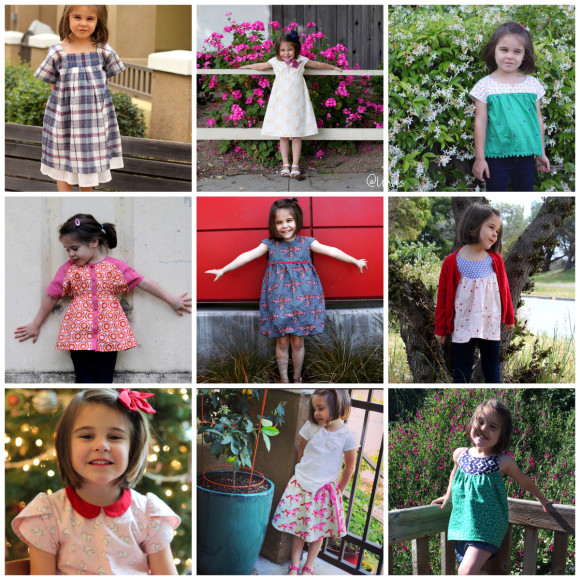 2016 Sewing Goals: Make more of my daughter's clothes at home, and attempt making some shorts that fit her tiny tummy and long legs.
Thanks so much Stacy!
I wish you all a Happy New Sewing Year. And we're excited to see what everyone creates in 2016!