At the beginning of December every year Pantone, the world's authority on color, announces the "Color of the Year." For 2015 they named Marsala and in 2014 it was Radiant Orchid. Just last week they delivered double the dose of excitement. For the first time Pantone picked two colors of the year: a soft pink called Rose Quartz and a muted blue called Serenity.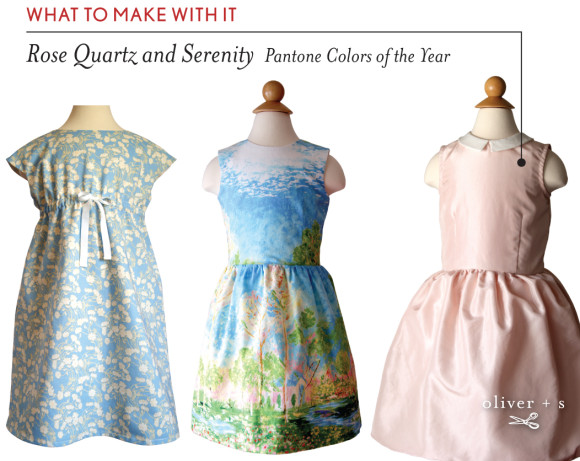 I think these colors will translate really well into sewing as these are two colors that are popular choices for children's clothing. That's good news for us!
As you're planning your sewing projects this upcoming year, considering working with shades of Rose Quartz and Serenity. I've gathered fabrics inspired by the colors of the year and paired them with some Oliver + S patterns. Just some ideas to show how really easy it can be.
1) It's twins! Be inspired by the pair of sweet pastels by trying Liesl's soft pink print from her Woodland Clearing collection or a blue gingham both of which would make a darling Lullaby Layette.

2) The Roller Skate Dress would do a fantastic job of showing off this gorgeous geometric cotton voile.

3) A Carousel Dress would look beautiful in this dupioni silk.

4) What an adorable outfit this would make! Sew a Hopscotch Knit Top in this cat print and pair it with a chambray Hopscotch Skirt.

5) Here's another comfortable outfit. Make a School Bus T-shirt in a tranquil blue knit and a Swingset Skirt in a fun unicorn print.

6) For the boys how about a Sketchbook Shirt in a blue and white stripe. Serenity mixes well with shades of brown, like this corduroy which would look great as a pair of Art Museum Trousers.

7) A Butterfly Blouse in this adorable pink print with a Butterfly Skirt in pastel blue would make a super sweet outfit.

8) Last, but now least how about a Playtime Tunic in a pretty floral along with a pair of Playtime Leggings in an organic cotton jersey.

I'm sure many of you have used these colors in your sewing already. So now it's your turn. Share your Rose Quartz and Serenity Oliver + S, Liesl + Co. and Straight Stitch Society makes with everyone here. We'll keep the linky party open until the end of 2016.