Hello there, friends!
I hope you've had a great week. We've been doing all sorts of exploring lately after discovering that we can rent a car really easily and inexpensively in our neighborhood. There are so many fascinating sites within a two hour drive of Madrid, and in the past ten days or so we've explored La Granja of San Ildefonso, San Lorenzo del Escorial, Avila, El Pardo, and El Valle de los Caídos. We also attended a special concert at the Royal Palace in Madrid featuring the royal Stradivarius collection, which was truly unforgettable. (I mean, how often do you get to listen to Mozart and Beethoven string quartets played on four priceless instruments while sitting in a palace?)
But the really big excitement over here is that S is getting glasses! She can hardly wait to pick them up tomorrow or Saturday. I'll be sure to post a photo or two on Instagram, of course. We picked out a cute pair, which wasn't easy because she's too big for kids' glasses and too small for the adult glasses.
Oh, and our equipment has arrived from New York! After a three-month wait I finally have my sewing machine, my serger, and my dress forms, and now that we have our photo equipment we can finally finish the photographs for my upcoming book. What a relief! Lots of work to be done yet, but it's all coming along very well. I'm getting really excited to finish this book and send it off to the printer, but we still have a few months of work left.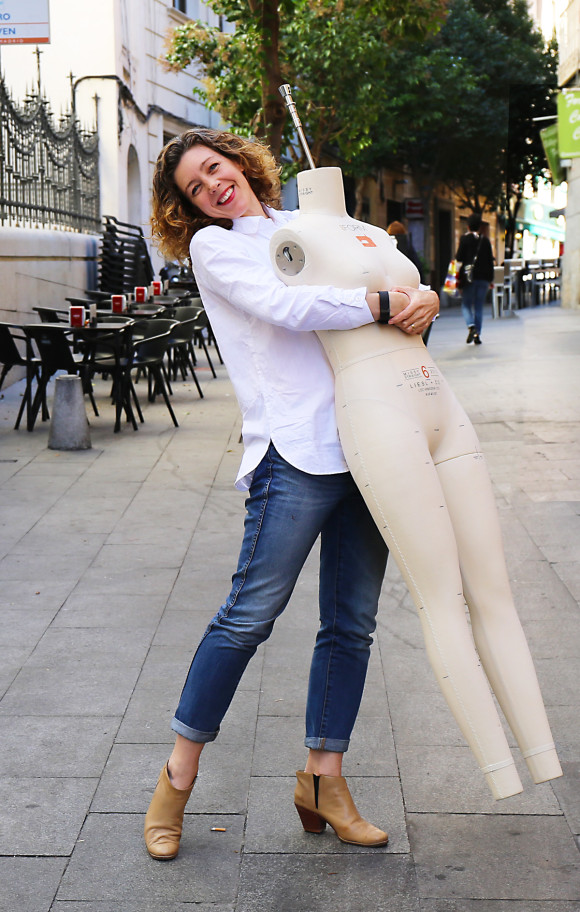 Next weekend we're headed to Paris, so I probably won't check in on Friday the way I usually do. I'll be too busy shopping for fabric! I've already studied Christine Haynes' guide to Paris, and my list of placed to visit is much longer than the time available. Ah well, I guess I'll just have to go back again soon then, right?
Lots of fun links to share with you this week, that's for sure!
Pinterest Picks
If there was an award for Cutest Sewing Machine of the Year, this one would probably win: a Liberty of London print!
Bonnie Cashin is one of my very favorite designers of all time. One of her signature details was the turnlock clasp, which she used in many of her designs, especially in her bags for Coach. I love how she used it on this skirt pocket. So chic.
I'm starting to think about Christmas here in Madrid and how we can make it special for S. We didn't bring any decorations, of course, so I'm looking for simple things we can make. We decorated S's bedroom for Halloween, and it made her so happy! She's also been building a little town for her eraser animals (I'll show it to you soon), so the house/town theme might be a good place to start.
We make our own greeting cards, and I've always used this technique to write inside the cards. Have you tried it? It's surprisingly easy!
Thank you for all your enthusiasm about the new Lisette patterns! It's clear that the pajamas are already a big favorite.
Weekend Reading (and Watching)
Have a wonderful weekend! If I'm not here next Friday I'll be back soon, I promise.