I'm delighted to bring you a seamstress who has a black belt in sewing dresses for girls. And lucky her, she has five girls to sew for and one adorable boy, too! Katy is joining our panel for the Swingset Skirt sew-along. What has she got in store for her Swingset skirt? Read on to find out.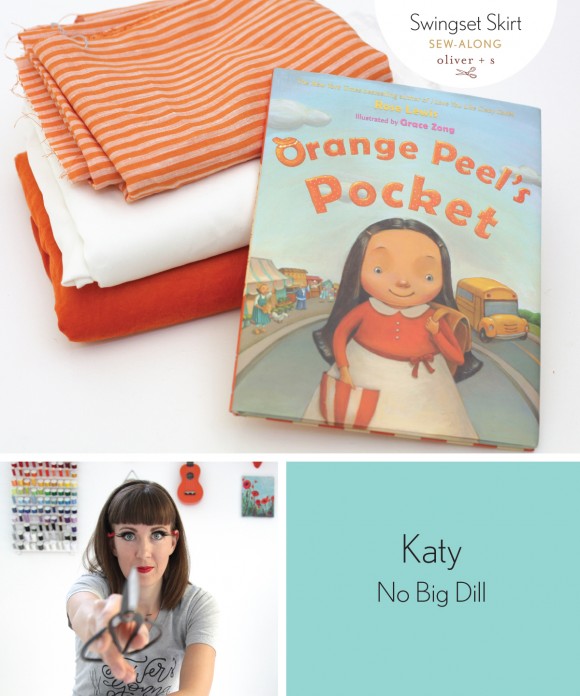 Hi! I'm Katy Dill of No Big Dill. I'm also mom to 5 girls (Divine, Pearl Estella, Olive, Azure, and Clover) and a boy (Drummer) who are my muses. I have a husband who never utters a word about my ever-growing stash of fabric. True love, right? We live in a black and white house (yes, I have white floors and 6 kids!) with 8 chickens and bunnies that keep multiplying. I have always loved sewing, but was given some really great skills in high school from Mrs. Price. I love the color orange. I love to organize in rainbow color. I play the harp and piano (they share my sewing studio). I also love giving our standard poodle different hair cuts. She never complains.
Skirt
Each year I host an event on my blog called "Once Upon a Thread." It is sewing something inspired by a children's book. Usually I take a more creative rather than literal approach, but when my 7 year-old daughter, Clover, asked if she could be the little girl in "Orange Peel's Pocket" for the book character event at school, I couldn't resist. My fabric choices are baby-wale corduroy and linen. Obviously I'll be adding a pocket to the skirt, but what's the most exciting about this project are all the little treasures that go inside Orange Peel's pocket! Stay tuned to find out what they are!