Here is the next installment of the "My Favorite Oliver + S Pattern" series. You may remember Meagan who blogs over at Ava's Lookbook as she has contributed in the past here and here. Today she's returning to talk all about her favorite Oliver + S pattern. Great to have you here again Meagan!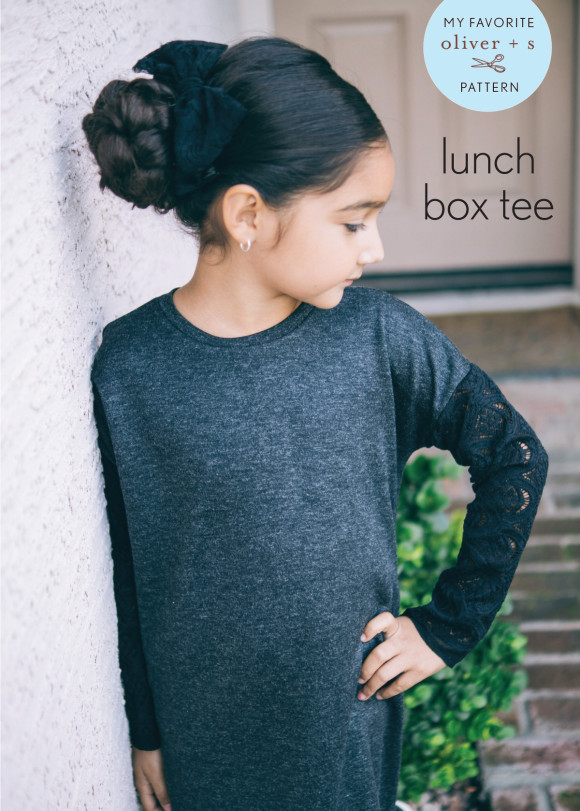 I'm so excited to be back on the blog; thanks for having me! Today I'm here to share my favorite Oliver + S pattern. I'm a huge fan of anything Liesl designs so to pick a favorite is tough. However, the Lunch Box Tee is definitely a stand out for me. The simple design and ease of construction always keeps me coming back for more. It's such a great instant gratification project and its yields such professional looking results. One of my favorite pieces I've ever made is a lengthened Lunch Box Tee turned dress. The simple design really lets you play with a statement-making textile.
The first Lunch Box Tee I ever made was a simple View B. I used a floral ponte knit and it turned out great. I was amazed with how fast it all came together! The cuff sleeve is a simple cute detail and I really like that they don't have to be hemmed. I was officially hooked!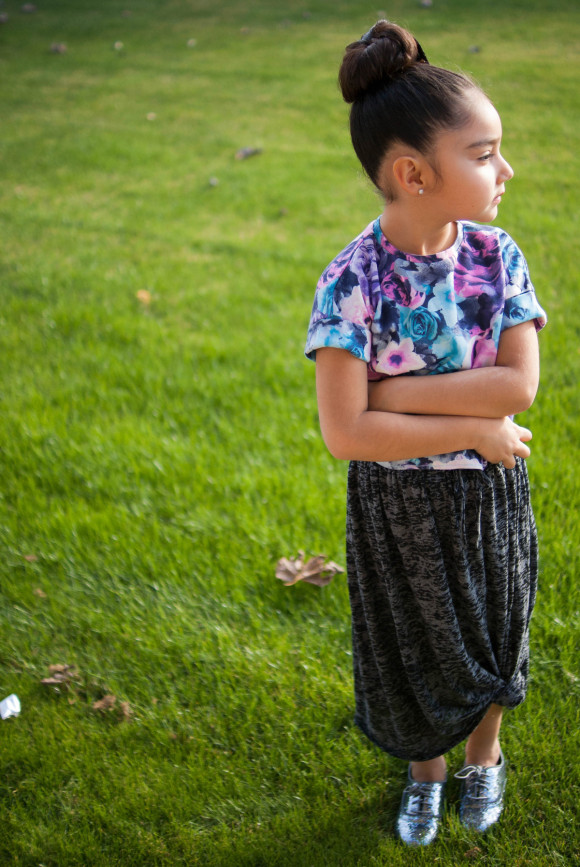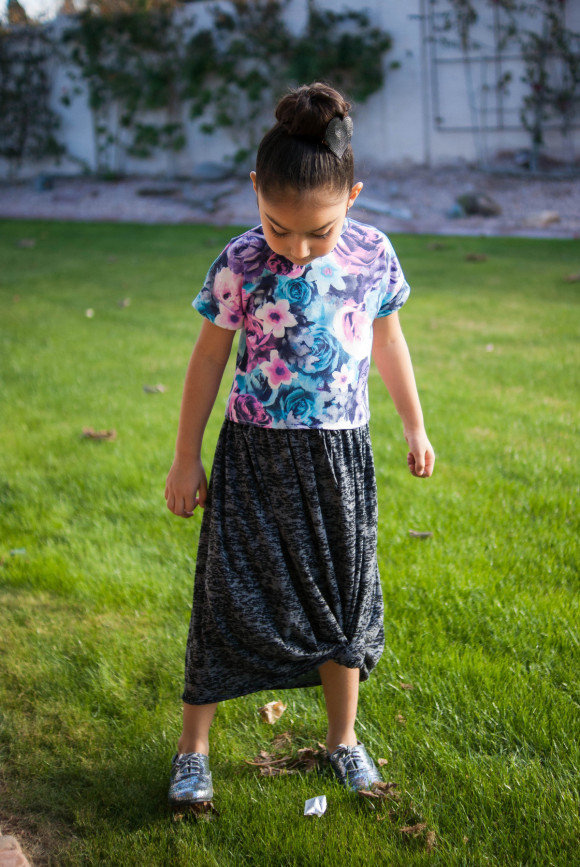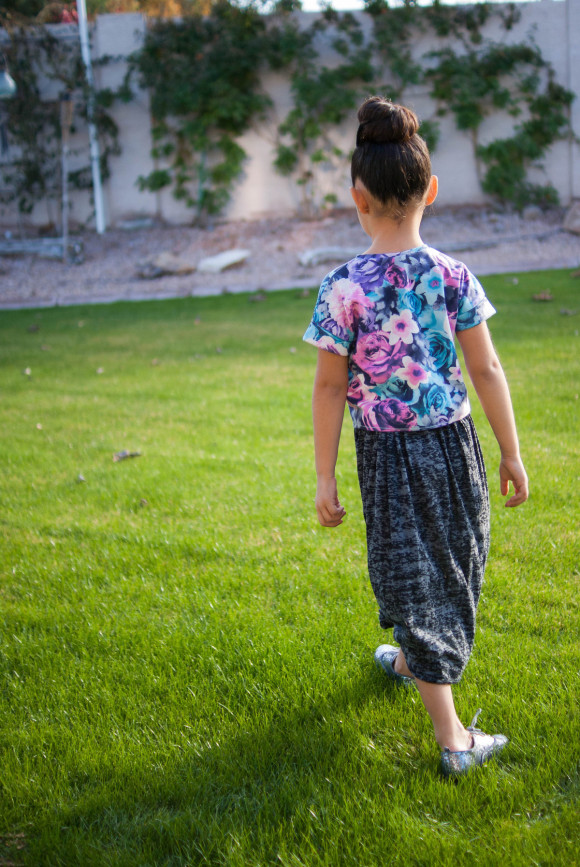 After getting my feet wet with that one, I decided that I'd try to attempt lengthening it to a dress. I love the ease of a t-shirt dress and just knew the Lunch Box Tee would be a great pattern to use to achieve it. Again, I started off with View B. To lengthen it, I cut the pattern in half at the same point on the front and back pattern pieces, added 7 inches, and attached the bottom pieces back to the newly added length. Liesl has some great tutorials on altering patterns, you can find them here. I had this amazing chevron-esque ombré fabric that I was saving for the perfect project. I decided to take the plunge and finally cut into it for this dress. I was very pleased with the way it turned out. You can read more about the process here. Since the pattern is loose fitting I didn't need to add any additional width. Ava got tons of compliments whenever she wore this dress, which makes all of us maker mamas so happy when that happens doesn't it?!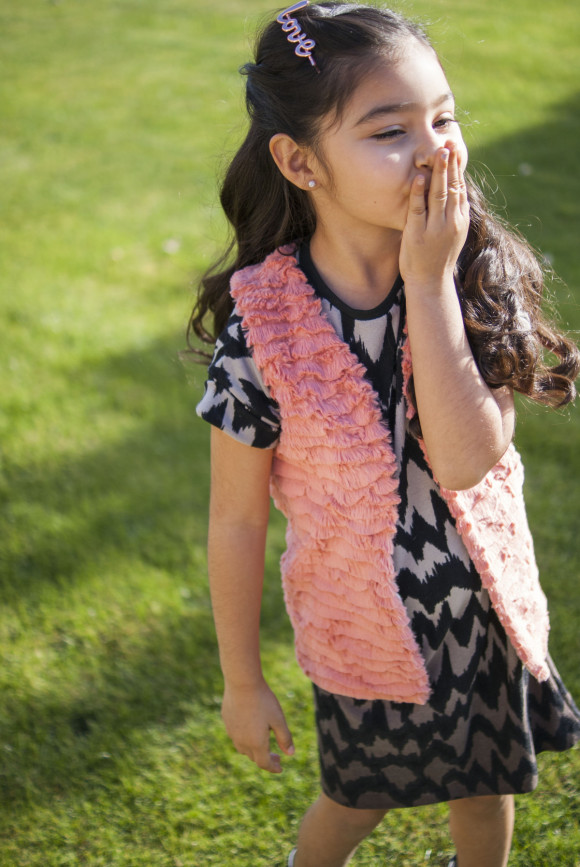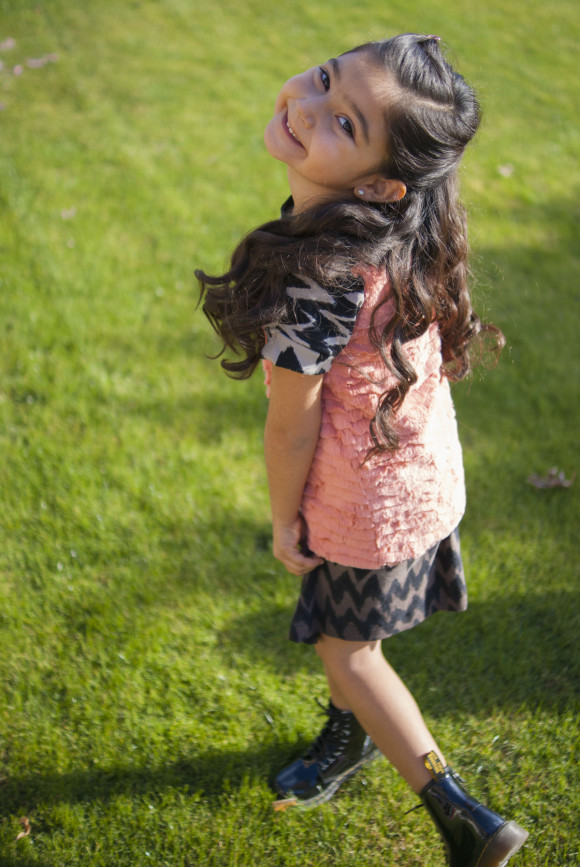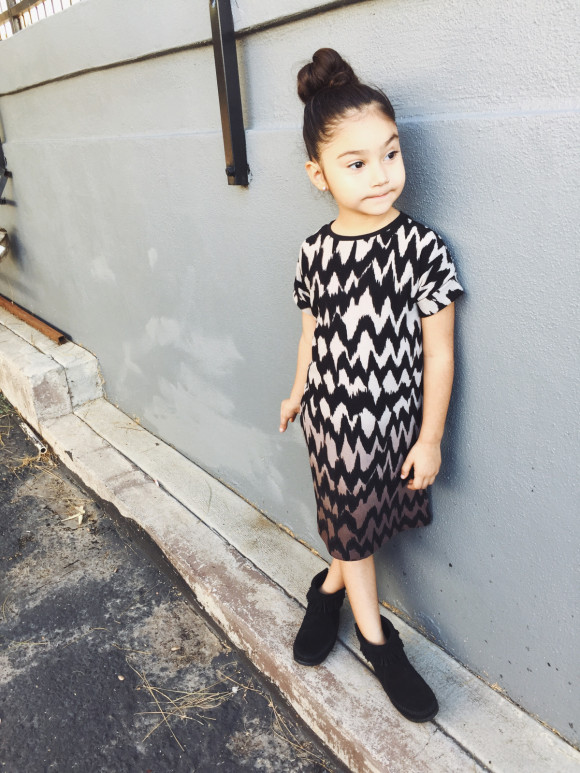 Another reason I love this pattern is the fact that it mixes and matches well with just about anything. I made a black and white leopard print View B and paired it with blue velvet mini Hudson pants and it worked so well! I also paired it with black leggings and it gave a completely different effect. The only change I made was adding a few inches of extra length. Read more details on this look here. It just makes an amazing wardrobe staple that will get tons of use throughout the year.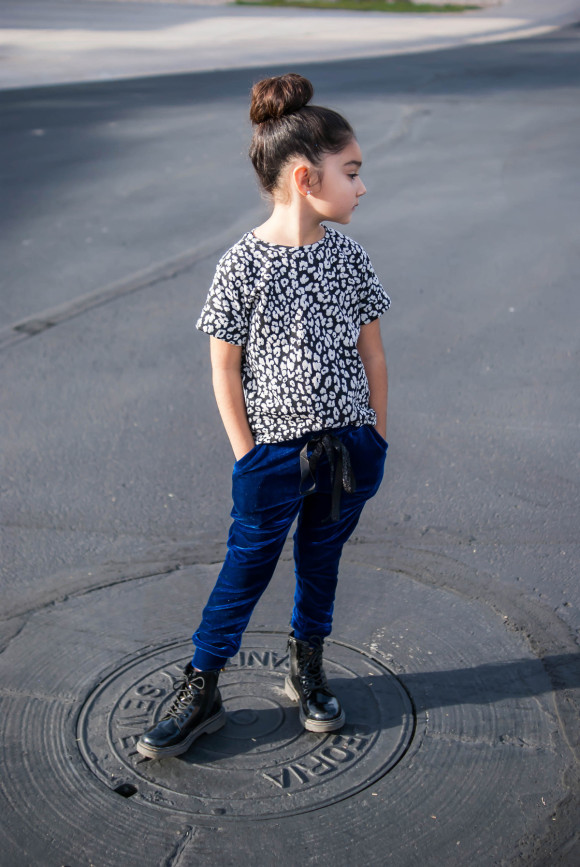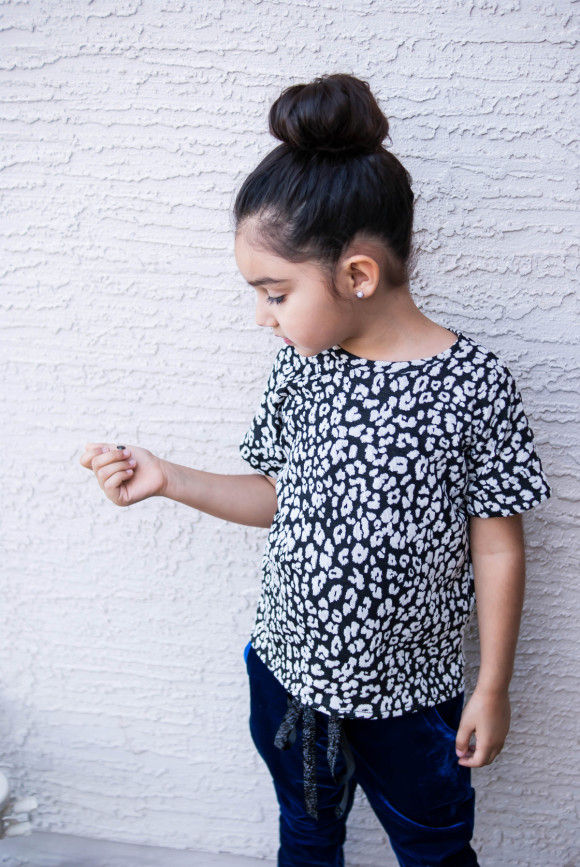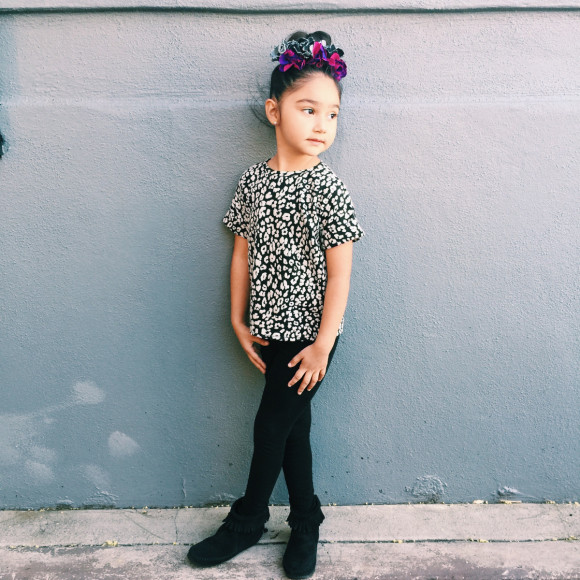 Next up, I made another dress version. This time I finally wanted to try View A. I decide to leave off the pockets though. I made the body in a grey knit and I made the sleeves in a black lace. I love to mix textures so this was fun for me. I actually really love the contrast and the way the sleeves are sheer. This was my first time making View A and it was equally as fun to sew up.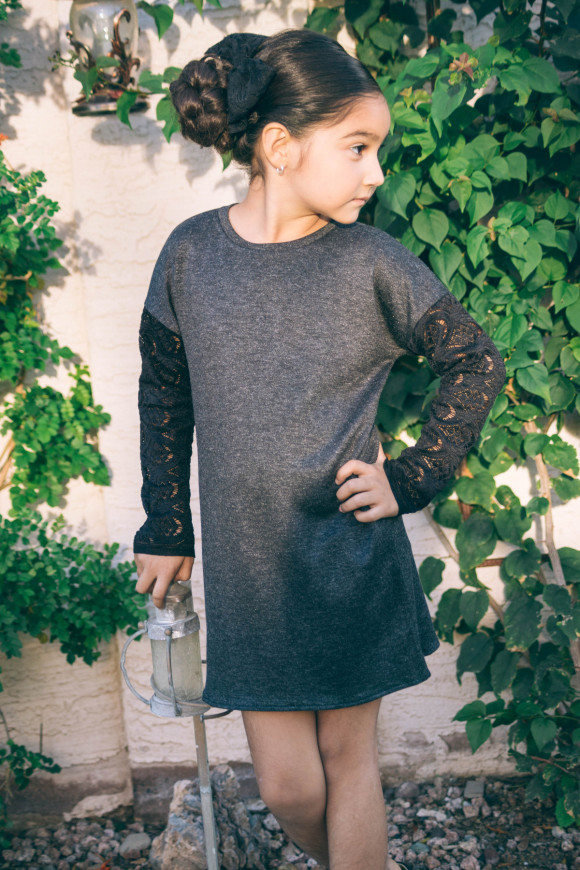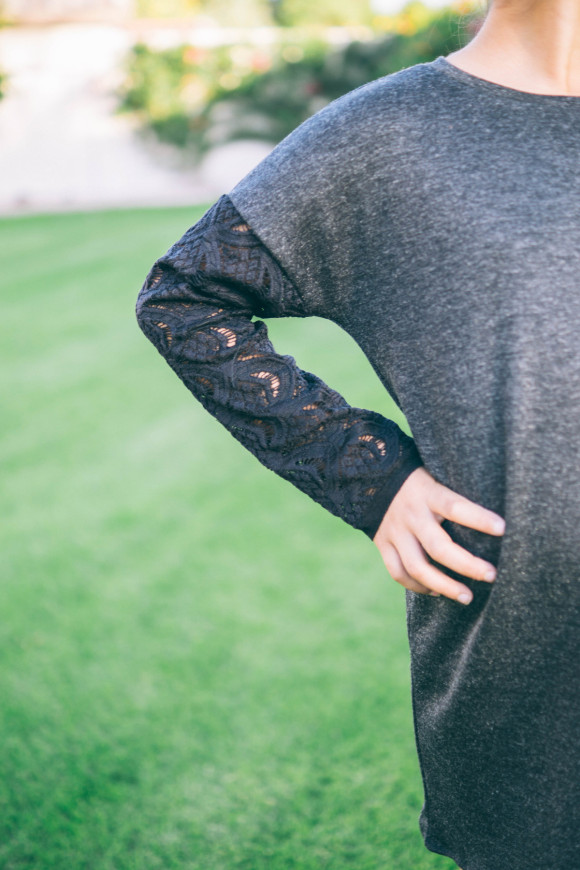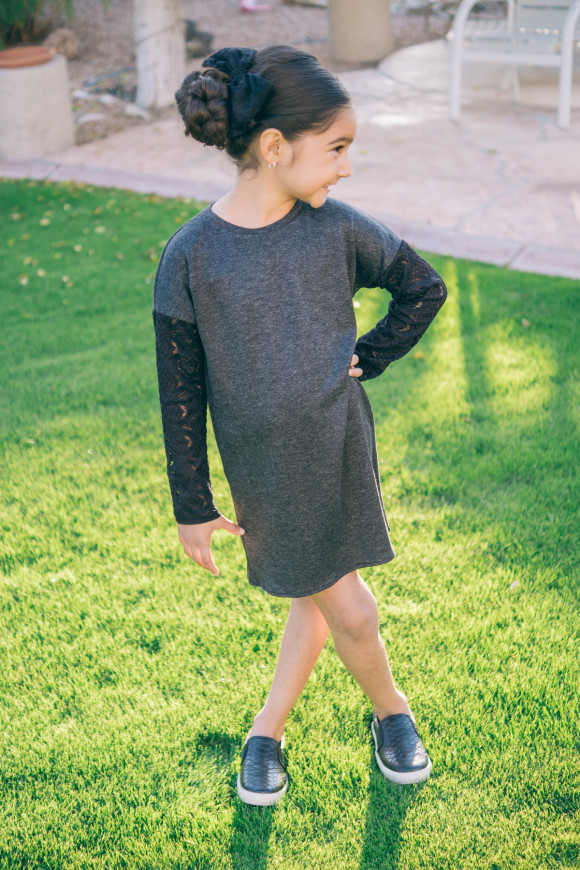 The options are endless with this pattern. You can make basic wardrobe staples and you can make wow factor pieces. The fact that it's a pattern that utilizes knit fabric also guarantees the little lady in your life will be comfortable wearing it. With the minimal amount of fabric required I promise once you make one, you'll be hooked!
Want a little trip down sewing-memory-lane? Go see Liesl's introduction to the Lunch Box pattern from October 2014.