A number of years ago I decided that it was time to step up my game when it came to sleepwear. No more old mis-matched T-shirts and leggings or shorts. It was time for real pajamas. The kind that you can feel good about wearing when you're a guest in a hotel or at someone's house. The kind you aren't embarrassed to be seen wearing when a neighbor drops by unexpectedly on an early Saturday morning. (Or, for that matter, when you oversleep and need to hustle everyone out the door at the last minute—and maybe even drive the carpool with no time to change, hoping the entire time that you don't need to get out of the car for any reason.)
In any case, I'm so happy I made the switch. Pajamas can make a difference in how you feel about yourself. When you're wearing a good pair of pajamas, you feel more pulled together and less disheveled, even when you've just rolled out of bed. Or maybe that's just me.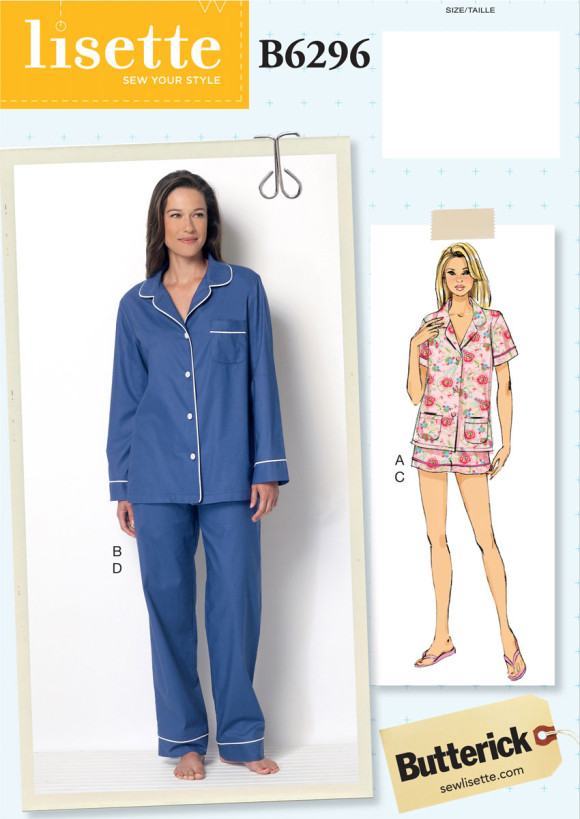 In any case, you've been asking us for a women's pajama pattern for a really long time, and this year I can finally announce that we have one for you! Say hello to the new Lisette for Butterick B6296 pattern. I'm very excited about these classic PJs, which will keep you outfitted stylishly all year long. The pattern includes four views: two tops and two bottoms with lots of details that you can mix and match to customize a set exactly to your preferences.
For the top, choose from long or short sleeves, both with a collar, cuff detail, and forward shoulder seams. You can also choose from a chest pocket or two hip pockets. And you get to decide whether to include piping. Personally, I love piping because it adds a level of tailored sophistication as well as a pop of contrast color. I mean, who can resist when such a simple detail adds so much elegant style and is so easy to sew?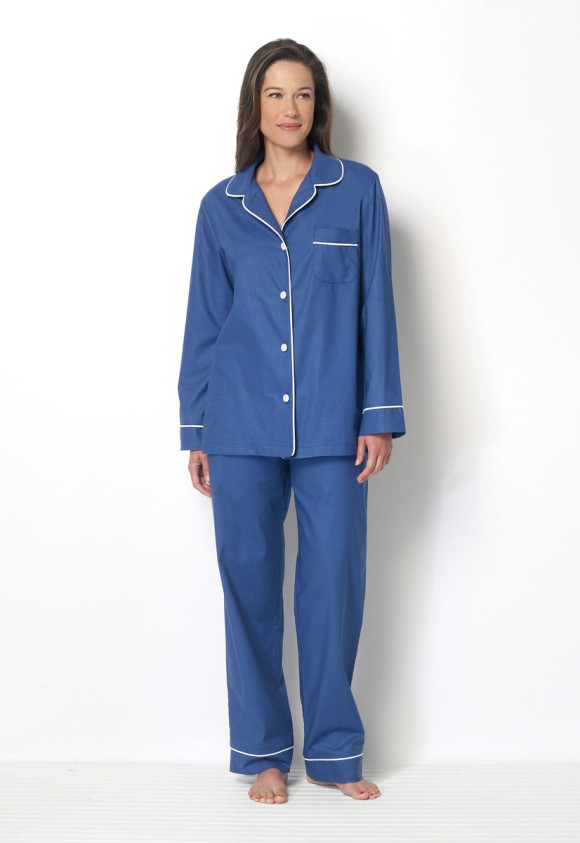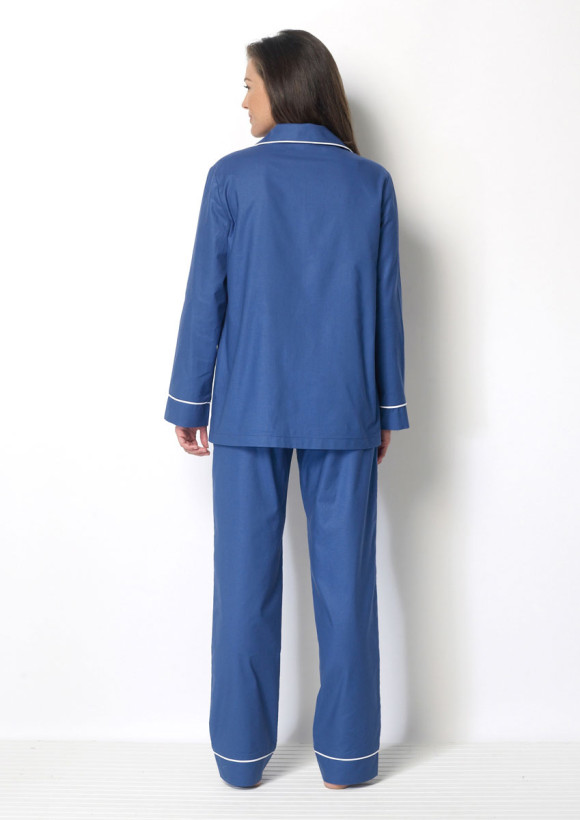 The PJ bottoms are equally versatile. You might prefer the shorts for warm weather or for sleeping comfort, or maybe you prefer long pants for cooler weather and more coverage. Both styles include convenient front pockets–which is also a nice detail if you prefer to wear your PJ bottoms with a T-shirt–and a flattering back yoke seam. These bottoms are designed with a low rise because there are too many high rise pajama pants in the world, and I thought it was high time for a style that is flattering, cute, and comfortable to wear.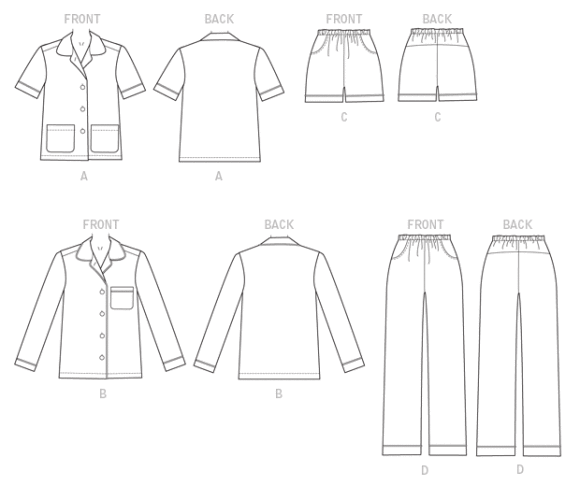 You'll want to consider your fabric options for this pattern, too. Obviously, for winter—and especially for the upcoming holidays—cotton flannel is a great option and comes in lots of fun colors and patterns. Many families have a tradition of new Christmas pajamas for everyone, so you can get in the game and make your own now. And cotton poplin or even quilting cotton will give you lots of choices for summer-weight pajamas and lots of options when it comes to prints. Cotton lawn, double gauze, and linen would feel especially nice against the skin if you want to give yourself a little luxury. I'm going to start with a really pretty Liberty of London lawn for my PJs, with sunny yellow pining. Or go all the way and sew an ultra-luxurious set in silk or silk satin! And guess what? You can also use stable knits for this pattern, if you're so inclined. This would make the pajamas every more comfortable to wear while still looking pulled-together and elegant. Here is some inspiration I have pulled together for you.
Of course, you can wear the pieces as separates, too. Maybe you prefer to wear pajama pants with a cute fitted T-shirt or camisole. But what about wearing the top as clothing? I'm planning to wear my PJ top, with piping, as everyday wear, too. I mean, isn't this cute? I love it as a layering piece like these woman have done.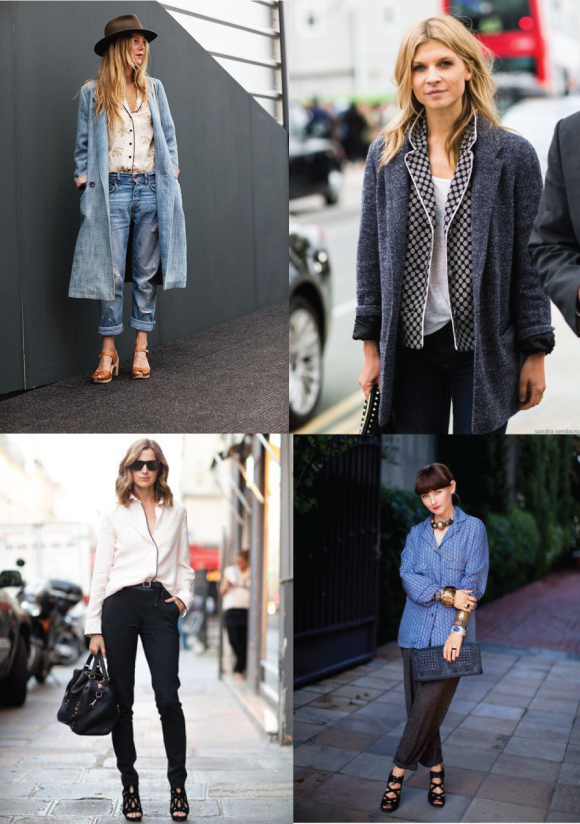 And if you do decide to wear the complete pajama set someplace, do it boldly! Wear them with a pair of strappy evening heels and a lot of style. This would be especially great if you make them in silk satin, of course.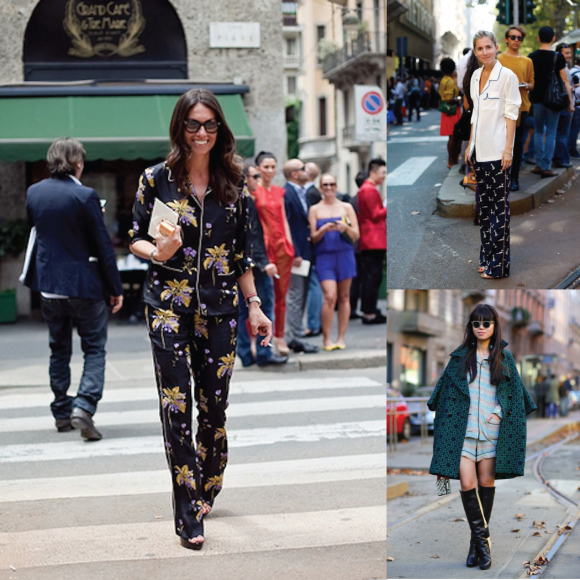 A lot of families have a Christmas PJ tradition, and now you can join the fun with making your own pajamas for the holidays. In fact if you want to join the holiday pajama party challenge, I think this pattern would count. Have fun with it, and I hope you'll show us how they turn out in the Lisette Flickr group or on Instagram: hashtag #sewlisette and #B6296 so we can find you!