We love it when people push themselves and try new things. Manju tried sewing with leather for the first time and cranked out this fantastic jacket. Every wardrobe could use a black leather jacket like this! Here is Manju to tell you all about it.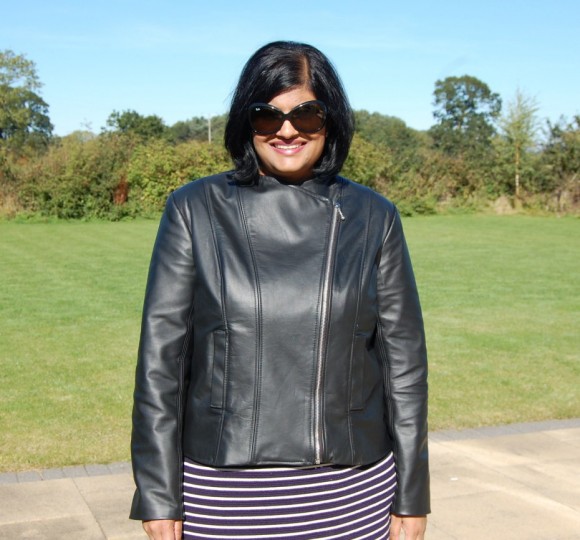 Name: Manju
Where can we find you on the internet? Blog, Instagram, Pinterest
Project details
Link to your project on your blog: Butterick 6169: DIY Black Leather Collarless Biker Jacket
Pattern used: Lisette B6169, view A
Fabric used: Two garment quality cow hide leather skins for the outer jacket, and a bemberg twill lining.
Did the fabric work well?
Oh yes! A black leather biker jacket should be part of every woman's wardrobe in my opinion, and over the last couple of years I have seen so many variations on the whole biker jacket theme. I have never sewn with leather before. Ever. But it worked so well on this project.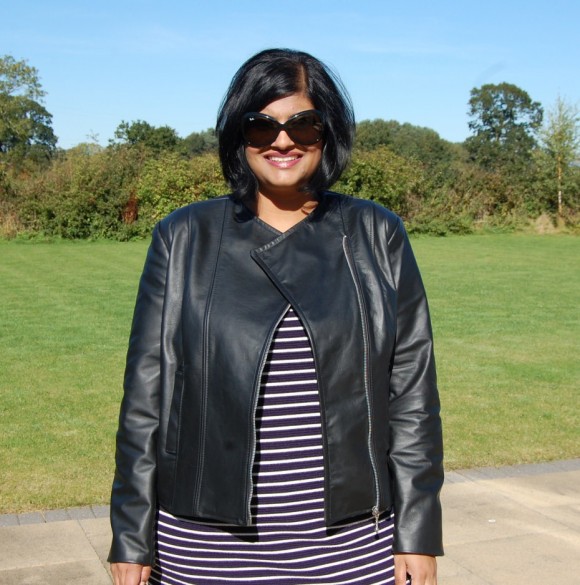 How did the sewing go?
The sewing went surprisingly well. Obviously, the down side of sewing with leather is that you don't have a chance to rip stitches out and start over (once your needle pierces through the leather it will leave a needle mark). So be sure of what you are doing and take your time. I generally don't make muslins, but I did make one for this jacket. Using the right stitch length, specialized thread, a walking foot and a leather needle helps get professional looking results. I give lots of tips in my blog post about this.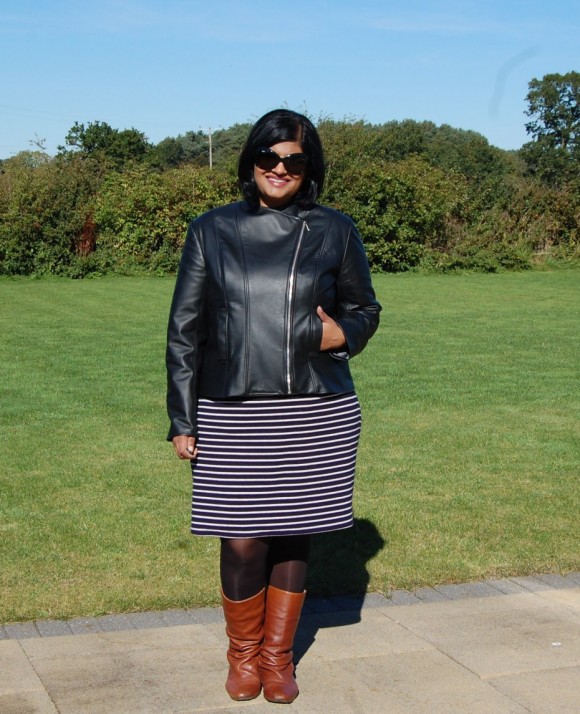 What was the best part?
I find that now a days I am obsessed with finding coat/jacket patterns with two piece sleeves. I love that this pattern offers that. Not only because it gives a beautiful shape and fit, but also because there is an opportunity to insert some zippers in there if you want too. The best part of this jacket was getting the sleeves in beautifully the first time using a sleeve head to take up the ease before inserting. Again, I go through this in my blog post in more detail. I love this jacket. It's probably my proudest sewing achievement to date, and I have been wearing it nonstop since I finished it.
If you are looking for more fabric and style inspiration for this moto jacket pattern, then check out Liesl's post here.