As always it's been great to see what everyone has been making with the Lisette sewing patterns for Butterick. Sarah's creation caught my eye when I was browsing through the SewLisette Flickr pool recently. She's here now to share details about her cute fit-and-flare dress that sewed for herself.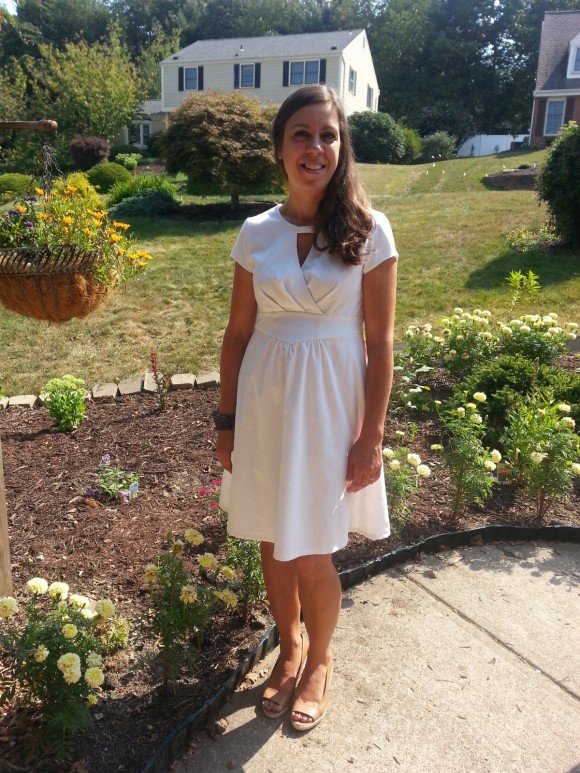 Name: Sarah Anderson
Where can we find you on the internet? Blog, Flickr
Project details
Pattern: Lisette B6168
Fabric: Weavers cloth underlined with batiste

Did the fabric work well? Yes very well! I hadn't planned on underlining it but the fabric was too sheer and I knew I wouldn't wear a slip (too hot in summer) so I decided to underline it. And I am so glad that I did.
How did the sewing go? I cut a 12 because my mom made the 14 and when I tried it on I could slip it on over my head. I usually cut a 12 but I still have a few pounds of baby weight left to loose from my pregnancy last year. But the 12 was too small! I was so upset! So I had to leave out the back darts and let out the side seams a bit. And then it fit beautifully! I was really aiming for a fitted bodice.
What was the best part? I had this vision of this white dress to be worn at the end of summer. I thought it would look great against my tanned skin and with my dark hair. Halfway through I worried it was going to look like one of those old fashioned nurse uniforms. It wasn't until I hemmed it did I know that the dress turned out like I envisioned and that it didn't look like a nurse's uniform. So the best part of it was the end result! I find my best sewing comes when I have strong vision of the garment I want to sew.

If you are looking for more style and fabric inspiration for the Lisette fit-and-flare dress, you don't have to go too far, just click here. Would you like to sew this dress along with a friend? If so, be sure to check out Liesl's sew-along on the Lisette blog.