Here on the Oliver + S blog, we talk about altering and adjusting sewing patterns all the time. That's what the "Customizing with Oliver + S" series is all about, and many of you have become really proficient with your sewing and with pushing our patterns into new directions. I'm always amazed to see your creative expressions using our patterns, taking them to new levels and using a variety of techniques, including a lot of techniques I've shown you here as well as techniques our contributors have demonstrated in guests posts.
I decided to customize the trousers from my Lisette B6183 pattern in very much the same way. The pattern is a straightforward full-legged trouser, which is my favorite style to wear because they're so flattering. I pushed the pattern and added a few Oliver + S touches, which I'll talk about below.
It's been quite a surprise to me, over the years, to meet a lot of you who have told me that you've learned to sew from our patterns. But the even greater surprise has been how many of you have also told me that you've learned to sew from our patterns and you don't have children! Instead, you sew for friends or for nieces and nephews (or grandchildren). But you also use what you've learned when you sew for yourself. In that spirit, here is my own Oliver + S-inspired sewing for myself!
Project details
Pattern: Lisette 6183
Fabric: Robert Kaufman's cotton linen denim (6 oz.), using the wrong side as the right side
Did the fabric work well? Yes! I've been collecting images of wide-legged jeans all spring and summer and really wanted to do my own version of this popular style in denim, but I wanted mine to be a bit dressier than the beat-up jeans that seem to be the most popular version of this look. The linen cotton denim is just the right weight, and the reverse side of the fabric looks a little more like chambray than really dark denim, which is why I used the "wrong side" instead of the really denim-looking side. And after wearing these trousers a few times I can confidently say they will be in heavy rotation in my wardrobe!
Did you make any changes to the pattern?
Did I ever! First I trimmed about 2″ from the top edge of the trousers to lower the waistband in order to get the look I wanted. This meant that I also needed to lengthen the waistband a bit, and I really customized the fit of the waistband by cutting it extra long and marking the perfect length on my body before attaching it to the trousers. Then I added a zipper fly, referring to our zipper fly tutorial to refresh my memory.
Since linen is prone to seam "slippage" when subjected to stress, I edgestitched the rise seam to add stability and reduce tension on the fabric. I also made sure to choose a pattern size that would give me plenty of ease so I wouldn't put any extra pressure on the seams. Refer to the measurement chart and choose a size that fits your hips and allows at least 2″ of ease. You can always adjust the waist to fit your own body by reducing or enlarging the darts, side seams, etc.
I also added a real trouser waistband and belt loops by following the techniques we used in the Art Museum Trouser instructions. After hesitating quite a while, I finally decided to cut the waistband on bias, adding a center-back seam to give a chevron effect. (Truthfully, I'm not sure how successful the bias-cut waistband is. Despite stabilizing the fabric and the seams–I used twill tape to prevent the finished waistband from stretching when it's worn–the waistband has a tendency to pucker a bit. I probably wouldn't cut it on bias again next time.) I also lengthened the trousers a bit because I prefer my cropped trousers to be on the long side.
How did the sewing go?
Great! I took my time on this project, sewing just a few seams at a time with lots of pauses in between, so it took me at least six weeks to finish these trousers. (I took a vacation and moved to another country somewhere in the middle of it, too.) The timing is a little unfortunate because they are finally finished just in time for fall, but I think I can still wear them for a few weeks at least before the weather is really too cool. The sewing itself went quickly, however. I'm considering another pair in a heavier fabric for fall and winter. I'll include all the same customizations, since I'm really pleased with how they turned out.
What was the best part?
Well, I always enjoy the entire cutting and sewing process–it's my stress therapy–but it's also really fun to have a new pair of extremely versatile trousers in my wardrobe! I'm finding that they can be worn in all sorts of ways, but I love pushing the nautical aspect a bit and pairing them with my Liesl + Co Maritime Knit Top. I think it will be a lot of fun to play with proportion, too. I've saved lots of styling ideas to our Lisette: Sew Your Style Pinterest board, and this style works really well for fall and winter!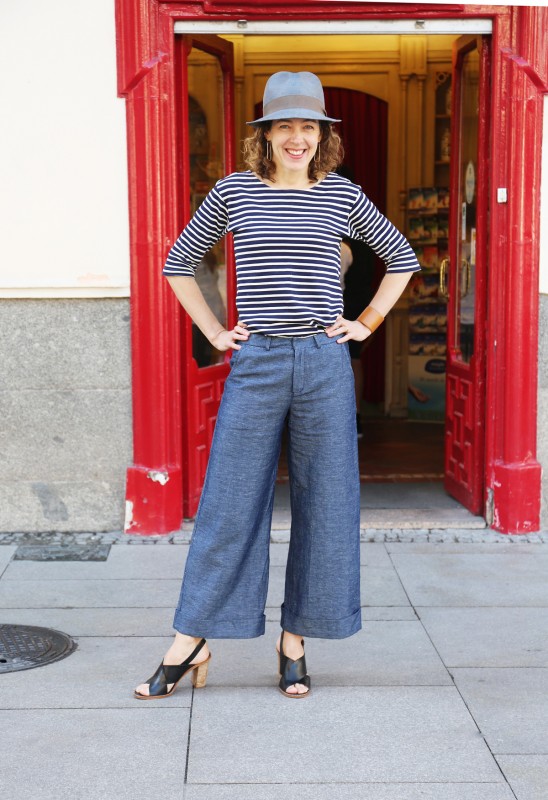 And I'm pleased with the fit in the back, too.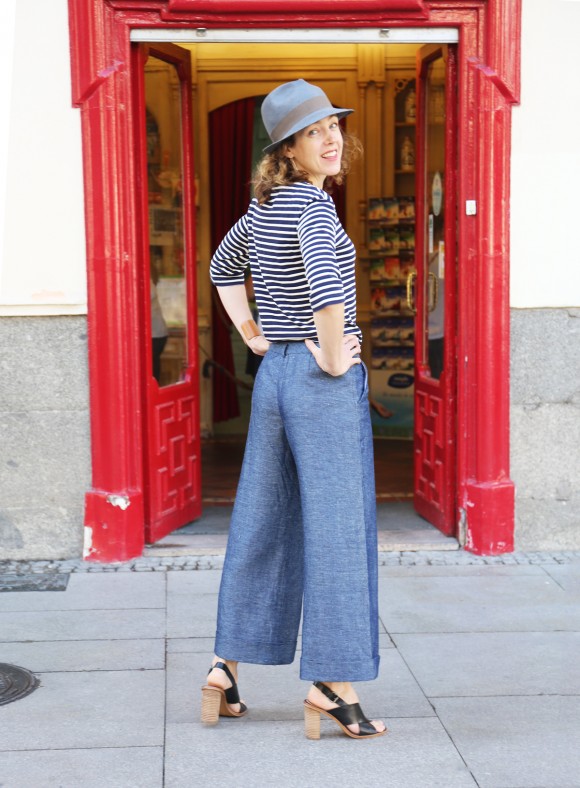 Have you made the B6183 trousers yet? There are several stunning examples in the SewLisette Flickr pool, if you'd like to see more!