Allow me to introduce you to our new Oliver + S fall pattern, which is actually an updated version of an old favorite. You might remember the Swingset Tunic + Skirt, which was part of our very first pattern release back in 2008. Many of you quickly discovered this simple skirt included in that style and fell in love with it. Well, we've updated it, expanded the size range, and made it available as an Oliver + S Singles pattern in both paper and digital format.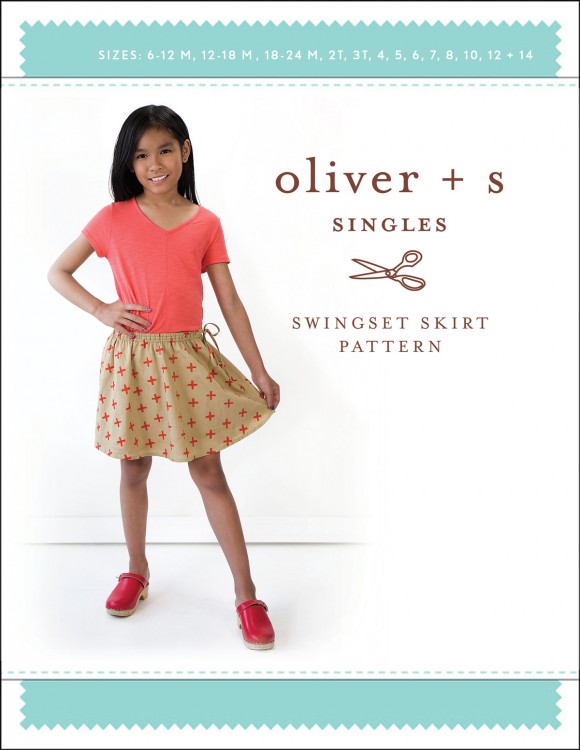 What's so great about this skirt? First of all, it's a modified circle skirt. It's not quite a full circle, but it has a wide sweep, which is great for twirling. Which is what so many girls love to do, don't they? With this skirt, the hem really flares when you twirl. So I think that explains part of the love.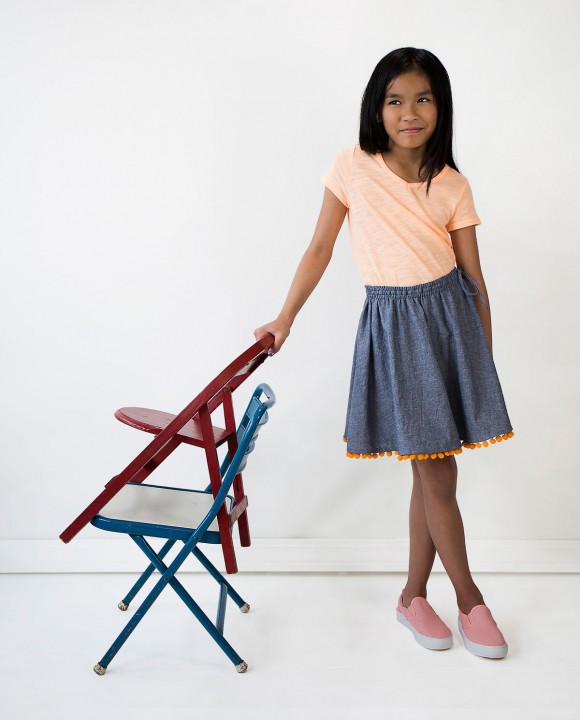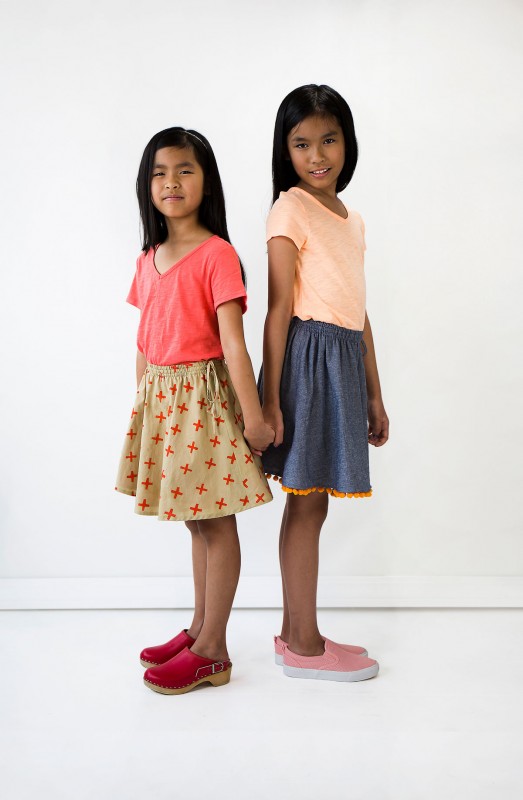 These photos are making me homesick! Our models are sisters who are two of S's best friends. We miss you, girls!
The pattern also has an interesting method of construction which is simple but really effective. There are two narrow elastic casings in the waistband, and between the two elastics is a cute little drawstring that gets tied into a bow at one hip. So the waistband is interesting and comfortable and can also be adjusted. And the really fun part of the construction is that the skirt is fully lined, and the lining forms the casings, so it's really easy to sew and to wear.
fabrics: Alison Glass for Andover (Handcrafted collection) with Robert Kaufman Cambridge Lawn in Lipstick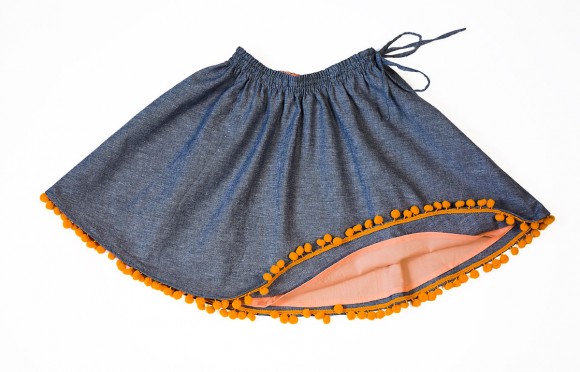 fabrics: Robert Kaufman indigo chambray with Robert Kaufman Cambridge Lawn in Peach (pom pom trim from Modern Cloth)
The other thing that many of you have loved about this style is that it has the potential to be reversible. I didn't write the instructions specifically to be reversible, but because of the lining and the construction, the skirt can easily be adapted to be reversible. And many of you have chosen to sew it that way, with some great results.
So why re-release this pattern now, after all this time? Frankly, it's because so many of you have asked for it. As your children grow, they outgrow our original patterns and size range. (The original Swingset pattern only went up to size 5.) We thought that we'd try something different and release just the skirt as an Oliver + S Singles pattern with a complete range of sizes, from 6-12 months all the way up through size 14, which is a brand new size for us. So you're getting a lot of sizes in this pattern, including the size 14 which we've never offered before. Which means that even if you own the original Swingset pattern, you'll still get an additional seven sizes (and probably about nine more years of wear) out of this new pattern. Worth it? I hope so! Oh, and the best part? The price. It's just $9.95 in either paper or digital format.
Why just the one pattern for our fall release, you might ask? Mostly because we've been putting our focus for the last six months on a few other large projects. Between now and next spring you'll see a new collection of fabrics, more Lisette styles, and a new book, which has been a big project that's really been a labor of love for me.
I hope you'll have fun with this new Swingset Skirt and will enjoy the new sizes! I know quite a few of you will be really excited to have all these sizes together. The pattern is available in paper or digital format. I'll show you some ideas for fabric selection and styling the pattern soon.