Hello, friends! Wow, yet another week has flown by! Yesterday the shippers came to pack up all the equipment we're taking to Spain. It was fascinating to see how they packed up the dress forms especially. Once we had removed all the appendages from Fiona (as S has named my women's dress form), they wrapped her in bubble wrap and covered her with corrugated cardboard and lots of packing tape, and she looked nothing like her usual self, as you can see from the photo below. One of the guys said she looks like a giant "We're No. 1" finger. He's right. I hope she survives her long cruise. We'll see her sometime in October. Can I survive for two months without all my sewing equipment?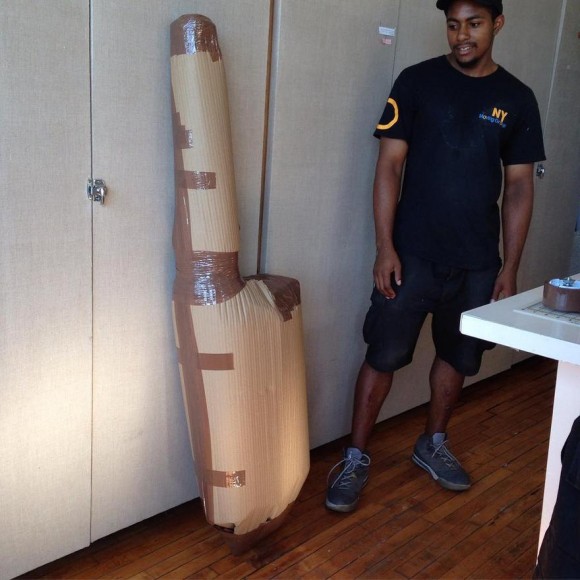 Tonight we're headed to Colorado to spend a week vacationing with my family before our big departure. I'm looking forward to some time relaxing and hiking and enjoying time with everyone. I'll be sure to check in on Instagram while we're away. What are your plans for the week?
Pinterest Picks
Last weekend we visited a few of our favorite museums for the last time before we move to Madrid. We said goodbye to the Degas dancer, which reminded me of this darling photo.
We're about to paint the bedroom for the first time in about 15 years (no exaggeration–I really liked the color we had, but now we need to patch up some nail holes), so I dug up this photo from Design Sponge. This is my favorite sneak peek of all time for its subtle, sophisticated palette and decor. I think I've chosen a pale gray for our walls: Benjamin Moore wickham gray or harbor gray are my top choices for now, although I do love these creamy walls.
Isn't this an interesting sleeve? I love the architectural shape, which remains feminine despite the strong structural elements.
Such a cutie.
This tile could inspire a really interesting quilt block, don't you think?
Weekend Reading (and Looking)
Be well! And have a great weekend.