You remember our friend, Janice, right? She stopped by with her posts about her Flat S visit, the School Days Jacket sew-along, and customizing the Swingset pattern. Now she's here to discuss her favorite Oliver + S pattern. Take it away Janice.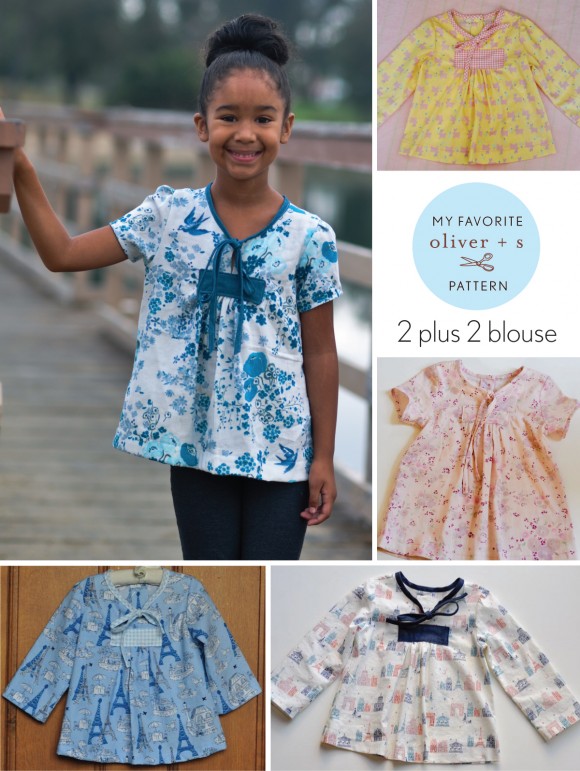 Hi everyone! Today I'm talking about my favorite Oliver + S pattern.
So, how does one choose? It's kind of like choosing your favorite child – those of you who have multiple children will understand me. I have four kids – on any given day, my "favorite" changes…. You know, depending on a lot of things – like who actually took out the recycling without being asked….
To decide on my favorite Oliver + S pattern, I delved into the recesses of my Flickr photostream. I started sewing with Oliver + S in the summer of 2011 when my daughter was about 18 months old. One of the first Oliver + S patterns that struck me was the 2 + 2 Blouse. I made my first one in August of 2011 but tragically, I have no adorable modeled photo….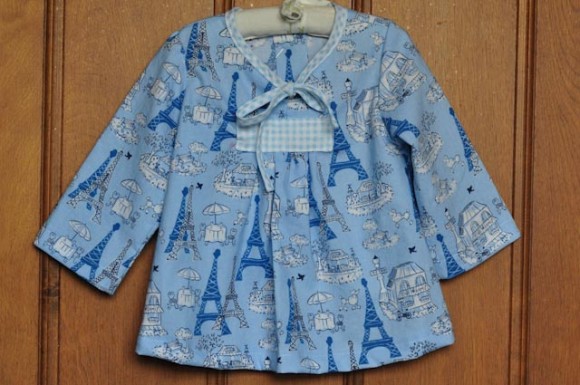 Just a couple of months later, I made another…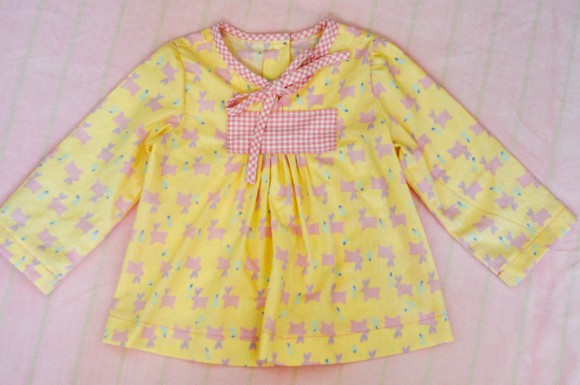 So, before my daughter's 2nd birthday, she already had two of these tops. Hmmm…. so, maybe this one is a favorite?
In 2012 and 2013, there were more….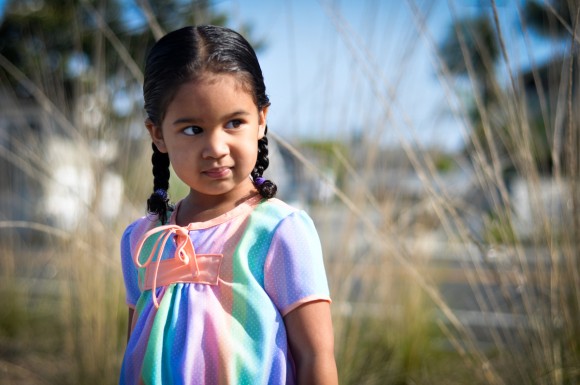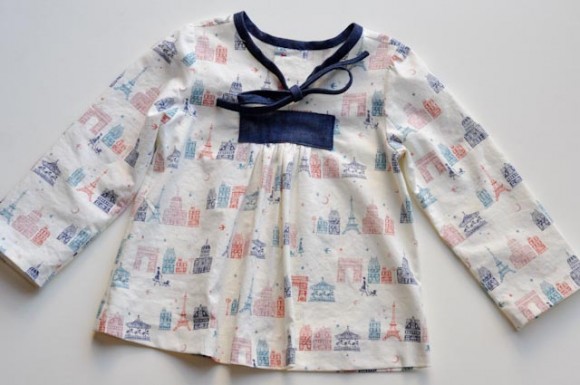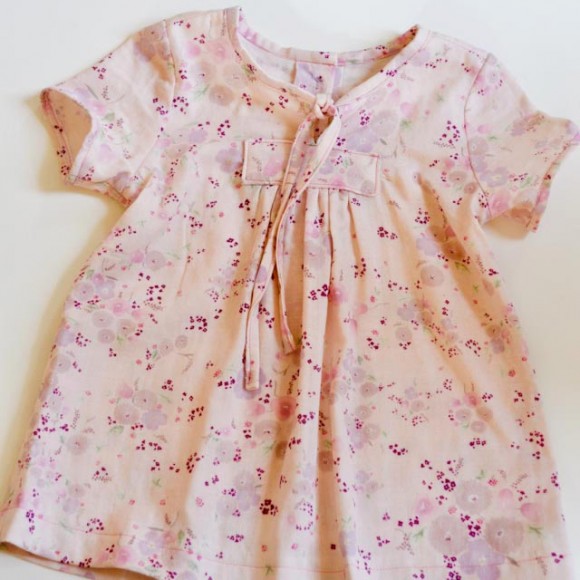 Then, I stopped. I loved the ones that I made previously, and my daughter wore them to death. So, I pulled out my pattern, and realized that this was one of the patterns that only went to a size 3 in the smaller size range. But, smart me – I actually purchased the larger size in paper and totally forgot about it! So, I pulled out my tracing paper and made up some more.
Up first is a size 5 in Nani Iro double gauze. My daughter absolutely loves double gauze so I use it any chance I can get to ensure she actually will wear what I make. This is a size 5 with 6 length.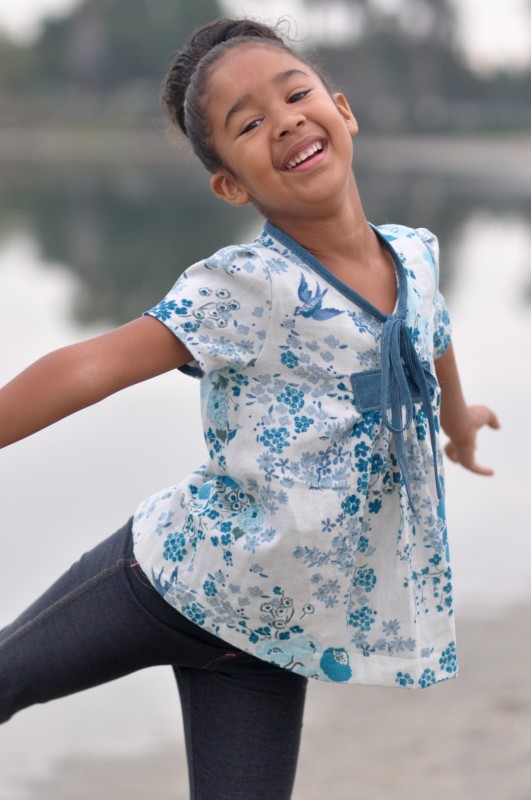 Next, I made another version using Mammoth Flannel from Robert Kaufman. I have wanted to try this fabric forever, so I thought it would be great for our upcoming trip to the East Coast in October. I tried like a contestant on the Great British Sewing Bee to match up my plaids; they are *mostly* matched up to my satisfaction…. This version is a size 6 with 7 length. I messed up on the sleeves (a plaid matching botch) so I added cuffs as I want this one big to grow into. My kid absolutely loves this fabric!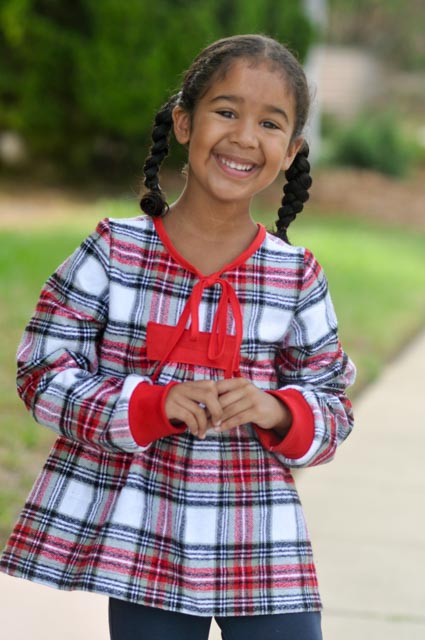 Last, I made a "flipped" version. I have actually had this version in my head for a very long time. I used the sleeves from the Playdate pattern as I love a good 3/4-length sleeve. The fabric is from the Black and White collection from Cotton + Steel. This quilting cotton is really lovely for garments; it drapes well and irons up well. This is a size 5 with 6 length again, and I should have made this one a bit longer. I will make this version again!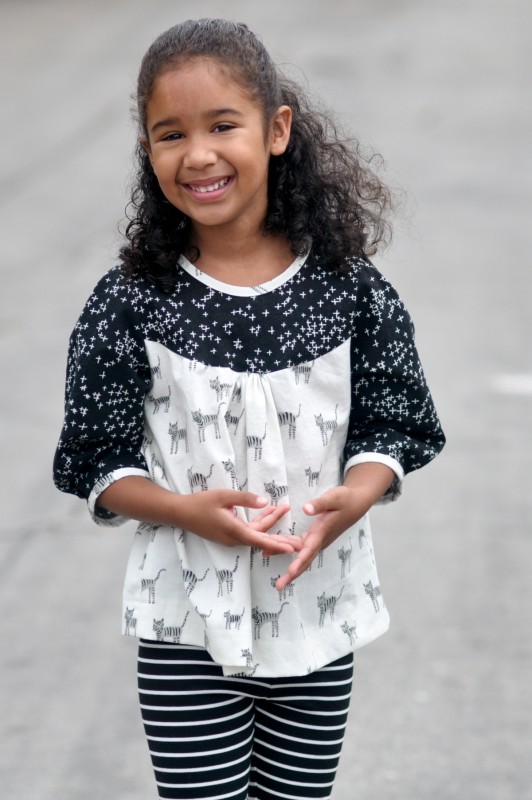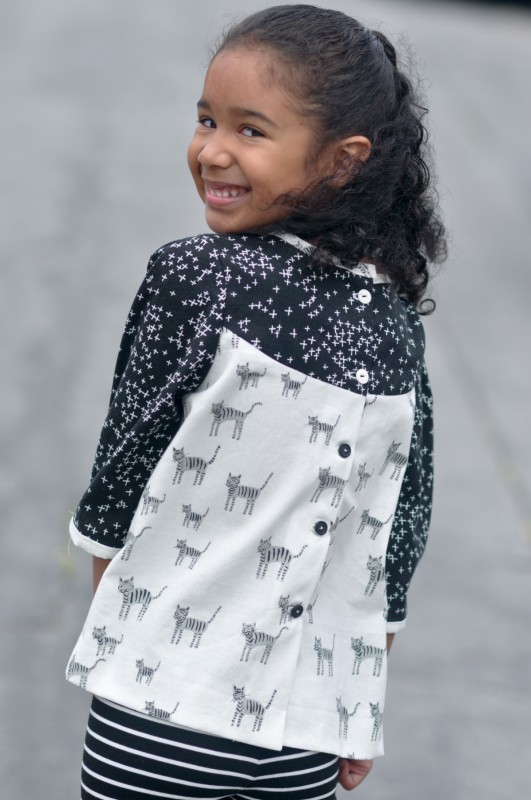 The 2 + 2 Blouse and Skirt pattern is still available as a pdf on the Oliver + S site. In addition to the top, I've made a ton of the skirts as well and highly recommend it as well.
I have a couple of recommendations if you decide to make this patternT. ry really hard to keep your gathers as even as possible on the front. You don't want it looking like just a clump of fabric under the patch as opposed to nice sweet gathers. Make sure that the patch covers all of your stitching on the front bodice or you will get a rather ugly seam visible outside of the patch; this will make sense to you if you have sewn the pattern. And, this can be made in all one fabric, or contrasting ties/patch … whatever suits your fancy!
So, is this pattern my favorite? Well, for today at least it is!
Thanks for having me!