Hello, friends! It's been a big couple of weeks for us, and if you follow my personal Instagram account you might already know why: we're moving to Madrid for a year!
A little more than a year ago we made a conscious decision to keep our business small. That decision was a difficult one to make, and we thought about it for a really long time before committing to it. In the past we had just assumed that as our sales increased, we would hire people to help us which would allow us to do  more which would continue to increase sales. This is sort of the default way most businesses grow and mature, and it's probably what a lot people in our shoes would do. It's very tempting to grow, and we talked about this decision for a long time. But hiring additional employees would also mean that we would spend a lot of our time managing people. I started Oliver + S because I enjoy drafting patterns, writing instructions, and having my hands in every element of the patternmaking business. That's what I'm good at, and that's what I'm passionate about. Our decision to stay small and do a lot of the work ourselves (with the help from a team of wonderful freelancers) means that we make less money and we're often busier that we might prefer to be, but it also means that we get to do what we're really passionate about. I think it helps to to stay more connected to you, and it gives us flexibility in our schedules, which we've made a priority for our family.
Part of that schedule flexibility has allowed us to travel. You might already know that each summer for the past three years we've taken a one-month "working sabbatical" where we do a home exchange with another family and go live someplace else in August. We're still working during those trips, but we're not working as hard as we do the rest of the year. Those month-long trips have really kept Todd and me fueled for the rest of the year; they inspire us and give us a chance to catch our breath a bit before we jump back into our busy schedules for the rest of the year.
A couple of years ago I was closely following Design Mom's adventures living in France with her family and it occurred to me that we could also make the choice to live abroad. After all, we can run our business from pretty much anywhere, as long as we have an internet connection. I need a few tools, but our fulfillment center makes it possible for us to go anywhere without disrupting the processing and shipping of your orders. (We used to ship all orders from the studio, but with the volume of patterns we produce and keep in stock, after a few years that became impossible.)
Since this sounded appealing to all three of us, we started thinking about places we might like to move, and last summer we finally decided that Madrid felt right to us. Earlier this year we applied for residency visas for Spain, which we've received. We've sublet our apartment and the studio, and we've rented a modest apartment in the center of Madrid. The apartment has an attic space that will allow us each to have a work space, and it will be interesting to work from home for a change. S is excited because she'll have her very own bedroom for the first time ever (we live in a one-bedroom in New York, which always amazes visitors but is actually very common here), and we're all excited because we have a small roof deck area, which is a big novelty for New Yorkers! But the best part of our move is that our rent in Madrid will be exactly the same as it is in New York! So the move is very affordable for us, especially with current exchange rates.
Here's Todd standing in front of the building where we'll be living. Last week we looked at a lot of apartments, and this one really felt right for our needs. We'll be living on the top floor you see in the photo and working one floor up under the sloped roof of the building which is set back a bit from the facade.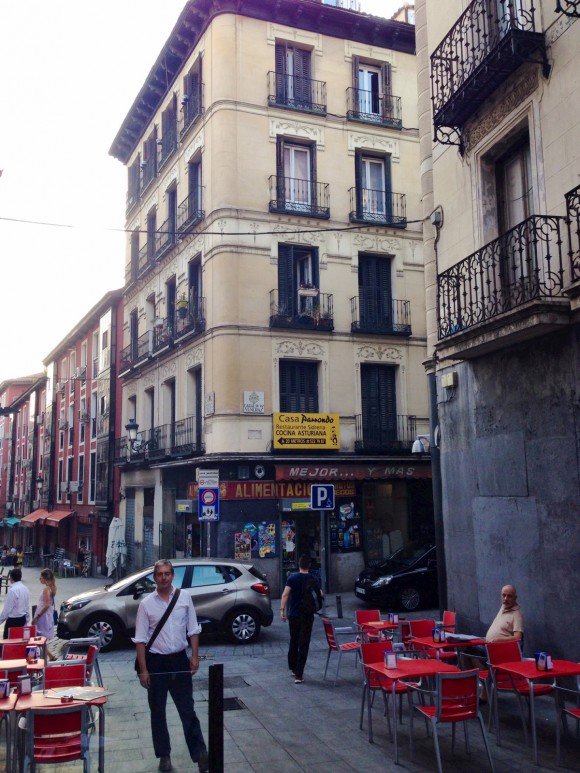 Our new building is very close to the palace, the Royal Theater, and all sorts of other Madrid landmarks. It's just a little bit off center from the major tourist attractions, so it's a nice quiet street. The neighborhood feels a lot like our neighborhood in New York did 10 or 15 years ago, before gentrification started. I'll show you around once we've settled in, in early September. Right now we're back home, wrapping up a few loose ends and starting to pack. I'm trying to decide how much equipment I need to bring along: probably two dress forms, my sewing machines, a bunch of photography equipment, and most likely some fabric. Todd wants his big computer monitor (the better for editing photos!) and his bike (which has absolutely nothing to do with work, but as long as we're shipping things anyway…). It will be interesting to work in English all day and then speak Spanish (or try to speak Spanish, in my case) when we're out and about. I find myself falling back on my French a lot of the time, so it gets a bit confusing. But I'm learning.
In any case, I think it will be really good for us to have a change of scenery and a slower pace of life after 24 years in Manhattan. I'm curious to see how the experience will change each of us. We hope to do some traveling, and I'm sure there will be lots of door photo bombs, for those of you who follow me on Instagram. I'm excited to share this experience with you! It's a big change for us, and I must admit I'm not sleeping very well at night lately due to the stress of the move and the length of my To Do list. I'll talk more about all of this in the weeks and months to come. I'm excited to share it with you, so please holler if you have any questions or topics you want me to cover.
Have you ever considered moving abroad? Or have you already done it? I'd love to hear about your experiences!
Pinterest Picks
Um, my newest Lisette patterns for fall are already out! We've been so busy that I haven't had time to prepare for their release., I'll need to properly introduce you soon. But I'm particularly excited about this jacket. The dress underneath it is really sweet, too:
Isn't this a darling Family Reunion Dress? I love the cat print!
And speaking of cats, this one made me giggle.
This cute top has me moving a chambray Gallery Tunic closer to the top of my To Do list. (But certainly not until our big move is complete!)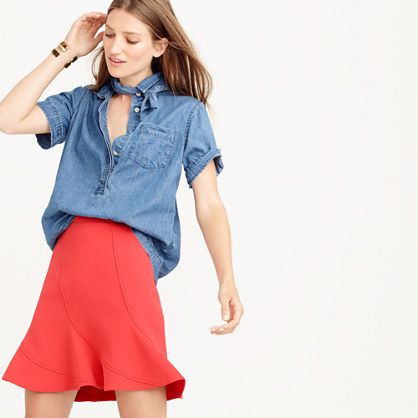 After a very hot week in Spain (and I've heard it's been hot elsewhere as well!), this looks really good.
Weekend reading links
Have a wonderful weekend, everyone! I'm off to start gathering boxes!