Janice is back today for the finale of the Size 5 Project. Yesterday she stopped by with a round-up of the Swingset pattern. Now she is here to share some embellishment ideas and tips for it. Great to have you here, Janice!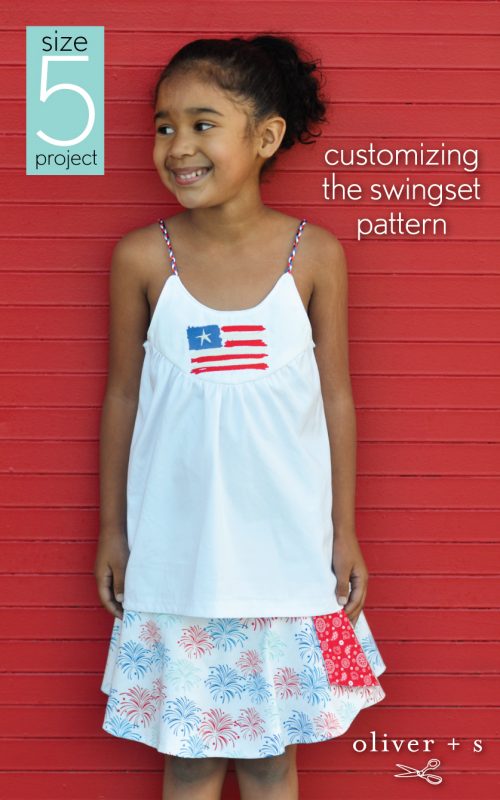 Today I'm here to share with you some embellishment ideas to use for the Swingset Tunic + Skirt pattern; and really, any pattern.
I'm not really an expert at "flipping" patterns, and certainly I don't design my own patterns. But one of the things that I get great enjoyment from is adding special touches to my garments; things that no one else will have. It's really one of the main reasons that I sew.
One such embellishment is machine embroidery. In the past 10 years or so, there have been huge strides in the availability of home embroidery machines. You can get an entry level machine that both sews and embroiders in the $400 range. There are companies out there that digitize designs for you, or you can take the leap and design your own. One of my absolute favorite embroidery design websites is Urban Threads. And, for those of you who don't own an embroidery machine, the really cool thing about them is that their designs are also available to download for hand sewing. So, really, anyone can take advantage of their designs. Urban Threads doesn't cater to the "cutesy" type embroidery market; their designs are a bit more edgy and contemporary. Not too edgy though. Check out their site when you have a minute – or thirty!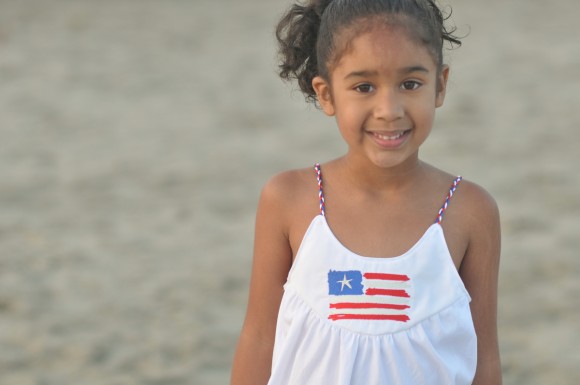 First off is a top that I designed in conjunction with my child. She wanted something red white and blue for a couple of events we have coming up. I used a machine embroidery design, and my daughter created the braided straps…since I realized that she knew how to braid!
I considered adding ribbon or braid to the hem edge, but I didn't want it to end up with an over-the-top screaming patriotic creation. You have to know when to stop with embellishments! I used white shirting from Robert Kaufman. I love a white shirt in the summer!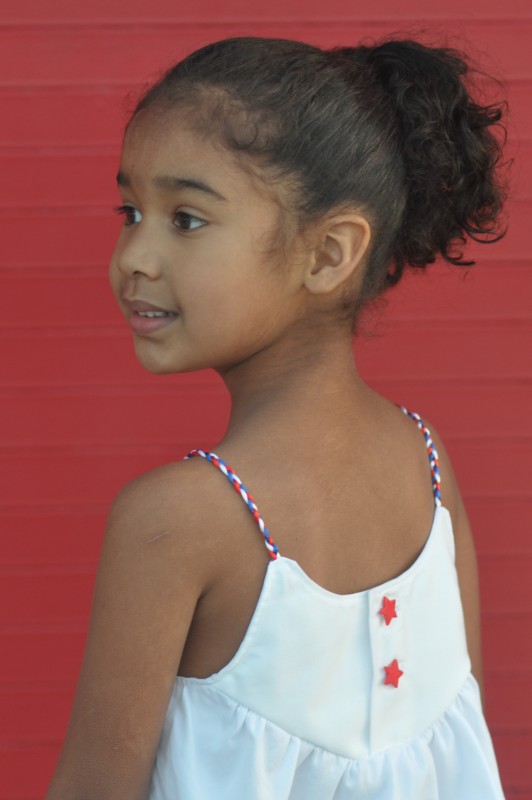 My next top I utilized another design from Urban Threads. This time, the design had a more edgy feel so I thought adding a bit of black lace with a velvet trim would work well. The fabric is linen, and it's a great fabric to use for this summery top. The minute my daughter saw this one, she wanted to put it on.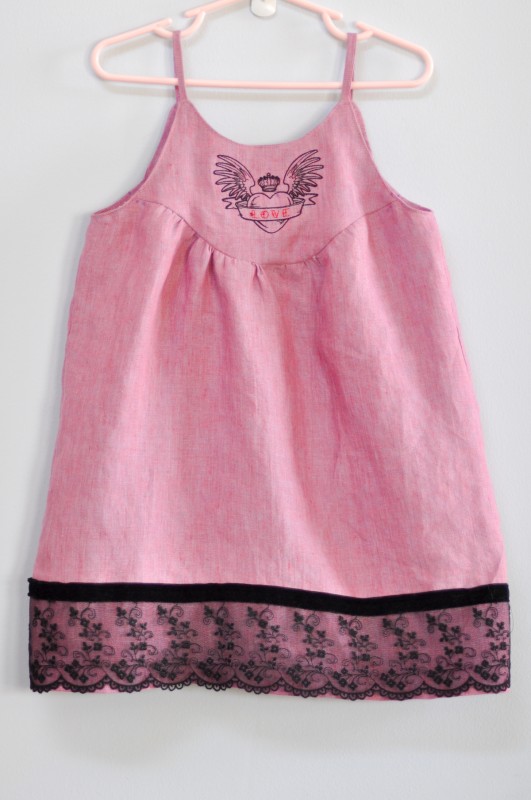 Here's a bit of advice if you decide to jump into the world of machine embroidery:
Choose your designs to match with your fabric choice. Don't choose heavy stitching designs for lightweight linen. If you are using a lightweight fabric, choose a "light stitching" design.
Don't just slap a design in the middle of a shirt all by itself. If you are making a t-shirt, consider coordinating your ribbing color with your embroidery color.
Research all the types of stabilizers necessary for the particular type of embroidery design and fabric. There is nothing worse than wrecking a beautiful garment with botched embroidery.
Consider the scale of your embroidery design. As an example, my machine only has a 4×4 inch design area. If I were to embroider a 4×4 design in the middle of a XL adult sweatshirt, that design would be lost. I try to put designs in places that are suitable for a 4×4 space, like the yoke of the Swingset Tunic. In this case, I wanted a design that was landscape as opposed to portrait as it would fit the space better.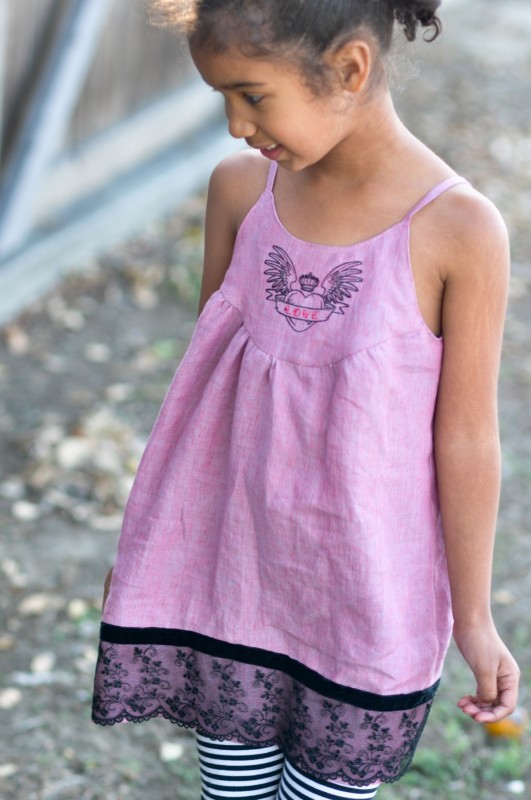 Lastly, I made the skirt. This time, I added a very simple applique. The skirt is linen and lined with pink lawn. Literally, at the very last minute of sewing, when I realized that I did not have the proper width elastic, I decided to use wide waistband elastic and I like it! I really didn't know how to apply the elastic, so I Googled it. I'm not entirely happy with the application I used (I applied it very similar to ribbing on a neckline or elastic on a swimsuit), so I may re-think it and try it again.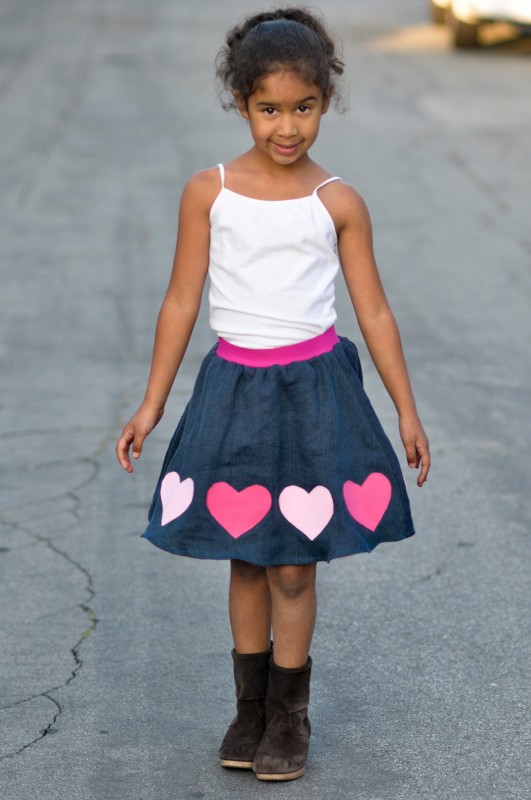 Here are a couple of tips for applique:
You can use several different stitches to applique. You can use a satin stitch, a blanket stitch, or a straight stitch. Personally, my favorite way to do an applique is using cotton interlock as the applique fabric. It doesn't fray, so you can just straight stitch it on.
I use stabilizer (like Sulky Soft N Sheer) under my designs while stitching; that way, the stitches don't get wavy. Afterwards, you can either cut it off carefully, or just let it wear away. If you are doing an applique on an area that will be next to a child's skin, you may want to consider backing your applique with a product specially made for this reason (like Sulky Tender Touch).
Thanks so much for having me! A good thing that I realized is that my kid probably has at least another summer in size 5, so I'm happy!
And that's a wrap for the Size 5 Project. Many thanks to all the four hostesses for putting all of this together! Here are the links to the previous posts for the other three patterns in case you missed them: