Here comes a creation that was inspired by a Jean Paul Gaultier mannequin modelling culottes, a Breton top, and lace up boots. We have a crazy haute couture knock off time coming up! And it's brought to you by no other than our regular contributor Shelley. Take it away Shelley!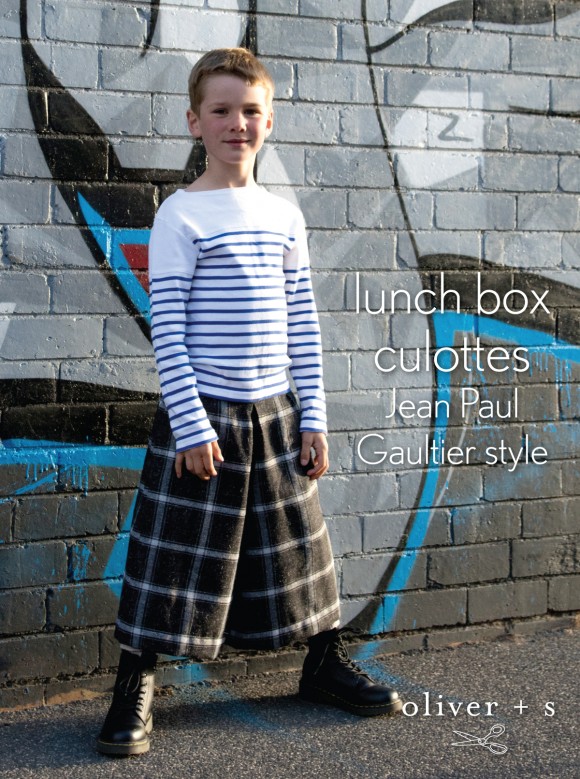 So, you've just seen that title picture and I'm imagining you might be wringing your hands, shaking your head and muttering "she's nuts" under your breath. Or perhaps you're having a chuckle. I certainly am.
Do you ever make something purely for the amusement in making it? Do you sew because you've had an idea that just won't go away until it's been realized as a garment? It's a kind of sewing that I relish. Luckily, I have the luxury of a fabric budget that allows for the occasional bit of whimsy as well as membership of the art gallery where I drew my inspiration for this outfit. A potentially dangerous combination! (I wrote another blog post for Kid's Clothes Week about finding inspiration at the Art Gallery).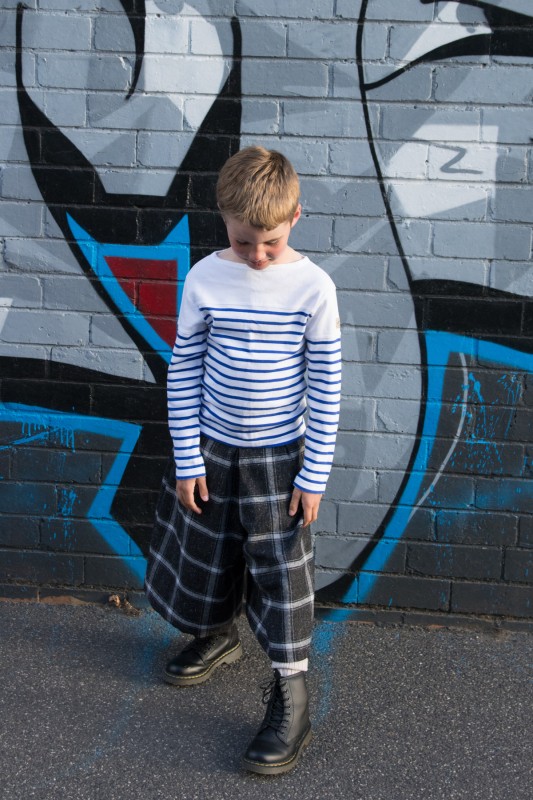 So, what was at the gallery that had me sewing Lunch Box culottes for my six-year-old son? Simply the most fabulous collection of the work of Jean Paul Gaultier. I'm no great follower of trends, nor am I ever particularly on style with my own dressing, but I love a bit of high fashion with humor. Throw in a designer who just oozes Gallic charm, and lots of stripey tops, and I'll call myself a fan!
My kids were both intrigued by the exhibition. From the intricate beading (including some rude-y bits) of gowns through to film costumes and mermaid dresses, they were enthralled. My son especially liked the London Punk look from the mid-1980s.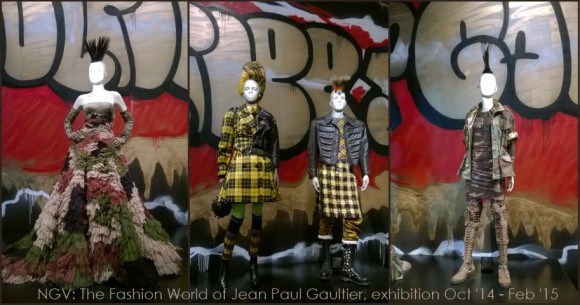 But it was when we saw the mannequin of Jean Paul himself that I was hit with the compulsion to sew culottes for the boy. With the Lunch Box pattern having been released only a week or two earlier, I knew I had my starting point, and I immediately began thinking of the fabric and modifications I'd need to make.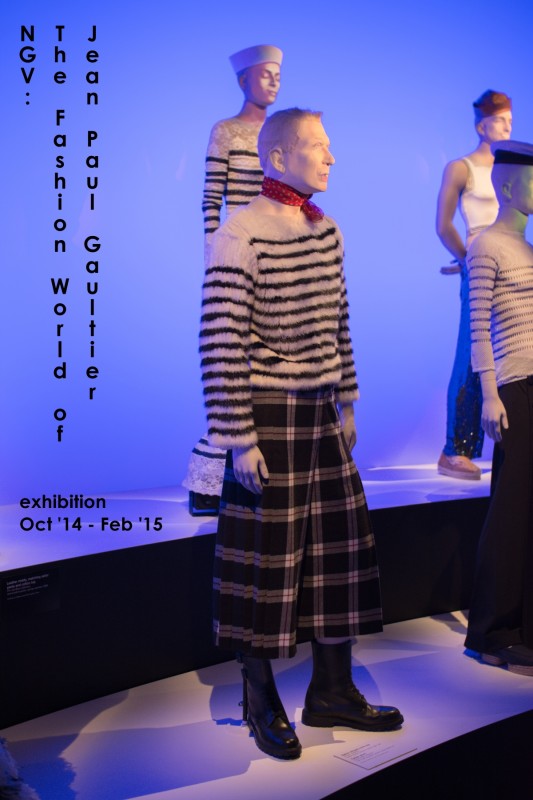 I'm not going to turn this blog post into a "how to" tutorial as I'm doubtful that everyone else's sons are going to want culottes. But for the record, my son loves these pants and his new boots, and thinks he is super cool. My husband's reaction to the outfit was more like that of a person at a pickle eating contest eating their hundredth pickle.
What I did do to boy-ify the Lunch Box culottes was to redraft the pattern pieces to go straight down from just below the pockets and from the inner crotch. This takes a lot of the flare out as well as making plaid matching possible at the side seams. Then I pinched about 1 inch of width out of the back pattern piece to slim them a little at the back.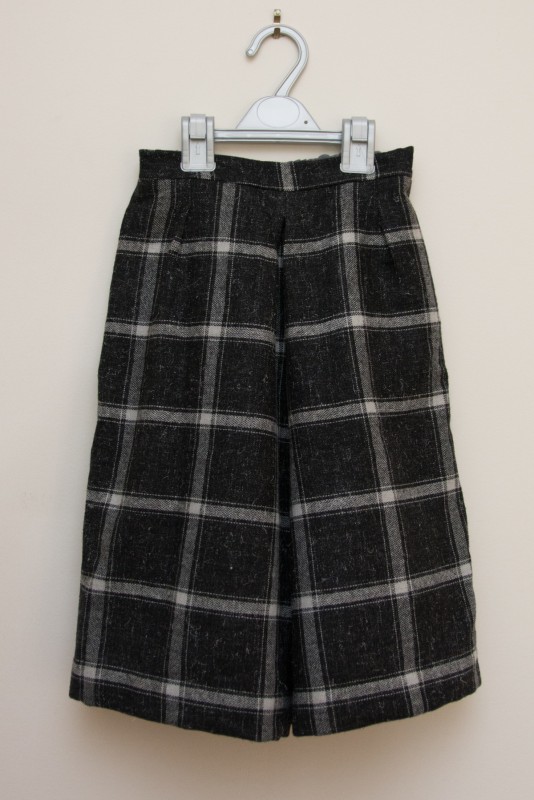 As I was using a cheap, scratchy wool I also lined the culottes. This is certainly worth doing and is surprisingly easy. I cut an additional front and back pair of culottes from Bemberg lining, then stitched straight up the side seams and trimmed off the pocket flap excess.
I assembled the culottes right up to the point of attaching the waistband then basted my lining culottes to my main culottes. The waistband was then sewn on as per the instructions. I didn't bother pleating the lining, but gathered it instead in the spots where the pleats would be. Because of the scratchy wool I cut the waistband from one strip of main fabric joined with a strip of cotton, such that the inner waistband is a nice, soft cotton.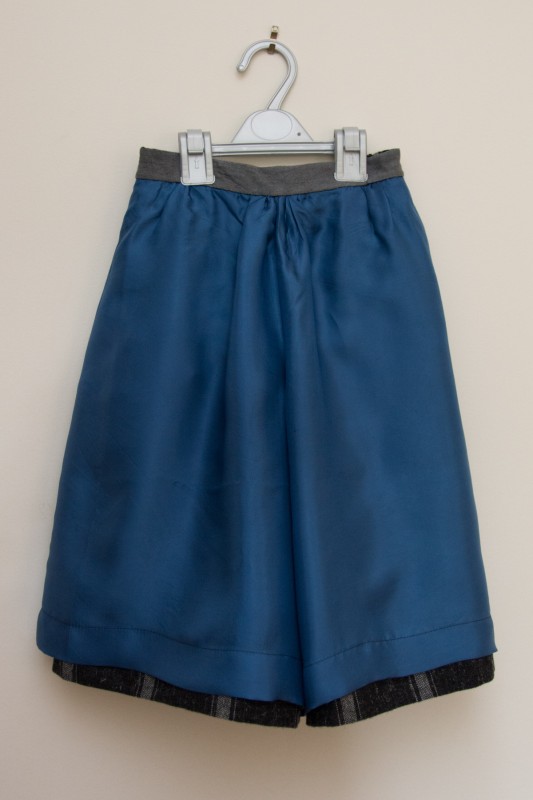 The look of surprise on his face when he felt the lining on his legs for the first time was priceless. With the rare exception of lined trousers this sensation is one that boys seem to miss out on.
Styled with boots and a bit of attitude, I don't think the culottes look at all girly, but they definitely look different to any ready-to-wear boy's clothes I've seen. A step too far? I'll let the kid decide and watch to see how often they get worn, and how he wears them.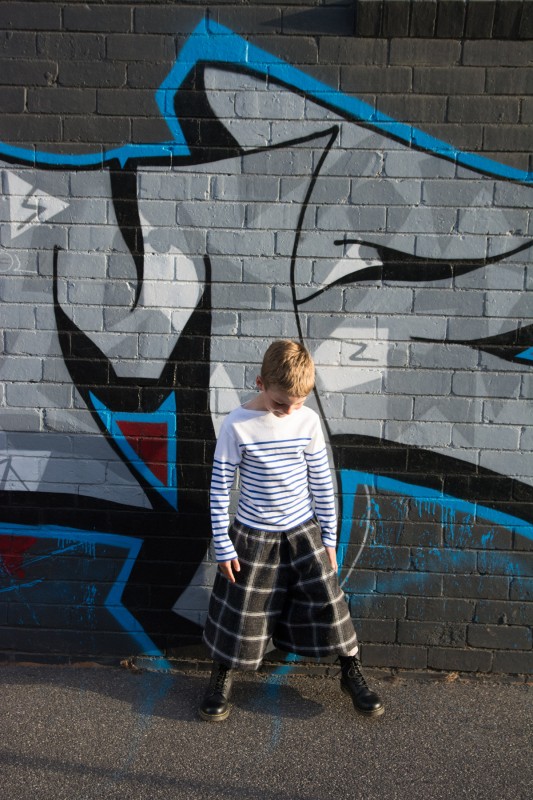 I'm curious, does anyone else appropriate haute couture for their own kid's clothes sewing? Do you play with gender stereotypes in what you make for your kids? Get carried away with ideas, or use your sewing ability to make those garments that you can't find anywhere in the stores?
If you like the idea of playing around with your sewing but your son wouldn't want to wear culottes, then perhaps his teddy bear would. After all, dressing up teddy was how Jean Paul Gaultier started his illustrious career in fashion!
Well, what do you think, hilarious or hideous?