Thank you all for your enthusiasm over the new Oliver + S patterns! I'm thrilled that you like them so much, and I can't wait to see what you sew with them. Rachel's round-up of the new Butterfly pattern earlier today highlighted quite a few different versions of the blouse and the skirt. I know many of you are busy selecting fabrics and sewing up your own versions, and it will be fun to see the end results!
With that in mind, I know that many of you also enjoy a good sew-along. Is it the community aspect, or do you like photos to help you along? Or both? We thought it might be nice to host sew-alongs for the new patterns. And rather than put them here on the blog, I thought that for this round we would host them on our discussion forum so they'll be available to you as long-term reference and will be easy to find. And since we have so many other things planned for the blog, we'll keep you busy in both places!
So with that in mind, here is a tentative schedule for the sew-alongs: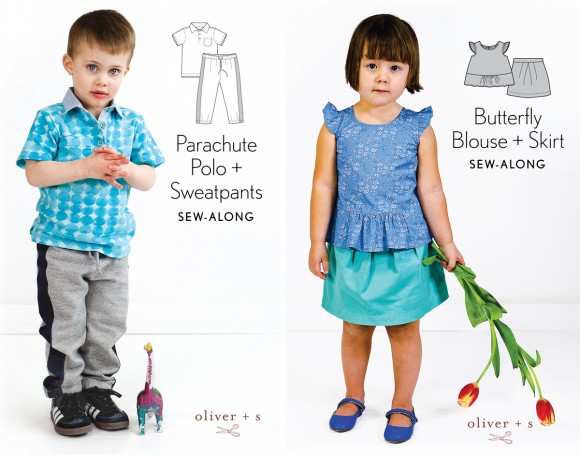 Parachute sweatpants:  May 4-8 (next week!) I'll show you how to add pockets to the sweatpants, and you can use this same technique to add pockets to the Butterfly Skirt. It's a really easy tutorial that will get you thinking about pockets differently!
Butterfly blouse: May 18-22. This is such a simple top with lots of opportunity to embellish and change it up in a variety of ways. We'll have tons of fun with this one.
Parachute polo: June 1-5. Are you intimidated by the placket or the collar? Don't be! We'll walk you through it.
Butterfly skirt: June 15-19. The easiest pattern in the group. Add pockets using the Parachute Sweatpants tutorial, or we'll show you some other fun ways to change it up, too!
That will give us a week between each sew-along in case you need to get caught up. Who's in? I can hardly wait!