The second of our new patterns for this season is the Butterfly Blouse +  Skirt. I thought we needed more separates for the girls. They get lots of cute dress patterns, but they also need sportswear items to round out their wardrobes. This outfit includes two cute little styles that will be perfect for spring and summer, and the skirt will be especially great for year-round wear.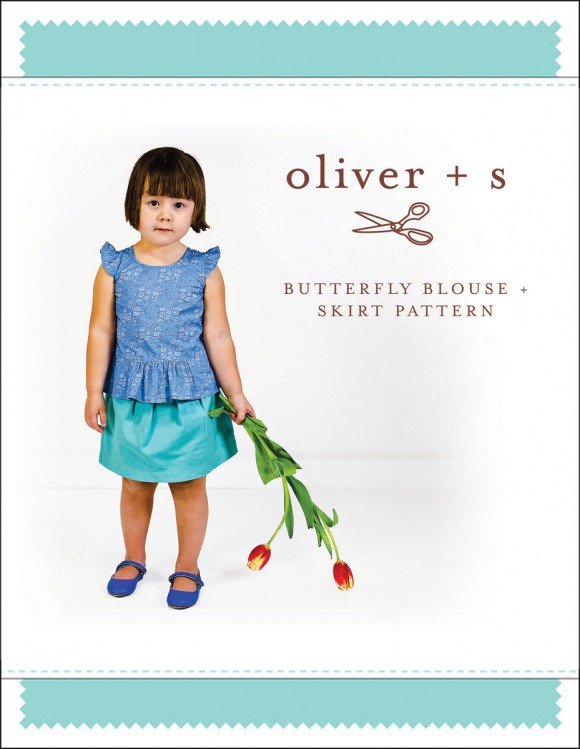 The top has a gentle A-line/trapeze shape that gives it a relaxed, breezy look. The pleated skirt is a pull-on style that will be extremely versatile for a wide variety of events and seasons.
The blouse can be sewn with either a sweet little flutter sleeve (View A) or a classic cap sleeve (View B), as modeled by these two little cuties.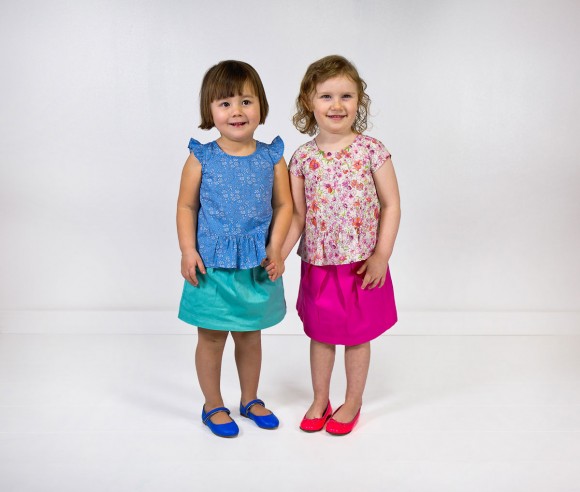 The blouse features a back keyhole opening with button closure and a subtle peplum with gathers at the front. It's a classic-looking style that still has a contemporary feeling, I think. This style feels a little bit like the Ice Cream Dress and the Roller Skate Dress, I think. It has that same simplicity, with style that allows the fabric to shine.
front
The skirt is a simple pull-on A-line skirt with front pleats and an elasticized back waist. The construction on this skirt is really easy and fast, which makes it an extremely versatile pattern that would be just as great for back-to-school (when that comes–let's not rush anything here) as it would for a relaxed summer day or even a fancy occasion. Our little models didn't want to take off their ensembles, so I think that's a good sign.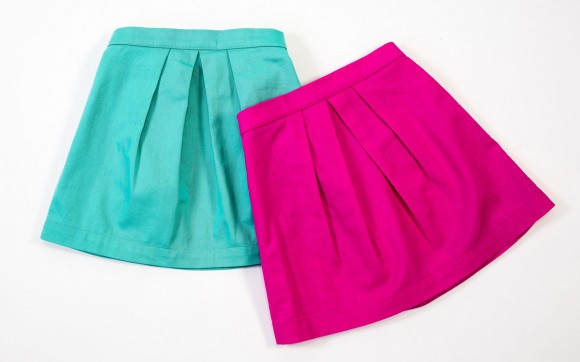 Here are some more views on the mannequin so you take get a better look.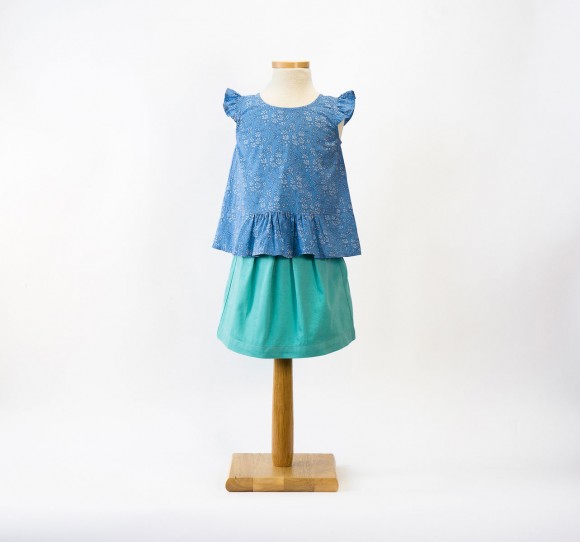 front, View A blouse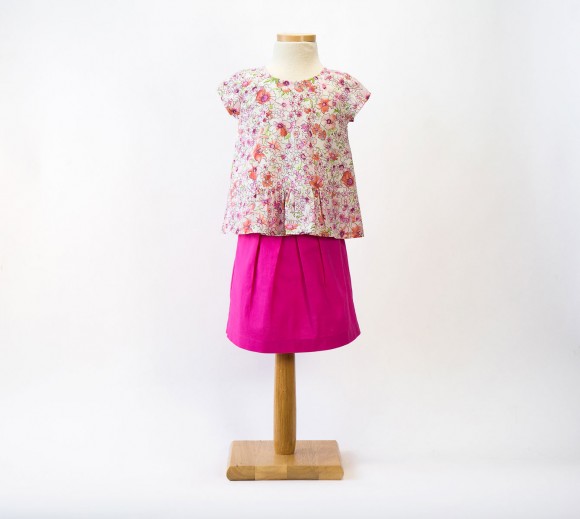 front, View B blouse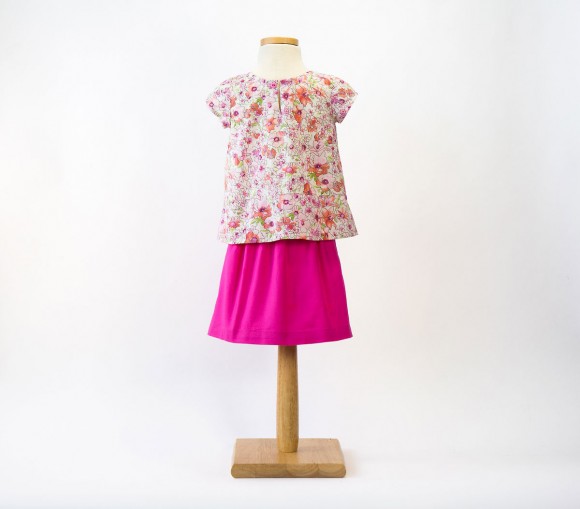 back, View B blouse
S always enjoys modelling the new styles. And it's much easier to get her to stand still for a photo than it is with the three-year-olds.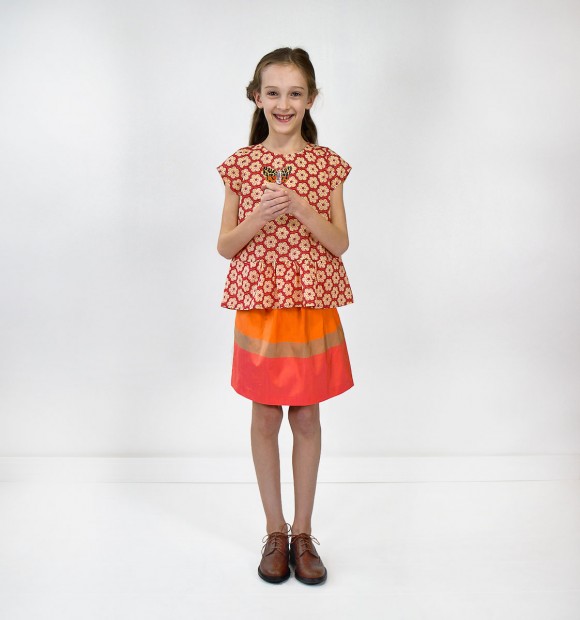 The blouse works really well with lawn, voile, rayon, double gauze, and quilting cottons. The skirt can be made from anything as light as lawn and double gauze to heavier fabrics like fine-wale corduroy and twill. S's skirt is a silk dupioni, so don't forget dressier fabric options for this style, too. I chose rayon for her blouse, and she loves its silky drape. It would be a great outfit for a wedding! I think it will be really cute with a cardigan in the fall, too.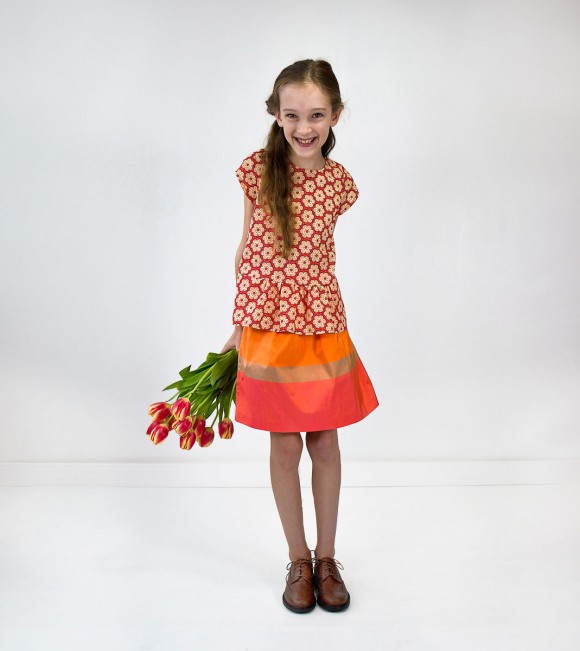 I hope you'll enjoy this pattern! Like the Parachute pattern we announced yesterday, this new style will be available in both paper and digital format and will go up for sale in the shop section of the website early next week.