We know how much you love customizing Oliver + S patterns. With that in mind, we like to share ideas on different ways in which the patterns can be made up. One way is by adding ornamentation. I've been seeing a lot of pom poms and tassels on clothing and accessories lately. And it got me thinking that these cute little embellishments could be fun to work with. Applying some of them to the patterns could really change a look and give a whimsical, bohemian, tribal, or folk vibe. I've gathered some inspirational images to share with you today, but before we get to that, let's first talk about a little bit about the trims.
For the most part, I think the easiest one of all would be to add pom pom trim because it's so readily available at fabric stores and effortless to sew onto hems.
Yarn pom poms are really simple to make. You can purchase a pom pom maker, but you can make them without a special tool like in this tutorial.
Want to learn how to make your own tassels? Learn how by watching a video on making a tassel necklace with Liesl on Creativebug.
If you don't have the time or desire to make these embellishments, here is a resource to buy fashion tassels and pom poms.
Now let's move onto the inspiration and you will see just how easy they are to incorporate into Oliver + S patterns. Go ahead and add some frill, it's like the icing on the cake.
1) For this look try the Garden Party Dress and hem the sleeves with pom pom trim (with the dress made out of a cotton crinkle gauze).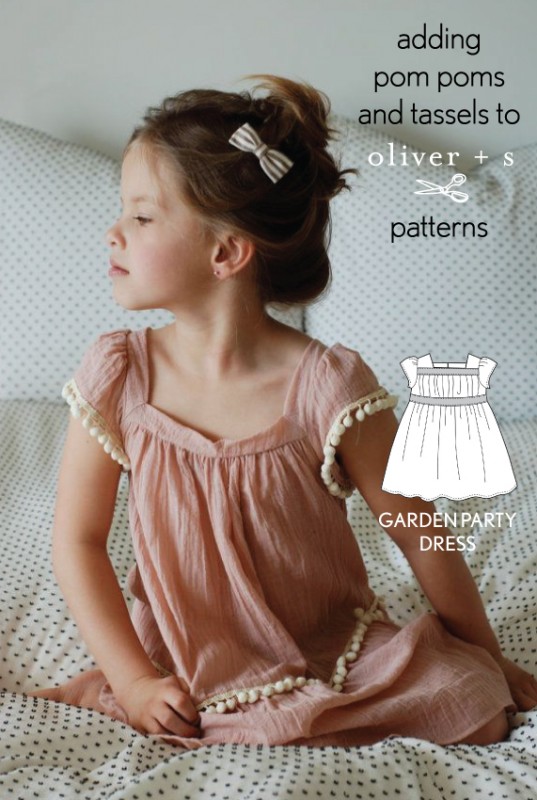 2) How about a cute Swingset Skirt with pom poms at the end of the drawstrings that tie at the side?
3) Recreate a similar dress to this one using the Hide-and-Seek pattern. Sew pom pom trim on the sleeves and bottom hem and add some drawstring ties with tassels at the ends. If you would like the opening in the front, see our front placket tutorial.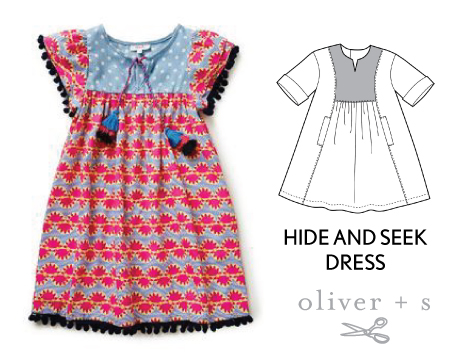 4) Take the Garden Party Dress and trim the sleeves with tassels. See another version in different fabric and colors.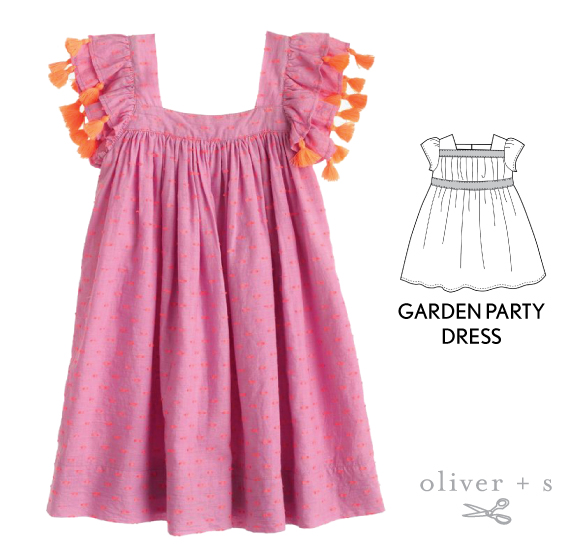 5) Make this fun frock by using the Hide-and-Seek Dress pattern where the yoke is trimmed with tassels. Have a peek at a blue version.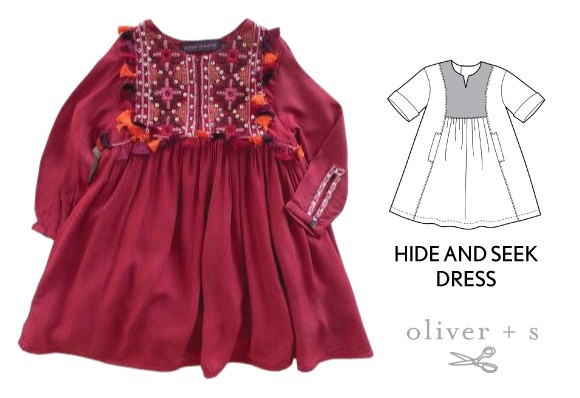 6) Here you could add some tassels at the end of ties on a sleeveless Playtime Tunic. This one's got some added embroidery, including a blanket stitch along all the edges.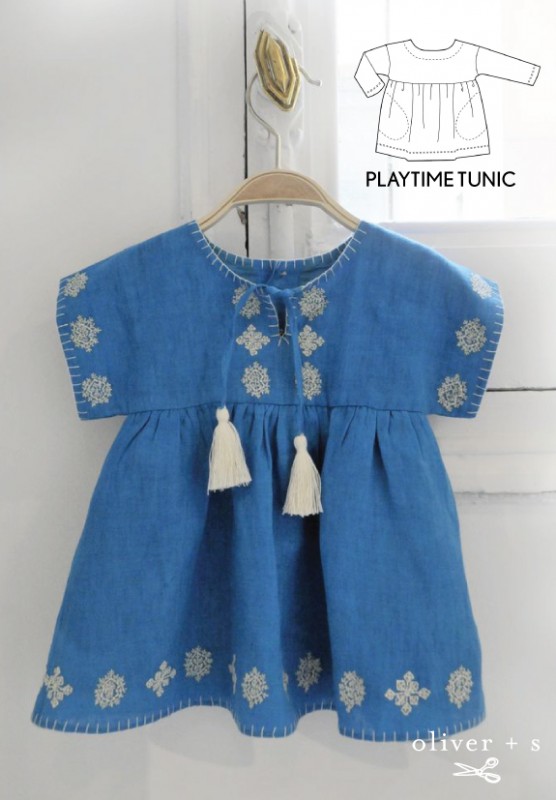 7) Jazz up a Roller Skate Dress with tassels on the bodice and tassels at the end of ties, hand sew some sequins on the bodice, too.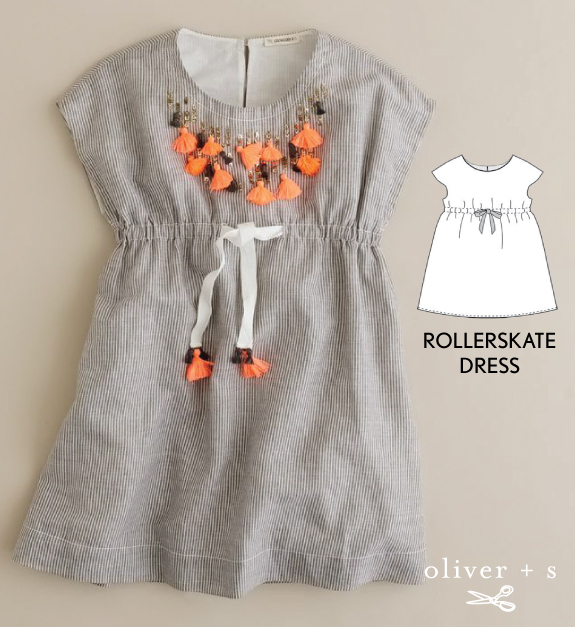 8) For a similar result take the Garden Party Dress with sleeves and hem trimmed with tassels.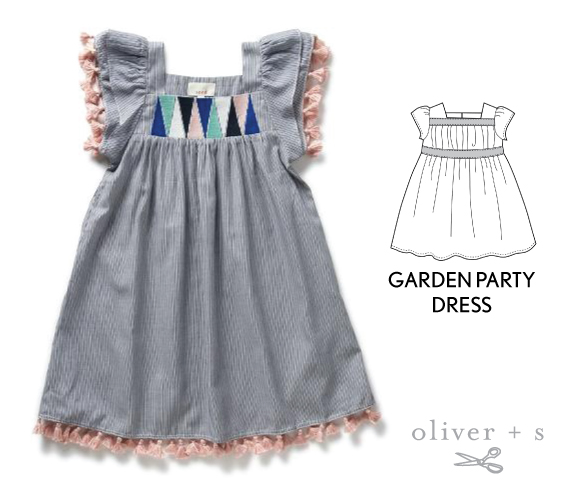 9) Add a little fun frill to a top. Instead of spaghetti straps, create a Swingset Tunic with tassels at the end of ties (like on the Popover Sundress with bias ties at the shoulder).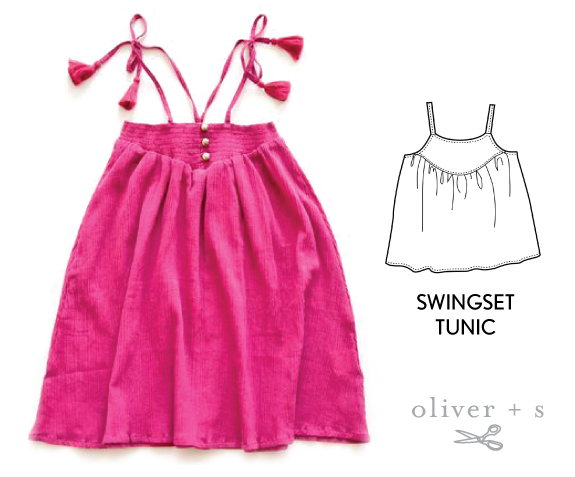 10) And finally, let this inspire you to sew up a Swingset Skirt hem trimmed with tassels. I also noticed there are buttons sewn on the ends of the drawstrings, what a cute detail that is!