The original four Oliver + S patterns (released in spring 2008) only go up to size five. They are the: Puppet Show Tunic, Dress + Shorts, Tea Party Sundress + Playsuit, Bubble Dress, and Swingset Tunic + Skirt. Being a unique group of patterns, a topic called the size 5 project was started in the discussion forums. The general idea behind the size 5 project is to make a child something from one of these patterns before they size out of them. It acts as a great motivation to sew another one before packing the patterns away forever. Play along if you'd like. To kick off the project, Brittney is starting out with the Puppet Show pattern. Today is a round-up. Be sure to stop by tomorrow for the Puppet Show Shorts sew-along. Thanks so much for being here, Brittney!
The Puppet Show pattern holds a special place in my heart, which is why I am so excited I am able to highlight this great pattern. When I first started trying to teach myself to sew, I tried many, many pdf patterns looking for the 'right' one. I wanted them to be easy to piece together, easy to sew, decent instructions and most of all something that would fit my kid well. I nearly gave up, but I had been bitten by the sewing bug and decided to give it one last go. I had read so much about the Oliver + S brand, but the fact that they were paper patterns and that I would have to wait for shipping kind of made me hesitate. Well, as it turns out, they had just started offering PDF patterns, the first one being the Puppet Show. I was so impressed with the PDF within a few weeks I purchased ten of the paper patterns and Little Things to Sew and have never looked back. The rare times I make something from another pattern I always think to myself, "What would Liesl have me do?" No joke. Sewing is my sanity, and I owe it all to Oliver + S, and to finding the Puppet Show pattern.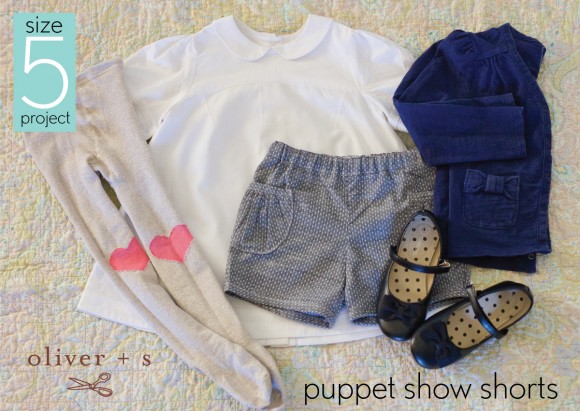 The Puppet Show shorts are a staple for summer in our house, I thought I would highlight some I found in the flickr pool that have inspired me.
First of all, you can't go wrong with a pair made in denim.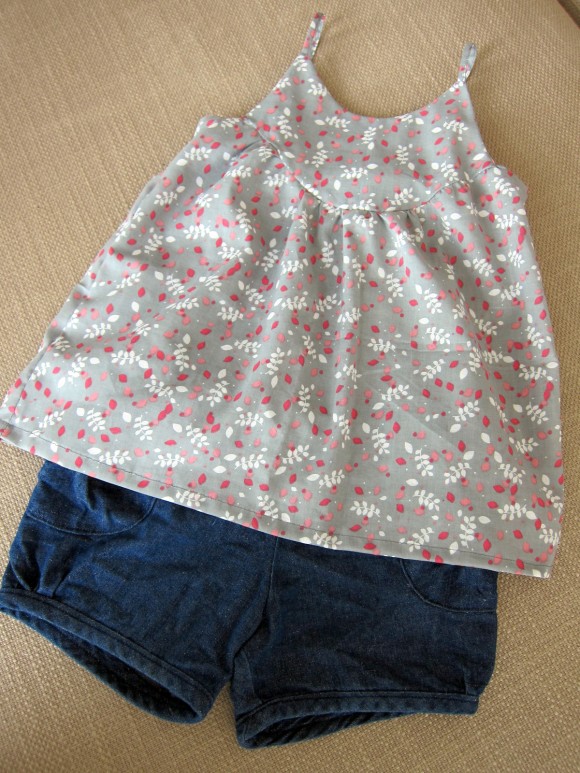 Why not try some chambray, and add a little flair by using something fun for the bindings?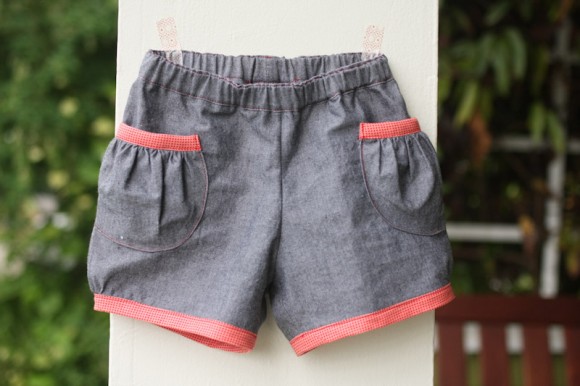 Another way to jazz up a solid pair is with a couple of dainty bows…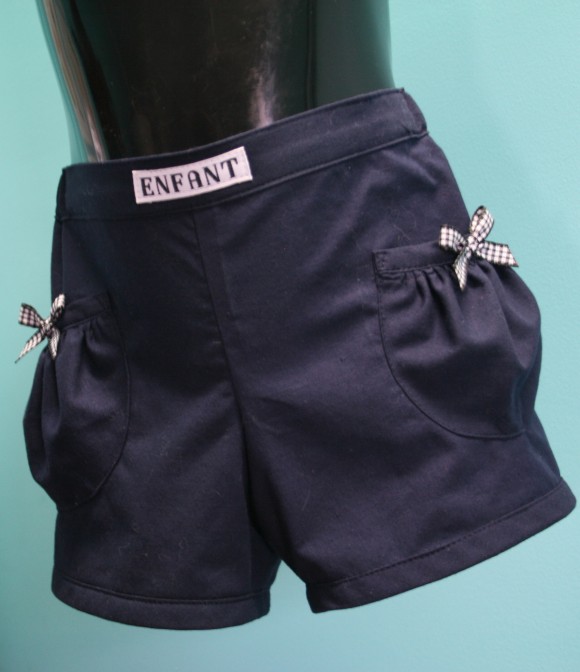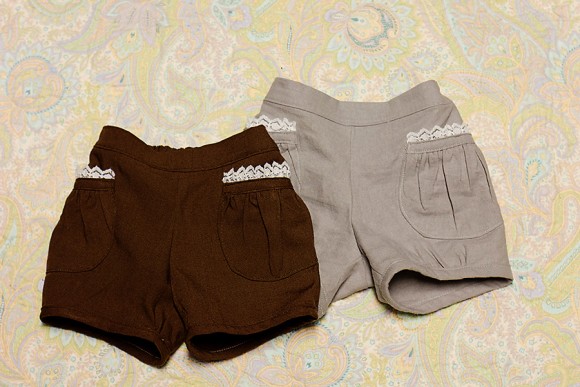 …or even by making just the pockets in a print.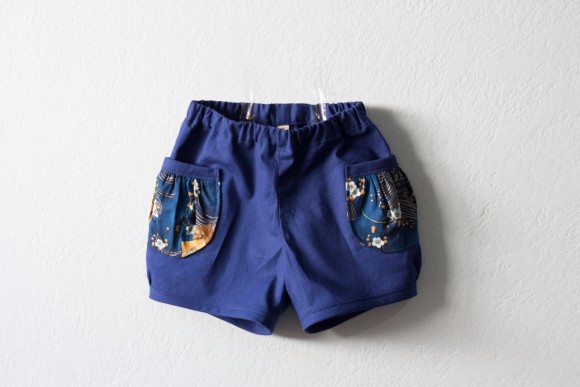 They look great in a large print,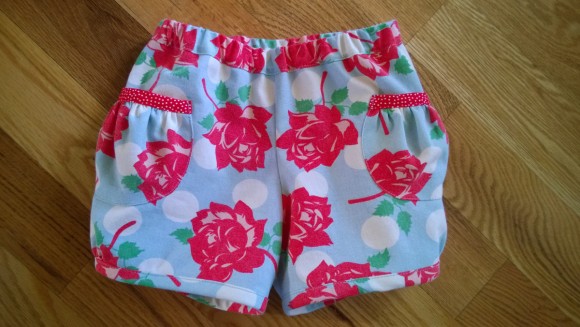 equally as adorable in a smaller print.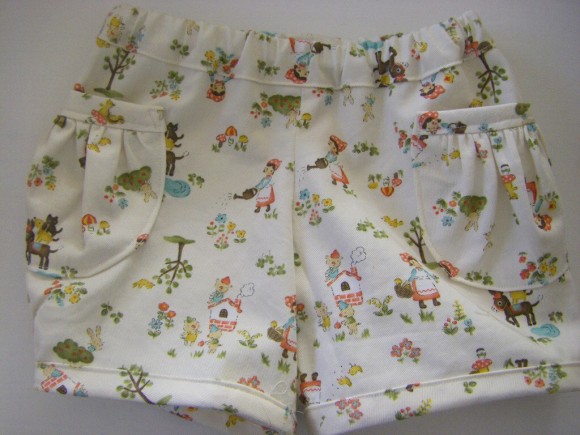 I have always meant to make a pair in gingham and this pink is just so girly.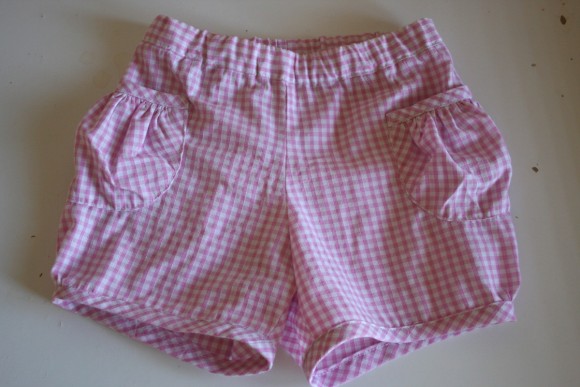 Why not try a striped material? I love the subtle look of the stripes going in different directions.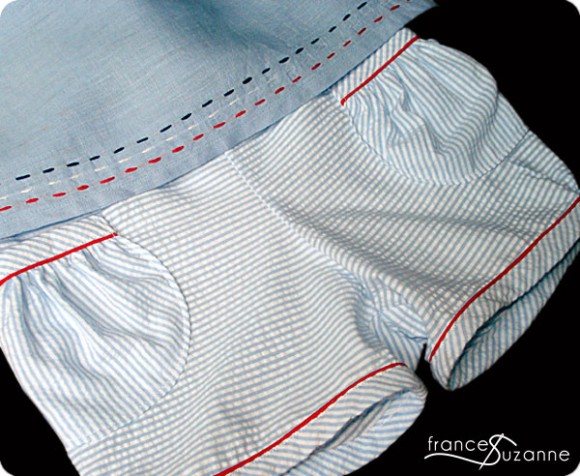 And what to do if it is still looking like winter in your neck of the woods? Why not pair them with some cozy tights and a cardigan to make this pattern work for any season.
I hope this helps inspire you to join us tomorrow in our sew-along of the Puppet Show Shorts for our first installment of the Size 5 project.