Less than a year ago the Lullaby Layette, the first collection of patterns for babies, was introduced. Can you believe in that short time it's already become someone's favorite pattern? Tricia is stopping by today to talk all about the Lullaby Layette and share her many wonderful versions of it. Be prepared for some baby cuteness. Thanks so much for being here, Tricia!
Hi, I'm Tricia, and while I don't have a sewing (or any other type) blog, you'll find me as "vothgirl" in the Oliver + S discussion forums and Flickr group. I have two young daughters. Elinor is 2 1/2 and Olivia is now (sniff!) almost 8 months old. I've been sewing Oliver + S patterns for just over a year. I have 23 Oliver + S patterns, out of which I've sewn parts of 14 (with a 15th – the Lunch Box Culottes – in progress). While I've never been a successful blogger or journaler (even as a child), when I was asked to contribute to the "my favorite Oliver + S pattern" blog series, I jumped at the chance to share my favorite pattern!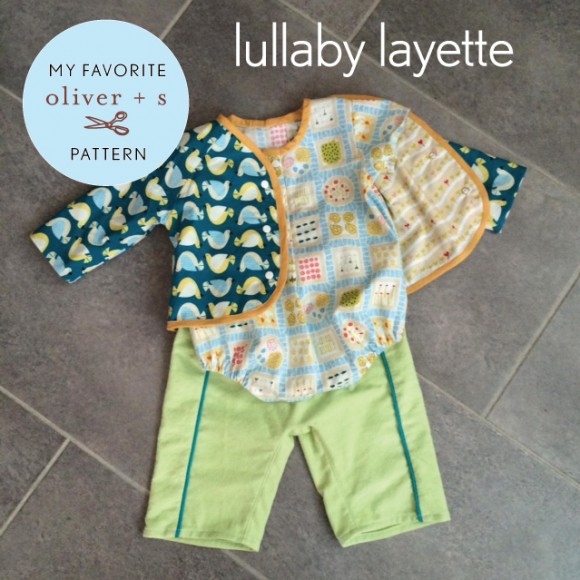 Like most Oliver + S devotees, I could probably honestly say "this is my favorite pattern" when sewing any of them. However, the pattern I've sewn the most, and keep coming back to, is the Lullaby Layette. I know I'm not the only one who jumped for joy when Liesl released an Oliver + S pattern for babies in March 2014. At the time, I was 8 months pregnant with my second daughter, so the pattern release came at the perfect time to start sewing some lovely new things for her – because even second babies should get some new clothes, right?!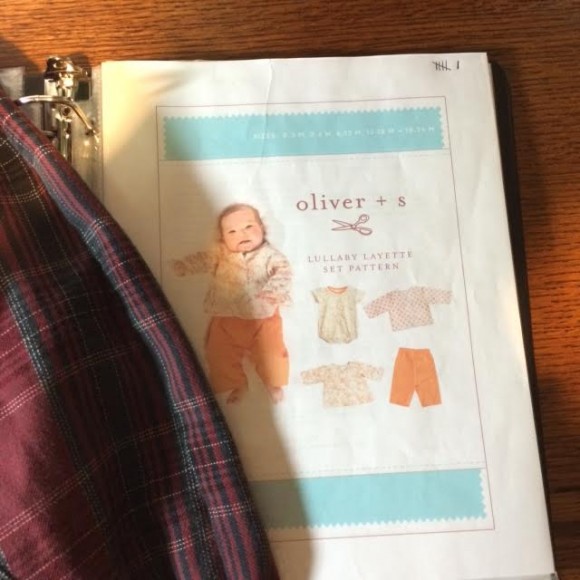 Before I go any further though, I have a confession to make. A deep, dark, almost-ended-like-a-Shakespearean-tragedy type of confession: after buying the digital pattern before the electronic ink was even dry, and sewing it up for the first time, the Lullaby Layette became my least favorite pattern. In fact, I disliked the sewing experience so much I almost laid the pattern aside for good! The reason: I hated setting snaps, and none of the snaps on my first layette bodysuit or jacket really set properly. It was so frustrating to sew something only for it to be spoiled at the very last step.
That could have been the end of the story. Thankfully, it wasn't. After talking with several lovely ladies on the Oliver + S discussion forums and on Flickr, I realized that the problem wasn't with the pattern, but with my horrible snap plier tool that mangled every snap I tried to set. After Liesl wrote a blog post about the SnapSetter tool and snaps that are now offered in the Oliver + S online store, I decided to get the tool and give the Lullaby Layette a second chance. The SnapSetter is magical! Flawless snap insertion every time, and who doesn't like getting to whack something with a hammer?
Needless to say, having the right tools completely changed my feelings about the pattern and the rest, as they say, is history. Over the next few months I went on to sew four more outfits from the layette pattern, falling more in love with the pattern each time through it.
For my first run-through of the pattern, I used some adorable Classic Pooh fat quarters and some flannel scraps to make the bodysuit, pants, and jacket in the 0-3m size. There wasn't enough fabric for the bodysuit sleeves, so I bound them with bias tape using the same method given for the neckline. Snap frustration aside, it was adorable and I was proud of sewing something for my sweet Olivia to wear.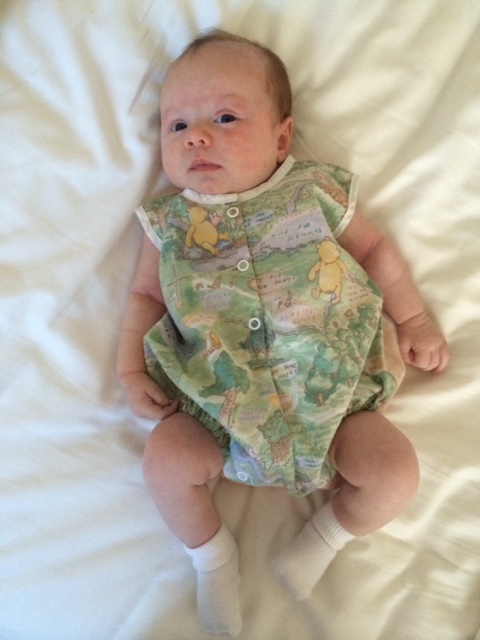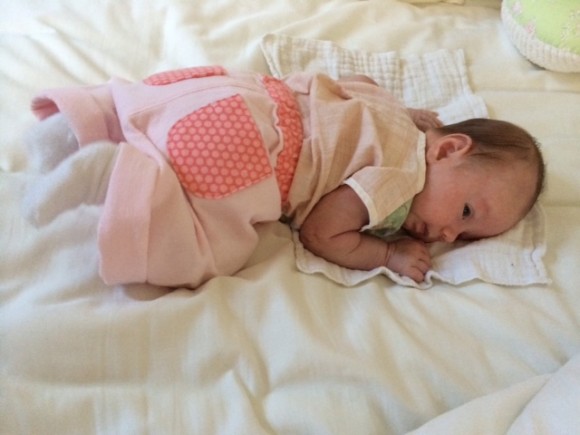 My second time sewing the pattern, I decided to make an outfit for my 3-month old niece that would match the Fairy Tale Easter dress I was sewing for her older sister. For this and all subsequent layettes, I used the bias tape application method from the Little Things To Sew book (also found here) as I prefer it over the method in the pattern instructions. I slightly cropped the layette pants and added some cotton lace trim at the bottom and on the back pockets. It looks so sweet!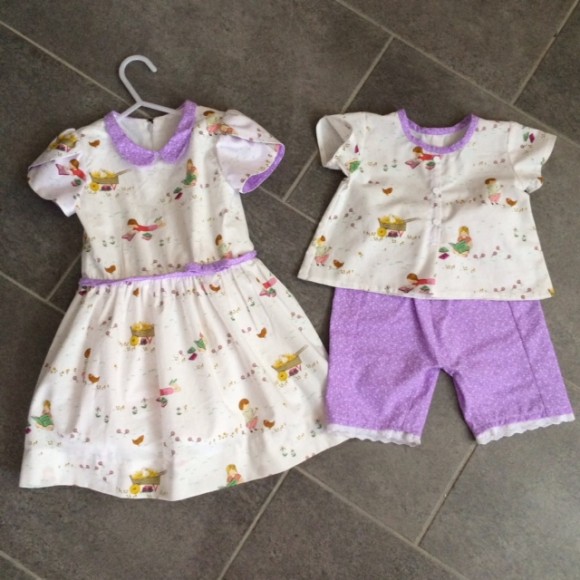 The second time through the pattern completely changed my attitude towards it, so when I heard that my sister-in-law was expecting a baby boy, I immediately started fabric shopping to sew him an outfit. I had fun choosing fabric that certainly wasn't feminine, but didn't stick to the usual blues and trucks or baseball themes so often found in baby boy apparel. I experimented with piping on the pants. The contrast colors gave it a bit of a sporty look without being over the top, I think! I made my own bias tape for this set, and am never buying it again, it's so easy to make it yourself!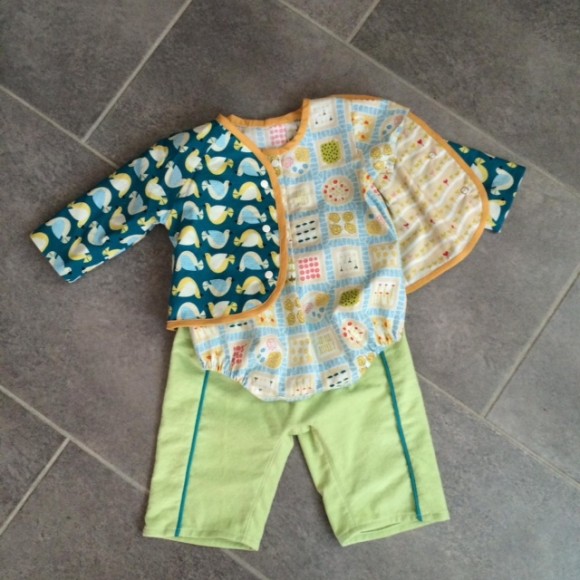 Layette set #4 holds special significance for me, because I made it (and Ellie's coordinating chambray Garden Party dress) for Olivia to wear to the airport to welcome my husband home from deployment and meet her daddy for the very first time. I used some appropriately cheerful Bonnie & Camille "Happy Go Lucky" Moda fabric for the layette shirt, and had just enough leftover fabric to add a gentle ruffle or peplum to the bottom.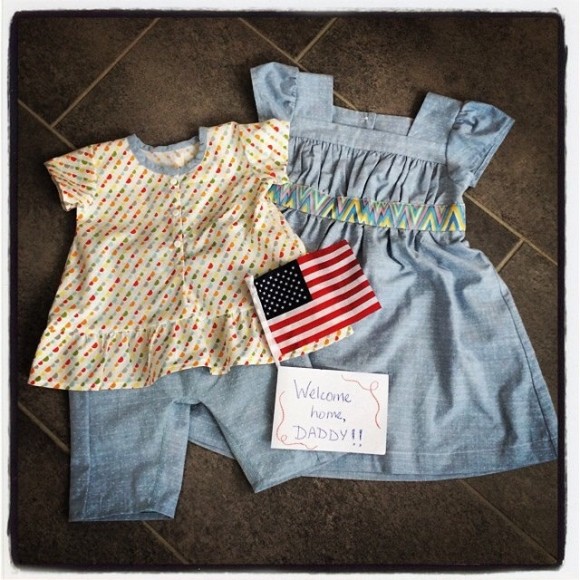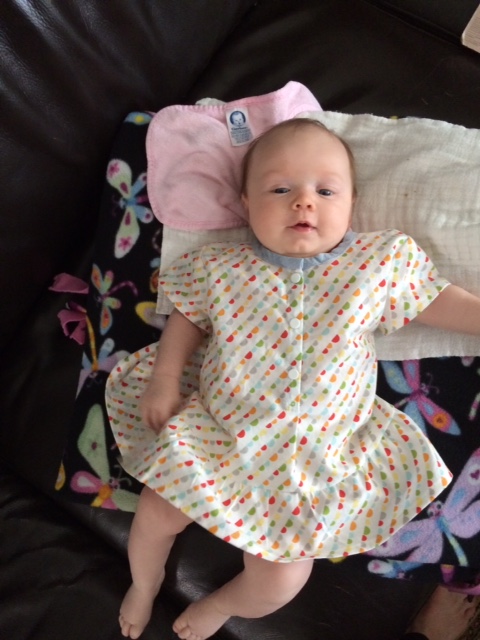 It is still my favorite version out of all the layettes I've made.
At this point, I think it would be safe to say that I was addicted to this pattern, and actively searching for reasons to sew another set. So when a friend of mine, who was in the process of adopting the sweetest boy from Africa, found out that she was miraculously pregnant with a precious girl, "I must sew her a layette!" was my first coherent thought after the initial tears of happiness. I wanted to tie in the journey my friend was on to bring home her African son, so I asked the forum ladies for fabric advice and since I think of all the amazing wildlife when I think of Africa, this was the result: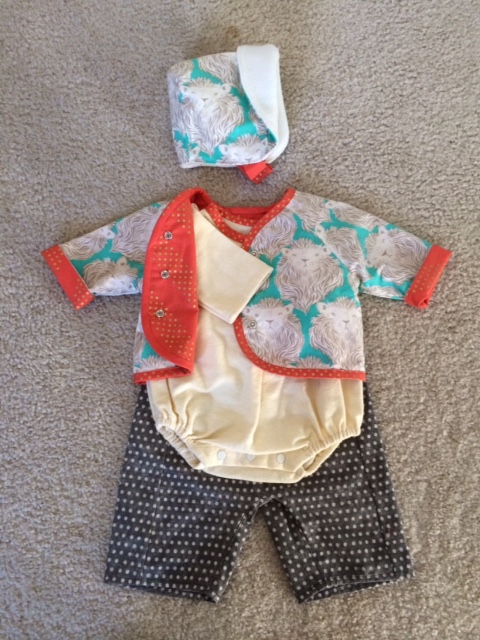 I made a self-drafted fleece-lined bonnet out of leftover material, since her baby is due during the winter.
I love the Lullaby Layette pattern because it is easy, fun, and quick to sew (making it a great gift!), yet doesn't skimp on the professional finishing details. I greatly appreciate Liesl's dedication to good design, even in the small things – and what is smaller than a layette on a sweet, small baby? Every outfit I've sewn from this pattern has strong memories and emotions wrapped up in it. I guess you could say I've journaled 2014 in the stitches of all the layettes I've made this year.
And because I'm addicted to this pattern, and am excited to continue sewing the larger sizes for my own sweet girl, I decided to whip up layette outfit #6! You didn't think I would stop at 5, did you?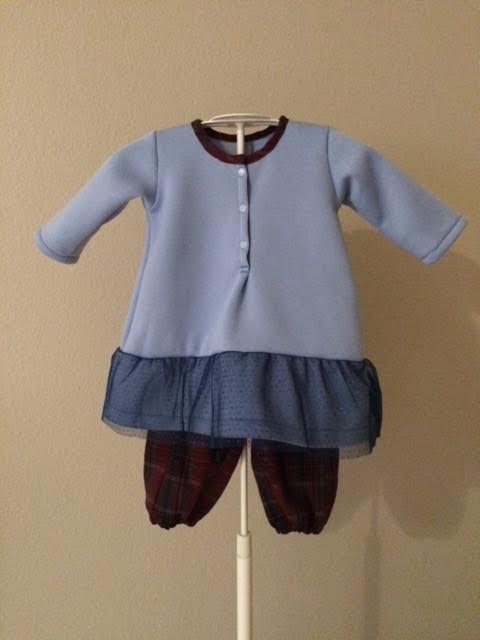 For this one, the top is made out of sweatshirt fleece, and I decided to add a peplum, like I did for layette #4, to make it more of a dress, because a sweatshirt dress sounds wonderfully cozy. I had some leftover sparkle tulle from making Onstage Tutu Skirts for my nieces for Christmas, so I added a tulle overlay to the peplum (which I promise is straight, despite what the picture seems to show otherwise!). Those amazing snaps set perfectly even through the thick fleece. The plaid pants are made from an old pair of adult flannel pajama pants, and I added a narrow casing and 1/4″ wide elastic to the bottom of the legs to give it a different look. I've found this trick to be very helpful for ensuring a smooth, un-twisted waistband.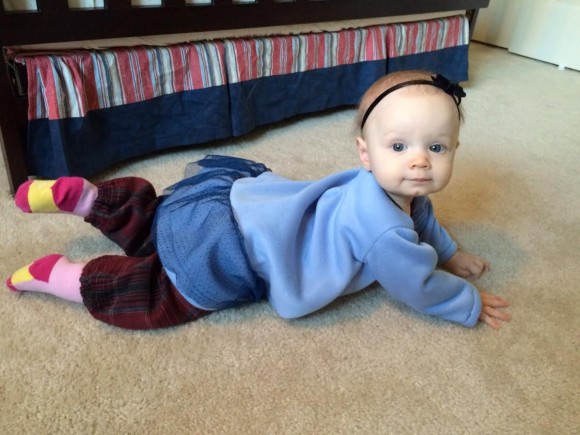 If you haven't sewn up this pattern yet, I strongly encourage you to try it soon! It is simple yet very customizable. There are some really adorable versions floating around the Flickr group right now. I love the idea of sewing the pants out of denim with some contrast top-stitching to make baby jeans!
So that's my favorite Oliver + S pattern. Thank you for the chance to share some of the fun I've had with it!
~ Tricia