The one and only Marie-Michelle has returned for a visit and we are delighted to have her. Marie-Michelle creates haute couture for kids using exquisite fabrics. In fact, her Etsy store description states: "High end, one-off, handcrafted children's garments made up in lush and unconventional fabrics." Do you remember her two interviews from a few years ago? If not, you must read them! And you absolutely must go see her Oliver + S creations featured in Sew Beautiful magazine, you'll be in for a real treat. You can also discover more of her talents on her French language blog, called Rastaquouère. We are thrilled that she is stopping by today to talk about her favorite Oliver + S pattern. Great to have you here, Marie-Michelle!
Howdy and good things all around to you for the new year! It's snowing seals and polar bears here at the foot of the Canadian Rockies and it seems as good a time as any to stay curled up indoors, writing, with a steaming cup of tea and some Nina Simone! When I was first asked to do a favorite Oliver + S pattern post my mind did a crazy zigzag down memory lane. It's been awhile since I've worked on a child sized pattern and I started to realize how much I miss that. Oliver + S patterns have been instrumental in my sewing journey and I owe a lot to the collection's well drafted, clean and simple lines, and concise instructions. Although I seem to have compulsively made a lot of Bubble Dresses, I'm not one for repeat making from a single pattern and having a boy has kept my little girls' dressmaking fantasies in check. When it came to choosing time, I immediately grabbed the Ice Cream Dress and blouse pattern. I like an underdog and this pattern, in my opinion, is the small fry with a lot of heart and potential.
The Ice Cream Dress has a lovely modish feel to it, sophisticated and childish all at once. There is a special place in my heart for all things 1960s and I believe this pattern manages to capture the young, modern spirit of the fashionable vanguard of the era while still staying perfectly sweet and polished.
I've only sewn two Ice Cream dresses and one Ice Cream blouse over the years but they represent something very special to me. Most of you are probably well aware of my long standing love affair with fabric and this pattern is stellar for showcasing precious, unusual or well-loved fabrics. The two dress versions of this pattern feature the now tragically unfindable, French rose embroidered silk dupioni I have used in a handful of dresses and continue to use scraps of when making doll dresses.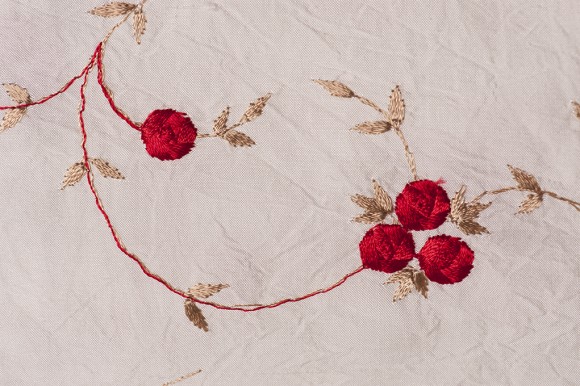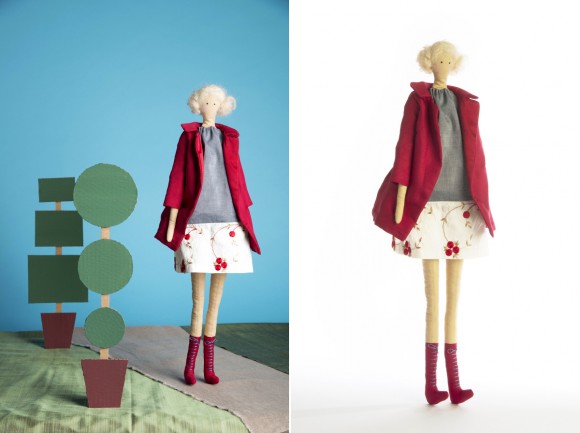 I'm convinced that the act of making eventually exposes things about you – who you are, what place you've given yourself in the world, where you come from, what you hold dear and where you might be going. These dresses were made when I was still living in France and were devised as nostalgic reminders of my native Alberta floral emblem–the fragrant and prickly wildrose. I remember the skepticism evident in my mother-in-law's furrowed brow when I showed her the plebeian railroad striped cotton poplin and hemp denim I wanted to pair with the embroidered silk.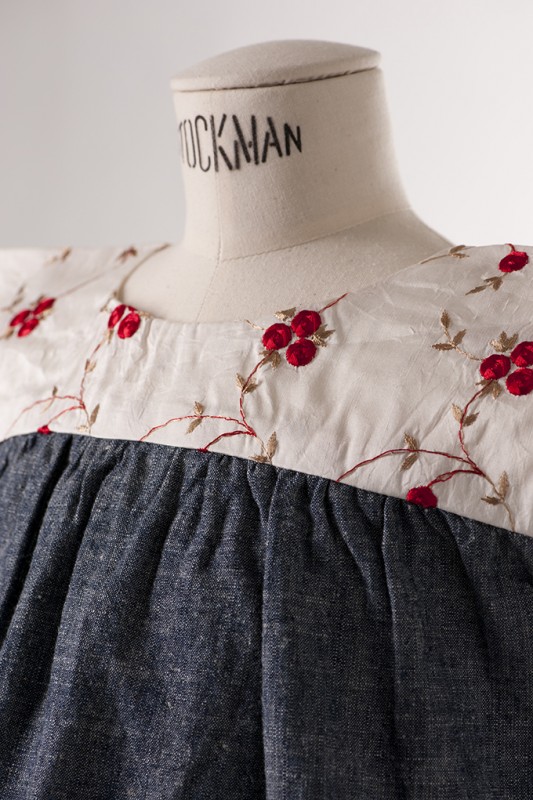 Despite my sewing mentor's lack of conviction, I pressed on, convinced that my fabric pairings would be successful and would manage to say something about the place I came from. And I'm glad I did. To me, there's something hardworking in those dresses and something quiet and refined too, something that reminds me of harsh winters and unrepentant oil rigs and of the kindness of strangers and unexpected beauty found in the landscape.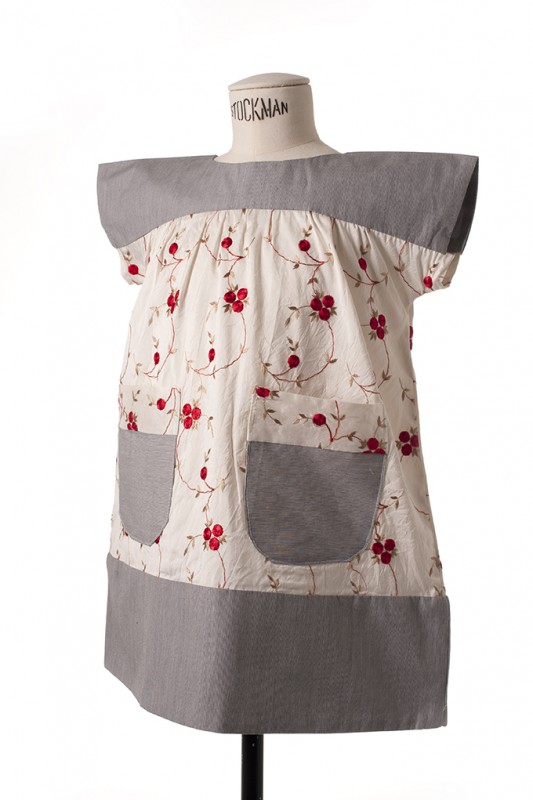 This pattern is so much more than three thick loose fitting strips with patch pockets. It had me at those gently sloping kimono sleeves!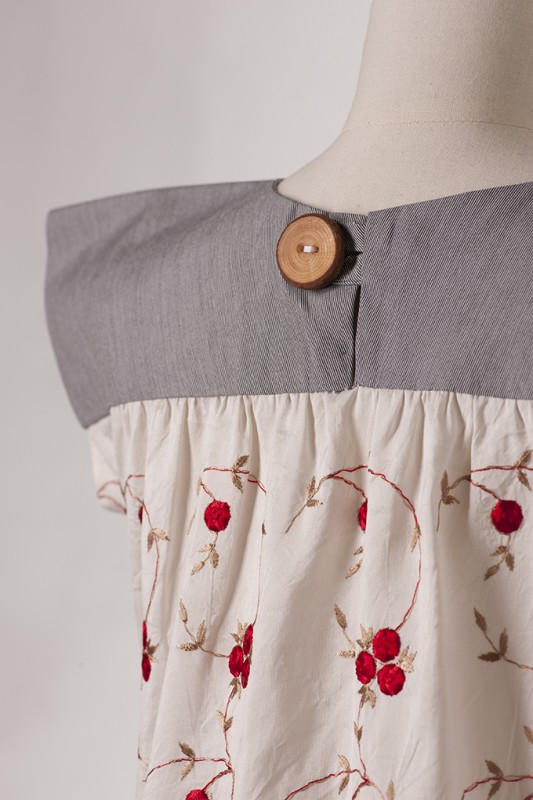 The use of unusual or heirloom notions, like the recycled branch button from Western Canadian forests and the carved bone ladybug button can add interest, give a sense of place and act as conversation starters.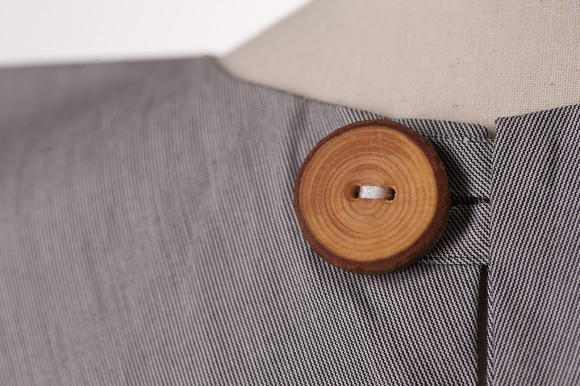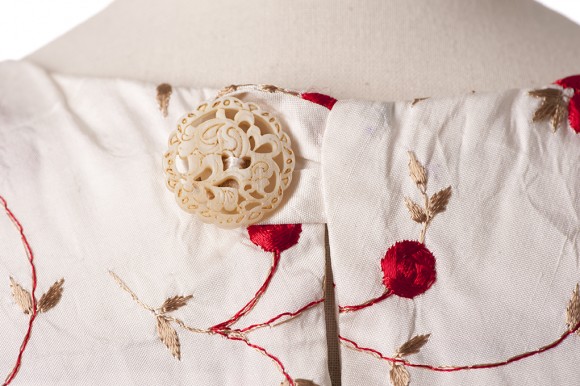 If you're not into mixing up textures, prints, fibers and fabric hands and types, you can always try another (very mod) approach such as color blocking with like fabrics. The Ice Cream dress was designed for color blocking and color blocking has been all the rage on runways recently so go ahead and jump on that bandwagon! Color is a fantastic exercise in creativity and has an immediate and very real link to memory and emotion which is a perfect way to start your own personal stories through the clothes you make. In the words of Georgia O'Keeffe, "I found I could say things with color and shapes that I couldn't say any other way… things I had no words for."
All photography by Julya Hajnoczky
Want a trip down memory lane? See the introduction to the Ice Cream Dress, view A and views B & C from almost five years ago!