Today we are delighted to welcome back our friend, Cindy. You remember Cindy, right? She has stopped by before with her modified 2+2 and Class Picnic Blouse, her family's vacation with Flat S, and her favorite pattern. This time around she is going to talk about how she made some changes to an Oliver + S pattern for her tween. Now I'll hand it over to Cindy.
Sewing for kids in general can be tricky, especially if you have an opinionated child. We've all been there, right? Then just when you think you have a handle on what they like/don't like they begin the transition from child to teenager (a.k.a. the tween years). Not only do you have their often very strong opinion to deal with, you also have to take into consideration their changing body. I've weathered this with two of my kids so far and it's been a challenge!
Oliver + S expanded their size range all the way up to 12 starting with their spring/summer 2010 collection which means that most tweens will still fit into clothing sewn from the patterns. One of my favorite Oliver + S tween outfits is a Jump Rope Dress that I made with a full placket to resemble the Lisette Traveler dress when K was 12 years old.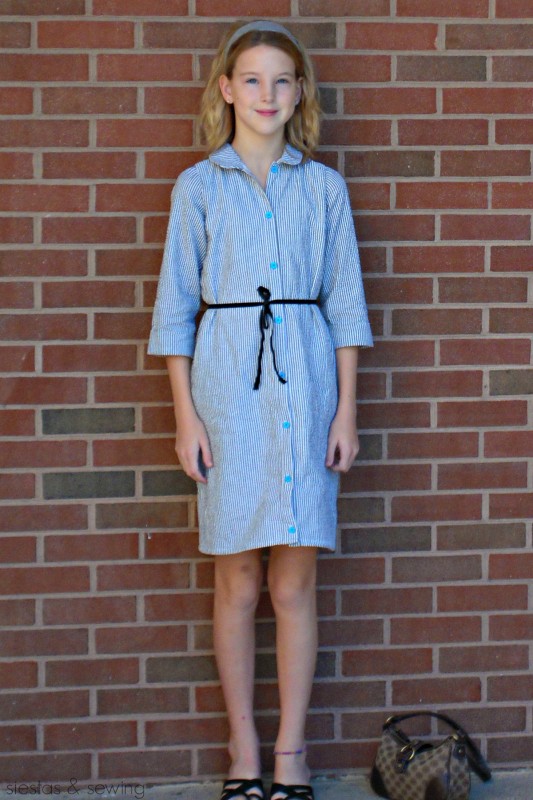 My inspiration was this seersucker Lisette Traveler dress. K, at 12 years of age, still fit into the largest size of the Jump Rope Dress (8) except for height. She was a good 8 inches taller than the 52-54" height on the size chart. I added length to the front and back of the dress by cutting the pattern in half mid-way and adding my extra inches there.
The biggest change is the full length button placket. When I cut the dress out, I cut right down the front fold. I then cut 2 strips of my main fabric 3 inches wide. I applied it the same way you would the original placket except it continues down the entire front of the dress. When it came time to mark the buttonholes, I took the advice of my mom: make sure there's a button at K's bust line so that the dress front doesn't gap and go from there. The buttonholes are approximately 4 inches apart.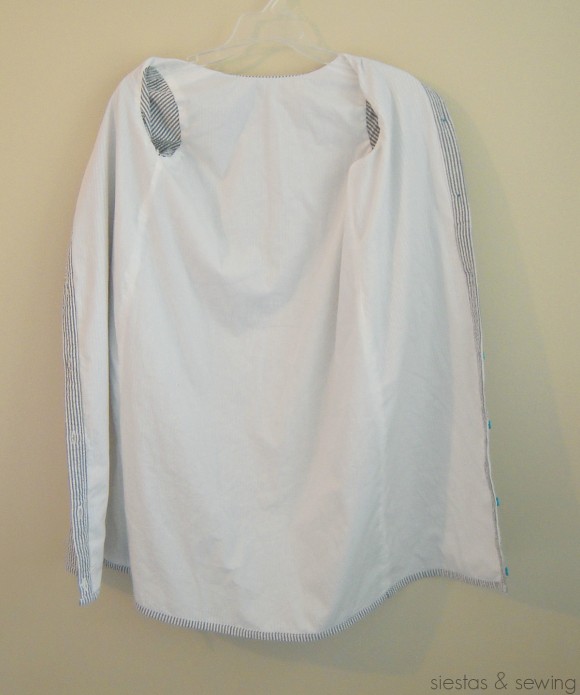 A few other changes were to line the front and back of the dress as the seersucker was a little sheer and to make the sleeves 3/4 length. I didn't have enough of the seersucker to make a self-fabric belt so I used some black velvet ribbon that I had on hand to cinch the dress in a little.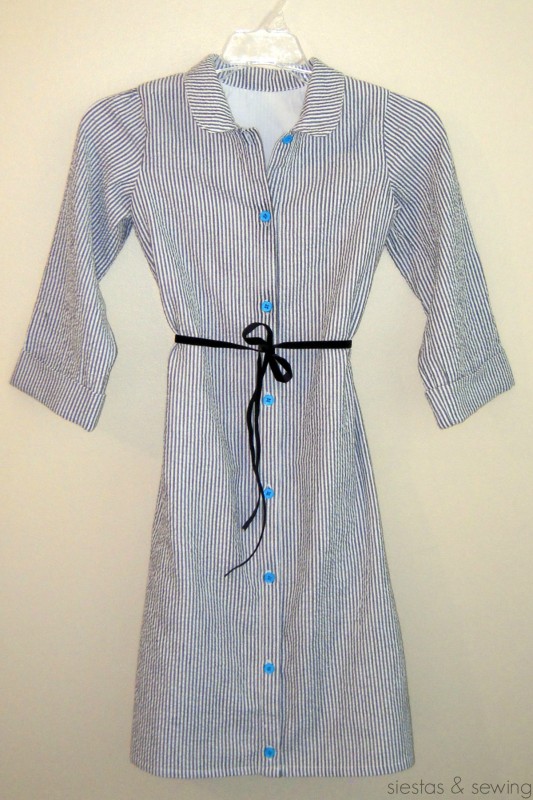 If I were to sew this dress now, I would add darts in the back to give it a little more shaping. But other than that I'd still construct it the same. Three years later and I still have the dress. It's hanging in the closet waiting for K's younger sisters to grow into it–one of whom is almost big enough to wear it. Maybe next year you'll be seeing photos of BK wearing the dress!